Complete Guide: Disney World for Adults
Complete Guide: Disney World for Adults
This article is your ultimate guide to Disney World for adults. Did you think that Disney World was only for kids and families? Well think again! The Walt Disney Company has always prided itself on its ability to entertain. It's no different when it comes to adults and you will find plenty of adult things to do at Disney World. 
Trust us, there's so much more to Disney World than princesses and parks. These activities range from ethnic cuisines to boozy cocktails, art festivals, and private VIP tours. You will find experiencing Disney World as an adult is definitely a vacation-worthy destination for friends (without kids!) and couples. 
We hope you find this post helpful, and if you are planning an adults trip to Disney World be sure to check out our other FREE vacation planning tools. Our goal at The Park Prodigy has always been to help you save time on your next vacation and find the cheapest Walt Disney World tickets!
So for our complete Disney World for Adults guide and the 6 best things to do in Disney World for adults read on! 
SPECIAL NOTE: If you're looking for the best time to visit Disney World in 2021 check out our Disney Crowd Calendar! 
 Disney World Crowd Calendar 2021
Which Walt Disney World Park is Best for Adults?
We find every Disney World theme park has something fun for adults to do. This can be riding Avatar flight of passage at Animal Kingdom or watching the fireworks at The Magic Kingdom. That said, two theme park stand out more than others and for good reason.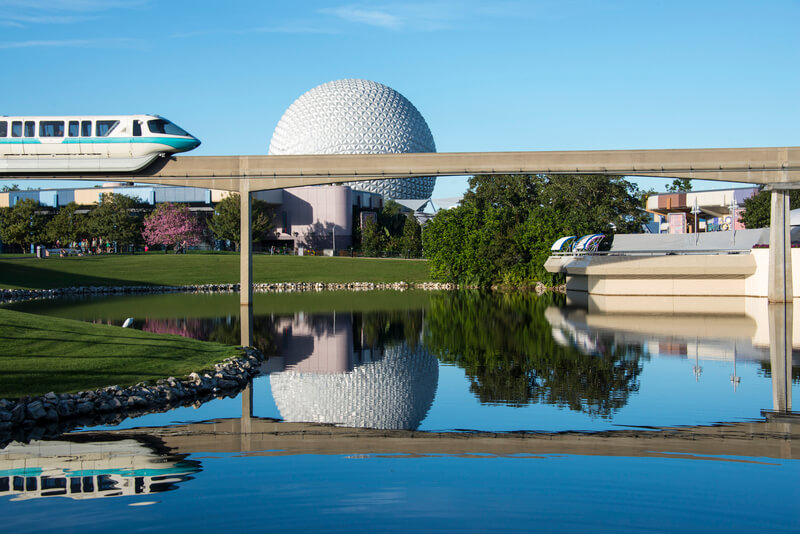 Best Disney Parks for Adults
EPCOT: This park has long been considered the best Disney park for adults. It has a wide range of adult themed rides, restaurants, and shopping. EPCOT also hosts various festivals throughout the year geared towards adults in Disney world. The festivals include Epcot's International Food and Wine Festival, Flower and Gardening Show, and the Festival of the Arts. 
Disney's Hollywood Studios: With the recent addition of Star Wars Galaxy's Edge this park is back to being an all day event. We find this park to be perfect for Adults who are more into shows than rides. It is also home to a few of the best restaurants in Disney World for adults (which we will cover later).
Best Disney Water Park for Adults
This is a tough question because it all comes down to what type of mood you're in. As you know Walt Disney World is home to two Water parks, Typhoon Lagoon and Blizzard Beach. Here is what we recommend based on your own personal taste.
Typhoon Lagoon: This is the best Disney water park for adults who are looking to relax. You can waste away the day in the lazy river or jump into the wave pool. This water park does have a decent amount of water slides but most are not as intense as at Blizzard Beach.
Blizzard Beach: This Disney water park is best for adults who are thrill seekers. Home to some of the most exciting water slides in the world including Summit Plummet which includes a 120 foot drop.
Best Hotels for Adults at Disney World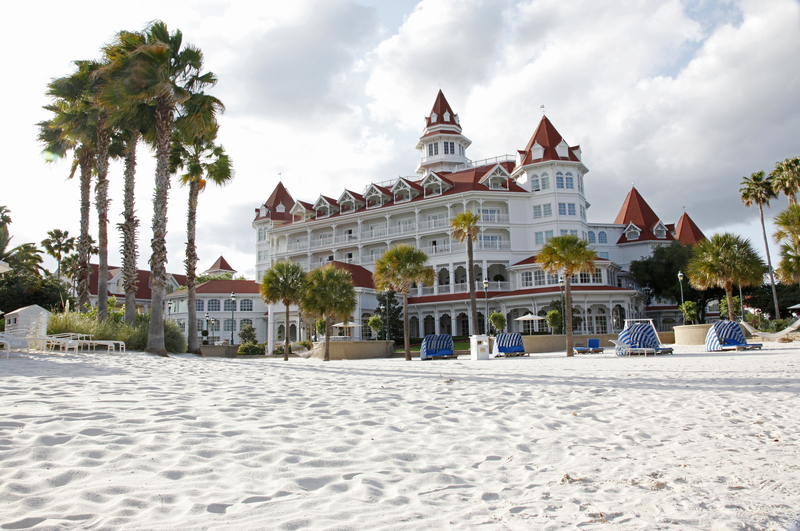 The travel needs of adults are very often different from the needs of families visiting Walt Disney World. Many on-site Disney World resorts provide a ton of entertainment and amenities for adults and couples in Disney. These amenities can include top notch restaurants, lively bars, and spas.
Best Adult Hotels at Disney World
Saratoga Springs Resort & Spa
Disney's Yacht and Beach Club
Disney's Riviera Resort
The Grand Floridian Resort & Spa
The main reason we listed Disney Saratoga Springs as the number one resort for Adults visiting Walt Disney is its location. Its close proximity to Disney Springs make this a great destination for anyone looking to take advantage of the shops and restaurants it has to offer. Guests can easily walk or take a boat ride over to this amazing area at their convenience. This amazing resort also recently went through a room makeover and we were blown away by the new amenities at this resort.
Special Note: Disney's Riviera resort recently opened in Walt Disney World. We recently stayed at the Riviera resort and we really were blown away by this new resort. It's new hotel rooms, pool, and restaurants make it a great destination for adults in Disney World. The Riviera resort is also part of the brand new Disney skyliner which makes it right in the middle of EPCOT and Hollywood Studios. This can make for a quick commute between parks and we do find that most adults in Disney World spend their time at EPCOT.
Best Pools for Adults at Disney World
Everyone knows one of the best parts about vacation is relaxing by the pool! And that's no different during your next Disney World vacation! Some of our favorite Walt Disney World days are the ones where our group just hangs out.
You might be surprised to learn that Walt Disney World also has some of the coolest themed pools around. The coolest part is many hotels also have smaller pools which tend to be quitter if that's what you prefer!
Best Adult Pools at Disney World
Best Restaurants in Disney World for Adults
Disney offers an array of dining options for adults of all ages, ranging from quick service to fun themed dining. Walt Disney World also offers quite a few fine dining locations which can be perfect for adults and couples in Disney.
Best Disney Restaurants for Adults
California Grill (Disney's Contemporary Resort)
Be our Guest (Magic Kingdom)
Le Cellier (Canada Pavilion – EPCOT)
Jiko (Disney's Animal Kingdom Lodge)
50's Prime Time Cafe (Hollywood Studios)
As discussed above if you're simply looking for the best Disney World park with the best restaurants for adults it's hands down EPCOT.  With over eleven countries making up world show case it would take you more than one trip to even enjoy all of the restaurants in this one park alone! Not to mention all of the amazing food and beverage booths that you can enjoy during all of the EPCOT festivals! 
Be sure to check out our blog post if you're looking for more information regarding all of the best restaurants at EPCOT! 
Best Bars and Lounges in Disney for Adults
In our opinion Walt Disney World has some of the coolest themed bars and lounges in the world. These bars and restaurants are spread out throughout the Disney theme parks, hotels, and Downtown Disney.
Best Bars in Walt Disney World
Jellyrolls (dueling piano bar Disney's Boardwalk)
Nomad Lounge (Animal Kingdom)
La Cava Del Tequila (Mexican Pavilion – EPCOT)
Trader Sams (Disney's Polynesian Resort)
Tutto Gusto Wine Cellar (Italy Pavilion – EPCOT)
Disney Springs – Disney World for Adults 
The newly renovated Disney Springs is an absolute must-see location in Disney World for Adults! When we say there's something for everyone, we mean it. With well over 100 unique shops to browse through, you can easily make an entire afternoon shopping at the Springs. However, when the sun goes down, consider this place to be the ultimate destination in Walt Disney World for adults. From world-class dining to dancing your feet off, Disney Springs has something for every adult looking to let loose. 
As for a must-do spot, we highly recommend stopping at the House of Blues during the evening hours. The unforgettable destination packs soul food, great drinks and of course…live music! For more of a relaxing evening, check out the AMC Dine-In Theater or grab some ice cream. 
Things to do for Adults at Disney Worlds Four Theme Parks
Do you plan on visiting all four theme parks while you're visiting Walt Disney World? No problem, below we break down the special things to do at Disney World for adults.
Magic Kingdom for Adults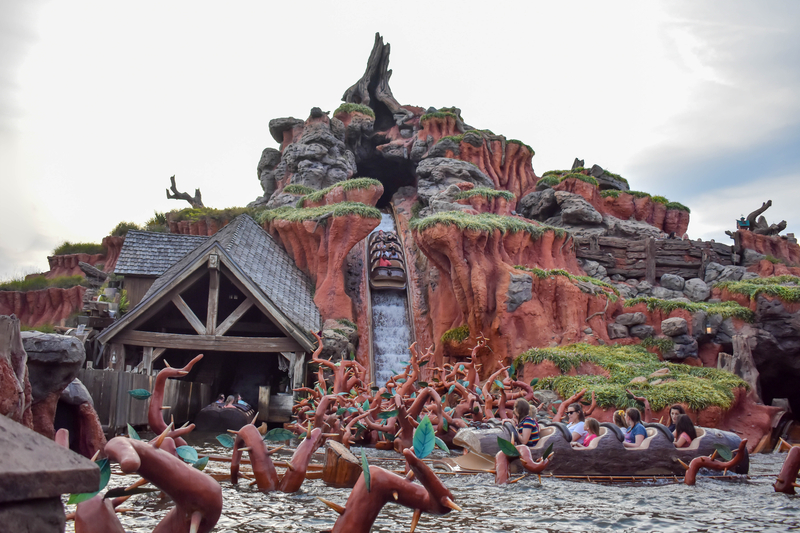 This might come as a surprise to many but the Magic Kingdom park has plenty of fun activities for adults to do. For many, there is the nostalgia aspect of riding some of the original rides created by Walt Disney himself.
Best things to do at Magic Kingdom for Adults
Nostalgia Rides:
It's a small world

Pirates of the Caribbean

Haunted Mansion
However perhaps you want to take a trip on one of the adult friendly roller coasters such as: 
 Seven Dwarfs Mine Train

Space Mountain

Big Thunder Mountain
If rides aren't your thing perhaps spend the day enjoying some of the unique snacks around the park. Walt Disney World is well known for having classics:
Dole Whip
turkey legs
World famous Mickey ice cream bars
If you're still hungry to can grab a hot dog at Casey's corner, or dine in Beasts castle at the Be Our Guest Restaurant.
The Magic Kingdom park is also full of entertainment adults would love. Some of the best things to do in Magic Kingdom for adults take place at night.  Be sure not to miss out any of the shows in front of Cinderellas castle, the nighttime parade and of course the fireworks. 
Things to do at EPCOT Adults
As discussed, EPCOT is the best park for adults at Disney World. To start, it's home to the World Showcase which includes 11 different countries from around the world:
Mexico

Norway

China

Germany

Italy

United States

Japan

Morocco

France

United Kingdom

Canada
This area of EPCOT is so popular because it allows guests a chance to eat and drink in each unique country. 
Alternatively some of the best foods you have ever tried can be found at the many EPCOT Festivals held throughout the year! Each festival has its own specialty drinks, food, merchandise and entertainment!
Best things for Adults to do in EPCOT Festivals:
Epcot is truly an Adults' Playground!
Disney's Hollywood Studios Adults
Hollywood Studios has long been considered a half day park. That has changed for good with the newest additions of:
One of the most difficult reservations to grab in all of Walt Disney World is at Oga's Cantina in Batuu (Galaxy's Edge). This bar has quickly become a fan favorite due to it's vibrant atmosphere and friendly robot patrons.
Outside of the amazing drinks Hollywood Studios is also home to some of the best restaurants in all of Walt Disney World which we will cover later in this post. In addition Hollywood Studios is home to some of the most exciting rides on Disney World property.
Must Do Adult Rides in Hollywood Studios:
Rock & Roller coaster

Slinky Dog Dash

Tower of Terror 

Rise of the Resistance! 
If rides aren't your thing, don't worry! They don't call it Hollywood Studios for nothing, this park is also home to some of the the best live performance shows on property. Enjoy performances of the Little Mermaid, Beauty and the Beast, and so much more!
Things for Adults to Do at Animal Kingdom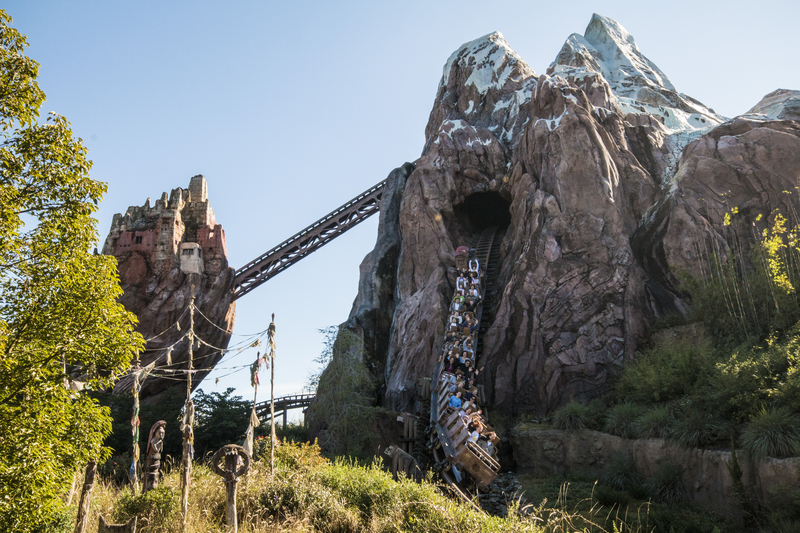 Animal Kingdom is another park which has quickly turned into an all day affair. You might also be surprised to find out that there are a ton of things for Adults to do.
One of the best cocktail bars in all of Walt Disney World is the:
Nomad Lounge located next to Tiffins
It's close proximity to Avatar Flight of Passage make it the perfect resting place while you wait for your fastpass+.
If you are a huge fan of animals you will also love this park for obvious reasons. Discovery Island Trails and Gorilla Falls Exploration will allow you to visit different parts of the park surrounded by nature. If dining, bars, and trails are not enough there are plenty of rides adults will enjoy at Animal Kingdom!
The best rides for adults at Animal Kingdom are: 
No matter what you are into, there is something for everyone including amazing shows you can see while at Animal Kingdom!
Which Disney Park has the Best Rides for Adults
As with so many people, this is really a questions of preference. Although Universal Studios has always received the reputation for having some of the most thrilling rides for adults, we feel Disney has done a great job over the years of creating unique attractions fans of all ages will love.  Below is our list of the best rides at Walt Disney World for adults:
As for the best rides at Magic Kingdom, shoot for Space Mountain, Splash Mountain and Snow White's Mine Train. Over at Epcot, head directly to Test Track and Soarin. At Hollywood Studios hop on Rock n Roller Coaster and Tower of Terror. Finally, at Animal Kingdom, Expedition Everest and Avatar Flight of Passage are absolute musts! 
Start Here When Planning a Disney World Trip for Adults
I feel like I know a thing or two about the best way to visit Walt Disney World as an adult! After all, I didn't just wake up one day and decide "hey, I want to sell Disney world tickets for a living". I have been visiting Walt Disney World for as long as I can remember and now I am unapologetically a childless millennial who still visits.
In fact me and my closest friends have taken an annual trip to Walt Disney World for the past 13 years in a row! Many of them were not die hard Disney fans like me in the beginning, but man has that changed. It's all we talk about now and we all can't wait to continue to bring our families in the next few years!
So What Is The Best Way to Visit Walt Disney World as An Adult?
Booking and planning a Disney trip for adults is completely different from visiting with young children. For starters you are going to be able to get so much more done and move at a different pace! Next the bars, restaurants, and rides you decide to go on will also be different.
We feel the best way to start to plan your Adult Disney World vacation is to ask yourself these questions:
Can I visit during off peak season when kids are in school or do I want to go for one of the Holidays?
Do I want to spend all of my time in the parks on rides? Or would I like to relax a bit?
Do I like classic bars or do I want to experience themed cocktail bars unlike anything else in the world?
Would I prefer to have dinner at the hotels or Disney Springs or are  we dinner in the parks with the fireworks
These are just a few questions to start with. The main purpose here is to start to think about what kind of Disney World vacation you want to have! Is it all thrills all the time? Or do you want to take afternoon breaks by the pool?
I hope the information below helps you plan an amazing Disney vacation that you will love!
Disney for Adults Trip Ideas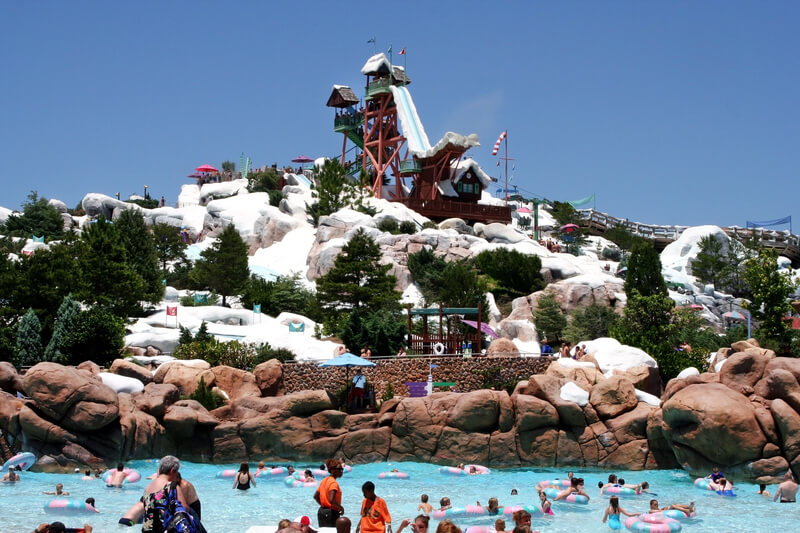 There are so many different ways you can plan the perfect adults trip to Walt Disney World! However here are a few of our favorite trips we have planned over the years!
RunDisney Weekend at Walt Disney World
RunDisney has quickly become one of our favorite events held throughout the year, and it's the perfect reason to plan your next Adults trip to Walt Disney World. Guests can participate in amazing races held throughout Walt Disney World including a 5K Disney World race, all the way up to a half marathon and Marathon.
RunDisney is truly an amazing community and such a fun way for Adults visiting Disney World to combine their love for fitness and an amazingly fun vacation! The RunDisney food and wine half marathon is even held during the popular food and wine festival at EPCOT, to make for an extremely fun weekend!
The 6 Best Things to do for Adults at Disney World
1) Drink Around the World 
Perhaps one of our absolute favorite activities for adults at Disney World is (drum roll please!) drinking around the world at Epcot! This has long been a must for adults celebrating a birthday at Disney World.  How does one "drink around the world" you ask?
Well, basically you'll make your way around the World Showcase while stopping for something to eat and drink in every country. The best way to do this is by taking your time! Share a few snacks or a meal with your friends or significant other.
This can even be a great option for adults in Disney World who don't drink alcohol. It allows you to experience different drinks  and foods of all kinds from different cultures. 
2) Book a Spa Day 
Relax and rejuvenate at a world-class spa located right on Disney property. At the Grand Floridian's Senses Spa, you'll find yourself completely immersed in a Victorian-styled environment with soothing music and comfortable lighting.
Offering everything from facials to body wraps, and aromatherapy to full body massages, this sanctuary is the ultimate way to escape the stresses of everyday life.
A massage is the perfect way to recharge your body and mind. Perfect for honeymooners and groups of friends alike, this activity books quickly, so we recommend booking your reservations as early in advance as possible. 
3) Unique Access Tours
Informational tours might not be the most fun activity for kids, but as adults, we absolutely love them! Guided tours are perfect if you are the type of person who loves knowing everything about anything, or you're just a total Disney nerd like us.
One of the most popular things to do in Disney World for adults is Disney's Keys to the Kingdom Tour. Packing nearly 5 hours of history information and secret views of the Magic Kingdom, you'll be granted access to areas that regular ticket holders will never see. Explore Cinderella's Castle Suite and Disney's underground tunnel system known as the "Utilitor."
For a backstage tour of Epcot, The Undiscovered Future World Tour also tops our list of must-do tours, as well as the 7 hour Backstage Magic Tour. 
4) Play Golf
What better way to take the edge off than with some fresh air and a relaxing game of golf?! Golfing at Walt Disney World is a blast and one of the top things to do in Disney world for adults. 
They make the experience as magical as possible with excellent customer service and hidden Mickeys around every corner. You can find Disney's Magnolia, Palm and Oak Trail Golf Courses across the street of the Grand Floridian Resort and Spa at the Shades of Green Resort.
Another super popular golf course is Disney's Lake Buena Vista Golf Course located near the Disney Springs. 
5) Ride the Best Rides 
Okay, so this one might seem obvious, but seriously! Young parents with kids rarely get to take a ride on some Disney's most popular attractions. One of the perks of Disney trips for adults is, you'll have the luxury of taking advantage of some of the park's best rides.
6) Book a Fireworks Cruise
This one is for the couples out there looking for a romantic evening with a dash of Disney magic. Set sail into the Seven Seas Lagoon and relax while watching the Magic Kingdom's Happily Ever After Fireworks show with an unforgettable view that not many people get to experience. 
Disney World for Adults Questions and Answers
Q: W
hat is the best Disney World Park for Adults? 
A: Short answer: EPCOT with second place going to Disney's Hollywood Studios.
When is The Best Time to Visit Disney World?
Our Disney  World Crowd Calendar is the best tool to help you get the most out of your time in the parks. We break down park crowds, park hours of operation, ticket prices, and average temperature. We also break down the best time to visit Disney World based on specific times of the year and special events.
Are You Ready to Plan Your Next Disney World Trip?
Are you planning a trip to Walt Disney World? Be sure to speak with a Disney World Travel Agent for the most recent deals and promotions. The Park Prodigy will provide a Free Quote for all Disney World Vacation Packages.
The Park Prodigy can also help you save up to $20 per ticket when purchasing your Walt Disney World Tickets, and we offer promotional discounts for special events such as Mickey's Not So Scary Halloween Party Tickets and Mickey's Very Merry Christmas Party Tickets.
If you're brand new to Disney vacation planning we recommend our Walt Disney World Planning Page! Learn more about Disney hotels by reading our Walt Disney World Hotels Review page.
Last but not least if you're also planning a trip to Universal Studios, be sure to check out the best time to visit Universal Studios and our Universal Orlando Tickets! All Park Prodigy Universal Orlando tickets come with Universal Studios Early Park Admission.
Are you planning on visiting Walt Disney World? Or have you visited in the past? Would you like to share your experiences and tips? Do you have any questions for The Park Prodigy? Hearing your feedback and helping with your questions is not only our goal but will help other readers! Please leave your thoughts and questions in the comments!