The Complete Guide to the Best Epcot Restaurants in 2021
The Complete Guide to the Best Epcot Restaurants in 2021
This is your complete guide to the best Epcot restaurants! There is no denying that Epcot is a veritable paradise for foodies! With 18 sit-down, table-service Epcot restaurants, it boasts the most of any park in Disney World. Then when you add in all of the quick-service Disney Epcot Restaurants, as well as the snack carts and even the food booths that come with the almost year-round festivals, you cannot find a better place in Disney World to feed your every craving than Epcot dining.
Because there are so many places to eat, we're going to send you on a tour of all the current Epcot table service restaurants to help you find the top Epcot restaurants for you and your family. After we tour all the places to eat at Epcot Disney World, we'll have a little fun and give you our top-ranked Epcot restaurants for various categories. Since there are so many Epcot dining options, our Top Three Lists may help you choose the best place to eat at Epcot Disney for you and your family.
Grab your stretchy pants, fork, and knife and let's begin! Since it's a "tour," we're going to begin at the front of the park with a couple Future World Epcot Restaurants, then take a right at World Showcase and visit all of the Epcot World Showcase Restaurants. Remember, these are only the table-service restaurants, but along the way there are lots of quick-service restaurants and food kiosks to feed your belly as well. Let's hope you've come hungry!
We hope you find this post helpful, and if you are planning a trip to Disney World be sure to check out our other FREE vacation planning tools. Our goal at The Park Prodigy has always been to help you save time and money on your next vacation. This includes helping you find the best time to buy Disney World tickets as well as book amazing Walt Disney World vacation packages!
Read on to learn about the best Epcot restaurants!
SPECIAL NOTE: If you need help picking the best time to visit Walt Disney World for your next vacation be sure to check out our Disney crowd calendar!
The Best Places to Eat in EPCOT in 2021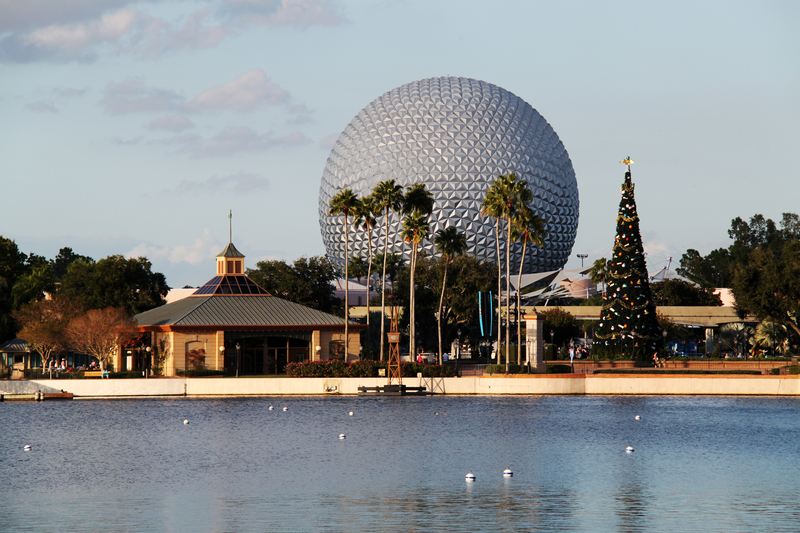 Below is a list of the ten best restaurants in EPCOT: 
Takumi-Tei
Le Cellier Steakhouse
Teppan Edo
San Angel Inn Restaurante
Garden Grill Restaurant (character dining)
Tutto Italia Ristorante
La Hacienda de San Angel
Coral Reef Restaurant
Rose and Crown Pub and Dining Room
Biergarten Restaurant
We actually love the restaurants in EPCOT so much we are going to cover every single restaurant below. We will break down the pros and cons and what you can expect during your next trip to Walt Disney World.
Complete List of the Best Places to Eat in Epcot 2021 – Future World
Coral Reef Restaurant
Located next to The Seas with Nemo and Friends attraction, this restaurant will quench your desire to see your food swim by while also enjoying it on your plate. This restaurant is set up around the giant aquarium that hosts many of the fish and other aquatic animals that reside in the Living Seas Pavilion. Guests can watch sharks, stingrays, and even scuba divers swim around the coral reef while they enjoy their meal. While the menu is focused on seafood specialties like lobster mac and cheese and grilled swordfish, there are also some non-seafood options for those who believe fish are friends, not food.
Pro: Watching all those beautiful sea creatures while you eat.
Con: Food is overpriced for its quality.
Related Post: EPCOT Food And Wine Festival Guide
Garden Grill Restaurant
This restaurant is located in the Land Pavilion. On the top floor, it has a revolving floor that slowly spins while you eat, offering its guests views of the Living with the Land ride below. Food here is served family-style, which means, much like home, you don't have much say in what you get. But no worries, the platter served up has plenty of home-made and classic family fare options, from Mickey waffles for breakfast to turkey, stuffing and mashed potatoes for lunch and dinner. The best part of this restaurant is that is only one of two Epcot Center Restaurants that has characters for you to meet! Chip and Dale are always hanging out, along with a few of their other Disney pals.
Pro: Great family-friendly atmosphere with characters. Your kids won't get bored!
Con: No choice in food and not good if you're prone to motion sickness.
Complete List of the Best Places to Eat in Epcot – World Showcase
Now it's time to leave the front of the park and head to where some of the best Epcot restaurants are on property – World Showcase. Remember, we're turning right as we get there and traveling the entire 1.2 miles to explore every table-service restaurant to help you discover the best food at Epcot World Showcase.
Le Cellier Steakhouse
This small, signature restaurant is located under the Canada Pavilion. A wrought-iron gate and gorgeous flower garden will guide you to the front doors of this cozy cellar of a Canadian Chateaux. Considered one of the better places to experience Epcot fine dining, Le Cellier offers high-end steaks and seafood for all who eat here. While perusing the menu, don't pass by its signature cheese soup to start off your meal. Pair the soup with the filet mignon and you could easily enjoy the best dinner at Epcot.
Pro: Amazing steaks and that soup!!
Con: It is small and dark and often crowded.
Related Post: 2021 Flower And Garden Festival Guide
Rose and Crown Pub and Dining Room
Next on your journey is a family-friendly British Pub (who knew those words could go together?). Located directly on the waterfront of the England Pavilion, if you can score an outside, fireworks-view table during the fireworks show, you will have landed one of the best places to eat in Epcot World showcase to watch Epcot's outside evening fireworks display. This restaurant's menu is filled with classic, hearty British fare like shepherd's pie and sticky toffee pudding.
Pro: Great outdoor viewing of the fireworks.
Con: Good viewing areas are limited. Most of the seating is indoors.
Chefs de France
Ooh, la, la! It's time to travel to the France Pavilion and check out its two delicious restaurants. First up is Chefs de France, located on the promenade of the France Pavilion. Ask for a window table and partake in plenty of people-watching while enjoying French delicacies such as escargot and Boeuf Bourguignon. This restaurant has wonderful food for a much more reasonable price than the other restaurant in this area.
Pro: You can experience fine French dining on a budget (a Disney budget that is).
Con: The menu is limited so you might have trouble finding something you like.
Monsieur Paul
If you're searching for the best dining at Epcot that is upscale, you'll want to head up the stairs in the France Pavilion to Monsieur Paul. This gourmet restaurant is one of the best places to eat in Epcot Disney World. With main courses of duck, artic char, and veal, your tastebuds will be transported to an upscale French restaurant in Paris.
Pro: Signature dining means the finest of ingredients.
Con: Its price is high for a simple lunch. Save it for a fancy dinner for two.
Restaurant Marrakesh
Tucked in the back of the Morocco Pavilion, this restaurant is considered a hidden gem for delicious food and a beautiful interior. You wouldn't suspect as you walk in to be in the middle of a palace with stunning tile work and pillars stretching the high ceiling. Its menu is filled with traditional Moroccan dishes such as tangine, couscous, and kebabs. As you enjoy your flavorful food, you also get to enjoy watching the belly dancers or listening to the musicians. Little ones can even join in the dancing if they want to have a little fun while waiting for their meal.
Pro: The entertainment is wonderful.
Con: The food is very flavor-forward. Picky eaters might struggle to find something they like on the menu.
Spice Road Table
This smaller restaurant in Morocco located right on the lake is the perfect place to stop for small meal made of tapas. We think that makes it the best restaurant in Epcot for lunch. But you might want to consider it for dinner if you want a great place to view the fireworks at night; many people don't make it this far into World Showcase and the outdoor seating gives you a wonderful view of the nighttime show.
Pro: Location and unique food.
Con: Servings are small.
Related Post: Best Restaurants In Disney World 2021
Takumi-Tei
The Japan Pavilion has all the other Pavilions beat with three table-service restaurants!  Takumi-Tei is the newest restaurant to open and was considered one of the best restaurants in Epcot 2019. Takumi-Tei is not only about eating the best food at Epcot, it's about experiencing each and every bite with every part of your body, mind and soul. The restaurant contains 5 rooms, each inspired by a natural element—water, wood, earth, stone, or washi paper. This dining experience can easily take several hours, so plan ahead to spend a lot of time here so you can truly enjoy this sublime setting. This restaurant also offers the amenity of eating at the Chef's table. It's $180, but for the Japanese foodie in your life, it may be worth the splurge.
Pro: It's truly an experience for all your senses.
Con: It will consume a good portion of your day and your wallet.
Teppan Edo
Located at the top of a lot of stairs, this large restaurant offers its guests hibachi-style food prepared for all the guests. You'll be sat at a table with a couple of other parties as the chef prepares your food right in front of you on a hot grill. Kids and adults alike enjoy watching the chopping, tossing and performance of these talented hibachi chefs, making this a great place for an Epcot dinner. Each guest can choose from their entrée, such as steak, chicken, or shrimp, to be paired with Udon noodles and rice.
Pro: Watching your chef create a steaming volcano out of onions or a hidden Mickey is half the fun.
Con: It's always a crapshoot when you share a table with strangers.

Tokyo Dining
Do you love sushi like we love sushi? Then this is your place to go! One of the best food places at Epcot for all types of sushi, this more laid-back restaurant can provide a nice getaway from the hustle and bustle of the Epcot crowds. It also provides some views of the nighttime fireworks show but there are better restaurants for that if that's one of your goals.
Pro: Umm, Sushi!
Con: Non-sushi lovers will not find anything here to be wowed by.
As you are at the halfway point of World Showcase, let's take a moment of silence to honor the fact that there are no table service restaurants in the American Pavilion. Grab a funnel cake or turkey leg if you're hungry and keep walking.
Tutto Italia Ristorante
If you're looking for traditional Italian food, this is one of the best places to eat in Epcot. The old-World ambiance fills the room and the meals are prepared with hand-made pasta and fresh herbs. If you're craving Italian food but weren't able to grab a reservation, the connected lounge, Tutto Gusto Wine Cellar, serves all the same items from the menu but doesn't take reservations. It's much smaller but many people don't know it's there, so you can sometimes walk right up and get a table.
Pro: The incredible smells and traditional Italian meals.
Con: It has a reputation for bad service and the food can be hit or miss.
Via Napoli Ristorante e Pizzeria
Once you have pizza here, it'll be hard to ever enjoy pizza anywhere else ever again! In our opinion, if you want to experience one of the best Epcot restaurants, this is the one you must visit. And while we're sure this restaurant has great entrees, if you visit Via Napoli and don't get the pizza, you've really kind of missed the whole point. These authentic Neapolitan pizzas are made with fresh mozzarella cheese, San Marzano tomatoes and real Caputo flour imported from Southern Italy. Water for the dough is even sourced from a spring similar to Italy's Campania region.
Pro: Watching the chefs toss the pizzas in the air, then use the wood-fire pizza ovens to create your amazing pizza.
Con: You'll never experience pizza the same again.
Related Post: EPCOT Festival Of The Holidays 2021
Biergarten Restaurant
Who doesn't love celebrating Oktoberfest all year long? When you enter the building, you are transported to an outdoor festival in a Bavarian village (even though you're really safe inside). There will be polka dancing, large multi-family tables and traditional German music as you enjoy German specialties from the buffet such as bratwurst and pork schnitzel. Consume one or two of its giant liters of German beer and it's for sure going to be one of the best places to eat in Epcot.
Pro: Great entertainment while you eat. The whole family can participate in dancing.
Con: Buffet food quality and group seating.
Nine Dragons Restaurant
Located in the China Pavilion, this contemporary Chinese restaurant serves up American-style Chinese food among its beautiful word carving décor and hanging lanterns. If you're looking for a restaurant to provide you with food you're accustomed to, this restaurant serves up palatable versions of traditional Chinese food like fried rice, Kung Pao chicken, and spring rolls.
Pro: It's one of the least expensive table-service restaurants in Epcot and has large servings.
Con: There is nothing special about any of its dishes.
Akershus Royal Banquet Hall
If you want to hang out with princesses while eating at Epcot, the Norway Pavilion is the place to go! Akershus is little medieval castle tucked into this tiny village and is often visited by princesses such as Aurora, Snow White and Belle. Breakfast is served family-style and made up of mostly American food. Lunch and dinner introduce more Scandinavian food, some of which may be quite unfamiliar. The children's menu does contain more standard kids' food, but the adults in your party will need to be prepared to delight in such items such as Salmon and Kjøttkake.
Pro: One of the lesser priced dining experiences with the princesses.
Con: Food choicess may be a bit off-putting for some.
La Hacienda de San Angel
The Mexico Pavilion has two restaurants with very similar names but don't let that confuse you. They are two completely different experiences. This restaurant is located right on the lake and almost every seat in the place has a great view of the nighttime show. That alone would make this one of the best places to eat in Epcot Disney World, but when you add the authentic Mexican cuisine and unique margaritas, you have the trifecta for a spectacular restaurant in Epcot Orlando.
Pro: The views, the guacamole, the margaritas.
Con: The price is a bit steep.
San Angel Inn Restaurante
For a completely different restaurant experience, head inside the Mayan pyramid in the Mexico Pavilion. Tucked in a dark corner, this restaurant overlooks the Grand Fiesta ride. The food at this Mexico restaurant cannot rival that of La Hacienda de San Angel, but the ambiance is pleasant as you enjoy your food in the never-ending twilight at an "outdoor" south-of-the-border restaurant.
Pro: Watching the boats going by and enjoying the ambiance.
Con: Often crowded and the food is nothing to write home about.
We've made it through our tour and boy are we stuffed! But we promised to provide you the Epcot restaurants ranked based on their finest qualities, so that's what we're going to do. These rankings are only our opinions, here to help you make the choice of where to eat for the best food Epcot on your next Disney vacation. Your sure to find your own favorites among the mix.
Related Post: EPCOT Festival Of The Arts
Best EPCOT Quick Service Restaurants in 2021
EPCOT is known for its spectacular table service restaurants, but there are a few quick-service restaurants at EPCOT, including options from both World Showcase and Future World.
Our top 3 EPCOT counter service restaurants, in no particular order, are:
Regal Eagle Smokehouse
Here, barbeque meets comfort food. One of EPCOT's newest additions, Regal Eagle Smokehouse is located in the American Adventure. Part of the World Showcase, this is an excellent option solely for its food's delicious taste, but also if you have a picky eater in your party.
Katsura Grill
If you're looking for a break from the crowds, look no further. Located in the Japan section of EPCOT's World Showcase, this quick service restaurant stands out from the crowd with its gorgeous scenery. Choose one of the delicious Japanese cuisine options from its extensive menu and go eat at one of the tables next to the water. You'll enjoy the food almost as much as the gorgeous view!
Sunshine Seasons
Located in the Land Pavilion at EPCOT, you can't go wrong with this deliciously fresh fare. Here, you can dine on things such as some Oak-grilled rotisserie chicken with a side of their famous mashed potatoes, to sandwiches, to lamb skewers. This place is also well-known for some delicious dessert options such as Key Lime Pie and Tiramisu. They also offer classic bakery items like cookies.
Other EPCOT Quick Service Restaurants
Visit La Cantina de San Angel, located in the Mexico Pavilion, for tacos, nachos, and more margarita flavors than you can count.
Stop in Les Halles Boulangerie-Patisserie, in the France Pavilion, for the freshest of breads and most amazing desserts, along with quiches and sandwiches.
Tangierine Café, located in the Morocco Pavilion, serves up huge portions of delicious Mediterranean food that are easily sharable.
Related Post: The Best Quick Service Restaurants at Disney Springs 
Top Three Best Places to Eat in Epcot Fine Dining (Signature Restaurants):
Takumi-Tei
Le Cellier Steakhouse
Monsieur Paul
Top Three Best Places to Eat in Epcot Restaurant Entertainment:
Restaurant Marrakesh
Coral Reef Restaurant
Biergarten Restaurant
Top Three Best Places to Eat in Epcot Restaurant for Picky Eaters:
Garden Grill Restaurant
Nine Dragons
Via Napoli Ristorante e Pizzeria
Top Three Best Places to Eat in Epcot Authentic Restaurants :
Restaurant Marrakesh
Takumi-Tei
La Hacienda de San Angel
Top Three Best Places to Eat in Epcot Restaurant to View Fireworks:
Spice Road Table
Rose and Crown Pub and Dining
La Hacienda de San Angel

Top Two Epcot Character Meals (it's really hard to believe there are only two):
Garden Grill Restaurant
Akershus Royal Banquet Hall
When is The Best Time to Visit Disney World?
Our Disney Crowd Calendar is the best tool to help you get the most out of your time in the parks. We break down park crowds, park hours of operation, ticket prices, and average temperature. We also break down the best time to visit Disney World based on specific times of the year and special events.
If you're brand new to Disney vacation planning we recommend our Walt Disney World Planning Page! Learn more about Disney hotels by reading our Walt Disney World Hotels Review page.
Last but not least if you're also planning a trip to Universal Studios, be sure to check out the best time to visit Universal Studios and our Universal Orlando Tickets! All Park Prodigy Universal Orlando tickets come with Universal Studios Early Park Admission.
Are you planning on visiting Walt Disney World? Or have you visited in the past? Would you like to share your experiences and tips? Do you have any questions for The Park Prodigy? Hearing your feedback and helping with your questions is not only our goal but will help other readers! Please leave your thoughts and questions in the comments!