Guide to Disney Yacht Club Vs Beach Club 2023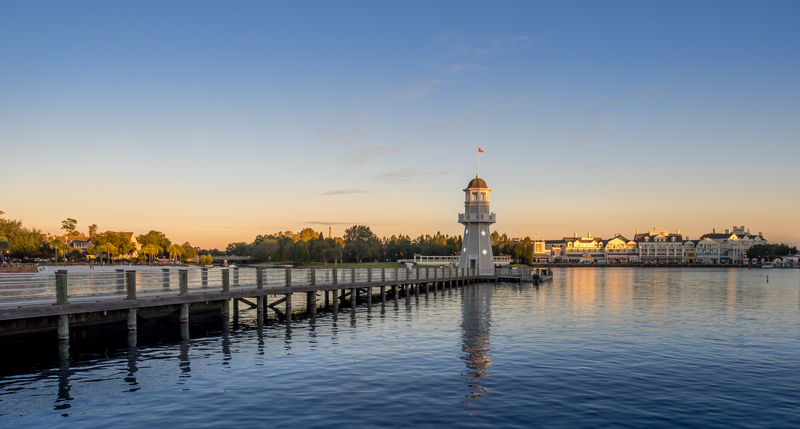 Guide to Disney Yacht Club Vs Beach Club 2023
So you're planning your 2023 Walt Disney World vacation and stuck between the Disney Beach Club vs Yacht Club. This is one of the most common dilemmas we see when planning your vacation on the Walt Disney World Boardwalk. That's why we have taken the time to break out everything you need to know about both Disney's Beach and Yacht Club.
For starters did you know the Beach and Yacht Club are actually two separate resorts? Both the Disney Beach Club Resort and Disney's Yacht Club Resort are deluxe hotels found on the Walt Disney World Boardwalk. The Disney Boardwalk is considered the EPCOT resort area and allows you easy access to the back of that park. It's also important to note that both resorts share one of the most amazing Disney pools in the world!
We hope you find this post helpful, and if you are planning a trip to Disney World be sure to check out our other FREE vacation planning tools. Our goal at The Park Prodigy has always been to help you save time and money on your next vacation. This includes helping you find the best time to buy Disney World tickets as well as book amazing Walt Disney World vacation packages!
So if you're ready to decide if you would prefer to stay at the Disney Yacht Club or Beach Club read on!
SPECIAL NOTE: If you're looking for the best time to visit Walt Disney World be sure to check out our Disney Crowd Calendar! 
Disney's Yacht Club Vs Beach Club 2023
Let's start this guide with the most popular question we receive on this topic which is, what is the difference between Yacht Club and Beach Club? And as a general rule of thumb the Disney Yacht Club has a more formal theme based off of the north east, and the Disney Beach Club has a more relaxed vibe taking its influence New England-style family resorts. The Disney Yacht and Beach Club both have intertwining themes of the fun and finer side the ocean.
With that being said you'll see that outside of the theming the Beach and Yacht Club do have a lot of similarities and share many of the same amenities such as the famous Stormalong Bay pool. They are also similar when it comes  to standard room prices which start right around $522 per night, which we believe is a big reason why so many guests can't decide between the Beach or Yacht Club when booking their Disney World vacation.
Is Yacht Club connected to Beach Club?
Another very popular question we receive on this topic is, is Yacht Club connected to Beach Club? The Yacht Club and Beach Club are physically connected to each other. This connection make it easy for guests of the two resorts to share some great amenities including the pool, restaurants, and both being hotels within walking distance to EPCOT.  Where the Beach Vs Yacht Club start to differ is when you start to compare the theme and room types that guests can choose from.
Is Beach Club or Yacht Club closer to Epcot?
Disney's Beach Club is closer to EPCOT when compared to the Disney Yacht Club. On Average it is about a five to ten minute walk from a majority of the rooms at the Disney Beach Club Vs Yacht Club. However on the flip side the Disney Yacht Club is closer to make of the main amenities that these two hotels share such as Stormalong Bay.
Related Page: Ultimate Disney World Packing List 
What is the Decor at the Yacht and Beach Club 2023?
One of the biggest differences when comparing the Yacht or Beach Club is the decor. Although both resorts have a nautical theme, it's actually fun to take a look at the different areas each resort is based off of. At first glance the differences you'll see are very obvious.  The color schemes are quite different for both to help tell the difference between the Beach Club or Yacht Club.
For instance, the Beach Club Resort has more of a "pop" and brighter colors to it. This is because this resort finds its inspiration from the classic Eastern Seaboard resorts of the 1920's  The Disney World Yacht Club Resort is has more modern greys and whites, lending it a more "fancy" feeling.  This is mainly due to the fact that this resort is based on the beach towns of New England. 
What is the theme of Disneys Yacht and Beach Club?
Disney Beach Club – Colorful and bright Eastern Seaboard resorts of the 1920's
Disney Yacht Club – Elegant and modern designed based off of the seaside cottages of the Northeast
If you were to base your decision of Disney Yacht Club VS Beach Club off of color alone, there are some deciding factors. If you want a more vibrant, colorful, and fun vibe for the hotel atmosphere including the rooms, perhaps the Beach Club Resort may be the choice for you.
If you want a resort that doesn't necessarily feel as 'playful', maybe the more slightly sophisticated Yacht Club Resort would be your best bet. I personally find myself being drawn to the Yacht Club Resort as it reminds me of family vacations in Boston. The only difference is I was never able to find a dessert as good as the kitchen sink in Massachusetts. 
Related Post: Complete Guide to the Walt Disney World Boardwalk 
Difference in Rooms at Yacht and Beach Club Resort 2023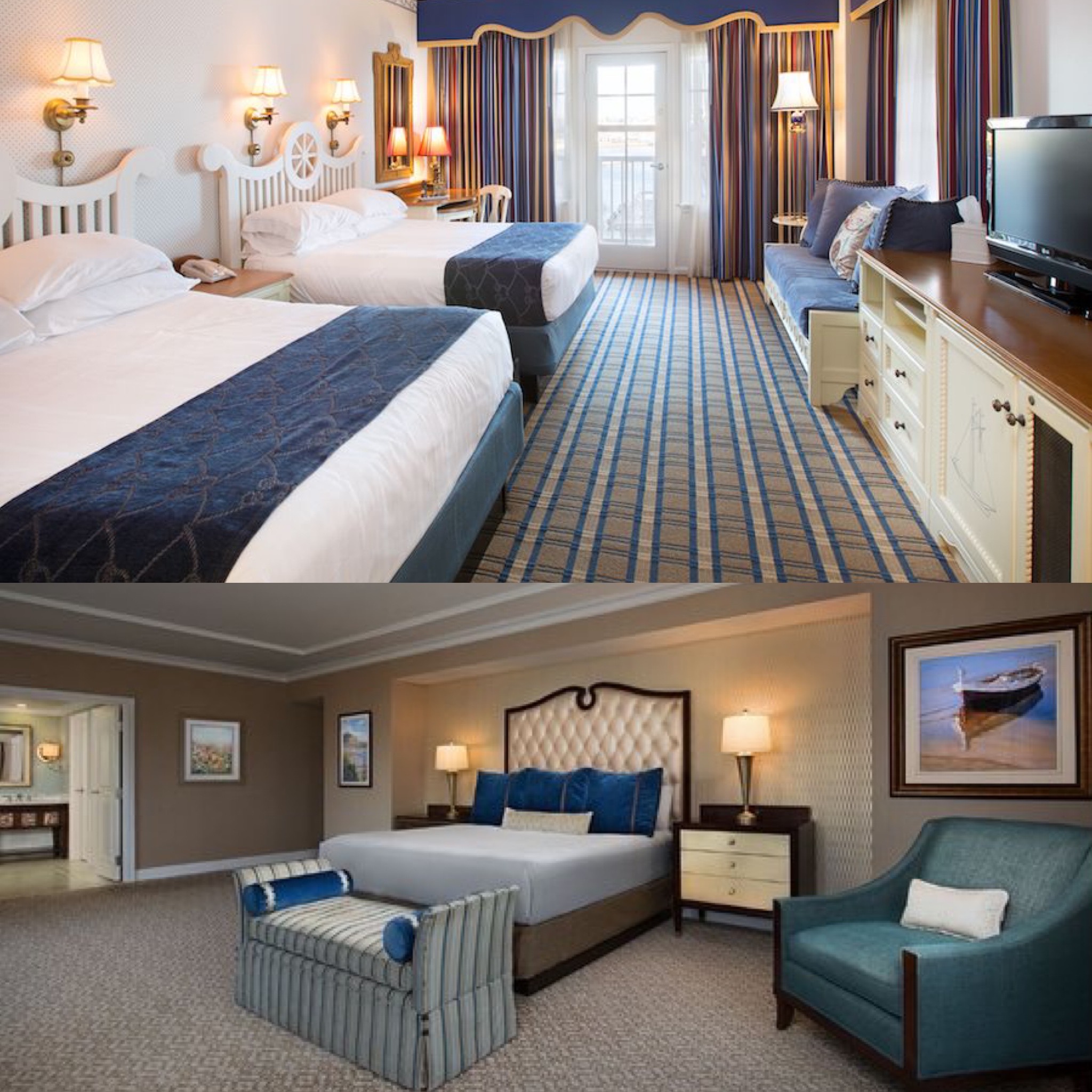 If comparing the room size is part of your deciding factor for the Beach Club vs Yacht Club, we will have to call this a tie.  The rooms at the Yacht and Beach Club are pretty much identical when it comes down to size.
We will say the one advantage that the Beach Club has that the Yacht doesn't is the addition of the Walt Disney World villas. If you are looking to enjoy a room that's accommodating for larger groups you'll want to take a look at having your very own villa. Having a villa can provide many benefits, if it fits in your budget. For instance, most villas have in-unit washer/dryers along with a fully equipped kitchen and living room. Villas are not for everyone, so if you don't require one and don't otherwise care for the color and pop of Beach Club, perhaps the Yacht Club will be a better choice. 
Yacht Club vs Beach Club Room Pricing 2023
What is the difference between Disney Beach Club and Beach Club Villas?
As a general rule of thumb the Beach Club Villa rooms are located in a completely separate building when compared to the regular Beach Club or Yacht Club. This is actually the set up for a majority of the villas located at Walt Disney World as they are all part of the Disney Vacation Club.
Related Page: Guide to the Virtual Queue at Disney World
Location When Comparing Beach Club Vs Yacht Club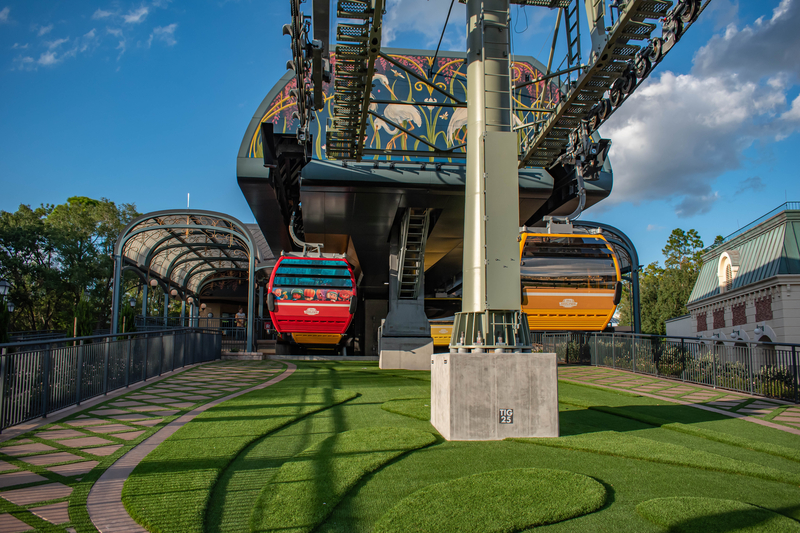 One of the aspects that everyone should look at before picking out a hotel at Walt Disney World is the location. Location is key. You can have an amazing hotel, amazing rooms, and everything else, but if the location doesn't fit your vacations goals it's not the right fit. Thankfully, when deciding between the Beach Club vs Yacht Club the location should not be  a factor. Both resorts are relatively close to Epcot, however, there are some advantages to each resort over the other.
For instance, the Beach Club Resort is a few minutes closer to Epcot. With this in mind, you are also that much closer to the Disney Skyliner Station which can then take you over to Hollywood Studios.
While the Yacht Club Resort is not that much farther away, if you have young ones or even elderly people with you who may need to do less walking, the Beach Club Resort may be the best option. Depending on where you stay at the Yacht Club Resort, you might be closer towards Disney's Boardwalk than the Beach Club may be. This may not be true for all rooms, but certain rooms are indeed closer. If having quick access to the Boardwalk is a requirement for you, then maybe the Yacht Club is the best option. 
For those older guests who love visiting Walt Disney World during the very popular Food and Wine Festival, you might be wondering which resort is closer to Jellyrolls. In this case it would the Disney Yacht Club.
Related post: The Complete Guide to the Disney Skyliner Route
Dining at Beach and Yacht Club Resort 2023
Is having access to the best Disney World restaurants your deciding factor between the Disney beach club vs Yacht club? You'll be happy to find that both resorts provide an array of dining options. As we discussed though given that the resorts are essentially connected, you'll have a ton of options close by.
When you look at the resorts separately each resort would have about five restaurants each. One thing that might be useful in deciding where you want to stay is where the restaurants are actually located. If there is a particular restaurant your family wants to eat at, maybe consider the resort that is closer towards that particular restaurant. Below is the complete list of restaurants at each resort. 
What are the Disney Beach Club restaurants?
What are the Disney Yacht Club Restaurants ?
Yachtsman Steakhouse

Crew's Cup Lounge

Ale & Compass

Market at Ale & Compass
We also find it important to note that both the Disney Beach Club and Yacht Club are located on the Disney World BoardWalk. This means guests will have quick access to all of the dining options on the boardwalk as well as a quick walk to Disney's EPCOT, Hollywood Studios, and also the Dolphin or the Swan.
Related post: Complete Guide to the Disney World Boardwalk in 2022
Beach Club Vs Yacht Club Pricing 2023
Does price matter when comparing the Disney Beach Club vs Yacht Club? We find that when choosing between the two resorts based on price only, it's usually the smarter move to simply go with the cheapest option. The two resorts will have price variation throughout the year, and we have found that both can have deals for rooms. We would recommend keeping a close eye out, and if your busy schedule doesn't allow you to monitor deals work with a Disney Vacation planner like The Park Prodigy!   
We would say the only room type that might impact the price of your vacation unexpectedly, is the Disney resort villas at the Beach Club. These rooms typically cost more per night so it's important to decide if you need all of the amenities when comparing  the Beach Club vs Yacht Club. 
Related post: Complete Guide to the Walt Disney World Swan vs Dolphin Resorts
Disney's Yacht Club vs Beach Club – In Conclusion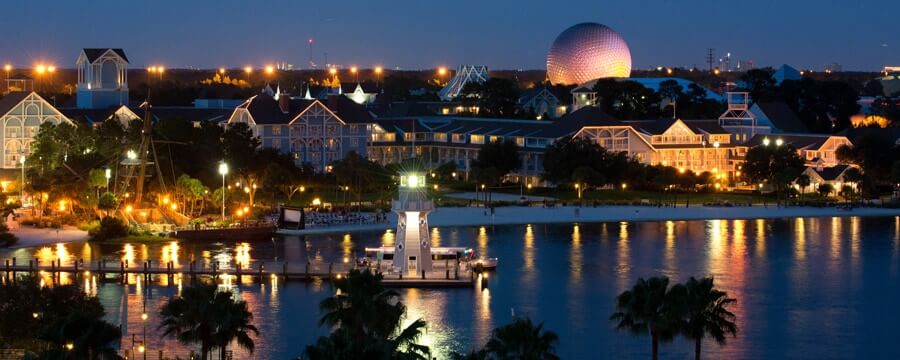 In conclusion, there are not a lot of differences between each resort. The pool for instance, is shared between both resorts. While very subtle, they do have certain advantages/disadvantages over one or the other. When deciding on whether or not to stay at the Beach Club vs Yacht Club, hopefully these factors can benefit you in deciding which resort to stay at!
We think that either Disney's Yacht Club or Beach Club would be a wonderful choice for families looking for incredible dining and entertainment, or even couples looking for a romantic night out on the BoardWalk. We love how close both the Beach Club and the Yacht Club to EPCOT, and only a boat ride away from Disney's Hollywood Studios.
Related post: Disney Memory Maker Guide – Disney World Pictures and Disney PhotoPass
When is The Best Time to Visit Disney World?
Our Disney  World Crowd Calendar is the best tool to help you get the most out of your time in the parks. We break down park crowds, park hours of operation, ticket prices, and average temperature. We also break down the best time to visit Disney World based on specific times of the year and special events.
Are You Ready to Plan Your Next Disney World Trip?
Are you planning a trip to Walt Disney World? Be sure to speak with a Disney World Travel Agent for the most recent deals and promotions. The Park Prodigy will provide a Free Quote for all Disney World Vacation Packages. The Park Prodigy can also help you save up to $20 per ticket when purchasing your Walt Disney World Tickets, and we offer promotional discounts for special events such as Boo Bash Halloween Party Tickets and Very Merry Christmas Party Tickets. If you're brand new to Disney vacation planning we recommend our Walt Disney World Planning Page! Learn more about Disney hotels by reading our Walt Disney World Hotels Review page.
Don't forget to check out our wonderful friends over at Theme Park Today, as well!