Complete Guide to Every Disney World Dessert Party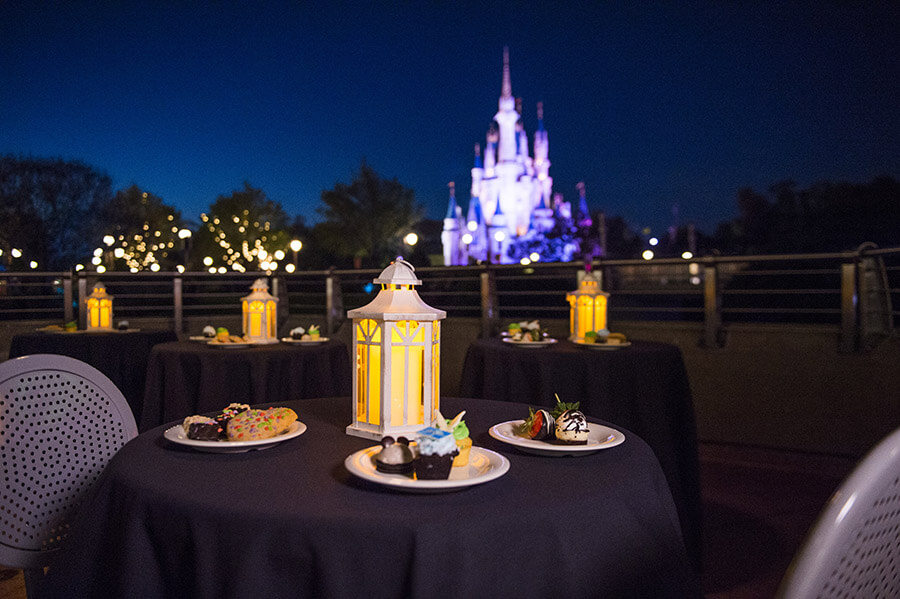 Complete Guide to Every Disney World Dessert Party
October 2021 update: As of right now, the only dessert parties that have officially been announced are the NEW Disney Enchantment 50th Anniversary Dessert Parties. All other dessert parties are temporarily unavailable until further notice. We will be sure to keep you updated as we learn more about the other Disney dessert parties.
This article is your complete guide to every Disney dessert party in Walt Disney World. These events have become increasingly popular as many people find the Disney World Dessert party to be the perfect way to end your night. Offered at each of the four Disney World theme parks, Disney dessert parties are a truly magical way to enhance your experiences at the nighttime parades and fireworks shows.
These exclusive events provide an intimate Disney experience for guests of all ages, and provide Walt Disney World fireworks reserved seating. This can be a great time saver, especially during the busier times at WDW as we typically recommend showing up 45 minutes before the fireworks show to grab a spot. We hope you find this post helpful, and if you are planning a trip to Disney be sure to check out our other FREE vacation planning tools. Our goal at The Park Prodigy has always been to help you save time and money on your next vacation. This includes helping you find the best time to buy Disney World tickets as well as book amazing Walt Disney World vacation packages!
So if you're ready to learn about all of the Dessert Parties offered at Walt Disney World read on!
SPECIAL NOTE: If you need help picking the best time to visit Disney World for your next vacation be sure to check out our Disney crowd calendar below!
Disney World Dessert Party Guide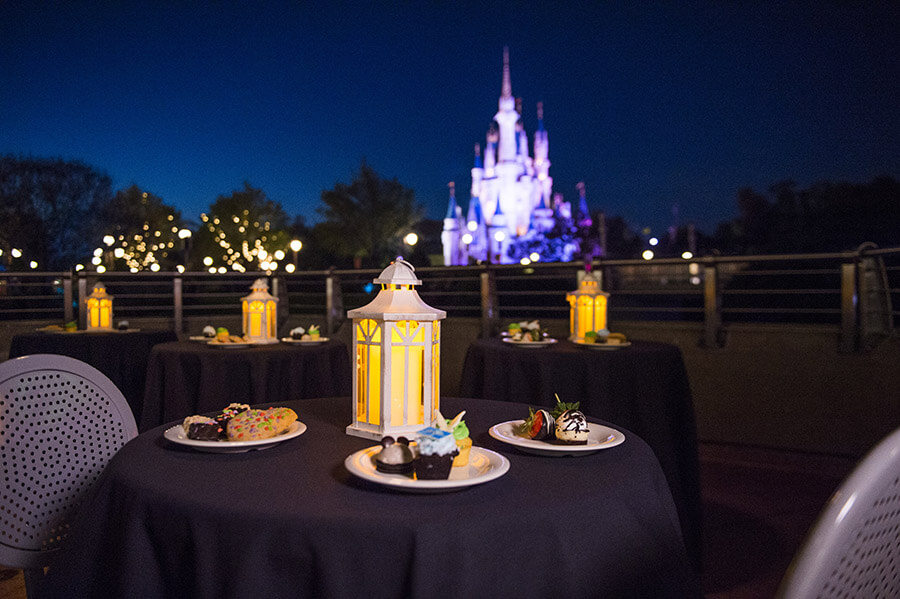 End your magical day with a celebration featuring delectable desserts and an enchanting fireworks or night time show at your favorite Walt Disney World theme parks! 
When Can I Book My Disney Dessert Party?
Once these special events are back we find it important to book your Disney World Dessert party as soon as possible as these parties are extremely popular. The Disney dessert party booking windows have typically fallen within the same time period as regular Disney dining reservations. (60 days at the time of this writing) However what we have found is this is not always the case.
Our number one tip would be to be patient and persistent if you have your heart set on a specific Disney dessert party. Just keep checking and calling the Disney dining reservation line 407.WDW.Dine. There are times too when you will see the Disney dessert party dates start to appear but you can't make a reservation yet. Simply follow up and log back on to the Disney dining page the next morning and you should be able to book your Disney dessert party.
Another tip that we want to point out regarding booking your Disney World dessert party is you must  prepay for your reservation. So to streamline the process be sure to have all of your payment information ready!
Magic Kingdom Dessert Party
Walt Disney Worlds Magic Kingdom currently offers three Disney dessert parties to choose from. Each of the three parties are located at the Tomorrowland Terrace Restaurant, and include the same food and VIP viewing experience for the Happily Ever After Fireworks. Below is our Magic Kingdom dessert party review! 
NEW! Magic Kingdom 50th Fireworks – Disney Enchantment Treats & Seats Opening October 3rd, 2021
Brand new for the 50th Anniversary Celebration at Magic Kingdom is the nighttime spectacular, Enchantment. This Magic Kingdom dessert party will be held first at Tomorrowland Terrace, with a host of 50th Anniversary themed desserts. You can expect chocolate covered strawberries, butterscotch pudding and a variety of cheeses.
You then will have an exclusive view of Enchantment for the most magical of evenings! You'll never have to leave your seat at Tomorrowland Terrace and enjoy the spectacular.
This sweet celebration will cost $114 for adults and $69 per child.
NEW! Magic Kingdom 50th Fireworks – Disney Enchantment PRE PARTY
You will get to start your evening off at the Tomorrowland Terrace to enjoy deliciously crafted desserts, the very same as the previous party. From there, you will be escorted to the reserved standing area to watch the Enchantment fireworks.
All desserts are themed after the 50th Anniversary party, and guests over 21 can enjoy an assortment of beer ant wine.
Pricing starts at $99 per adult and $59 per child, tax included.
NEW! Magic Kingdom 50th Fireworks – Disney Enchantment AFTER PARTY
With the Enchantment Dessert After Party, you will be first escorted to a special priority fireworks viewing area. Then, you will get to watch Enchantment, as it projects down Main Street, USA in all of its glory. After Disney Enchantment is over, you will be escorted back to Tomorrowland Terrace, where you will get to enjoy delicious desserts.
All desserts are themed after the 50th Anniversary party, and guests over 21 can enjoy an assortment of beer ant wine.
For this Magic Kingdom Dessert Party, adults will pay $99, and children aged 3 – 9 are $59.
Related Article: Best Restaurants at Walt Disney World 

Magic Kingdom Dessert Party at Tomorrowland Terrace
This Disney Dessert Party offers the same exact buffet as Plaza Garden, but you'll pay a slightly higher price to watch the fireworks from your table. Although this option comes at a higher price, the VIP views with this experience don't get any better. Plus, if it happens to drizzle during the fireworks, you'll be completely covered!
Dessert Party Cost: $79.00 per adult & $47.00 per child (ages 3-9).
Magic Kingdom After Fireworks Dessert Party
Feast after the fireworks with this intimate option. Offering the same buffet as the two other Dessert Parties, you'll be granted exclusive access to the Plaza Garden to watch the fireworks, then head over to Tomorrowland Terrace Restaurant to satisfy your sweet tooth.
Dessert Party Cost: $69.00 per adult & $41.00 per child (ages 3-9)
Magic King Dessert Party Menu Review
Snacks include the following options inspired by the different lands of the Magic Kingdom:
Chocolate Strawberries
Create your own cookies and cupcakes
Macarons
Eggrolls
Spinach Dip
Customizable ice cream sundaes and s'mores
Ooey Gooey Toffee Cake (an absolute MUST try!)
Hot chocolate
Passion Fruit Orange Guava Juice
Mickey's Very Merry Christmas Dessert Party
Guests attending Mickey's Very Merry Christmas Party can opt in for a special dessert party the night of their event. These events are very similar to the other Magic Kingdom dessert parties discussed above except they are only held on select special event nights.
There are currently two MVMCP Disney Dessert Parties:
Minnie's Wonderful Christmastime Fireworks Dessert Party with Plaza View
Minnie's Wonderful Christmastime Fireworks Dessert Party with Tomorrowland Terrace view
The pricing options for both parties do range from $69-$84 for adults and $41-$50 for kids aged 3-9. Just like all other Disney dessert parties these prices are an additional charge and is not a Mickey's Very Merry Christmas party ticket. Although we do love the fireworks at this event we simply don't find the dessert party worth it at this price point. Especially when you consider that free cookies are included with your MVMCP ticket. 
Our Thoughts on The Magic Kingdom Dessert Parties
Although we love the Disney dessert parties, we understand they might not be the best fit for every family. It really all depends on your taste buds and budget for your upcoming trip. As discussed, we find the dessert parties to be extremely helpful in grabbing a great view for the fireworks without having to show up super early. The truth is you can't go wrong, no matter if it's enjoying one of the three Magic Kingdom dessert parties or grabbing a snack on Main Street U.S.A.!
Related Articles: Best Snacks at the Magic Kingdom
Epcot's Frozen Ever After Dessert Party – STILL UNAVAILABLE
Whatever you do, don't let this one go! This EPCOT dessert party is a magical experience offering Frozen themed desserts, VIP seating at Epcot Forever Fireworks and a full, all you can eat menu of hot items, savory bites, top notch treats and mind blowing action stations. An assortment of adult beverages are also included in the Frozen Ever After dessert party.
And just when you thought it couldn't get any better, guests will be escorted to Epcot's Frozen Ever After ride after watching the nighttime show.
Frozen Ever After Dessert Party Cost: $79.00 per adult & $47.00 per child (ages 3-9).
Disney Frozen Ever After Dessert Menu
Freeze Fried Salted Caramel Popcorn at the Nitro Station (makes clouds come out of your mouth!)
Cheese Fondue with bread and broccoli
Warm desserts with the option to add whipped cream or ice cream
Kristoff's No Sugar Added Lemon Curd with Blueberry
Margaritas
Pina Coladas
Beer and wine
Our Thoughts on The Frozen Dessert Party
Considering how difficult it can be to snag a Fastpass+ for the Frozen ride, we think this is a great option during peak season. However given how big World Showcase is, this dessert party does not have the same fireworks viewing advantage as the Magic Kingdom. It's still an awesome event for every sweet tooth in your family!
Animal Kingdom Dessert Party
Unfortunately Disney has made the tough decision to cancel the Rivers of Lights nighttime show at Animal Kingdom. It does not come as much surprise, however on the downside there will now be one less dessert party to attend. It's important to note that we are not sure if Disney has any plans on replacing the River of Lights dessert party. However we would find it difficult for them to sell this event at this price with no nighttime show.
We are going to leave the description up just incase Disney does decide to keep this as a regular dessert party once these events are being held again!
Just like EPCOT's Dessert Party an assortment of adult beverages are included in your admission.
Animal Kingdom Dessert Party Cost: $79.00 per adult & 47.00 per child (ages 3-9).
Animal Kingdom Dessert Party Menu
Assortment of cookies and cupcakes
Chocolate Pot de Creme (served in flower pots, similar to a "cup of dirt" dessert)
Orange Tiger Cake Push Pops
An assortment of cheese
Pineapple Bars
Tiger Lilly mixed cocktail
Beers and wine
Our Thoughts on the River of Lights Party
We simply aren't huge fans of the River of Lights show. We also feel the bonus ride and larger spread makes Epcot's Frozen Ever After Dessert Party a better value. Unless you have some die-hard Animal Kingdom lovers in your party, we'd choose another one
Star Wars Galactic Dessert Party at Hollywood Studios – STILL UNAVAILABLE
The Star Wars a Galactic Spectacular Dessert party at Hollywood Studios is an absolute must-do for Star Wars fans! The all-you-can-eat menu is very similar to the Magic Kingdom and Epcot with the addition of some galactic themed delights. Like the EPCOT and Animal Kingdom parties this event does include adult beverages. Plus, the Hollywood Studios dessert party comes with a Star Wars souvenir Chewbacca Stein!
Guest's will be escorted from the Star Wars Launch Bay to a VIP viewing area to watch A Galactic Spectacular.
Disney Galactic Spectacular Dessert Party Cost: $79.00 per adult & 45.00 per child (ages 3-9).
Star Wars Dessert Party Menu
Darth Vader Cupcakes
Flatbreads
Roasted red pepper hummus
Freeze-fried chocolate hazelnut mousse
Solar Margaritas
The Park Prodigy Star Wars Dessert Party Review
This is the perfect event for every Star Wars lover in your family for obvious reasons! Although there are better nighttime shows than A Galactic Spectacular, Disney makes up for it with the Star Wars themed desserts.
Related Articles: The Best Restaurants at Hollywood Studios
Hollywood Studios Fantasmic Dessert Party – STILL UNAVAILABLE
Unlike the other Disney Dessert Parties, this unique experience is not an all you can eat buffet. However, you won't have to save your spot in the bleachers an hour before Fantasmic begins which is a plus. Your seat is reserved, and you'll be served a box of specialty dessert items which include chocolate dipped strawberries, cheese and crackers, and make your own worms and dirt for kids. Adults will also receive a specialty drink in a souvenir cup.
Fantasmic Dessert Party Cost: $39.00 per adult & $19.00 per child (ages 3-9)
Our Thoughts on the Fantasmic Dessert Party
This is the most affordable Dessert party option and is a must do during peak season. We typically recommend our guests arrive an hour before Fantasmic begins. This will allow guests to spend more time on rides and enjoying the park. For that reason we simply love this party!
Disney World Dessert Party Reservations
It's important to note that each of the Disney Dessert Parties mentioned above are extremely popular so advanced reservations is a must! A valid Walt Disney World ticket is required for entry
You can make your reservation on the my Disney experience app or by calling 407.WDW.Dine.
Is the Disney World Dessert Party Worth it?
One of the most common questions we receive is, is the Disney dessert party worth it? Now, it's important to note that this is just our opinion here at The Park Prodigy however we don't feel like it's the right fit for every family. Given the high price tag and just based on the numbers alone, the average guests would have to enjoy 7-8 cupcakes for it to be a way to save money. That's also per person, which is not a small ask.
On the flip side there is something to be said for being able to grab the perfect fireworks spot without having to show up 45 minutes before the show. Guests always have to worry about someone coming to sneak in front of them at the last minute as well.
So although we do think there are better ways to splurge on special events at Walt Disney World we can understand why some guests do prefer to book the Disney dessert party.
Disney Dessert Party Facts and Questions
Q: What happens if the fireworks are canceled the night of my Disney dessert party? 
A: It's important to note that Disney's policy states fireworks are not guaranteed as part of the Disney dessert party experience. On the rare occasion that the fireworks are rescheduled or canceled guests will not be eligible for a refund. However guests would still be able to enjoy all of the treats included with your Disney dessert party admission. 
When is The Best Time to Visit Disney World?
Our Disney Crowd Calendar is the best tool to help you get the most out of your time in the parks. We break down park crowds, park hours of operation, ticket prices, and average temperature. We also break down the best time to visit Disney World based on specific times of the year and special events.
If you're brand new to Disney vacation planning we recommend our Walt Disney World Planning Page! Learn more about Disney hotels by reading our Walt Disney World Hotels Review page.
Last but not least if you're also planning a trip to Universal Studios, be sure to check out the best time to visit Universal Studios and our Universal Orlando Tickets! All Park Prodigy Universal Orlando tickets come with Universal Studios Early Park Admission.
Are you planning on visiting Walt Disney World? Or have you visited in the past? Would you like to share your experiences and tips? Do you have any questions for The Park Prodigy? Hearing your feedback and helping with your questions is not only our goal but will help other readers! Please leave your thoughts and questions in the comments!