Star Wars Galaxy's Edge Tips & Tricks- The Best Guide On This Planet 2023!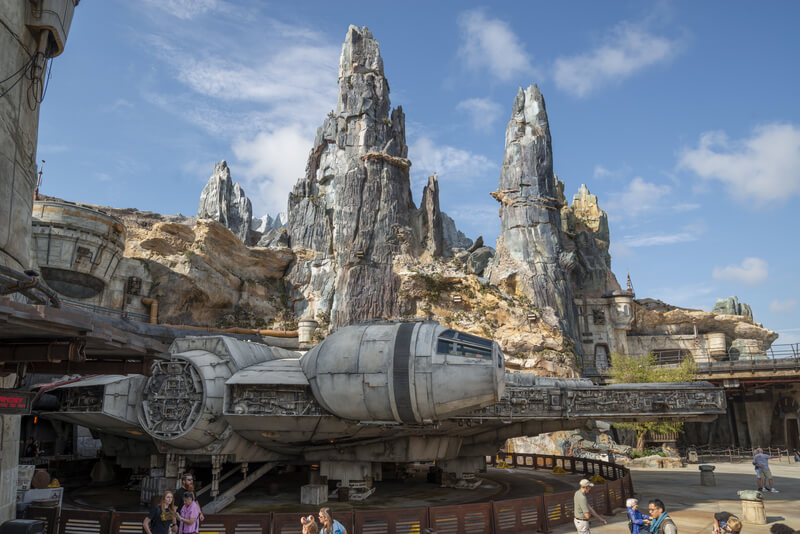 Star Wars Galaxy's Edge Tips & Tricks- The Best Guide On This Planet 2023!
This article is your complete guide to Star Wars Galaxy's Edge Tips and Tricks! This immersive new land transports you to a galaxy far far away and places you on the beautiful planet of Batuu (a planet on the edge of the Star Wars galaxy).
From the sounds of starships flying overhead, to lip-tingling drinks and Kowakian monkey lizards, you just might forget that you actually never left planet Earth. There is so much to do and to see in this new world, and that's why we've got all the Disney World Star Wars: Galaxy's Edge tips!
You really can't experience anything like Star Wars Galaxy's Edge 2023 in any other theme park and we are so excited to show you how to get the most out of your day in the parks. We hope you find this post helpful, and if you are planning a trip to Disney World be sure to check out our other FREE vacation planning tools. Our goal at The Park Prodigy has always been to help you save time and money on your next vacation. This includes helping you find the best time to buy Disney World tickets as well as book amazing Walt Disney World vacation packages!
In this guide we'll break down everything you need to know about Star Wars: Galaxy's Edge. Including Star Wars rides, Batuu restaurants, maps, and even the best tips for Star Wars at Disney World! 
Read on, Batuuans!
SPECIAL NOTE: If you need help picking the best time to visit Walt Disney World for your next vacation be sure to check out our Disney crowd calendar!
Entering Star Wars Galaxy's Edge 2023
Don't ewok, run! There are two entrances to getting into Star Wars Galaxy's Edge at Disney's Hollywood Studios. And of our first tip is to possibly use the back entrance depending on the time of day or how you plan to tackle this part of the theme park. It's important to note that if you are visiting in the morning most guests are going to enter through the Grand Avenue near Muppet Vission 3d so expect for their to be larger crowd levels.
Star War's Galaxy's Edge entrances:
Back of Toy Story Land
Grand Avenue near Muppet Vision 3D
You'll find the first entrance on the edge (pun intended) of Hollywood Studios, next to Toy Story Land.
The second entrance is adjacent to Grand Avenue near Muppet Vision 3D. Upon entering, space travelers will find themselves in Black Spire Outpost, a village on Batuu.
Guest's can explore out-of-this-world dining locations, and treats like Blue Milk and exotic shops. With so much to do, you'll want to go in with a game plan before exploring Batuu. Be sure to check out our Disney World planning page for help!
How to Avoid Star Wars Galaxy's Edge Crowds 2023
If you're looking to avoid the Star Wars Galaxy's Edge crowds, we recommend to possibly visit on the weekend. There's nothing like a near-empty WDW Star Wars Galaxy's Edge to give you a real feel for all the work and care that creates this one-of-a-kind out-of-this-world experience!
We also recommend to possibly make this section of the park the last of the day. As crowds tire out and head home, explore Batuu all lit up in its beautiful otherworldly glory. And while it's great to have a Star Wars Galaxy Edge plan to avoid Star Wars Galaxy Edge Disney World crowds 2023, prepare to be flexible. If the number of visiting humans to Batuu is too heavy, voyage out to other parts of the park and return later when things are a bit more calm.
Be sure to check out our blog post on the best time to visit Stat War's Galaxy's Edge! 
Star Wars Galaxy Edge Map 2023
Above is the most recent Star Wars Galaxy's Edge Map at Walt Disney World.
Galactic Attractions at Star Wars: Galaxy's Edge 2023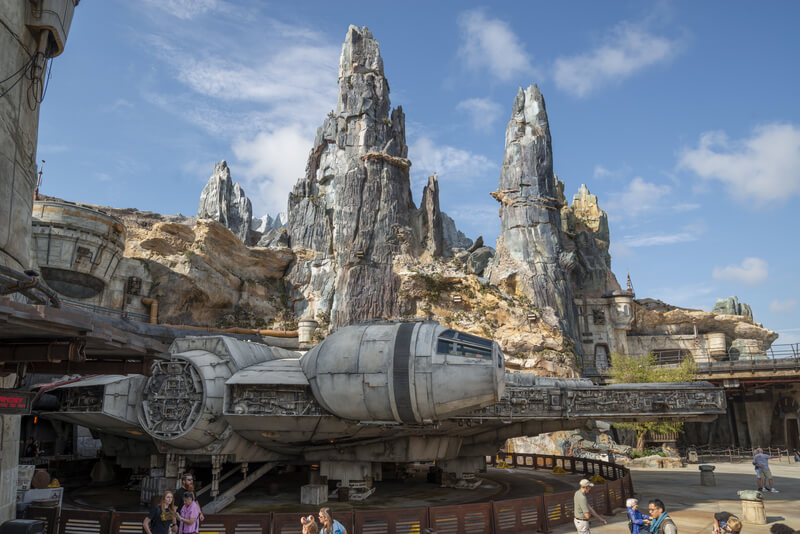 Which rides are in Star Wars Galaxy's Edge?
Millennium Falcon: Smugglers Run!
Star Wars: Rise of the Resistance!
Millennium Falcon: Smugglers Run!
Are you ready to join the resistance and fly the fastest hunk of junk (also known as a starship) in the galaxy aboard Millennium Falcon: Smugglers Run? When boarding the attraction, you'll be fully immersed in galactic sights and sounds while walking through a life-size replica of the Millennium Falcon. (Goosebumps? Yea, us too!) Using real-time video technology, you and your six-person flight crew will work together to fly the ship using cockpit controls.
Before you board, this ride also has certain height and safety requirements for Smuggler's Run. Riding guests must be 38 inches tall and anyone under 7 must be accompanied by someone at least 14 years old. For safety, you should be in good health and free from high blood pressure, heart, back or neck problems, motion sickness, or other conditions that could be aggravated by this adventure. Expectant mothers should not ride.
Once you have traveled through the briefing area with Hondo Ohnaka, you will then enter the Millennium Falcon. Cast members will help you find your flight crew and get you ready to enter the cockpit. There are three flight crew jobs on each ride vehicle (2 people will be assigned to each role).
What are the roles for Millennium Falcon Smugglers Run?
Pilot
Gunner
Engineer
A Disney cast member will pass out randomly selected color-coded cards with your crew position. At this time of social distancing, you will only be put into a vehicle with your immediate party. You will not be joined by others that are not a part of your group. So, if you are traveling alone, you'll get an entire cockpit to yourself and a cast member will allow you to pick your role!
Each role is both important and fun, having an integral part of how your journey transpires. Gunners sit in the middle of the cockpit and are responsible for firing lasers and guns. Pilots will sit in the front, working together to fly the ship. Lastly, flight engineers stationed in the back of the cockpit work together to fix any damage that the ship undergoes during its mission. What we love most about this intergalactic adventure is that no matter how many times you ride it, every mission is different!
Related Post: Complete Guide: Disney World for Adults
Star Wars: Rise of the Resistance!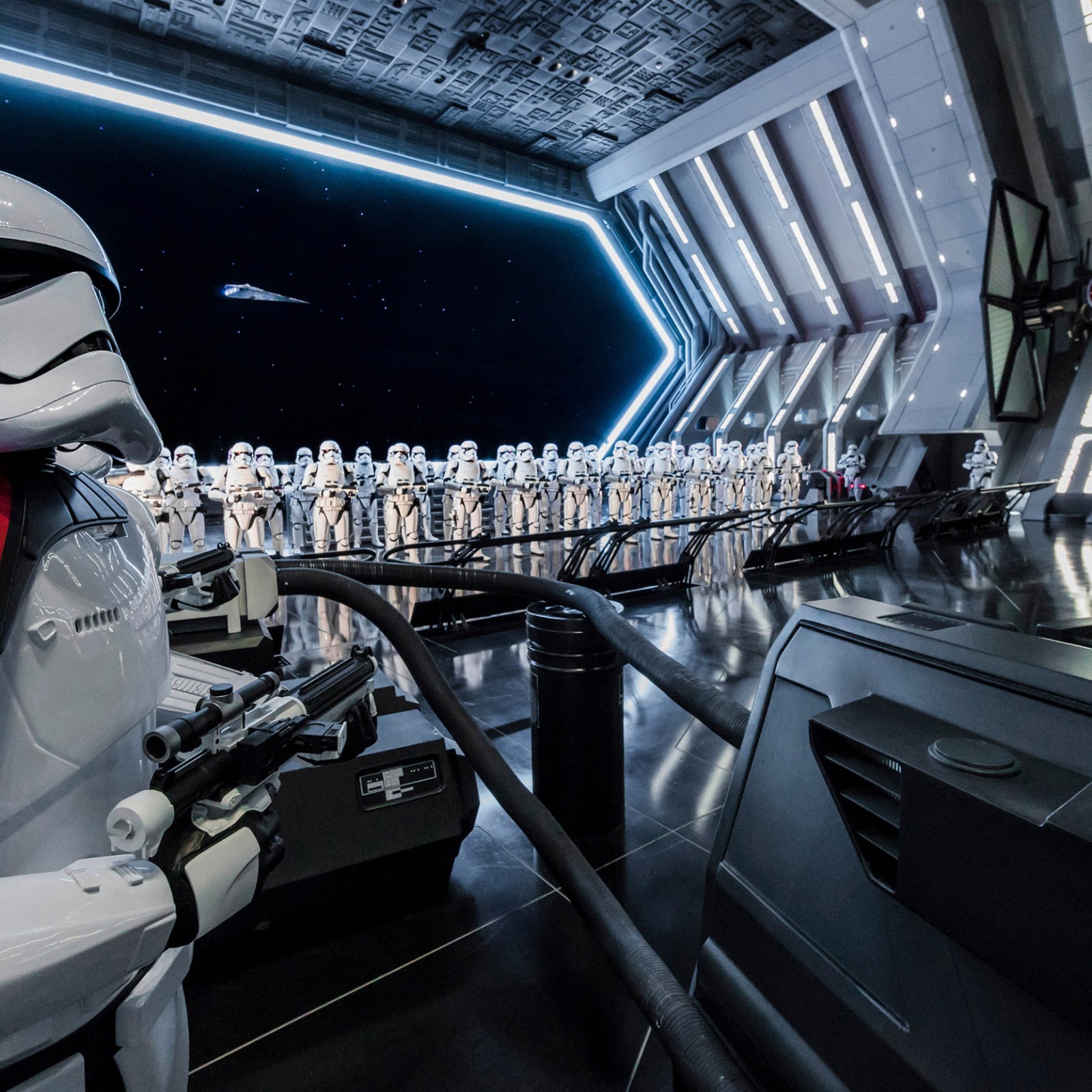 And just when we thought this attraction couldn't be topped, we heard all about Disney's Star Wars: Rise of the Resistance! This attraction opened up on December 5th and in Disneyland and January 17th, 2020 in Walt Disney World. The highly anticipated attraction uses a trackless system that puts riders in the middle of a battle between the First Order and the Resistance. For those of you wondering how long the Rise of the Resistance Ride is, the full experience is more than 20 minutes, packing in 305 animatronic figures, 18 show areas and 5 ride system types along the way!
In full Disney fashion, not only is Star Wars Rise of the Resistance a one-of-a-kind attraction but how to get on Disney's Rise of the Resistance is a completely new process as well.
Star Wars Galaxy's Edge virtual boarding group
December 2021 Special note: Star Wars Galaxy's Edge boarding groups have currently been halted with the release of Disney Genie + and Lightning Lane. You can only experience this ride by waiting in stand-by or by purchasing individual lightning lane passes. We do not know when virtual boarding groups will continue.
While you don't need reservations for Star Wars Rise of the Resistance, you will need a Rise of the Resistance Boarding Pass. For the first time in Disney history, guests must board a Rise of the Resistance virtual boarding group using the My Disney Experience App.
You can check out our entire virtual boarding group blog here!
Rise of the Resistance does have some health and height restrictions so we recommend that you check them before you log in to try to score boarding passes for your group, making sure everyone can safely participate. Then, if you're lucky enough to score a boarding pass when you're at Stars Wars Hollywood Studios Rise of the Resistance, prepare yourself for a ride that's going to blow your mind!
What is Star Wars Rise of the Resistance like?
Even as you walk through the queue line to get to the Transport Ship, you'll see sights and hear sounds that let you know you've left Earth far behind. Your first stop will be in the Briefing Room, where none other than BB-8 and Rey will let you know what to expect.
After becoming a "recruit" and learning all you need to know, you and your group will head off the Transports to "join the cause." And while we won't give you every detail of what happens to you after you board Lieutenant Bek's transport, be ready to be captured by Storm Troopers, zoom in and out of AT-ATs, and dodge Kylo Ren as he hunts for your group. You don't need to worry too much though. In the end, the Resistance lives to fight another day and you'll have an incredible story to share. We love everything about this ride and it's definitely an instant must-see at Disney World!
Dining at Star Wars Galaxy's Edge 2023
With so much to explore, you're guaranteed to work up a Wookie-sized appetite while visiting Batuu! Thankfully, there's an entire galaxy of Star Wars Galaxy's Edge food and drink options available from the moment you step foot into Black Spire Outpost.
Oga's Cantina – Star Wars Galaxy's Edge 
Buckle up! Take your taste buds on the adventure of a lifetime at Oga's Cantina. The infamous watering hole is the ultimate hangout site for locals, bounty hunters, smugglers and the funky droid, DJ R-3X! Serving an impressive mix of specialty cocktails and mocktails, there's something delicious for travelers of all ages to delight in. With a limited snacking menu, the cantina exclusively offers Batuu Bits- a crunchy trail mix that pairs perfectly with its flavor-packed beverages. Be sure to make a reservation as early in advance as possible, since the lively bar has been drawing in large crowds since opening day.
Our top 3 alcoholic beverages at Oga's Cantina Star Wars Galaxy's Edge 2023
The Fuzzy Tauntaun – Cîroc Peach Vodka, Bols Peach Schnapps, and Simply Orange topped with Tangerine, Pure Cane Sugar, "Buzzz" Foam. Not only is this drink deliciously citrusy and light, it also creates a tingling sensation on your tongue while you sip. The force is strong with this one!
The Outer Rim – Patrón Silver Tequila, Cedilla Açaí Liqueur, Lime Juice, and Pure Cane Sugar topped with Black Salt and Exotic Fruit Purée. Quite possibly the closest thing you'll get to a margarita while visiting Batuu! This drink is perfectly sweet with a well-blended fruit puree that's out-of-this-world.
Rancor Beer Flight Souvenir Board with Four Teeth – Beyond the robust beer lineup this flight has to offer, the real takeaway here is the souvenir flight and rancor teeth drink vessels that you get to keep. Chewie, we're home!
Docking Bay 7 Food and Cargo Star Wars Galaxy's Edge
For exotic flavors and more substantial fare, hop on over to Docking Bay 7 Food and Cargo! This counter-service dining location goes all in on Star Wars themed dishes for breakfast, lunch and dinner. Some of their most popular menu items include: Smoked Kaadu Ribs, Yobshrimp Noodle Salad, Batuu Bon and the Felucian Garden Spread.
Ronto Roasters – Star Wars Galaxy's Edge
You can't wander through the market without taking in smells of roasting meats from the Ronto Roasters meat stall. Indulge in a mouth-watering grilled sausage sandwich while a pitmaster droid spins a mechanical spit, grilling a Tatooine-native ronto.
Milk Stand – Star Wars Galaxy's Edge
Channel your inner Luke Skywalker and treat yourself to a cup of Blue or Green Milk! Hanging from the roof of the stand are eye-catching containers holding Blue and Green Milk. It bubbles and splashes, running in tubes to the serving station where you can retrieve your galactic drink. Citizens of Batuu working the stand will toss you a frosty concoction of delicious, fruity blue or green milk!
The non-dairy and plant-based beverages are made with coconut and rice milks. Blue Milk combines flavors of dragonfruit, lime, pineapple and watermelon, while Green Milk is flavored with mandarin orange, passion fruit, grapefruit, and orange blossom.
Kat Saka's Kettle
Pop over to this outdoor snack stall for a sweet, spicy and colorful helping of Outpost Mix! This specialty popcorn is a local-favorite, popped in coconut oil and bursting with fruity and savory red chili flavors. While you're there, snag an exclusive Batuuan Coke Bottle!
Related Post: Top 10 Best Disney World Restaurants
Shops and Merchandise Throughout the Galaxy 2023
Savi's Workshop hand-built lightsabers at Star Wars Galaxy's Edge
If you've ever dreamed of creating your own Star Wars Galaxy's Edge legacy lightsaber, this is the place to go. Craft your very own one-of-a-kind saber with the help of the Gatherers! This immersive attraction offers an intimate building experience that allows guests to choose their path as a Jedi or Sith.
Recommended for ages 5 and up, this full experience costs $199.99 plus tax person and at least one person in the group must be 14 years or older.
Each person participating will begin with deciding which type of lightsaber they'd like to create. There are four types – Peace and Justice, Power and Control, Elemental Nature, and Protection and Defense. After choosing what type of Star Wars Galaxy Edge legacy lightsaber you want to make, you are then given the option the parts you will use to create your lightsaber including which Star Wars Galaxy's Edge kyber crystal you wish to use to power it with.
Once your lightsaber is built, you will take part in a special ceremony as it is powered up and ready for your use to defend justice in the world (or just impress all your friends with).
**Special note: Advanced reservations are required due to limited space. We have included a link here!
Droid Depot at Star Wars Galaxy's Edge
Enter a warehouse full of living and breathing droid parts where you'll custom-build and adopt your very own droid! By selecting from a parts station of you can create your very own BB-series or R-series style of the droid to bring home with you. Could there be a better souvenir than a cute little droid from Star Wars Galaxy's Edge Droid Depot?
Recommended for ages 3 and up, this experience comes with a price tag of $99.99 per droid (you can purchase other products such as personality chips for an additional price). Each droid comes with its own carry box and instructions.
We created a video showing you exactly what it's like to build a droid at Walt Disney World!
You can also check out our blog post on building a droid in Disney World! 
**Special note: Advanced reservations are highly encouraged. We have included a link here!
Dok-Ondar's Den of Antiquities
Shop unique antiquities like kyber crystals and holocrons from all across the galaxy.
Resistance Supply
Shop and stock up on pins, tools, training supplies, Resistance uniforms and a whole bunch more!
First Order Cargo – Prove your allegiance to the First Order and shop for recruitment gear and gadgetries.
Street Market Stalls
Creature Stalls – Shop a wide selection of unusual creatures and critters, and take home a new friend from across the galaxy!
Black Spire Outfitters – Gear up for your next adventure to Star Wars: Galaxy's Edge with the latest outfits in the galaxy for Jedis and Sith alike!
The Jewels of Bith – The landing pad for Galaxy's Edge souvenirs from trinkets to treasures.
Toydarian Toymaker – Explore unique toys and plush versions of your favorite Star Wars characters!
Top Tips and Tricks for Visiting Star Wars: Galaxy's Edge 2023
And now that we've given you an in-depth lay of the land, here's some Disney World Galaxy's Edge Tips you do to make the absolute most out of your journey to Batuu.
Play along with Play Disney Parks App!
This is one time it's okay to be on your phone while at WDW Galaxy's Edge. Use the Star Wars: Datapad on the app to translate the Aurubush language that is printed on many of the signs in the Black Spires Outpost. You can even use the Star Wars: Datapad to hack into and interact with some droids and control panels in Batuu.
Learn the local lingo of Star Wars Galaxy's Edge: 
Cast members? Not at Galaxy's Edge. You'll be interacting with the locals of Batuu, so make sure you're fully prepared to engage with them!
"Bright suns!" ("Good day!")
"Rising moons." ("Good evening.")
"May the Spires keep you." (A formal goodbye.)
"'Til the Spire!!" (A casual goodbye.)
Stay on the lookout for details
Keep your eyes peeled throughout your travels to take in every last detail while on your journey. From the hidden Millennium Falcon to creature tracks found on the sidewalks, there's something exciting to see around every corner. Just absorbing every nuance of this planet is one of the best ways to experience Star Wars Galaxy's Edge.
Make advanced Star Wars reservations
Spots like Oga's Cantina, Savi's Workshop – Hand Built Lightsabers and Droid Depot are very popular. We highly recommend making reservations as early in advance to your visit as possible to avoid Star Wars Galaxy's Edge crowds in these areas. You won't regret it!
Interact with the characters
You won't just "meet" Chewbacca. You might just have a conversation with him about how you can help the Resistance (no worries, his interpreter will help you understand what Chewie wants). At Batuu, you'll have the opportunity to experience real, unexpected character interactions (which also means you better look out for those Storm Troopers. They're suspicious of everyone!)
Capture the magic with Photo Pass
Hold on to your first time seeing the Millennium Falcon with PhotoPass! There are tons of unique PhotoPass opportunities throughout the land that are totally worth the splurge, including special magic photo ops with The Bounty (AKA The Child or Baby Yoda).
We hope these Disney World Star Wars Galaxy's Edge tips will help you enjoy your amazing journey to Star Wars Galaxy's Edge to the fullest! Let us know if you have more tips for Star Wars at Disney World to share after you've made your trip to Batuu. We'd love to hear them! Until then, may the Spires keep you!
When is The Best Time to Visit Disney World?
Our Disney Crowd Calendar is the best tool to help you get the most out of your time in the parks. We break down park crowds, park hours of operation, ticket prices, and average temperature. We also break down the best time to visit Disney World based on specific times of the year and special events.
Are You Ready to Plan Your Next Disney World Trip?
Are you planning a trip to Walt Disney World? Be sure to speak with a Disney World Travel Agent for the most recent deals and promotions. The Park Prodigy will provide a Free Quote for all Disney World Vacation Packages.
The Park Prodigy can also help you save up to $20 per ticket when purchasing your Walt Disney World Tickets, and we offer promotional discounts for special events such as Mickey's Not So Scary Halloween Party Tickets and Mickey's Very Merry Christmas Party Tickets.
If you're brand new to Disney vacation planning we recommend our Walt Disney World Planning Page! Learn more about Disney hotels by reading our Walt Disney World Hotels Review page.
Last but not least if you're also planning a trip to Universal Studios, be sure to check out the best time to visit Universal Studios and our Universal Orlando Tickets! All Park Prodigy Universal Orlando tickets come with Universal Studios Early Park Admission.
Are you planning on visiting Star Wars Galaxy's Edge? Or have you visited in the past? Would you like to share your experiences and tips? Do you have any questions for The Park Prodigy? Hearing your feedback and helping with your questions is not only our goal but will help other readers! Please leave your thoughts and questions in the comments!