Complete Guide to the Best Disney Resort Pools 2023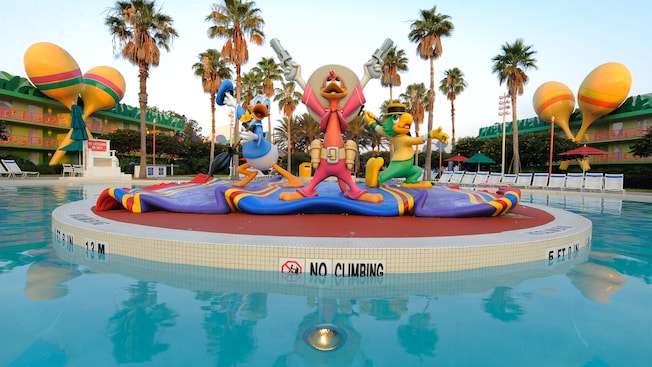 Complete Guide to the Best Disney Resort Pools 2023
This post is your ultimate guide to the 2023 best pools at Disney World! Down in Florida, it can get pretty warm, even during the winter months. Walt Disney World is full of unique and fun pools that will be sure to keep you cool and relaxed. With so many options, it may be hard to choose which ones you'll be enjoying during your next trip. For us, it is difficult to pick the Disney hotel with the best pool, since there are so many we love. But, looking through our guide, we're sure you'll find the perfect pool for your family.
That's why we've comprised a list that breaks down the best Disney World resort pools that will make you feel like you're swimming in a whole new world! We hope you find this post helpful, and if you are planning a trip to Disney World be sure to check out our other FREE vacation planning tools. Our goal at The Park Prodigy has always been to help you save time and money on your next Disney vacation including the best time to buy Disney World tickets and book amazing Disney vacation packages! 
So if you're ready to read about the best Walt Disney World pools read on!
SPECIAL NOTE: If you're looking for the best time to visit Disney World in 2023 check out our Disney Crowd Calendar!
Best Pools at Disney World 2023
Walt Disney World has always been known for it's amazing entertainment in the four Disney World theme parks but one of the hidden gems we have always loved about Disney are the amazing themed swimming pools. Now that the 50th Anniversary Celebration is underway, resort days are wonderful ways to breakaway from the theme parks, which are very are expected to be busy throughout the year. That's why knowing the best pools at Disney World will give you one step up on having the perfect resort day!
What are the best 2023 pools at Disney World? 
Big Blue Pool
Copper Creek Springs Pool
Uzima Pool
Samawati Springs Pool
Fuentes del Moro Pool
Oasis Pool
Cozy Cone Pool
The Lost City of Cibola Pool
Beach Pool
Lava Pool
Stormalong Bay
Related Post: Complete Guide to the Walt Disney World Boardwalk 
Before we dive into the details for each pool, let's answer some questions you might have when booking your stay at a resort with the best pools at Walt Disney World:
Big Blue Pool – Best Disney Pool #10
Disney Pool Location: Art of Animation Resort
Swim with the fishes at this Finding Nemo-themed pool. Nemo, Dory, Marlin, and other characters greet you throughout this large pool. You'll also get to dance (or swim) to underwater music. Although it draws larger crowds due to its size, it's a fun entertainment center, making it one of the best Disney pools for families.
Oasis Pool – Best Disney Pool #9
Disney Pool Location: Polynesian Village Resort
Speaking of Oasis, this Disney Polynesian pool is smaller in size but will make you feel quite enchanting. It's nestled within a lush garden and located among Samoa, Hawaii, and Tokelau, which are the tropical themes of the resort. It features a zero-entry edge, a hot tub, a bar, and a grill with interesting dishes. This pool promises a more tranquil swim for those looking to relax and unwind, making it one of the best Disney pools for adults.
The Lost City of Cibola Pool – Best Disney Pool #8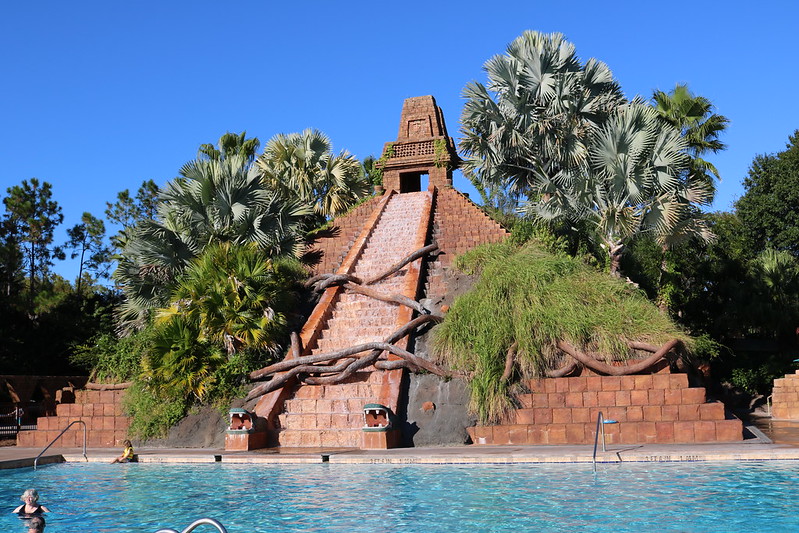 Disney Pool Location: Coronado Spring's Resort
The Mayan-ruins-themed pool is located at the Dig Site, making it an intriguing spot for both kids and adults. Your eye will immediately catch the 50-foot pyramid and the flowing water coming from its stone steps. For those looking for a thrill, the 123-foot water slide featuring a spitting jaguar makes for one of the best Disney hotel water slides. Adults can enjoy the largest hot tub on Walt Disney World resort property and the Siesta Pool Bar. If kids need a break from the excitement of the water, there's also a nearby play area, an arcade, and a white-sand volleyball court.
Samawati Springs Pool – Best Disney Pool #7
Disney Pool Location: Animal Kingdom Lodge
It's pretty clear that the Animal Kingdom Lodge has some of the best Disney World pools 2023, as there are a couple on this list! This 4,700-square-foot pool is located at the Kidani Villas, featuring a 128-foot waterslide and zero-depth entry. Plus, it includes the Uwanja Camp, a water playground with 3 distinct zones meant for kids of all ages. There's Observation Station for children ages 4 and younger, Departure Zone for ages 5 to 7, and Base Camp for ages 8 and up.
Copper Creek Springs Pool – Best Disney Pool #6
Disney Pool Location: Animal Kingdom Wilderness Lodge
Did someone say Hakuna Matata? Because there will be no worries in this pool surrounded by luscious greens, realistic boulders, and a calming waterfall. This is the main pool at Wilderness Lodge. Swimming here will make you feel like you are in a secluded area, relaxing in the jungle, with the inclusion of the hotel's geyser and Bay Lake in view. For the kids (and the young at heart), there's a 67-foot waterslide built into the rocks as well as hot and cold whirlpool spas, and a water play area.
Related Post: The Best Walt Disney World Hotels 
Uzima Pool – Best Disney Pool #5
Disney Pool Location: Animal Kingdom Lodge
Located in the Jambo House, this is one of the largest and best Disney World pools. Containing 234,980 gallons of water, this Animal Kingdom Lodge pool is known for its sparkling, tropical oasis. To make things wild, there are animal viewing areas where you can view the animals at the Lodge, including the flamingoes. They also offer a 67-foot-long waterslide. For the adults; enjoy the pool bar and the hot tubs.
Fuentes del Moro Pool – Best Disney Pool #4
Disney Pool Location: Disney's Caribbean Beach Resort
Unleash your inner Captain Jack Sparrow at this Spanish colonial fortress-style pool. To feel even more as if you're in Pirates of the Caribbean, water cannons are included. This very kid-friendly Disney hotel pool is made up of Forts, with one including a staircase leading up to two waterslides. There's a Shipwreck Play Area, which, of course, maintains a pirate-ship-themed splash pad for the youngest of pirates.  It also has two secluded hot tubs and a pool bar for the adults. Plus, it's close to Banana Cabana and Centertown Market.
Related Post: Complete Guide to Disney World for Adults 
Cozy Cone Pool – Best Disney Pool #3
Disney Pool Location: Art of Animation Resort
Guests staying at the Cars Suite at Disney's Art of Animation will feel like they're in the movie. The cabanas are available for free on a first-come, first-serve basis (and yes, they're in the shape of cones). This is one of the best pools at Disney hotels 2022 because these cabanas provide lots of shade and comfort for those looking to make an entire day at the pool. For the adults asking, "Does Art of Animation have a hot tub?" The answer is they do not, but that makes this resort one of the best Disney pools for families
Grand Floridian Beach Pool – Best Disney Pool #2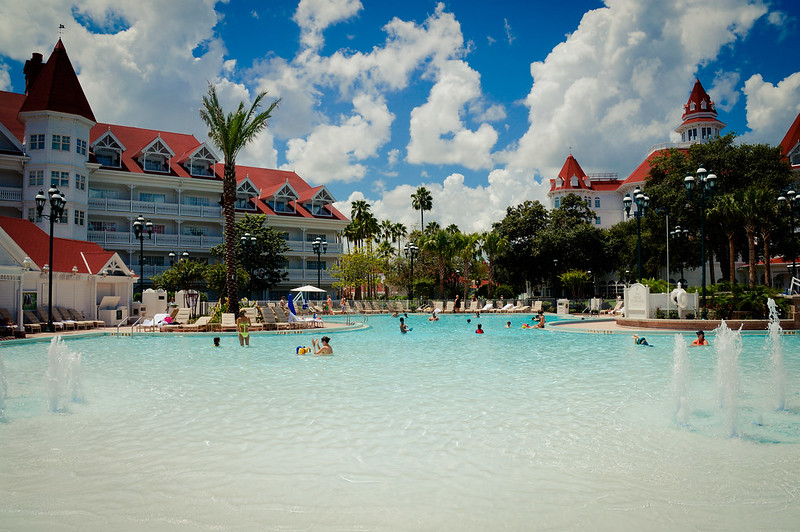 Disney Pool Location: Grand Floridian Resort & Spa
You get to relax your troubles away at the Grand Floridian pool in Disney, containing 111,261 gallons of water, overlooking Seven Seas Lagoon and the Magic Kingdom. The natural springs-theme will keep you tranquil (and the poolside bar helps too). There's also a 181-foot-long waterslide, many waterfalls, a walking bridge, and zero-depth beach entry, making the Grand Floridian beach pool the best of both worlds. For the kids, there's an Alice in Wonderland water play area. Truly, this is one of the best Disney pools for adults, because of the peaceful upbringing and secluded location.
Lava Pool – Best Disney Pool #1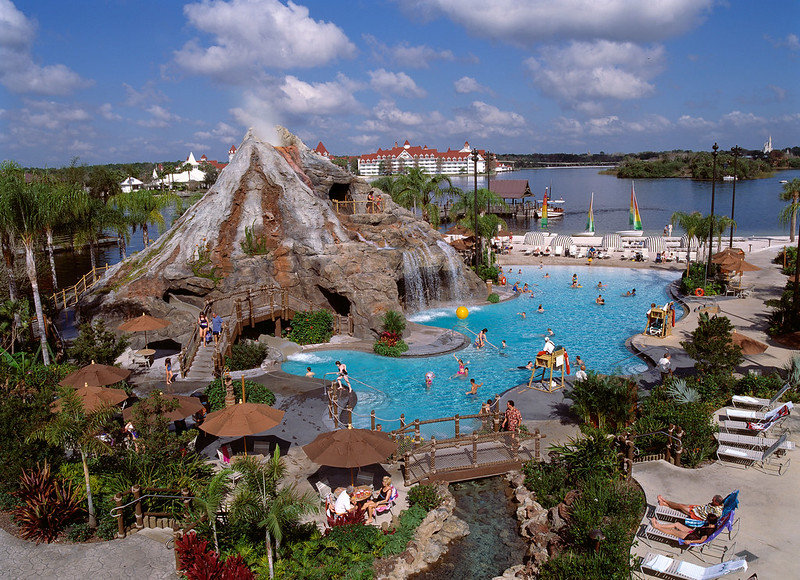 Disney Pool Location: Polynesian Village Resort
Once called the Nanea Volcano Pool, it has now changed its name. The Disney Polynesian Resort pool is located in the center of the resort. This main pool is known for its iconic feature; the lava ruins slide, running at about 142 feet. Similar to the Beach Pool, there are also stunning views of the Seven Seas Lagoon, contains a nice poolside bar, and has a semi-secluded hot tub.  Located between the beaches of the resort, you'll feel like you're in your own little oasis.
Stormalong Bay – Best Disney Pool Bonus!!
Disney Pool Location: Disney's Yacht and Beach Club Resorts
So you might be wondering, why is Stormalong Bay not number one on your list of the best Disney World Pools? Well that's because we actually consider this to be half pool and half beach! Yep, that's right Stormalong Bay is the only Disney World pool to include a sand bottom for guests to enjoy.
And that's why Stormalong Bay at Disney's Beach Club is simply one of our favorite pools in the world not only at Disney World! And as discussed the reason for being one of the best pools at Disney World 2023 is because the complex is 3 acres in size. Plus, it features sand at the bottom along with a lazy river, making you feel as if you got shipwrecked on a tropical island. Speaking of shipwrecked, the theme comes into play on their waterslide, which is 230 feet. The Bay also features heaps of bridges and adventurous areas to explore (and of course, the poolside bar). This unique Disney resort pool is sure a show stopper and one that will make a lot of memories. Not to mention this resort is just a short walk to all of the EPCOT special events held throughout the year.
Best Pools at Disney World for Adults
For those of you who have checked out our complete guide to adults visiting Disney World, you already know there are plenty of adult activities for guests to do. But what about the best pools at Disney for adults? Here at The Park Prodigy we have visiting almost every single pool in Disney and here is our list of the best Disney resort pools for adults:
The Beach Pool at the Disney Grand Floridian Resort and Spa
The Oasis pool at the Polynesian Resort
Stormalong Bay at Disney's Yacht and Beach Club Resorts
How Late Are Pools Open at Disney Resorts?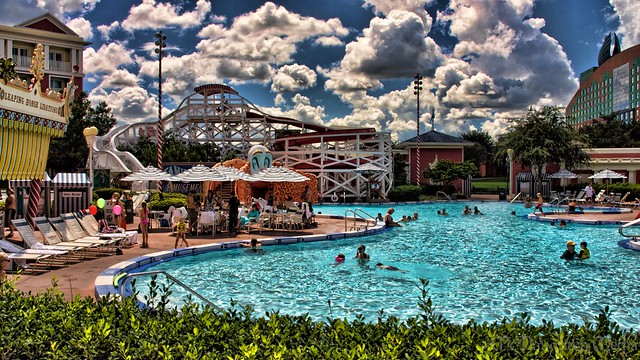 All Disney pools are open all year round. Depending on the time of year, those hours can vary. You can expect most pools to be open by the time you are done with your breakfast, since pools typically open around 9AM. However, the bigger and more central pools could also open at 7AM the earliest. The closing time can also vary from 9PM to 11PM. Due to Disney's instated policy in 2013; the main feature pool at each resort will only be open when lifeguards are on duty. The Disney pools are staffed with several lifeguards year-round from open until close. There will also be guards posted at the bottom of slide areas and at multiple points around the perimeter of the feature pool. It's best to check with the Guest Services at the resorts, but there will be lots of signage around each pool telling you their hours.
Can You Visit Other Disney Resort Pools?
Resorts will have various pools throughout their location, so you are free to use any of the pools at your resort. For example, guests of Port Orleans Riverside may use the pools at the Port Orleans French Quarter, and vice versa. Also, members of the Disney Vacation Club can hop to the pools located in other parts of the resort.
However, "pool-hopping" is not allowed from resort to resort. If you're planning to tour the best pools at Walt Disney World, you will have to have a separate reservation at each. Typically, the pools are gated and you may need your Magic Band to get in. This is especially true at the Disney Beach and Yacht Club resort which is home to one of the most popular Disney resort pools on property. Guests will be asked to show their Magic Band every time they leave the pool area or receive a bracelet.
But don't fret; any resort you stay at will have one of the best Disney pools.
Related Post: Disney's Beach Club Vs Yacht Club Resort
Are Disney Pools Heated?
You can feel confident that no matter which Disney pool you choose you'll be enjoying a nice 82 degree Fahrenheit temperature. This temperature is perfect for a cool down in the pool during the summer, but it's also perfect to warm you up on a "chillier" winter day. This way, the best Disney World hotel pools can be enjoyed all-year long.
Now that we have covered the basics let's jump into the best Disney World resort pools for your next trip!
Which Are The Worst Pools at Disney?
While you can't really go wrong at Disney, there are a few pools we believe could be improved. While there are many, many of the best pools at Disney World, there really are only a handful of pools we are indifferent about. These pools are the Riviera Resort Pool and the Luna Park Pool at Boardwalk Resort. The reason for choosing these pools includes things like an outdated theme, lacking amenities, and the size of the pools. They may not be bad, but they're certainly not the best.
The Riviera Resort is gorgeous, and though the pool is pretty, it leaves a lot to be desired. Especially in comparison to other deluxe resorts. The Luna Park Pool is just a little… unsettling. We've all seen the interesting theming at the Boardwalk Inn, but the Luna Park Pool takes it to another level. The pool has a 200-foot water slide that's made to look like a wooden roller coaster, which sounds odd enough, right? Well, the exit to this slide is actually a giant clown's mouth. It's a shame because the pool area is pretty nice, but the clown makes this pool not an option if – like many people, both kids and adults – someone in your party is afraid of clowns.
The Best Walt Disney World Pools FAQ
Q: Do Disney pools close in winter?
As a general rule Disney World pools will not close in the winter and all of the water in Disney is always heated for that reason. Guests have been known to take advantage of the best Disney World pools throughout all months of the year including December, January, and February and still have an amazing time on their vacation even with the colder weather outside.
Q: Which Disney Resort has the best water slide?
A: Although this is completely based on preference, in our opinion the best Disney World water slide is located at Stormalong Bay at Disney's Yacht Club. Once you see the slide with your own eyes, you will understand why! It's a full size replicate pirate ship, and one of the coolest water slides in the world and not just Disney!
Q: Is there one Animal Kingdom Lodge pool?
A: There are actually two amazing pools at the Animal Kingdom lodge. Uzima Springs pool and Samawati Springs pool both offer something unique for guests looking for the best pools at Walt Disney World 2023. 
In conclusion the beauty of Disney World is that no matter which of the best Disney pools you choose, it's sure to be magical. With so many to choose from, the best pools at Disney World will not disappoint, no matter where you turn up. Now it's up to you to decide (in your opinion) what Disney resort has the best pool.  With a little faith, trust, and pixie dust, you and your family will be sure to choose which resort and pool is right for your next trip.
When is The Best Time to Visit Disney World?
Our Disney Crowd Calendar is the best tool to help you get the most out of your time in the parks. We break down park crowds, park hours of operation, ticket prices, and average temperature. We also break down the best time to visit Disney World based on specific times of the year and special events.
Are You Ready to Plan Your Next Disney World Trip?
Are you planning a trip to Walt Disney World? Be sure to speak with a Disney World Travel Agent for the most recent deals and promotions. The Park Prodigy will provide a Free Quote for all Disney World Vacation Packages.
The Park Prodigy can also help you save up to $20 per ticket when purchasing your Walt Disney World Tickets, and we offer promotional discounts for special events such as Mickey's Not So Scary Halloween Party Tickets and Mickey's Very Merry Christmas Party Tickets.
If you're brand new to Disney vacation planning we recommend our Walt Disney World Planning Page! Learn more about Disney hotels by reading our Walt Disney World Hotels Review page.
Last but not least if you're also planning a trip to Universal Studios, be sure to check out the best time to visit Universal Studios and our Universal Orlando Tickets! All Park Prodigy Universal Orlando tickets come with Universal Studios Early Park Admission.
Are you planning on visiting Walt Disney World? Or have you visited in the past? Would you like to share your experiences and tips? Do you have any questions for The Park Prodigy? Hearing your feedback and helping with your questions is not only our goal but will help other readers! Please leave your thoughts and questions in the comments!