The Complete Guide to the Disney Skyliner Route 2023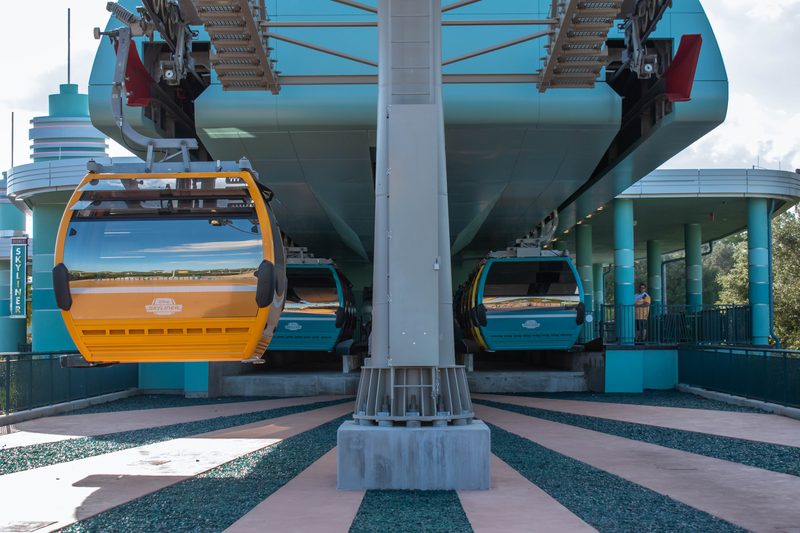 The Complete Guide to the Disney Skyliner Route 2023
In this post we are going to break down the 2023 Disney World Skyliner, and how the newest transportation system has changed Disney forever! Guests can now easily hop from EPCOT to Hollywood Studios, and also ride from a select group of Walt Disney World hotels connected to the new skyliner. This is sure to change how guests pick their Walt Disney World hotel, especially as we continue to see the popularity of the EPCOT festivals and also Star Wars Galaxy's Edge continue to rise.
In this post we have included the Disney Skyliner opening times, skyliner operating hours, Disney Skyliner map, and so much more.
So if you're ready to learn about the new Disney Skyliner sit back, relax and enjoy the most magical flight on Earth!
SPECIAL NOTE: If you need help picking the best time to visit Walt Disney World for your next vacation be sure to check out our Disney crowd calendar!
What is the Disney World Skyliner?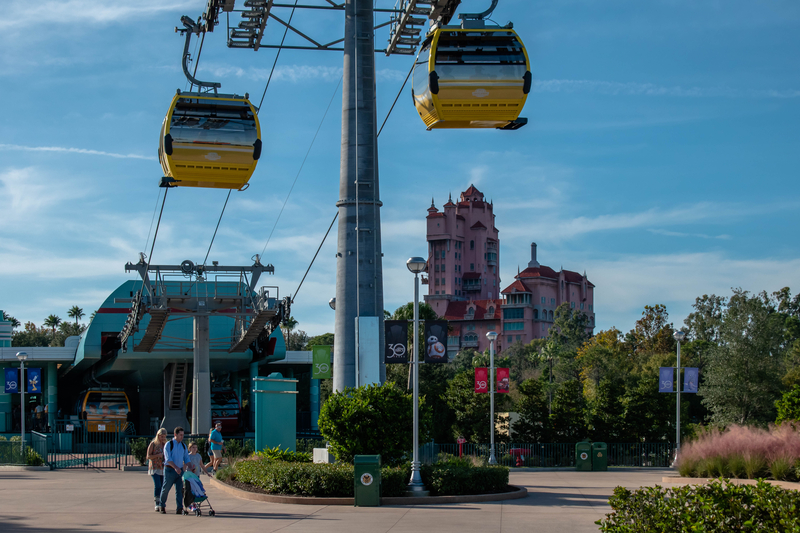 The Disney Skyliner is the newest transportation option at Walt Disney World. It is a gondola lift system which took off in September 2019, and has been transporting guests from five different stations throughout  four different Disney resorts and two parks ever since. Each Disney gondola can seat up to ten guests, or up to six guests for parties which include a wheelchair or mobile scooter.
This addition to Disney's already fantastic transportation system is not only a way to get from here-to-there, but much like the monorail, has become a must-do experience for guests when they are enjoying their Walt Disney World vacation. So, as the omniscient friendly voice likes to tell all of the guests riding the Disney skyway gondola, sit back and relax as we share some of our favorite Disney Skyliner information to help you make it a fun part of your next vacation.
Disney Skyliner Cable Cars
The Disney World gondola system has almost 300 gondolas that take guests from destination to destination. You'll see the brightly colored gondolas floating through the air high overhead on steel cables as they transport guests to and from parks and resorts. To make them even more fun, about half of the WDW gondolas are decorated with Disney character wraps showing Marvel characters, Star Wars characters, ride characters and of course, Disney and Pixar characters enjoying the ride. What could be more inviting than seeing your favorite characters inviting you to fly along with them?
Who Can Ride the Disney Skyliner?
Each Disney Skyliner station is open to anyone who wants to ride that particular flight. You do not need to be staying at the resort the station is located or even visiting the park. That is our favorite part about the Skyliner Disney has! Some of our favorite days are relaxing in the Skyliner, feeling the breeze in the Florida sun!
Related Page: Guide to all Disney Hotels Near Disney Springs 
Where Does the Disney Skyliner Go 2023?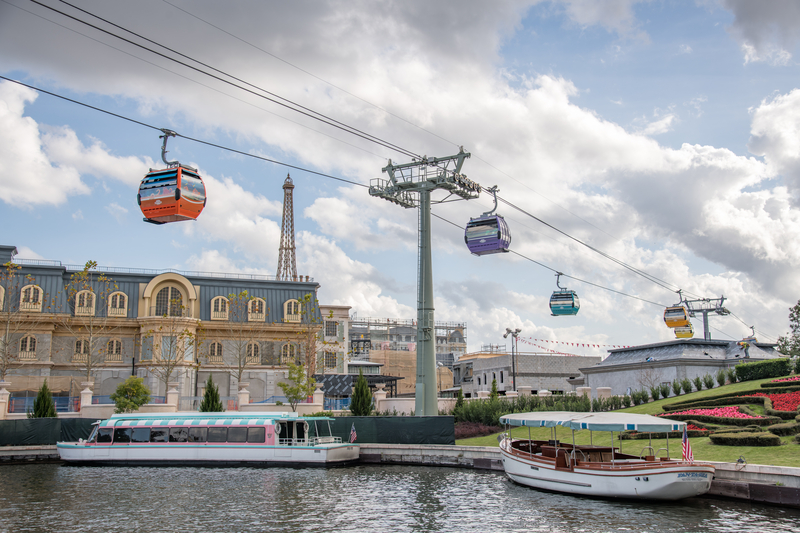 You will be surprised just how big the 2023 Disney World skyliner route is. You can get to two theme parks, a variety of Walt Disney World Resorts and amazing views while venturing on the Disney Skyliner route. As a guest, you have four places you can hop onto a Disney Gondola Skyliner and begin your journey.
Where you begin your flight will be up to you. You can choose it as your exit route from a theme park or choose one of the resort hotels with Disney Skyliner stops!
What is the 2023 Disney Skyliner route?
The Skyliner Route Disney World has is convenient for those visiting or staying in the EPCOT or Hollywood Studios areas. One of the biggest perks of staying at Disney Skyliner resorts is that there are stops built right at your resort for your convenience. The Riviera is one of the best resorts that we love staying at on the Disney Skyliner route, as it's right in the middle and supe nice.
The 2023 Disney Skyliner stops are:
Caribbean Beach Resort Skyliner Station
Riviera Resort Skyliner Station
Pop Century / Art of Animation Resort Skyliner Station
Epcot International Gateway Skyliner Station
Hollywood Studios Skyliner Station
Related post: The Complete List of Disney World Resorts
Disney Skyliner Map 2023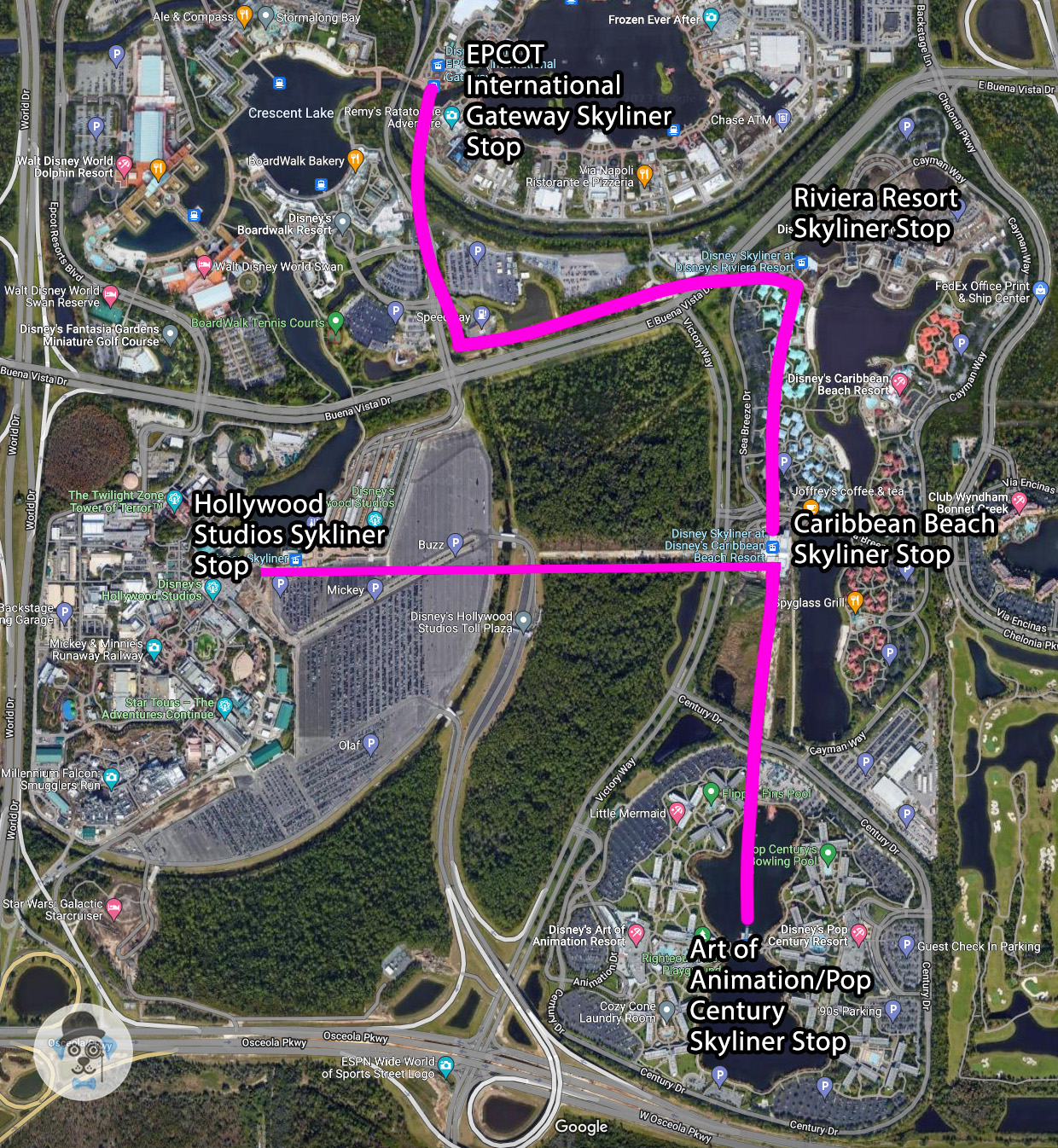 Above, we've used Google Maps to outline the Disney Skyliner maps to see where you can fly in the sky! As you can see in this Skyliner Disney map, all of these areas are connected and can be reached through these various stops!
Related post: Complete Guide to the Best Hotels Near EPCOT Orlando
What are the 2023 Disney Skyliner Stations?
Disney's Skyliner at Disney's Caribbean Beach Resort
The Caribbean Beach Resort skyliner station is considered to be the "hub" of all of the Disney gondola stations because from here, you can get anywhere the Skyliner gondolas travel.
Set in the heart of the Caribbean Beach Resort, guests staying at this resort can use the internal bus transportation system to ride over to the skyliner at Caribbean beach.
The Caribbean Beach skyliner is the largest station since it travels to so many places and is designed to fit right in with the rest of the theming at Caribbean Beach Resort with its beautiful open air and wrought iron design.
Disney Rivera Resort Skyliner
This Disney Riviera Skyliner station is a great stop for this resort or for any of its fabulous restaurants. It is also a good place to hop on or off if your Caribbean Beach Resort room is closer to this station than the Caribbean Beach Resort hub. It's often more quiet and easier to use.
If you do start your flight here and plan to travel to the Epcot Skyliner or Pop Century/Art of Animation, just know that you will have get out of your gondola at the Caribbean Beach Resort Hub and then get back on a new gondola for the destination you are heading to. This particular station is also the only terminal where you don't have to get off and can ride "through" the station if you are traveling to Hollywood Studios.
Pop Century / Art of Animation Resort Skyliner Station
The addition of the Disney skyliner makes the Pop Century resort our favorite value resort when comparing hotels at Walt Disney World. This gondola station's claim to fame is that it's the only floating gondola station. When you ride your gondola flight to or from Pop Century / Art of Animation, you'll get a low-gliding beautiful ride right over Hourglass Lake.
Add in a sunset and you'll enjoy one of the prettiest views at Disney World. If you are using this station as your launching point for flights to any other location, you will travel to the Caribbean Beach Resort Gondola Station first, debark and then get in line for whichever place you want to travel to, if Caribbean Beach Resort isn't your destination.
Epcot Skyliner Station
Designed with hand-painted murals, this skyliner station is made to transport right into the European countries near the World Showcase entrance. The Epcot skyliner station is one end point of the Disney skyliner system so once you arrive here, you'll need to step off and travel on your way or wait in line to get back onboard to go back from where you came from.
Because of where this Disney skyliner station is located, you can also easily use this station to then take a quick stroll to the Boardwalk area to visit the resorts, entertainment venues and restaurants in that area. We like riding this particular route of the Disney skyliner right now because it is a great way to get a birds-eye view of the construction happening in the France pavilion as they work on the Ratatouille ride.
Hollywood Studios Skyliner Station
Another end point on the skyliner ride system, the Hollywood Studios Skyliner station lands you right at the entrance of Hollywood Studios. And like all of the skyliner stations, it is designed to blend right in with the theming of its home, beautifully decorated in those gorgeous turquoise and red art deco tones that are quintessential Hollywood Studios.
While most people will use this station for their trip to Hollywood Studios, you can also walk off the Hollywood Studios gondola and walk right onto the pathway to Boardwalk destinations, including the Swan and Dolphin, Boardwalk and Beach Club Resorts.
Related Articles: How to Grab a Rise of the Resistance Boarding Pass 
2023 Disney World Gondolas Opening Times?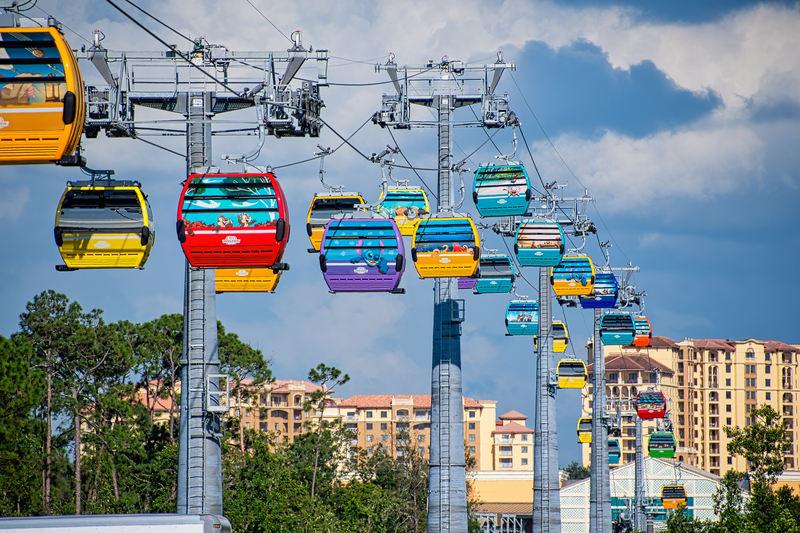 So, what are the 2023 Disney skyliner hours? The Disney World skyliner hours are one hour before Hollywood Studios and a half hour before EPCOT officially open up for guests.
While we do expect the 2023 skyliner operating hours to fluctuate with park hours, they generally begin their flights about an hour before Disney's Hollywood Studios opens and a half hour before EPCOT opens. Each Disney skyliner route will generally continue to run for an hour and a half after the respective park closes. One thing to keep an eye on is that infamous Orlando weather. Inclement weather, like strong winds or lightning strikes, may cause the Disney skyliner System to temporarily close down until the all-clear is given.
What are the 2023 Disney Skyliner Operating hours?
The Disney Skyliner hours are as follows:
Open: One hour before Hollywood Studios & half hour before EPCOT
Close: Hour and a half after Hollywood Studios & EPCOT close
What time does the skyliner open to EPCOT?
As a general rule of thumb, the Disney skyliner hours typically start to run around 60-90 minutes before EPCOT opens in the morning which can be between 7:30 AM – 9:00 AM. This would be the same for the other nearby park Hollywood Studios.
Related Article: Complete List of all EPCOT Festivals
2023 Disney Skyliner Travel Times
Riding any of the Skyliner Flights is also a fast way to get from destination to destination. Here are the approximate Disney Skyliner travel times for each flight from the Caribbean Beach Resort Hub:
2023 Disney Skyliner Ride Times
To Hollywood Studios: about 5 minutes
To International Gateway at Epcot: about 12 minutes
To Pop Century/Art of Animation: about 3-5 minutes
To Riviera Resort: about 3 minutes
Disney Gondola Wait Times
Of course, you'll have to wait in line to board your gondola but we have found that except for very busy times (like opening and closings of parks), the continual boarding system (the gondolas move slowly through the terminal and you walk on much like a ride at Haunted Mansion or Spaceship Earth), creates a quickly moving line that produces small wait times.
Is the Disney Skyliner Transportation System Air Conditioned?
The short answer is no. But to help keep guests comfortable, each Walt Disney World Skyliner gondola has reflective panels to avoid direct sunlight and cross-ventilation windows that allow for air flow. Even on the warmest days at Walt Disney World, the gondolas stay nice and cool so long as they are moving. And on those cool nights, the vents can be closed so guests will not get too chilly.
Are The Walt Disney World Skyliner Gondolas Safe?
In case of emergency, each Disney skyliner gondola is equipped with an emergency contact call button as well as an emergency kit. While the Disney skyliner did have one notorious flight shortly after it began where guests were stuck in gondolas for hours, it has not had anything similar happen since that incident.
It appears the Disney skyliner system has worked out its kinks. But if you happen to get stuck in a stationary gondola for a longer time frame, you are welcome to open the emergency kit and use what you need in order to help you a through the emergency.
The emergency kit can be found under the bench inside the gondola. The Disney skyliner Emergency Kit includes things like:
Instant ice
Emergency drinking water
Glow sticks
Notepad
Pencil
Sickness bags
How Much Does the Disney Skyliner Cost to Ride?
Another common question we receive is, how much does the Disney skyliner cost to ride? And one of the best parts about the Disney skyliner is it is absolutely free to ride. Just like the Disney World monorail and bus services you do not need a ticket or have to pay to ride. This is one of the reasons why we love it so much! It's the perfect way to not only get from park to park but also visit the different Disney hotels. We have specifically fallen in love with the restaurants at Disney's Riviera Resort. There is no better way to end a great dinner than to watch the sunset on the Walt Disney World gondola.
Is the Disney Skyliner Wheelchair Accessible?
Yes, absolutely! Every Disney World Skyliner station has a specific wheelchair accessible queue to board as well as specific Skyliner gondolas. This Gondola which is made specifically for wheelchairs and other electric vehicles loads to the side so that the other Disney skyliner cabins do not have to stop and guests can take their time loading. Once everyone is inside the cabin the skyliner will merged seamlessly into the rest of the moving gondolas. We find it very cool how easy it really is!
Related post: Complete Guide to the Walt Disney World Swan vs Dolphin Resorts
How Big Are The Disney World Gondolas?
Another one of the most common questions we receive is, how big are the Disney skyliners? Each WDW gondola is large enough to seat up to 10 people. The exception to this is the gondolas set aside that are made specifically for wheelchair and ECV access. Those can seat about 6 people at a time as well as the wheelchair or ECV. Walt Disney gondolas have two benches inside the gondola. The two benches face each other, so you'll be able to choose a forward-facing bench or a backward-facing bench. If you rented a stroller in Disney, you'll be able to simply push the stroller right on into the gondola, and keep your child in the stroller. Not having to break down a stroller and disturb your sleeping little one is a definite benefit of riding the Skyliner at Disney World.
How many people can fit in the Disney skyliner?
Ten passengers
Six passengers with one wheelchair or scooter
Related Page: Should You Rope Drop Rise of the Resistance? 
2023 Disney World Skyliner Gondolas Tips & Tricks
We highly suggest that no matter where you're staying during your Disney vacation, see if you can squeeze in at least one flight on the newest Disney mode of transportation. Here are a few quick tips for those of you planning to make this a part of your next Disney vacation.
Not staying in one of the Disney Resorts that the Skyliner flies to? Use the skyliner to park hop from Epcot to Hollywood Studios or make a dining reservation at one of the many resorts that has a Skyliner terminal for after your park day at either Hollywood Studios or Epcot.
Before you hop aboard, take a quick bathroom break. Like any transportation vehicle or ride, we fully expect our travel will be on time, but just in case you get stuck or the line is long, it's better to be comfortable while you wait. This is especially true if you have little ones.
To get the best view from your gondola, ask if you can have a non-character wrapped gondola. The cute character wraps are fun to see floating along, but they create an obscured view as you travel in them.
If you are prone to motion sickness, sit on a bench that is forward facing near the sides of the vehicle so you can look out as you travel. The gondola ride is generally smooth, so it doesn't upset most people sensitive to motion sickness.
For beautiful views all around, ride the gondolas around sunset time. You'll see parts of Disney in a completely new way.
About the only time we don't recommend riding a Skyliner is during "rope drop," when parks open. Even with reduced park capacity, early morning rides on the Disney Skyliner can have long waits and may cause you to miss rope drop.
Related post: All Disney World Resorts Ranked
Disney Skyliner 2023 FAQ

Q: Are the gondolas open at Disney World?
A: Yes, the Walt Disney World Skyliner gondolas are open at Walt Disney World, however their hours of operation may vary. The Disney Skyliner typically only closes when there in inclement weather and unsafe to be in.
Q: Does the Skyliner go to Disney Springs?
Unfortunately not,  the Walt Disney World skyliner gondolas only travel to the destinations outlined above.
Q: What resorts does the Disney skyliner connect?
The Disney skyliner connects the Caribbean Beach Resort, Riviera Resort, and the Pop Century & Art of Animation Resort.
Q: Is there a Disney skyliner to Magic Kingdom?
Unfortunately not,  the Walt Disney World skyliner gondolas do not travel to Magic Kingdom park.
Q: Is Disney Skyliner free?
A: Yes, the Disney Skyliner is free! Just like the busses and monorail at Disney World, the Disney World Skyliner is free and available for all guests to use. So, don't worry about a Disney Skyliner cost the next time you're wanting to fly in the sky!
Q: What time does the Skyliner start running?
A: The Disney Skyliner starts running 90 minutes prior to theme park opening time. That is true for most Disney transportation, is that you can expect it to be running at least an hour before park open.
When is The Best Time to Visit Disney World?
Our Disney  World Crowd Calendar is the best tool to help you get the most out of your time in the parks. We break down park crowds, park hours of operation, ticket prices, and average temperature. We also break down the best time to visit Disney World based on specific times of the year and special events.
Are You Ready to Plan Your Next Disney World Trip?
Are you planning a trip to Walt Disney World? Be sure to speak with a Disney World Travel Agent for the most recent deals and promotions. The Park Prodigy will provide a Free Quote for all Disney World Vacation Packages. The Park Prodigy can also help you save up to $20 per ticket when purchasing your Walt Disney World Tickets, and we offer promotional discounts for special events such as Mickey's Not So Scary Halloween Party Tickets and Mickey's Very Merry Christmas Party Tickets.
Don't forget to check out our wonderful friends over at Theme Park Today, as well