Complete Guide to the Disney World Boardwalk Area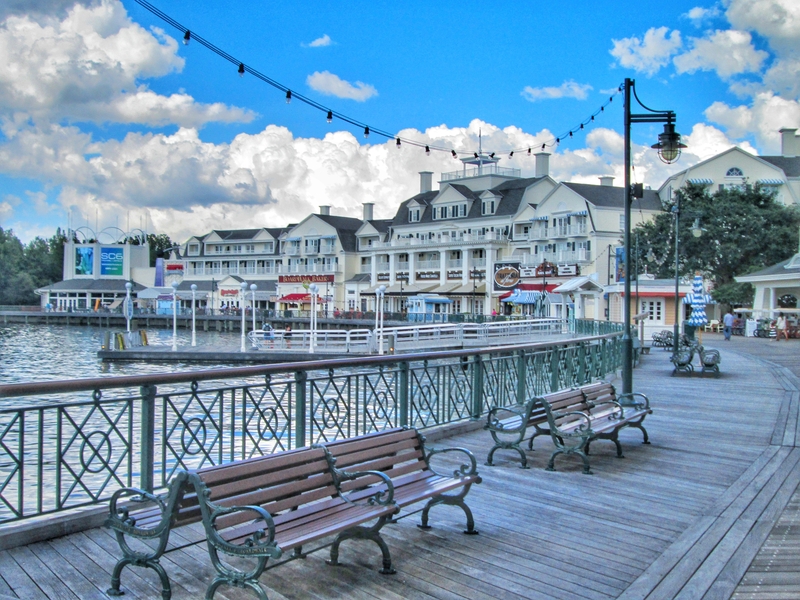 Complete Guide to the Disney World Boardwalk Area
This article is your complete guide to the Walt Disney World Boardwalk! Just like every other resort and park in Walt Disney World, you will feel like you are in a completely different world when you visit Disney's Boardwalk; a quarter-mile promenade of dining, shops, and entertainment. Resembling other Boardwalks such as Coney Island and Atlantic City, guests will experience a similar theme of a fun, vibrant, and relaxing atmosphere perfect for both kids and adults.
The Disney Boardwalk Resort is full of beautiful colors and charming hotels. To make things seem more real, there's even patches of sand, making this resort feel like you're on a beach-front getaway. But with so much happening around you, it may be hard to decipher exactly what you'd want to do when visiting. We've created an epic guide to the Disney World boardwalk ensure you know exactly what to expect for your next trip!
We hope you find this post helpful, and if you are planning a trip to Disney World be sure to check out our other FREE vacation planning tools. Our goal at The Park Prodigy has always been to help you save time and money on your next vacation. This includes helping you find the best time to buy Disney World tickets as well as book amazing Walt Disney World vacation packages!
It's important to note that one of the coolest things about the Disney Boardwalk is you do not have to be staying at one of the hotels to enjoy it. So if you're ready to learn about this amazing entertainment area read on!
Where is the Disney Boardwalk?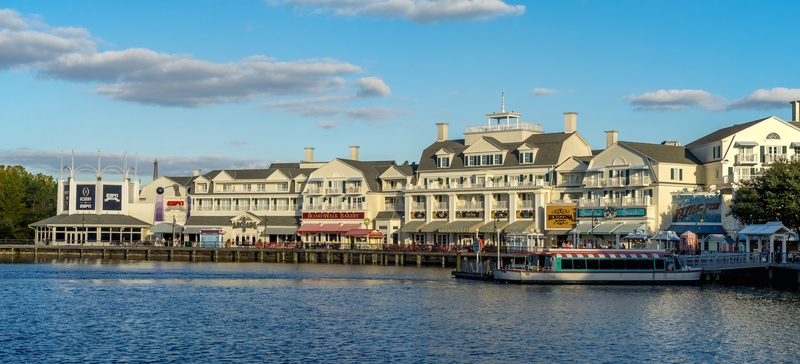 A hidden gem, the Disney Boardwalk is placed in a winning location. Guests are able to travel on the Disney Boardwalk to Epcot and Hollywood Studios, making this best of both worlds. You are able to walk from the Boardwalk to Epcot easily, and it's also a breezy boat ride to Disney's Hollywood Studios. On a Disney map, it will look like a little island tucked away from everything else in Walt Disney World.
How to Get to the Disney Boardwalk?
There are many ways for guests to visit Disney's Boardwalk. For starters, guests can use the Disney World Bus transportation system. From any Disney theme park, you can take the bus to the Boardwalk Inn and Villas. Take a quick stroll through the lobby, and like magic, you're there! If not the bus, guests can take a boat. The Boardwalk shares boat transportation with the Swan, Dolphin, Yacht and Beach Clubs.
From Disney's Hollywood Studios or Epcot, the boat will take you there on their route. If you'd rather go on foot, Disney's Boardwalk is in walking distance from various locations. Walk from the Boardwalk to Epcot (and vice versa) in a half mile. To get from Epcot back, depart through the International Gateway and follow the signs. From Disney's Hollywood Studios, take the path that starts in the park's parking lot and follow the signs. The walk is about 1 mile. It's a short walk from Swan/Dolphin Resorts from the entrance of either hotel, over the bridge to the Boardwalk. Just follow the signs. And from the Yacht & Beach Club, walk around the lake to reach the Boardwalk on the opposite shore.
Disney Boardwalk Parking
So the Disney Boardwalk parking set up is probably the only negative experience we have when vacationing in Walt Disney World. The reason being Walt Disney World does not allow guests to park at the hotel if they are not arriving for a dining reservation. The only downside to this is many of the best shops, bars, and restaurants at the Boardwalk do not take reservations.
In this case you will need to either take your Disney resort bus to Disney Springs, and then take the Boardwalk resort bus. Or if you don't mind spending a few extra dollars you can take an Uber or taxi.
It's important to note that this will be the guidelines for parking at the Disney Boardwalk regardless of which hotel you plan to arrive to. There is no Disney Boardwalk parking allowed at the following hotels without resort or dining reservations:
Disney Boardwalk
Disney Beach and Yacht Club
Disney Swan and Dolphin
Related Article: Complete Guide to the Best Disney World Restaurants 
Is the Disney Boardwalk Free?
Guests looking for free Disney World activities can make their way to the promenade at Disney's Boardwalk, as there are different aspects that are free to the public, and is overall a great place to stroll and browse. For example, there will be plenty of Boardwalk entertainment in Disney beginning at 7PM every evening and is free for everyone to view and enjoy. The area has street performers and features beautiful scenic lighting for guests to walk around and see. Of course, if you want to stop at a restaurant for a bite to eat, that will cost you.
Disney's Boardwalk Hours of Operation
Certain activities mean different hours of operation at the Disney World Boardwalk. If the fellow Disney-lover was looking for Disney Boardwalk shop hours, they can expect stores to be open from around 8AM to 11PM. If you're looking for the entertainment side of the Boardwalk, that begins later in the evening, from around 7PM to about 2AM. No matter what you do while you're there, the Disney Boardwalk is open to the public.
Disney Boardwalk Resorts
Yacht and Beach Club
There are two sides to Disney's Yacht and Beach club. The Yacht club portion is the more grown up resort out of the two. Their pool has sand on the bottom and wide, deep porches with rocking chairs. The Beach Club will make you feel as if you are on an island somewhere with their lobby smells like aloe and cucumber. Both resorts share a poolside quick service restaurant and also has a wide number of restaurants for great dining at the Boardwalk in Disney.
Related Article: Complete Guide to Disney's Yacht and Beach Club   
Boardwalk Inn
If anyone has been to New York's Coney Island, then this Inn will resemble much of it. If you haven't been to Coney Island, then you'll pretty much get a summary of it here. This fun-loving theme of a goofy, carefree county fair is entertaining for kids, and they even have a carnival-themed pool with a giant clown.
Disney World Boardwalk Restaurants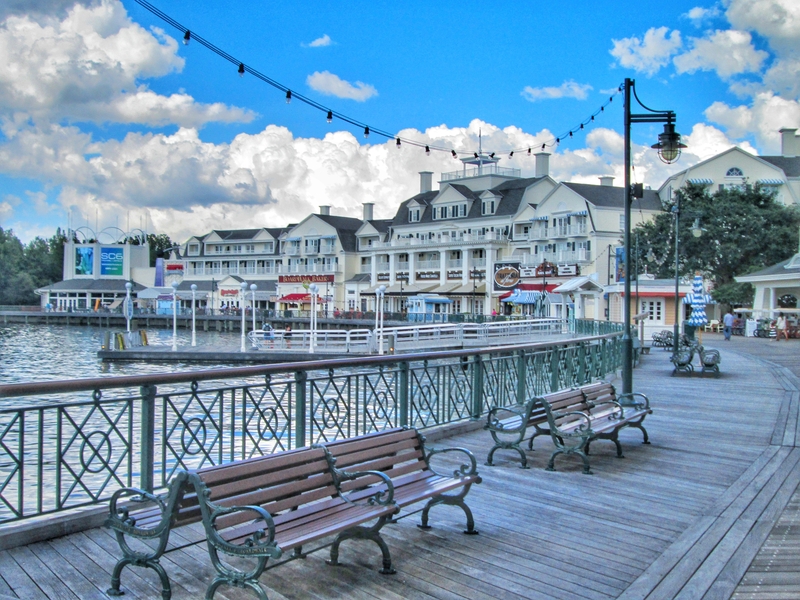 If one thing's for sure, you will not go hungry while visiting Disney's Boardwalk. Different Disney Boardwalk restaurants can please the palette of any child, adult, or foodie alike. Although there are so many restaurants at the Boardwalk in Disney World, we wanted to name some of the most iconic for you check out:
Breaking News: Boardwalk Ice-cream recently opened up at WDW
Guests can now bring their sweet tooth to the Walt Disney World boardwalk as Disney has just announced it's newest dessert shop on property. The Boardwalk Ice Cream parlor opened in May 2021 and will treat guests to their favorite sweet treat.
ESPN Zone, Disney Boardwalk
Disney Boardwalk Restaurant Location: Disney's Boardwalk Inn
This ESPN restaurant on the Disney Boardwalk is the ultimate sports broadcast entertainment venue. Eat, drink, and cheer on your favorite teams at this classic American sports bar. This ESPN bar on the Disney Boardwalk is also known as the ESPN Club. Their sports-themed drinks and food menu will be sure to get you in the "zone" when you're enjoying the "cheery" atmosphere.
Boardwalk Bakery
Disney Boardwalk Restaurant Location: Disney's Boardwalk Villas
Feel like you're taking a bite into Wreck-It-Ralph's video game, Sugar Rush, at this sweet establishment. This Boardwalk Disney bakery is known for its sweet treats, breakfast, and quick sandwiches. This is a great grab-and-go place if you're looking to browse and walk along the Boardwalk.
Boardwalk Joe's Marvelous Margaritas
Disney Boardwalk Restaurant Location: Disney's Boardwalk Inn
For the adults visiting Disney World; cool down with a delicious frozen concoction. Get brain freezes off margaritas or piña coladas. For something that sounds like it was made by Captain Jack Sparrow himself, try the Captain's Seaside Sensation; a pineapple smoothie with a shot of Captain Morgan Spiced Rum. To soak that goodness up, the classic Mickey pretzels and roasted nuts are also available.
Trattoria al Forno
Disney Boardwalk Restaurant Location: Disney's Boardwalk Inn
An Italian restaurant on the Disney Boardwalk, princess lovers will be enchanted at the Bon Voyage Breakfast, featuring royal couples Prince Eric and Ariel as well as Rapunzel and Flynn Rider. If you're looking for traditional Italian cuisine, stop by for dinner. Like Lady and the Tramp, you'll get to enjoy a nice "Bella Notte" with a delicious plate of pasta.
Cape May Café
Disney Boardwalk Restaurant Location: Disney's Beach Club Resort
Start your day with your favorite classic characters. Minnie and friends join you at their Disney Boardwalk breakfast buffet. If you're looking for their dinner option, it's a meal a character like Steamboat Willie would enjoy. There's a fresh and steamy assortment of shellfish and seaside favorites.
Yachtsman Steakhouse
Disney Boardwalk Restaurant Location: Disney's Yacht Club Resort
One of the most top-notch restaurants on the Boardwalk at Disney, meat lovers can enjoy a hearty variety of steaks and seafood. Heads up, guests are asked to adhere to the minimum dress code requirements at this signature dining experience. Men must wear khakis, slacks or dress shorts and collared shirts. Women must wear Capri pants, skirts, dresses or dress shorts. Jeans may be worn if in good condition.
Big River Grille & Brewing Works
Disney Boardwalk Restaurant Location: Disney's Boardwalk Villas
Disney's first microbrewery offers pub-style food with a luxurious twist in a fun, family-friendly setting. Take advantage of the beautiful waterfront setting by relaxing with a handcrafted margarita on the outdoor patio or enjoy an award-winning brew in the indoor dining area. This is a great option if you're looking to take an extended mid-day break from walking, or as a way to cap off the evening before heading back to your resort. 
Things to Do at the Disney Boardwalk

Jellyrolls Dueling Piano Bar
Jellyrolls is a popular nightspot not only on the Walt Disney World Boardwalk, but in all of Orlando. The Boardwalk's dueling pianos bar fills up fast, so make like Lightning McQueen and race over there early to get a table. Meant for adults over 21, guests can have a drink and enjoy the musical stylings of a pair of piano prodigies. They take requests and can have you entertained all night long on their twin baby grand pianos. The players take turns showing off their talent and really get the crowd going. There is a cover charge to enter, and the Jellyrolls schedule is subject to change.
Atlantic Dance Hall
This Disney Boardwalk Dance Hall is a spacious dance venue featuring a DJ spinning favorites from the 70s through today's hits. Tuesday through Saturday, guests over the age of 21 can dance the night away from 9PM to 2AM. There is no cover charge.
ESPN Club
Not only does the ESPN area have a restaurant to eat at, but also hosts live radio sports shows. Fans can catch interviews with celebrity athletes taking place right inside the ESPN Zone at Sports Central, home to the ultimate sports broadcast experience. If you're lucky enough to get some of that Disney magic, you may even get a chance to participate in an interview at the sports desk or inside the radio booth. ESPN shows such as Sports Reporters, Baseball Tonight and Up Close have been broadcasted here, including some popular radio talk shows. The schedules for sports shows vary and live interviews are not guaranteed to be taking place each day.
Surrey Bikes and Bicycles
For more family-friendly activities, Disney's Boardwalk offers some fun transportation for all. Surrey bikes can fit two to four people, making a cruise along the banks of the Sassagoula River, the promenade by Barefoot Bay, or down a woodland trail. For single riders, bike rentals are available too!
Miniature Golf
Families looking for a little friendly competition, Disney has some of the most magical miniature golf courses in the country. Fantasia Miniature Golf is based off the classic magical Mickey movie, Fantasia, and consists of two courses; Fantasia Gardens and Fantasia Fairways. Fantasia Gardens features the staple gators, hippos in tutus, and dancing water fountains and broomsticks. This course it designed for families and beginning golfers. However, if you are up for the challenge of playing Fantasia Fairways, then you may need Mulan's lucky cricket. This course was voted the longest and most challenging miniature golf course in the world by Golf Digest and features exaggerated contours, hazy water hazards, and tricky sand traps. Although difficult, it is a boat load of fun and makes for one of the best things to do at Disney's Boardwalk. Both courses are tucked behind the Disney's Boardwalk Dolphin Resort.
Midway Games
Although there is a short boardwalk games list, these can be fun for little ones looking to win classic Boardwalk games of chance. Prizes include stuffed animals!
Related Video: 5 Things You'll Love at the Disney Boardwalk
Rent a boat and go fishing
Rent a fishing or pontoon boat to go on your own leisurely cruise. Usually you'll find motorized options for rent too, but they're currently unavailable. You can also book a 2 or 4-hour fishing excursion at the Disney Boardwalk with all gear included. You'll have to release every fish you catch, and you'll find the most fish early in the morning. Kids 13 and under must wear a life jacket at all times. To reserve a time, call 407-WDW-BASS.
Disney Boardwalk Shops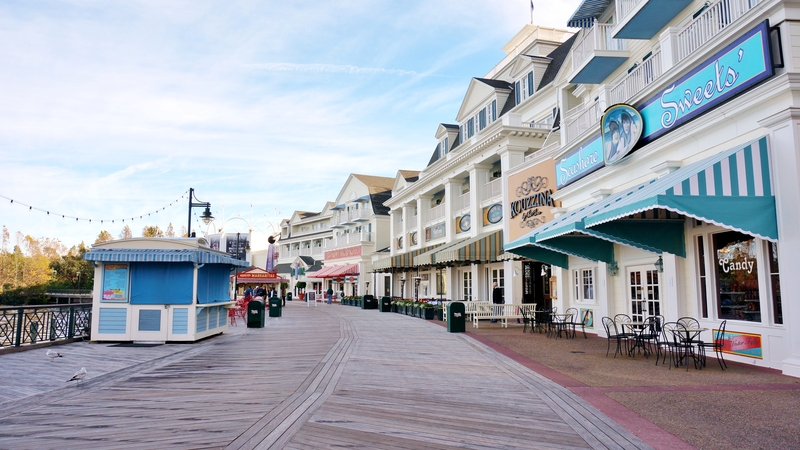 Although pretty much every hotel at the Disney Boardwalk Resort has a place to shop, there are some shops on Disney's Boardwalk worth mentioning:
Disney's Character Carnival
Disney's Boardwalk Location: Disney's Boardwalk Villas
This is a great shop for some unique Disney character merchandise and general souvenirs. From houseware, to clothing and knick-knacks in between, you'll be sure to find your perfect piece.
Thimbles and Threads
Disney's Boardwalk Location: The Promenade
A more casual, "bare necessities," convenience store-type place, it's great for picking up a quick snack and has tons of Boardwalk merchandise you may not find anywhere else.
Wyland Galleries
Disney's Boardwalk Location: Boardwalk Green
For art lovers looking for something unique to take home, this will be a shop you want to check out. Visitors are greeted by a centrally placed Wyland nine-foot bronze dolphin. Original artwork, sculptures and jewelry collectibles can be spotted here.
ESPN Club
Disney's Boardwalk Location: Boardwalk Green
Take a guess at what they've got here. That's right, more sports merchandise! Super sports fans can grab ESPN-related logo products while they're visiting.
Disney Boardwalk at Christmas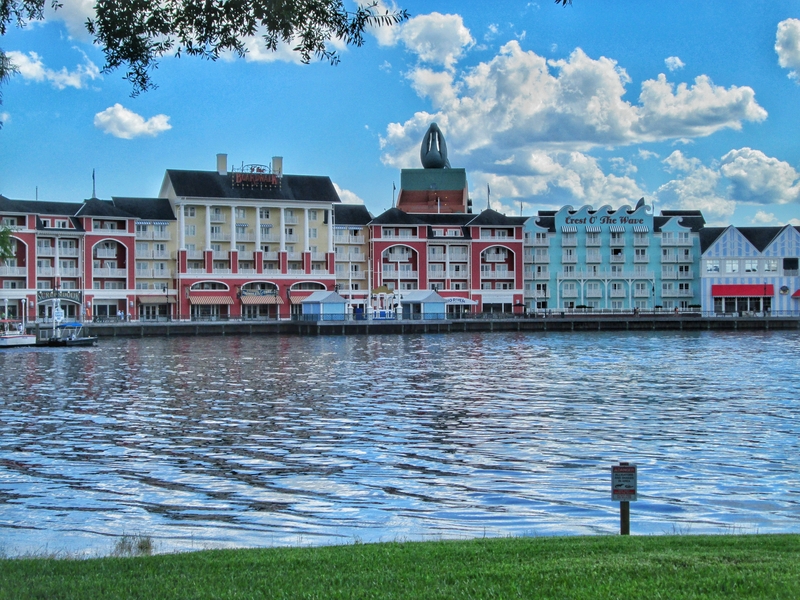 This guide would not be complete without discussing the magic that is Christmas time in Disney. Disney always makes this time of year enchanting, and no matter where you go in Walt Disney World, you will be sure to see something spectacular. If you are in Disney during the holidays and have some time to stroll along Disney's Boardwalk, they do something unique to see each year.
In the past, Disney's Boardwalk Inn's Bakery and Engineering team has created a life-size gazebo featuring Donald and Daisy, and has also featured Lilo & Stitch. There has also been a beautiful miniature model of the promenade at Disney's Boardwalk. A gingerbread replica of the Boardwalk Bakery has been also been designed. Just the overall environment has a charming Christmas theme, and is worth checking out.
Disney Boardwalk FAQ
Q: Is There Parking at Disney's Boardwalk?
A: For those asking if you can park at Disney Boardwalk for free, the answer is yes! Self-parking is free for Disney guests, but valet is not. It's also important to note that guests must have a valid hotel reservation or Disney restaurant reservation to park at the Disney Boardwalk. 
When is The Best Time to Visit Disney World?
Our Disney Crowd Calendar is the best tool to help you get the most out of your time in the parks. We break down park crowds, park hours of operation, ticket prices, and average temperature. We also break down the best time to visit Disney World based on specific times of the year and special events.
Are You Ready to Plan Your Next Disney World Trip?
Are you planning a trip to Walt Disney World? Be sure to speak with a Disney World Travel Agent for the most recent deals and promotions. The Park Prodigy will provide a Free Quote for all Disney World Vacation Packages.
The Park Prodigy can also help you save up to $20 per ticket when purchasing your Walt Disney World Tickets, and we offer promotional discounts for special events such as Mickey's Not So Scary Halloween Party Tickets and Mickey's Very Merry Christmas Party Tickets.
If you're brand new to Disney vacation planning we recommend our Walt Disney World Planning Page! Learn more about Disney hotels by reading our Walt Disney World Hotels Review page.
Last but not least if you're also planning a trip to Universal Studios, be sure to check out the best time to visit Universal Studios and our Universal Orlando Tickets! All Park Prodigy Universal Orlando tickets come with Universal Studios Early Park Admission.
Are you planning on visiting Walt Disney World? Or have you visited in the past? Would you like to share your experiences and tips? Do you have any questions for The Park Prodigy? Hearing your feedback and helping with your questions is not only our goal but will help other readers! Please leave your thoughts and questions in the comments!