The Complete Guide to Coronado Springs Resort 2023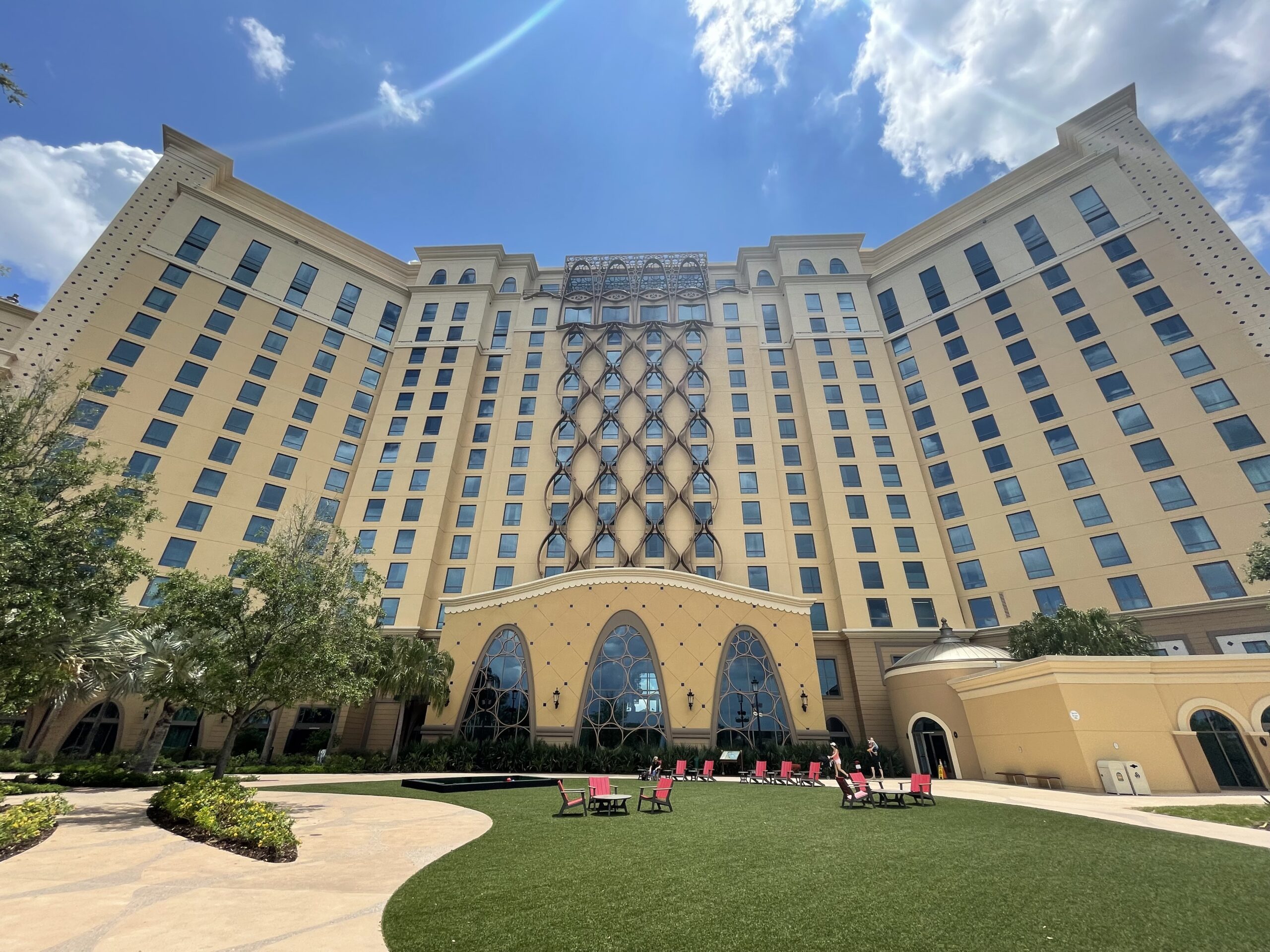 The Complete Guide to Coronado Springs Resort 2023
This article is your complete guide to the Disney's Coronado Springs resort 2023! Walt Disney World has so much to offer when visiting the magical place. Disney Coronado Springs is another one of Disney World's incredible themed hotel with incredible views and some of the best restaurants too. If you're down for some modern Spanish-Southwestern American flair, you will love Disney Coronado Springs and suggest checking out our guide!
The Coronado Springs Resort is a combination of comfortable and luxury, having much to offer in this Spanish-influenced architectural oasis. We can't think of a better mix of style, comfort able value for the Coronado Springs Resort and can't wait to tell you all about it.
We hope you find this post helpful, and if you are planning a trip to Walt Disney World be sure to check out our other FREE vacation planning tools. Our goal at The Park Prodigy has always been to help you save time and money on your next vacation. This includes helping you find the best time to buy Disney World tickets as well as book amazing Walt Disney World vacation packages!
So if you're ready to learn about the Coronado Springs hotel read on!
SPECIAL NOTE: If you're looking for the best time to visit Walt Disney World be sure to check out our Disney World crowd calendar!
Disney's Coronado Springs Resort 2023

Disney's Coronado Springs resort is a beautiful hotel inspired by Spanish, Mexican and Southwest American cultures and colors! Coronado Springs is a moderate resort on Walt Disney World property that is commonly used for business conferences or parties looking to stay in an upscale but affordable hotel. There is a beautiful lakeside oasis that guests can view from their water-view Coronado Springs room, or even take an evening stroll around.
We love that there are different sections that guests can stay in at Disney Coronado Springs, with even the brand new Destino Tower, which has incredible views of Walt Disney World Resort. As adults that love traveling to Disney, Coronado Springs Resort is among our top pick for an upscale and mature vibe that doesn't break the bank.
How many rooms are at Coronado Springs Resort?
Disney's Coronado Springs, part of the Walt Disney World Resort complex, offers a total of 2,384 rooms for guests to choose from. This moderate disney resort coronado springs is designed with Spanish, Mexican, and Southwest American cultural influences and provides various accommodation options to suit different preferences and budgets.
The rooms at Disney's Coronado Springs are spread across different areas, including the main building and several smaller buildings throughout the property. The Destino Tower, a recent addition to the resort, offers incredible views of Walt Disney World Resort and houses some of the more upscale Disney Coronado Springs rooms.
Here's a breakdown of the room types and options available at Coronado Springs:
Standard Rooms: These rooms offer basic amenities and are available with different views, such as garden, water, or parking area views.
Preferred Rooms: Located closer to the main amenities, preferred rooms offer added convenience for guests who want to be near dining, shopping, and transportation at Disney's Coronado Springs.
Suites: For those looking for more space and luxury, Disney's Coronado Springs offers various suites, including Junior Suites, One-Bedroom Suites, and Executive Suites.
Destino Tower Rooms: The rooms in the Destino Tower are known for their modern design and breathtaking views. They are available in standard, deluxe, and suite configurations at Coranado springs.
Accessible Rooms: The resort also offers rooms that are accessible to guests with disabilities, featuring amenities that cater to various accessibility needs at disney resort coronado springs.
The diverse room options at Disney's Coronado Springs make it a versatile choice for families, couples, business travelers, and Disney enthusiasts alike. Whether you're looking for a budget-friendly stay or a luxurious experience – Disney's Coronado Springs has something to offer.
What is the Coronado Springs transportation options?
Guests staying at Coronado Springs have access to the Walt Disney World transportation system, which includes Disney busses that pick guests up from the resort to take them into the theme parks. The Coronado Springs Disney Hotel 2o23 does not have access to the Disney Skyliner or any boat transportation at this time.
What is the Coronado Springs Address?
Disney's Coronado Springs Resort is located at 1000 W Buena Vista Drive, Lake Buena Vista, FL 32836.
Where is Coronado Springs in Disney World?
Disney Coronado Springs Resort sits between Epcot and Disney's Hollywood Studios theme parks as well as Disney's Blizzard Beach water park. It's also a five-minute drive to Animal Kingdom, as technically the resort is in the "Disney's Animal Kingdom Resort Area." If this seems confusing (which is understandable), and you want to figure out your exact location to each park, a Coronado Springs Resort map will help you find your way.
Is Coronado Springs a deluxe resort?
No, Coronado Springs is a moderate resort, which is the second tier of Walt Disney World hotels. There are only 5 moderate hotels at Disney, which tend to blend together the positives of both value and deluxe resorts. Families with young kids or childless adults will enjoy the stylish Disney theming, offering of amenities and overall affordability Disney World moderate resorts!
Related Article: Parking at Walt Disney World 
Best Place to Stay at Coronado Springs – Coronado Springs Rooms 2023
There are several options you can choose from when deciding on your stay in the Coronado Springs Resort rooms. We love that there are so many options to book at Coronado Springs, which is partially due to the fact that it is commonly used at a convention center. We find that the rooms at Coronado Springs are spacy, and perfect if you're looking to do some work while on vacation.
They are well-lit, with a great wifi connection and neutral, relaxing decor for a comfortable environment. Coronado Springs is truly an oasis for those looking to spend their time in luxury without the huge Disney price tag. Rooms at Coronado Springs start at about $250 a night, which is rather cheap for how elegant the hotel is.
What are the Coronado Springs Disney room types?
Casitas, Ranchos and Cabanas – Standard rooms at 314 sq. ft. with two queen beds and working area
Grand Destino Tower Rooms –  Standard, deluxe or one-bedroom choices
Coronado Springs Gran Destino Tower
The Coronado Springs tower is the newest addition to the resort, consisting of 15 floors and about 1,917 rooms, including both standards and suites. Although guests get the feel of luxury, the prices are moderate, making it an affordable place to stay.
Coronado Springs tower rooms are about 375 square feet, starting with the bathroom being immediately on your side when you walk in. The bathroom features two sinks, cabinet space, a walk-in shower, and a rainfall shower head, with a pocket door dividing the toilet area. A barn door separates the bedroom space from the bathroom. If you opt for a king-size bed, there will be a couch and a small accent table.
If you decide to stay in the new tower, you can opt for a "Water View," which is either a view of the pool or lake, or a "Standard View,," which are views of either the courtyard, landscaping, or parking areas.
The Tower's standard rooms offer either one king or two queen beds. It also features multiple suites. Both the deluxe and one bedroom suite offers one king bed and one queen-size sleeper sofa, while the Presidential Suite has one kind bed and two queens.
You can also get a Tower Club Access room, holding all the amenities you'd get on the club level.
Casitas, Ranchos and Cabanas
To match the style and modern updates, these resort rooms were revamped once the Gran Destino Tower was built. These are 314 square foot rooms with laminate flooring, light fixtures, renovated bathroom space, USB ports and elevated bed frames that allow for more luggage space. You'll also get to enjoy the Three Caballeros artwork that decorates the room. Just like the Tower, a Coronado Springs standard room comes with a sliding barn door that leads to the bathroom, which also has two sinks, plenty of cabinet space, and a pocket door.
Also similar to the Tower, you'll get the option to select which view you'd like, either a water view or standard view. Other options for these rooms include the preferred room in either two queen beds or one king, a regular king bed option, a one bedroom king suite, and a one bedroom Casitas suite.
If you feel like you can't choose a room or you want to see where each room is located, you can always look up a Coronado Springs preferred room map. 
If you are looking for a room that will fit up to eight adults, the Casitas Executive Suite boasts one king bed, two queens, and one queen sleeper sofa.
Depending on what time of the year you visit and which room you're looking to get, Disney Coronado Springs rooms vary on pricing.
Related Article: Complete Guide to the Disney World Hotels 
What are Coronado Springs Restaurants 2023?
As far as food is concerned, you don't even have to leave the resort to find something to eat, as there are ten Disney Coronado Springs restaurants to choose from! All Coronado Springs resort restaurants combine Spanish exploration with Disney creative tradition for some uniquely spectacular dining.
If you like watching rooftop fireworks, or grabbing small tapas plates with a group of friends, we find that Coronado Springs has the best restaurants for adults. There are incredible lounges in the sky, or even restaurants floating on the water at Coronado Springs that serve homemade sangria!
What are the restaurants at Coronado Springs 2023?
Toledo- Tapas, Steak & Seafood: Spanish-inspired cuisine on a rooftop, looking at spectacular views, all while sitting in a surrealist art and 1930s avant-garde theme.
Three Bridges Bar & Grill at Villa del Lago: Enjoy a relaxed vibe at this lakefront restaurant while eating shared plates, sandwiches, salads, and more.
Rix Sports Bar & Grill: This upscale sports lounge is the perfect Coronado Springs dining spot to cheer on your team. Its 31 TVs make for a great place to watch a game, drink a beer or cocktail, and eat some classic bar food.
Dahlia Lounge: A rooftop lounge inspired by Spanish surrealism is a remarkable setting to enjoy premium wine or signature cocktails with some Spanish charcuterie or artisanal cheese.
Barcelona Lounge: A perfect morning pick up, enjoy coffee or espresso and breakfast treats such as pastries inspired by Spain's coffee culture.
Siestas Cantina: The poolside place, guests can sip on a specialty cocktail while soaking up the sun. Food such as nachos or burgers are also available for when your swimmer's appetite kicks in.
Maya Grill: Eat traditional Mexican fare while dining underneath Mayan motifs of fire, sun, and water.
Café Rix: For your sweet tooth, enjoy a smoothie or specialty coffee along with a selection of pastries, yogurts, fruits and salads. And we most certainly can't forget about the gelato!
El Mercado de Coronado: If you're in need of something quick and easy before going to the parks, stop at this Grab & Go market that serves breakfast, lunch, dinner, desserts, and drinks.
Laguna Bar: For the adults, sit back and relax while enjoying the tropical vibes of this tequila and mezcal bar. This lakeside stop offers original hand-crafted cocktails.
Related Article: The Best Walt Disney World Restaurants 
The Coronado Springs Resort Pool 2023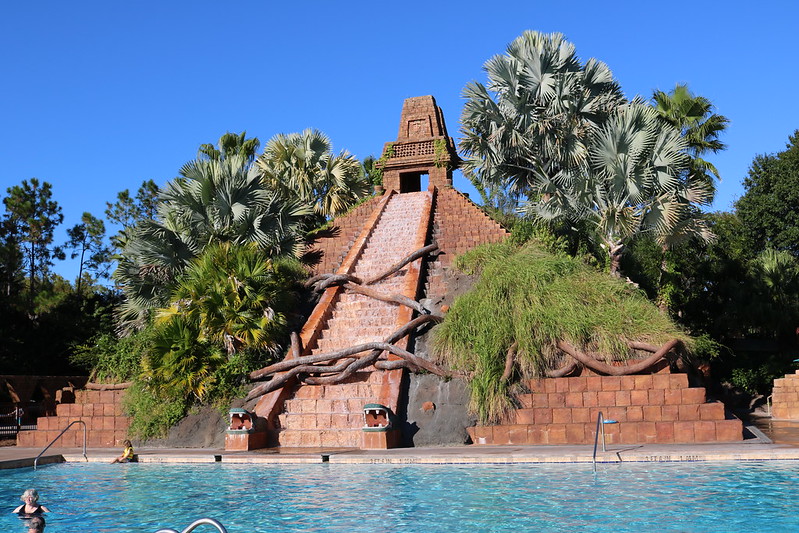 Coronado Springs Disney World is made up of four total pools. If you're looking for a Disney Coronado Springs pool that is meant for relaxation, then you can visit one of the three leisure pools they have. These pools can be found with one at each settlement: the Casitas, Ranchos and Cabanas.
However, if you're looking for a Coronado Springs Resort pool with more excitement, then visit the Lost City of Cibola Pool.
Kids and adults alike will enjoy the Dig Site, a pool complex featuring a Mayan ruins theme. In the Lost City of Cibola pool, your eyes will focus on the 50-foot pyramid centerpiece with tons of water shooting down its stone steps. Its other main attraction is the 123-foot-long Coronado springs pool slide, which is a fast-past, exhilarating slide that passes a jaguar spitting out water. It's fun for the whole family!
If this isn't enough for you, the Coronado Springs Pool complex also features the largest hot tub on Walt Disney World Resort property, being able to fit 22 people. It also has seasonal poolside activities, the Siestas pool bar, a white-sand volleyball court, the Iguana Arcade and a kiddie pool.
Coronado Springs pool hours are subject to change and will vary depending on the pool. Typically, the pool hours are from 8 AM to 12 AM  for the Dig Site and 8 AM to 10 PM for the leisure pools.
Related Article: The Best Disney World Pools 
Other Activities and Amenities at Disney's Coronado Springs Resort
The Coronado Springs Hotel Disney also has two fitness centers (in case you didn't get enough walking in at the parks), and is actually the only Disney moderate hotel to have one. The La Vida Health Club Fitness Center is located in the Casitas settlement, and the Gran Destino Tower has its own fully-equipped gym. You can also take a jog or walk around the 0.9-mile loops that make up Lago Dorado (the giant lake in the Resort).
Guests can also relax at Coronado Springs Orlando with the spa and salon, offering massages, facials, and hair and nail services. Looking for some shopping? Enter Panchito's Gifts and Sundries. This gift shop has classic Disney merchandise and snacks, along with resort-specific ones.
There's also a business center, childcare services, a convention center, laundry and dry cleaning services, and mail services. You can self-park for $20 per night.
Coronado Springs Resorts Amenities
Campfire activities
Movies Under the Stars
Volleyball
Jogging trail
Playground
Arcade
Mail services
Merchandise delivery and pickup
Spa & Fitness centers
Related post: What are the 10 Best Hotels Around Disney World?
Is There a Disney Coronado Springs Map?
We know that this is a fairly big resort, as the three villages made up of rooms and suites are situated around a 15-acre lake. If you need to find your way around, there is a Coronado Springs map. The Disney Coronado Springs Resort map is divided up by guest services, dining, shopping, and recreation, and even features where the laundry, elevators, and local bus stops are.
Related post: What is the Best Disney Deluxe Resort?
Disney's Coronado Springs Resort Reviews 2023
Reviews can be an essential part of booking anything, especially a hotel. Thankfully, we've got you covered by looking up the Disney Coronado Springs Resort reviews for you!
From Google and its over 10,000 Coronado Springs Resort reviews, the Resort scored 4.5 stars out of 5. People loved the cleanliness, the views, the restaurants, the staff, and more!
On average, Coronado Springs Resort Disney World has averaged a 4 out of 5 on TripAdvisor, with over 7,000 reviews. The Coronado Springs reviews raved about the location and distance to everything and it's convenience.
Since the resort is so large, just keep in mind there may be a lot of extra walking, which is not everyone's favorite after a long day at the park!
Related post: What are the Best Disney World Hotels for Families?
Disney's Coronado Springs Resort 2023 FAQ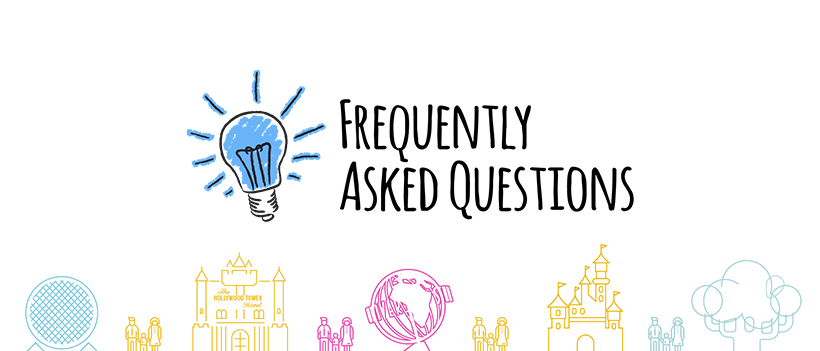 Q: How far is Coronado Springs from Magic Kingdom?
A: Coronado Springs is about 3.5 miles from Magic Kingdom, and it will take guests about 10 minutes to drive from the resort to the park. If you are taking Disney transportation, you should allow yourself about 20 minutes to get from door to gate when traveling.
Q: Does Coronado Springs have free breakfast?
A: No, there is no free breakfast offered at any Disney World hotel. Instead, each hotel has restaurants or room service that guests can order from for breakfast.
Q: Does Coronado Springs have a hot tub?
A: Yes, Coronado Springs has a hot tub, and the largest hot tub on all of Walt Disney World property at that! The Dig Site, which is the main hub for recreation at Coronado Springs boasts the largest spa pool on all of property!
Q: Does Coronado Springs have Skyliner?
A: No, Coronado Springs is not connected to the Disney Skyliner route. Instead, guests are welcome to use Disney busses to get around Walt Disney World resort at Coronado.
Q: Can you walk to EPCOT from Coronado Springs?
A: While EPCOT is only about a 5 minute drive from Coronado Springs, we wouldn't say that it is a walkable distance. While there are resorts that are walkable at Walt Disney World, we would not suggest walking to any of the parks from Coronado Springs. There is not a clear walking path to and from any of the theme parks to Coronado.
Q: Is Coronado Springs a deluxe resort?
A: Coronado Springs is not a deluxe resort, instead, falling in the Disney moderate resort category. There are only 5 Disney resorts in the moderate tier of hotels, with each of them being mid-range for pricing and accomodations.
Q: Can you see fireworks from Coronado Springs?
A: One of our best kept secrets about Disney's Coronado Springs Resort is that if you dine at one of the rooftop restaurants, you can see fireworks! We suggest checking out the Dahlia Lounge at night and looking toward the EPCOT or Magic Kingdom area to check out either of the firework shows from up above!
Q: What park is closest to Coronado Springs?
A: Coronado Springs is technically an Animal Kingdom area resort, making it closest and easiest to access that park. With that being said, Coronado is set perfectly in the center of EPCOT, Hollywood Studios and Animal Kingdom, with each only being a few minute drive away.
When is The Best Time to Visit Disney World?
Our Disney  World Crowd Calendar is the best tool to help you get the most out of your time in the parks. We break down park crowds, park hours of operation, ticket prices, and average temperature. We also break down the best time to visit Disney World based on specific times of the year and special events.
Are You Ready to Plan Your Next Disney World Trip?
Are you planning a trip to Walt Disney World? Be sure to speak with a Disney World Travel Agent for the most recent deals and promotions. The Park Prodigy will provide a Free Quote for all Disney World Vacation Packages. The Park Prodigy can also help you save up to $20 per ticket when purchasing your Walt Disney World Tickets, and we offer promotional discounts for special events such as Mickey's Not So Scary Halloween Party Tickets and Mickey's Very Merry Christmas Party Tickets.
Don't forget to check out our wonderful friends over at Theme Park Today, as well