The Ultimate Tour of Universal Studios Diagon Alley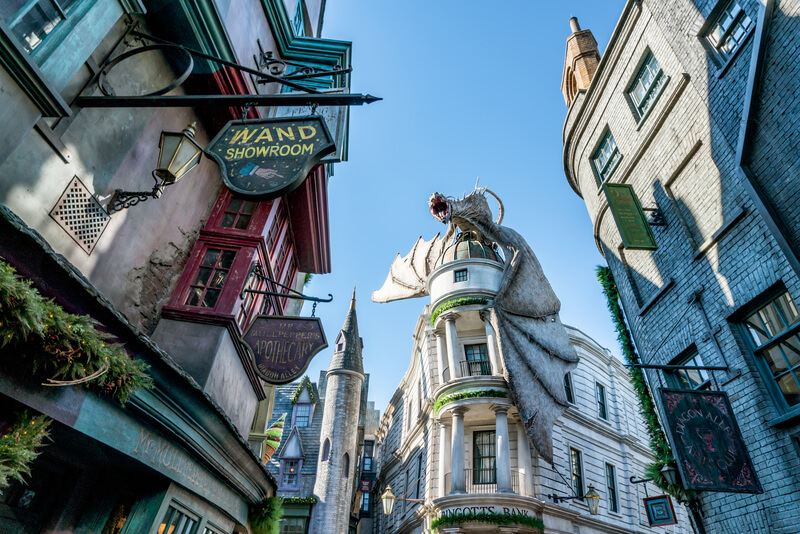 The Ultimate Tour of Universal Studios Diagon Alley
This article is your complete guide to Universal Studios Diagon Alley! We know so many Harry Potter fans dream of going to Universal Studios Orlando in order to step into the Wizarding World of Harry Potter and explore Diagon Alley Orlando. While there is technically only one Diagon Alley Universal ride, we're here to tell you that you don't want to miss this incredible re-creation of the Diagon Alley that most of us have either only read about or watched on the big screen.
In this article we'll cover how to get to Diagon Alley, Universal Studios Diagon Alley secrets, Diagon Alley restaurants, and how you can explore Gringotts bank!
We hope you find this post helpful! Our goal at The Park Prodigy has always been to help you save time and money on your next Universal Orlando vacation!  If you are planning a trip to Universal Orlando be sure to check out the latest deals on Universal Orlando vacation packages and our discounted Universal Orlando tickets which include EARLY PARK ADMISSION to the Wizarding World of Harry Potter!
So, come along with us as we get ready to leave the muggle world behind, and walk through a brick wall to hang out with all of those incredible wizards and witches in Universal Studios Diagon Alley! 
SPECIAL NOTE: If you need help picking the best time to visit Universal Orlando for your next vacation be sure to check out our Universal crowd calendar!
 Universal Orlando Crowd Calendar
Before You Even Enter Diagon Alley Universal Orlando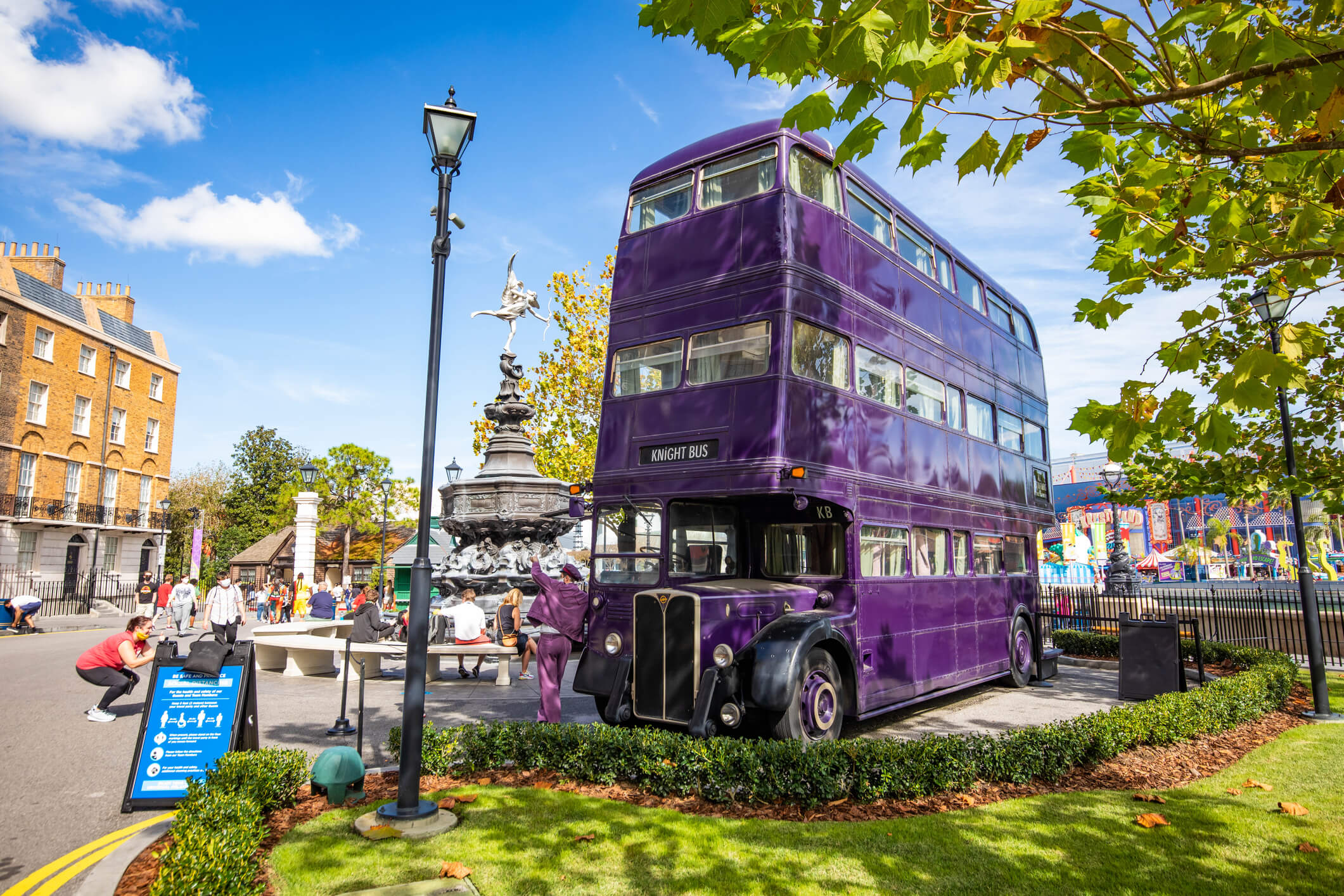 But, before you even walk through the brick wall at London's waterfront into the Wizarding World of Harry Potter, you have two previews of what to expect once inside that you must visit on your ultimate tour of Diagon Alley Universal Florida.
The Knight Bus
Parked just outside Diagon Alley is the triple-decker Knight Bus. A permanent fixture, this attraction is parked on the London Embankment waiting to give stranded wizards and witches emergency transport. Stop by and talk with the bus driver waiting for his fares or maybe even strike up a conversation with the shrunken head who's always just hanging around. Feel free to ask him where is Diagon Alley in Universal Studios and see what kind of interesting answer he may give you. This is always a must do before entering Diagon Alley.
Kreacher, the House Elf
As you walk toward the area where the Diagon Alley entrance Universal is hidden away among the bricks, take a moment to stand outside 12 Grimmauld Place (the home of Sirius Black). It is the one house that is a slightly darker color than the rest. Look up to the window and if you stand there long enough, you'll see its curtain shift and catch a glimpse of Kreacher, its House Elf, looking out warily for visitors who may be wondering how to get to Diagon Alley.
Where is Diagon Alley in Universal Studios?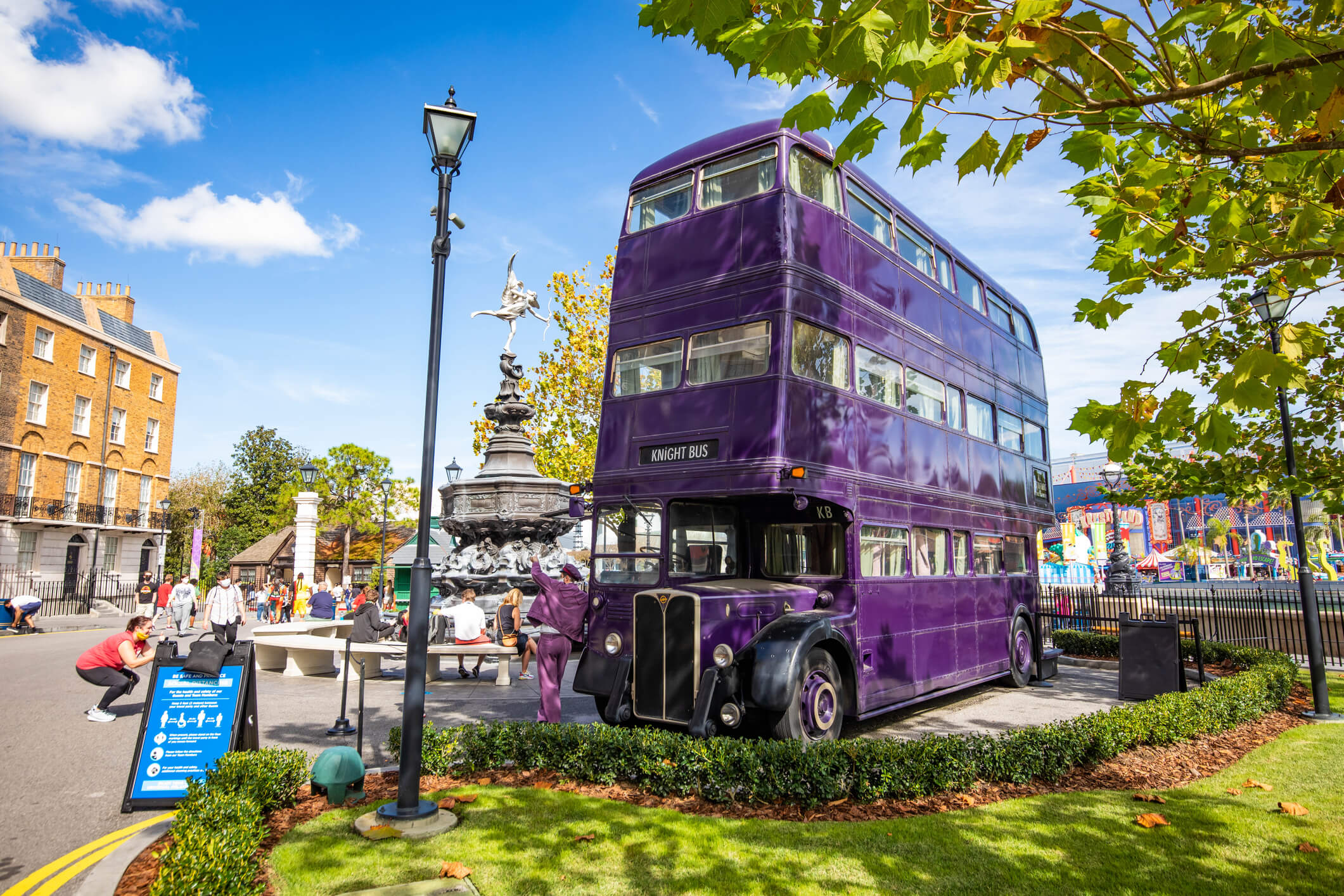 When arriving at Universal Studios Orlando, you might be wondering how to get to Diagon Alley. Luckily, it isn't that hard to find the entrance to Diagon Alley in Universal Orlando. First, you need to head to Universal Studios Florida. While there is a Harry Potter Land in Islands of Adventure, Diagon Alley is located in the original Universal Studios Florida park.
Once you've entered Universal Studios Florida, you'll need to walk past New York, Production Central and San Francisco lands. The Diagon Alley entrance can be spotted across from the Knight Bus. If you're still wondering how to get to Diagon Alley and you've reached the Men in Black ride, you've gone too far.
There are two different entrances to Diagon Alley, which we are going to talk about next!
Related post: The Complete Guide to Hogsmeade vs Diagon Alley at Universal Orlando
How to get in to Diagon Alley Universal  
So now you have taken some amazing photos in front of the Knight Bus, and you might be wondering how do you get into Diagon Alley? And just like in the books and movies Muggles and Wizards will have to cross through the brick wall located directly to the right of the big sign that says you're in King's Cross Station. There are also two other entrances when you are searching for how to get to Diagon Alley in Universal. The giant brick wall entrance is the more obvious, which leads you right into main Diagon Alley stretch. The other two entrances are less obvious and located just to the right of the main brick entrance near Grimmauld Place.
Where is Diagon Alley located in Universal Studios?
If you're wondering where to head when looking for the Diagon Alley entrance in Universal, start walking deep into the right of the park. Diagon Alley is located past the New York section and the San Francisco section. If you've hit Fear Factor Live stage, you have gone too far.
Which park is Diagon Alley in?
Even with so much information out there we still get asked, which park is Diagon Alley in? And, Diagon Alley is located at Universal Studios Florida which is the original Universal Orlando park. It's also the park located to the right when you are walking through Universal Citywalk towards both parks. Guests who walk towards the left will be heading towards Hogsmeade at Islands of Adventure.
Attractions in Universal Studios Diagon Alley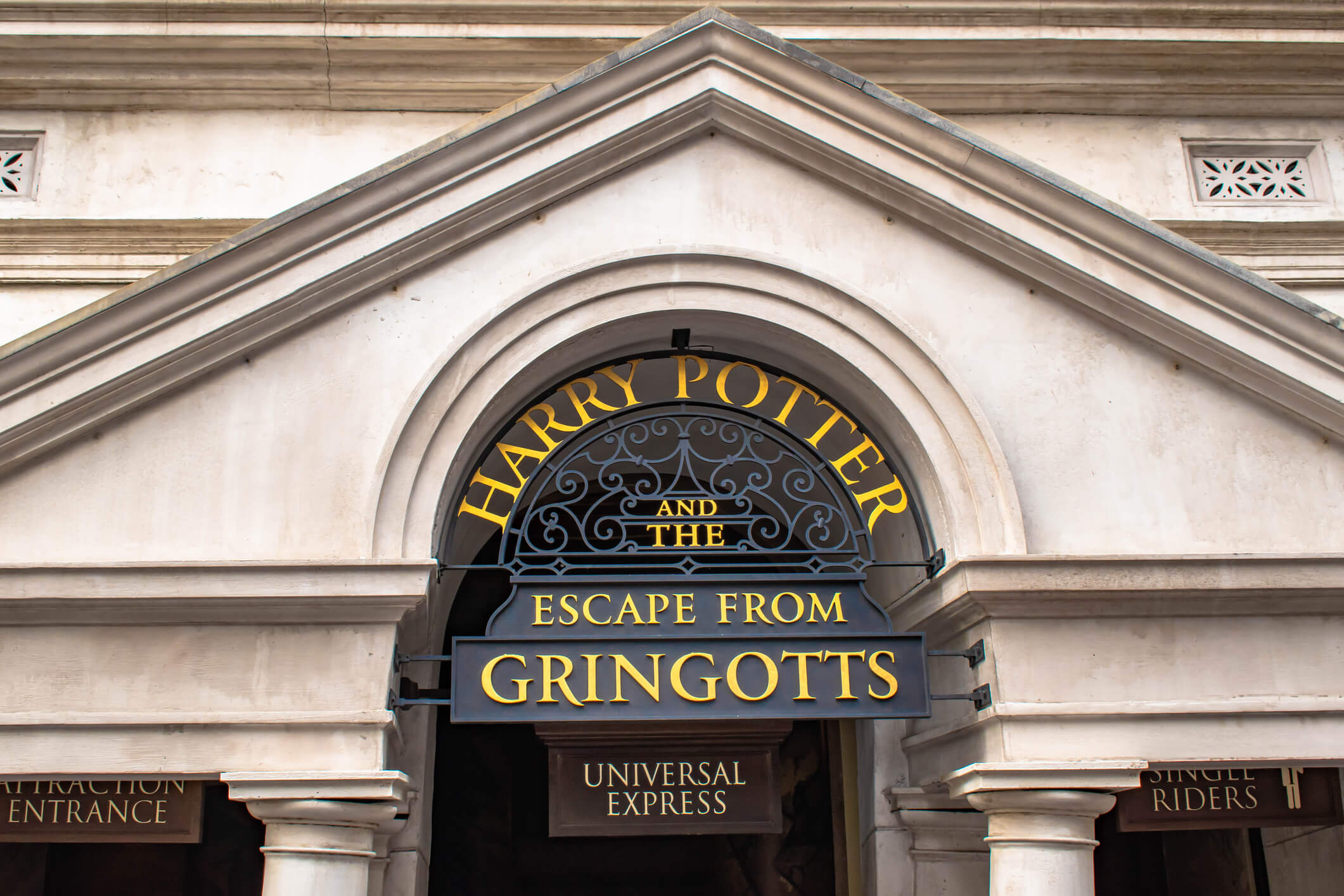 If you've figured out how is Diagon Alley hidden and have walked through the brick openings (did you hear the bricks sliding around as you walked through?), then you've no doubt landed yourself smack dab in the middle of the busy streets of Diagon Alley Orlando Florida (although technically, you're now in London, dear muggle). As mentioned before, there is only one ride housed inside Diagon Alley Universal Studios Florida so best to head there first and check it out!
Special note: The best way to make the most of your time in the Wizarding World of Harry Potter is with Universal Early Park Admission! This will allow park guests into Diagon Alley an hour early and can save you up to three hours later on in the day. And the best part is it's included absolutely FREE with all Universal Orlando tickets purchased from The Park Prodigy!
Which rides are in Diagon Alley at Universal Studios?
Harry Potter and the Escape from Gringotts
Hogwarts Express: King's Cross Station (located right outside of Diagon Alley)
Harry Potter and the Escape from Gringotts
This ride is housed inside Gringotts Bank Universal. Part roller coaster and part 3D motion-simulator ride, you're going to want to hold on tight as you ride this thrilling multi-dimensional ride. Before you get on the ride, enjoy your stroll through Gringotts bank and watch the goblins hard at work. Then enjoy the preshow before you descend into the depths of Gringotts bank.
Ride Restrictions: Minimum height is 42" and anyone under 48" must have a supervising companion ride with them. This ride does employ safety restraints that may make it difficult for anyone with a waist larger than 40" to ride.
Hogwarts Express: King's Cross Station
You can "catch" this ride in Diagon Alley, but it doesn't stay here. Hop on board and ride this family-friendly train over to Islands of Adventure to continue your Harry Potter adventure at Hogsmeade Village. Guests are treated to videos in the windows as they ride that show snippets of the life of wizards as well as the countryside where they live. The Hogwarts Express also provides another way how to get to Diagon Alley Universal when you hop aboard in Hogsmeade Village and head back into King's Cross Station in Diagon Alley.
Ride Restrictions: You must have a park-to-park admission ticket to ride the Hogwarts Express. While there is no minimum height, anyone under 48" must be accompanied by a supervising companion.
Related Articles: Best Rides at Universal Orlando
Dining in Diagon Alley
While there aren't a lot of Diagon Alley restaurants, you can still find plenty eat and drink around Diagon Alley. And if you're wondering if there is butterbeer in Diagon Alley, we think your most difficult choice may be how many different varieties of butterbeer you'd like to enjoy while you're visiting.
Leaky Cauldron
The Leaky Cauldron is Diagon Alley's main spot to find a good, hearty English meal. Designed to look like the run-down pub in the Harry Potter and the Prisoner of Azkaban movie, your eyes will find just as much to enjoy here at your stomach will. With English delights such as bangers and mash, fish and chips, and toad in a hole, you'll fill up quickly with whatever meal you choose. This quick service Diagon Alley Universal restaurant serves breakfast, lunch, and dinner. Because it is quick service, you will not need Leaky Cauldron Orlando reservations.
Florean Fortescue's Ice-Cream Parlour
What's better on a hot day than some delicious ice cream? How about ice cream with distinctly English Wizard-like flavors? You'll find Earl Grey and Lavender, Clotted Cream and of course, Butterbeer-flavored ice creams here. There's both hard-packed and soft-serve so choose your favorite and find a spot outside to sit and enjoy!
Eternelle's Elixir of Refreshment
This unique drink stand is located in the middle of Carkitt Market and serves up several options to quench your thirst. You'll find Gilly Water (Harry Potter themed bottled water), Pumpkin Juice, and of course, Butterbeer.
The Hopping Pot
Also finding its home in Carkitt Market is this walk-up window where you can find both alcoholic and non-alcoholic wizarding beverages. Be brave and try a Tongue-tying Lemon Squash, a Fizzing Tea or one of the beers specifically crafted for the Wizarding World of Harry Potter – the Wizard's Brew and Dragon Scale.
The Fountain of Fair Fortune
Named after one of the stories in The Tales of Beedle the Bard, The Fountain of Fair Fortune serves a variety of beers and other beverages (both alcoholic and non-alcoholic). Check it out to get the feeling of walking into an authentic English pub.
Related Article: Ultimate Guide to The Wizarding World of Harry Potter Dining 
Shopping in Universal Studios Diagon Alley
If shopping is one of your favorite forms of entertainment, Diagon Alley Orlando is the place to visit. With more than double the number of shops over at Harry Potter Islands of Adventure Hogsmeade Village, the Diagon Alley shops Universal will give you endless options of ways for you to purchase a bit of the wizarding magic that Harry Potter is all about.
Gringotts Money Exchange
To really submerge yourself into the world of wizards, stop into this unique shop first to change your muggle money into Gringotts bank notes that can be used to make all of your Diagon Alley purchases. While it's not a requirement to use Gringotts bank notes to shop, it's still fun to stop in here and strike up a conversation with the goblin who runs the place.
Globus Mundi
Globus Mundi is the travel agency of choice for local wizard and witches. Stop by this small shop for travel-themed souvenirs.
Borgin and Burkes
One of our favorite Universal Studios Diagon Alley shops, stop by this shop in Knockturn Alley to find all of your favorite dark, sinister items.
Ollivanders
Every witch and wizard needs a wand, so if you don't have one yet, stop here to pick up your own unique interactive wand to use at the secret wand locations Diagon Alley.
Madam Malkin's Robes for All Occasions
Looking to show some school spirit? Find your house robes and accessories here.
Magical Menagerie
From cute to creepy, you can find yourself a "pet" to adopt and take care of at the Magical Menagerie. This is one of our favorite shops to simply walk around and observe all of the unique animals available.
Quality Quidditch Supplies
Get your quidditch-related memorabilia here, such as brooms and house scarves and sweaters to show who you'll be cheering for at the next quidditch tournament.
Sugarplum's Sweetshop
You'll find all the wizarding treats you crave in this bright pink shop with bold colors and sweets every where you look. From cauldron cakes to Bertie Botts Every-flavour Beans, you will have a blast trying to just choose one or two.A great spot for students of all ages to visit; you'll find backpacks, journals, and writing utensils supporting every house at Hogwarts.
Weasleys' Wizard Wheezes
The jokesters among you will not want to miss a trip to the Weasleys' joke shop. This colorful emporium has every joke, trick, and toy a young wizard (or an old wizard with a young heart) could want to get his hands on.
Wands by Gregorovitch
He may be Ollivander's rival, but he has the same wands that Ollivanders carries. Since Ollivanders can draw large crowds, consider stopping here if you simply need a wand and not all the pageantry.
Wiseacre's Wizarding Equipment
Looking for a crystal ball, or a telescope for reading the stars? Then stop by this shop to purchase those unique wizarding essentials.
Entertainment in Diagon Alley – What to do in Diagon Alley
If you're wondering what to do in Diagon Alley once you've ridden the main ride, had three or four butterbeers and bought every Slytherin item available, we're here to tell you that you're only halfway done. The entertainment and other activities in Diagon Alley make this small area one of the most fun places to explore in all of Univeral Studios. So, grab your purchases, maybe another Butterbeer (did you try the frozen yet?) and check out these fun activities.
The Tales of Beedle the Bard Stage Show. Take time to find a safely distanced spot around this stage to watch the actors perform various tales from the book, The Tales of Beedle the Bard. They'll keep the whole family entertained with their puppets, props, and hilarious tales.
Celestina Warbeck and the Banshees Stage Show. Celestina Warbeck and the Banshees put on a musical show like no other as they perform some of the top hits from the wizarding world, such as "A Cauldron Full of Hot Steaming Love" and "You Stole My Cauldron But You Can't Have My Heart."
Ollivanders Wand Shop. This wand shop in Diagon Alley is the best place for fully experience having the right wand choose you. If you are one of the chosen ones, you will become a part of the "show" as the shop owner has you try out spells and find the perfect wand for you. Even if you aren't one of the ones chosen to be part of the show, you're sure to enjoy watching someone else try the spells.
Gringotts Money Exchange. Because of the ability to interact with the goblin running the exchange, this becomes not only a place to shop, but another lovely place to become one of the many interactive guests of Diagon Alley.
Related Article: Complete Guide to Early Park Admission to Universal Orlando
Cool Things to See and Do in Diagon Alley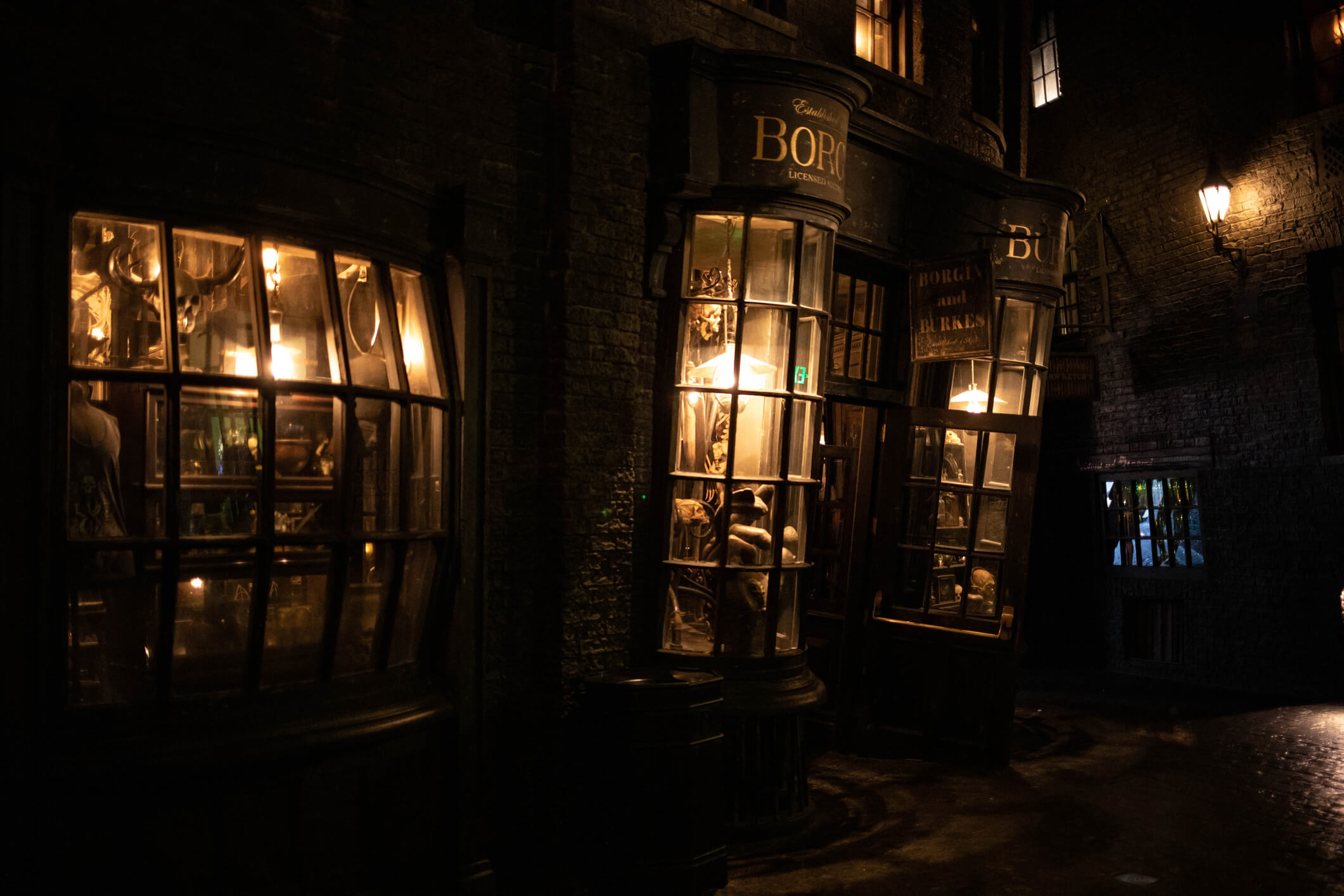 Interactive Wand Spells
Hopefully you purchased a Universal Orlando interactive wand because practicing your secret spells is one of the best things to do in Diagon Alley. Grab the map of Diagon Alley Universal that came with your wand to find the gold markers on the ground where you can stand and use your wand to make a little magic. Each marker shows the movement needed to make and the words needed to say in order to perform your magic spell. Then wait and see if anything magical happens before your eyes.
The Dragon at Gringotts
You can't miss the giant dragon perched on top of Gringotts bank. Everyone's favorite dragon loves to growl and blow out fire quite often so get your camera ready to snap one of the most iconic shots of the Wizarding World of Harry Potter. One of our Universal Studios Orlando Diagon Alley tips, is to wait until just after the dragon's second roar for those flames to come out. That will help you get the perfect selfie with the dragon.
Knockturn Alley
One of the best kept secrets of Diagon Alley, is a little entrance that will take you into Knockturn Alley, a dark and somewhat scary place where dark wizards go for their shopping and commiserating. Bring your wand because there's plenty of spells to be cast in here, too. One of the Universal Studios Diagon Alley secrets we like to share with muggles about Knockturn Alley is that this is also the perfect place to come hang out if it's very hot outside or if the rain starts to fall. Also, don't be surprised to find muggles taking naps in the cool darkness.
Universal Studios Diagon Alley FAQ
Q: Where is Diagon Alley in Universal?
A: Diagon Alley is located in Universal Studios, one of the main two Universal Orlando resort theme parks.
Q: Where is Knockturn Alley at Universal?
A: Knockturn Alley can be hard to find, but there are two places you can enter. First, you have to be in Diagon Alley to find it. The first entrance is in the main stretch of Diagon Alley, right past the Leaky Cauldron. The second entrance is back around by the restrooms on the left side of the Gringotts dragon. Look for the creepy dark alleys, you'll find some magical trouble!
We hope our ultimate tour has helped you not only help you figure out which Universal park has Diagon Alley, how to get into Diagon Alley Universal, and but also helped you plan for all of the amazing activities you're going to do at Universal Studios Diagon Alley Orlando. If nothing else, we reminded you to set aside an extra large budget for all the Harry Potter Butterbeer you're going to buy while you're there! It's thirsty work being a wizard.
When is the Best Time To Visit Universal Orlando?
If you're not sure when to plan your next Universal vacation, Our Universal Orlando Crowd Calendar is the best tool to help you get the most out of your time in the parks. We breakdown the park crowds, park hours of operation, ticket prices by day, and average temperature.
Guests can also beat the crowds with our Universal Orlando tickets! All guests who purchase their tickets from The Park Prodigy will get Early Park Admission to Universal Orlando! This could save you a ton of time in the parks and avoid buying express passes!