Our Guide to Hogsmeade Village at Universal Studios 2023
Our Guide to Hogsmeade Village at Universal Studios 2023
This guide is your ultimate tour of Hogsmeade Universal Orlando! If you're a Harry Potter fan or if anyone in your family has read even just one of the Harry Potter books, you will want to make a trip to Hogsmeade in Universal Studios at least once in your lifetime! The Wizarding World of Harry Potter is one of the greatest expansions to come to the Orlando area in a very long time. And there  really is so much to see and do within both Islands of Adventure (Hogsmeade) and Universal Studios (Diagon Alley).
For this article, we're going to stay in Hogsmeade Village, home of Hogwarts Castle and located in Islands of Adventure. It's important to note that we highly recommend also checking out Diagon Alley in Universal Studios if you get the chance because both are over-the-top amazing replicas of the Wizarding World of Harry Potter. 
We hope you find this post helpful! Our goal at The Park Prodigy has always been to help you save time and money on your next Universal Orlando vacation!  If you are planning a trip to Universal Orlando be sure to check out the latest deals on Universal Orlando vacation packages and our discounted Universal Orlando tickets which include EARLY PARK ADMISSION to the Wizarding World of Harry Potter!
SPECIAL NOTE: If you're looking for the best time to visit Universal Orlando check out our Universal Crowd calendar! 
Universal Orlando Crowd Calendar
Complete Guide to Hogsmeade Universal Orlando 2023
So let's start with the basics for those without a huge Harry Potter house of knowledge! We'll try to breakdown some of the most important questions we receive regarding Hogsmeade village at Universal Orlando: 
Where is Hogsmeade Located in Universal 2023?
When visiting Universal Orlando Resort, there are two different theme parks that guests can visit. Both parks have a Wizarding World of Harry Potter land, but only one has Hogsmeade village at Universal Orlando. You can find Hogsmeade Village in Islands of Adventure park between The Lost Continent and Jurassic Park.
Where is Hogsmeade?
In the books, you can find Hogsmeade in the Scottish Islands, but in Florida, you can find Hogsmeade in Universal's Islands of Adventure park.
What is Hogsmeade Village?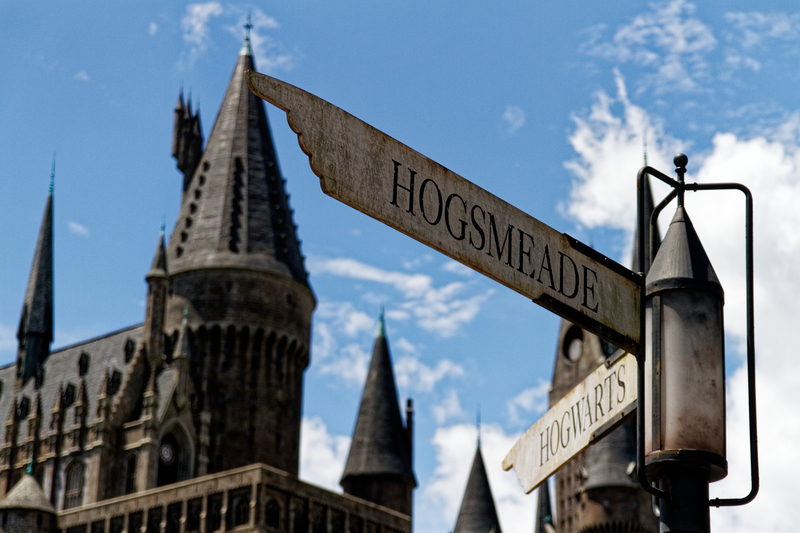 In the Harry Potter series of books, Hogsmeade Village (or simply Hogsmeade) was the only all-wizarding village in the United Kingdom. It contains all the items the students of Hogwarts could need to sustain themselves while at school. If you're wondering where is Hogsmeade located in Universal Studios, Hogsmeade Universal is located in the Islands of Adventure park and can be found near Jurassic Park.
Do I need a separate ticket to enjoy Hogsmeade Universal Orlando 2023? 
No! Absolutely not, you can simply shop for any Universal Orlando ticket if you are trying to visit Hogsmeade village in Islands of Adventure. It's important to note though that you cannot ride the Hogwarts Express without park to park tickets.  So if you're trying to explore the Wizarding World of Harry Potter Hogsmeade and Diagon Alley on the same day we highly recommend the getting those park-to-park tickets!
An additional added benefit of all Universal Orlando Tickets purchase through Theparkprodigy.com is Universal Early Admission! With this benefit park guests can experience Hogsmeade village exactly one hour before other guests. This can be a huge time saver if you are trying to experience Hagrids Magical Motorbike Adventure!
What is in Hogsmeade?
Now that we've got those basic questions out of the way, let's go discover what is in Hogsmeade and why it's the better of the two parks (yes, we said it, but honestly if you want to know is Hogsmeade or Diagon Alley better, we still say check them both out!).
Attractions (AKA Harry Potter Rides)
The rides in Hogsmeade are often the biggest draws to the area. Even people who have no idea what The Wizarding World of Harry Potter is all about, want to come inside Hogsmeade Village to experience the three-and-a-half (we'll explain the half ride in a bit) rides that call Harry Potter Hogsmeade Orlando their home.
Hagrid's Magical Creatures Motorbike Adventure 
This ride is the latest and greatest attraction in Hogsmeade Universal Orlando. Having just opened in June of 2019, there's always a huge line to ride this ride but it's completely worth it and you won't want to skip it, and that's why the early park admission including with of The Park Prodigy's Universal Orlando tickets is so important!
This family-friendly (to a degree), state-of-the art roller coaster takes riders deep into the Forbidden Forest on a quest with Professor Rubeus Hagrid's Care of Magical Creatures class so that he can introduce you the amazing creatures that call the forest their home. Riders will choose to ride the ride on either a motorbike or in the sidecar and can expect to zoom around a track, with lots of launches and twists and turns. With a height requirement of 48 inches and the quick speed and drops in the ride, it might not be suitable for the youngest ones in your group, but older kids and everyone else will absolutely love this thrilling ride.
Harry Potter and the Forbidden Journey
For those in your party that ask, "Can you go inside Hogwarts at Universal?" this is the ride that answers "Yes!" Harry Potter and the Forbidden Journey takes guests on a flying adventure throughout the grounds of Hogwarts on a magical, enchanted bench. Guests get to join Harry, Hermione, and Ron as they fly around Hogwarts Castle, play a little Quidditch, battle a dragon, and travel into the Forbidden Forest where they come across dementors. This ride is not for the faint of heart! While the height requirement is only 42 inches for families visiting Universal with kids, with dementors and giant spiders, it can be frightening to some.
Some argue that the best part of this ride is actually the queue line. It snakes you all through many familiar places of Hogwarts Castle, such as Dumbledore's Office, the Defense of the Dark Arts classroom, and even the greenhouse where young mandrakes are finding new potted homes. The Easter Eggs referring to the movies and books are plentiful, and even on days with long waits, you'll not get bored while waiting in line for this ride. If anyone is a bit scared about the ride but is still a huge Harry Potter fan, have them join you in the line to see all the sights and hear the voices of characters, but then step off right before the ride starts.
Flight of the Hippogriff Family Coaster
Although deemed a kiddie coaster, this outdoor roller coaster will be enjoyed by adults as well. Riding this coaster will bring you into the Forbidden Forest and give you a great view of Hagrid's hut as well as Hogwarts Castle. With a height requirement of just 36 inches, it's a great way to introduce the kids to roller coasters. It provides all the energy without any of the scary stuff. Every now and then, we like to provide Wizarding World of Harry Potter tips, and our tip on this ride is to ride it at night and see all the beautiful sparkling lights of Hogsmeade as you ride.
The Hogwarts Express
This is listed as our half ride because one end of it is in Diagon Alley in Universal Studios and the other is here in Hogsmeade Islands of Adventure. Because it is partially in both parks, in order to ride it, you must have a Universal park-to-park pass, no exceptions. If you have the park-to-park ticket, you will hop on board, find a seat, and take a 2-minute ride over to Diagon Alley in Universal Studios. You'll be able to see scenes and characters from Harry Potter through the video monitors that double as the windows of your train car. This ride has no height restrictions so everyone can enjoy this relaxing and visually stimulating ride between the parks.
Dining in Hogsmeade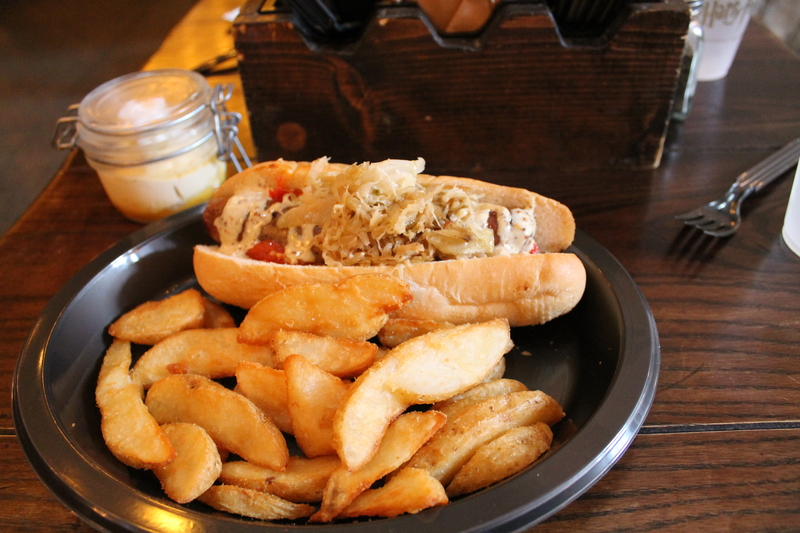 There's not a lot of options in Hogsmeade for Hogsmeade Universal food, but one of the most popular quick service restaurants in Universal is located here. It is the Three Broomsticks Restaurant and Hogs Head Pub (they are connected). Because it is the only place to sit down and enjoy a meal, many people ask, "can you make reservations at Three Broomsticks?" Unfortunately, you cannot, but since it is a quick service, you can usually find a quick place to sit down, and enjoy a meal and a nice cold butterbeer without too much trouble.
If you'd like a little alcohol to go with your meal (or on its own), step up the bar in the back of Three Broomsticks called Hog's Head Pub. You can get yourself some wine, mixed drinks or even draught beers made especially for the Wizarding World of Harry Potter. The food and drinks are great so we highly recommend visiting Three Broomsticks Wizarding World of Harry Potter for a quick meal during your visit.
If you find you're too busy to have a whole meal, Hogsmeade has several kiosks around the village for you to pick up a local beverage such as pumpkin juice, gilly water (bottled water), or butterbeer along with an occasional snack item.
Related Post: The Complete Guide to Dining in the Wizarding World of Harry Potter! 
Shopping in Hogsmeade Orlando
One of our favorite things to do in Hogsmeade is shop! This little village has some incredible shops and store fronts that transport you right into Harry Potter World Hogsmeade. The only difficulty you may have is trying to determine which are real shops and which are simply store fronts to give the feel of being in Hogsmeade. There are plenty of store fronts that we wish were really stores we could explore but there are four actual stores you can explore and shop in that you won't want to miss.
The Owl Post
This is basically the Harry Potter Universal Hogsmeade post office, but since it's run by wizards, it's so much more. You'll find stationery, owls, and all things needed to send a letter to a friend or loved one. You can even have your actual letters get stamped here with a unique Hogsmeade postmark to show your friends you were really hanging out with wizards on your vacation!
One of our favorite Hogsmeade shops Orlando, you will find all kinds of iconic Harry Potter treats and snacks here such as chocolate frogs, cauldron cakes, and butterbeer fudge. With its bright pastel colors and so much sweetness everywhere, this shop always makes us smile.
Dervish and Banges.
This is the place to stop to pick up all of your wizarding merchandise from wizard house spirit jerseys, to quidditch supplies, to all things themed for Harry Potter Hogsmeade Universal Studios. This is also the shop where you'll purchase your very own wand, whether you're taking it right off the shelf, or coming over from Ollivander's Wand Shop where your wand chose you.
Filch's Emporium of Confiscated Goods.
As one of the only Wizarding World of Harry Potter Hogsmeade shops that also serves as an exit to a ride, you'll find some of the more unique and darker-themed merchandise in this shop. The items in this shop definitely appeal to the teens and adults in your group with items like golden snitches, sorting hats, and references to Azkaban and the Tri-Wizard Tournament.
Entertainment in Hogsmeade Universal Orlando
Once you're done riding the rides, having a bite to eat and shopping, you might be wondering what else there is to do in the Harry Potter Hogsmeade world. With the current pandemic and some entertainment being altered or put on hold, there is still plenty of ways to be entertained while at Hogsmeade Orlando.
Ollivander's Wand Shop 2023
This wand shop in Hogsmeade is the place to stop if you want to partake in the experience of having a wand chosen for you (or should we say, choosing you?). Once you decide which wand is right for you, make sure to take it out into the village to practice all the fun spells with your interactive wand.
Other things to do in Hogsmeade
Tri-wizard Spirit Rally and the Frog Choir: These 10-minute shows are performed outside on a stage between the village and castle.
Nighttime Lights: If hours permit, we highly recommend visiting Universal Studios Orlando Harry Potter Hogsmeade at night to see all the lights. Depending on the season, Hogwarts Castle can be lit up with incredible projection light images that may highlight the different houses of the school or the season of the year.
Harry Potter Hogsmeade Tips & Tricks
One of our tried-and-true tips for Harry Potter World Orlando, is to plan your meals around non-standard mealtimes to avoid the crush of crowds that occur at noon and between 5 and 6pm. Eating at 2pm or 8pm will give you a better chance to grab a classic British-fare meal such as Shepherd's Pie or Fish and Chips and be able to find a seat to enjoy it.
Hogsmeade Universal Orlando FAQ
Q: Can you make reservations at Three Broomsticks?
A: Unfortunately, you cannot, but since it is a quick service, you can usually find a quick place to sit down, and enjoy a meal and a nice cold butterbeer without too much trouble.
Q. Can you take the Hogwarts Express without park to park?
No, you must have purchased a park to park ticket to travel on the Hogwarts Express attraction.
Q. What ride is in the Hogwarts Castle at Hogsmeade in Universal Orlando?
Harry Potter and the Forbidden Journey is located inside of the Hogwarts Castle.
Q. What restaurants are in Hogsmeade at Universal Orlando?
The only restaurant in Hogsmeade at Universal is Three Broomsticks. You can also get butterbeer and small snacks at carts around the village.
Q. Where is Hogsmeade in Universal?
A. Hogsmeade Village is in Islands of Adventure park at Universal Orlando park.
We hope our little tour has helped you find the answers to what's in Hogsmeade and the best way to see Harry Potter at Universal. In our opinion, if you're planning on doing other activities in Islands of Adventure and/or Universal Studios, you'll want to plan for two park days and having a Universal park-to-park ticket for at least one of those visits so you can ride the Hogwarts Express between the parks.
The Wizarding World of Harry Potter Hogsmeade hours fluctuate throughout the year depending on the season, so you'll want to be sure to check out our Universal crowd calendar. Get there as early as you can and don't forget to pick up a map of Hogsmeade Universal Orlando to help you find your way to your favorite places to explore quickly once you're there. No matter where you go, the magic is sure to find you!

When Is The Best Time To Visit Universal Orlando?
Our Universal Orlando Crowd Calendar is the best tool to help you get the most out of your time in the parks. We breakdown the park crowds, park hours of operation, ticket prices by day, and average temperature.
Are You Ready to Plan Your Next Universal Orlando Trip?
If you're ready to plan your trip to Universal Studios, be sure to check out our Universal Orlando Tickets! All Park Prodigy Universal Orlando tickets will get you into the park one hour before regular park guests with Universal Early Park Admission! And to stay up to date on everything going on inside the theme parks be sure to check out our partners at Themeparktoday.com!