Complete Guide to Universal Wands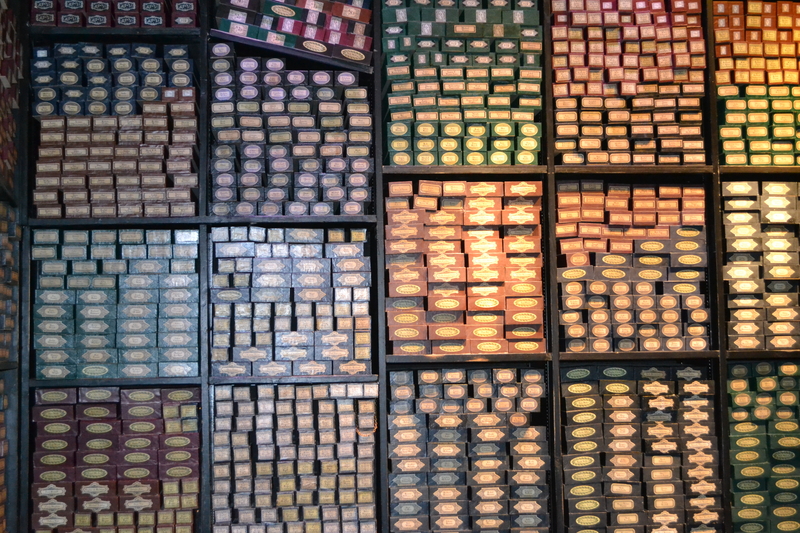 Complete Guide to Universal Wands
Are you still waiting for your Harry Potter letter to come in the mail? Well we're here to help! This is your complete guide to Harry Potter wands at Universal Orlando! The Universal Studios wand selection is absolutely amazing, as there are so many to choose from. We also love the theming that goes into it, as you really feel like you're at Ollivander's wands in Diagon Alley!
Once you choose the perfect Universal Studios magic wand, you need to know all the interactive spots to unleash your newly discovered powers. In this article, we break down exactly how you choose your interactive Harry Potter Wand, the Harry Potter wand prices, and all of the interactive wand zones around Universal Orlando! Overall the interactive wand was one of the most fun experiences we have had at Universal Studios, and we could also see how much fun other wizards were having throughout the park.
We hope you find this post helpful! Our goal at The Park Prodigy has always been to help you save time and money on your next Universal Orlando vacation!  If you are planning a trip to Universal Orlando be sure to check out the latest deals on Universal Orlando vacation packages and our discounted Universal Orlando tickets which include EARLY PARK ADMISSION to the Wizarding World of Harry Potter!
SPECIAL NOTE: If you need help picking the best time to visit Universal Orlando for your next vacation be sure to check out our Universal crowd calendar!
 Universal Orlando Crowd Calendar
If you're ready for the complete Harry Potter wand guide read on!
Harry Potter World Interactive Wands
Some of you might be asking what is the Harry Potter World wand? Well, a Harry Potter interactive wand brings visiting the Wizarding World to a whole other level. Not only are fans immersed in the replicas of the alley, shops, and more, but now they get to feel as if they are true pureblood wizards with interactive wands. Ollivanders wands in Diagon Alley is the best shop to purchase an interactive wand (mostly for the experience). However, all wand spots have interactive ones, and you can also find more at the Main Universal gift shops at the front of each park as well as CityWalk, and even online.
Fans can even purchase the exact same replica Harry Potter World wands that their favorite character used in the books/movies including Harry, Ron, and Hermione! You can even take your Ollivander wand buying experience one step further and participate in an interactive ceremony. During this experience one lucky wizard is chosen to test out different wands as they all come to life just like in the movie!
What Does the Interactive Wand do at Universal?
All Harry Potter interactive wands allow wizards to cast spells all throughout both Diagon Alley and Hogsmeade. With a gentle flick and little spell, the interactive wands will create a unique, magical experience throughout the lands. Be on the lookout for the brass medallions that are embedded in the ground, that will indicate where you can use your interactive wands. Each interactive wand comes in an Ollivander's box with a dual-sided wand map of spell locations.
How to get spell-casting assistance
The majority of spell locations are supervised by a helpful spell-caster, who mastered all the best spell-casting techniques and can coach guests to do the same. These cast members are also trained to be friendly and patient with young wizards and witches. These spell-casting helpers are there to make your experience the most magical it can be, so definitely utilize their help! Note that if a sign, spell-caster, or another cast member tells you a spell-casting location is "jinxed," it means that location is not currently working and you'll need to move on to the next location.
How do Harry Potter Interactive Wands Work?
The wand is a passive device, meaning there are no electronics inside. Instead, the wand reflects light back to a sensor that tracks the movement of the Universal wands. When a correct spell movement is detected, the system activates the display. In summary, you've got wizard powers.
Related Posts: Complete Guide to the Best Restaurants in the Wizarding World of Harry Potter
Where do You Buy Wands in Harry Potter World?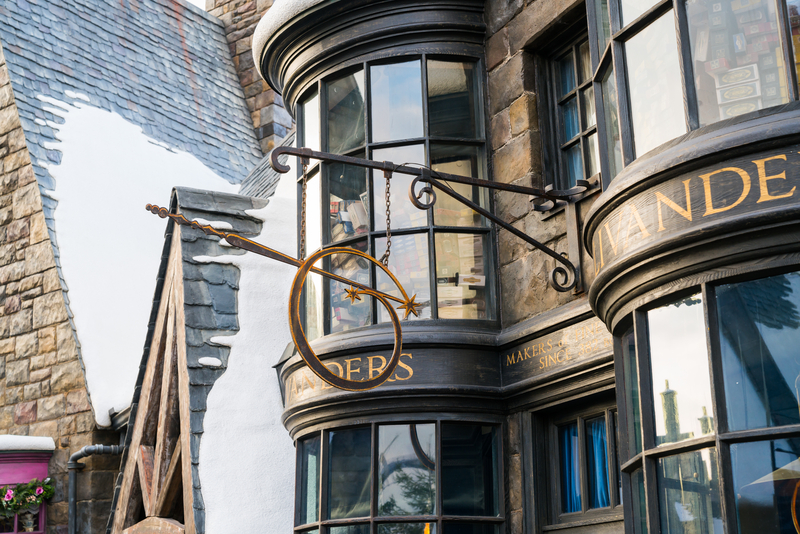 Harry Potter World wands can be found in a few places throughout the Wizarding World of Harry Potter. You can purchase a Universal Studios interactive wand at Ollivanders in Hogsmeade (in Islands of Adventure Park), at the wand cart on the path to Hogwarts, at the other Ollivanders in Diagon Alley (in Universal Studios Park), or at Wands by Gregorovitch in the Carkitt Market park of Diagon Alley.
Wizarding World of Harry Potter wand locations:
Ollivanders in Hogsmeade
Wand cart on the path to Hogwarts
Ollivanders in Diagon Alley
Wands by Gregorovitch in Diagon Alley
How Much are Wands at Universal?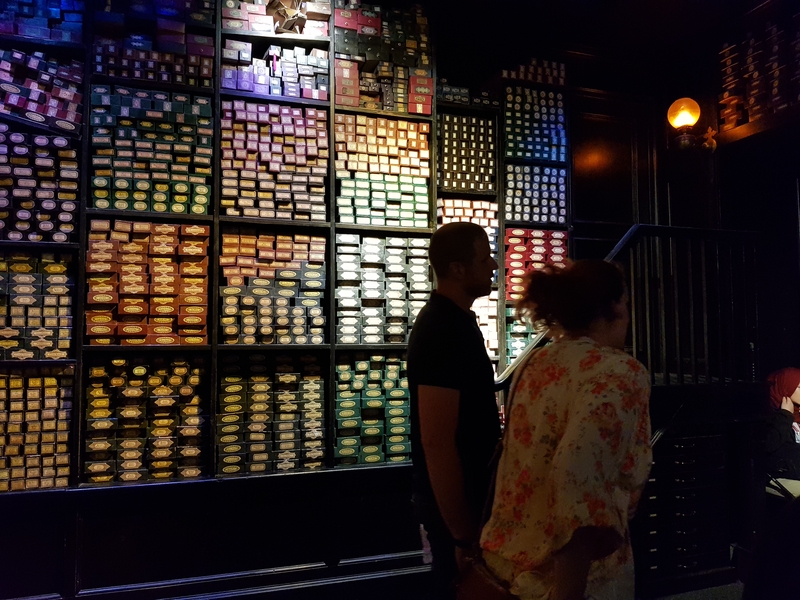 A Harry Potter wand cost will vary depending on what type of wand you'd like. The Universal Studios wand price for the original, non-interactive wands start at $49 plus tax. The Universal Studios Harry Potter wand price for interactive wands start at $55 plus tax.
That's only a six dollar price difference for the interactive wands!
Does it cost more for the interactive Harry Potter wand buying experience?
Another question we receive is,  how much does a wand cost at Ollivander's when you choose the interactive buying experience? The best part is, it doesn't cost you any extra! Just like the other experiences guests simply must purchase the cost of the wand. The cool thing about this experience is also that the wand that you select (or the wand that selects you to be correct) is going to be completely unique. This means no other famous Harry Potter characters would have the same wand as you.
Related Posts: The Wizarding World of Harry Potter Exclusive Vacation Package
Types of Wands at Ollivanders Universal
There are so many options for choosing types of wands in Harry Potter Wizarding World. For starters, blooming wizards can purchase either an original, regular wand that does not include powers, or a Universal interactive wand, which include interrelating with animatronics around the theme park.
Wizards looking to purchase Universal Studios Harry Potter interactive wands can do so based off of their favorite character, such as Harry, Hermione, Dumbledore, and Sirius. However, there are Harry Potter unclaimed wands, meaning Universal wizard wands that have yet to be claimed by anyone.
Ollivanders Wands List
Universal designed a selection of 13 types of wands at Harry Potter World loosely based on the Celtic tree calendar that J.K Rowling used to determine which wood would be used based off of time periods and attributes. Ollivanders wand shop custom wands can be based on this Harry Potter wand chart. 
Different interactive wands at Universal Orlando:
Wood                                   Dates                                                    Attributes
Birch                                      Dec. 24-Jan. 20                                  Vivacious, Energetic, Perspicacious
Rowan                                  Jan. 21-Feb. 17                                  Imaginative, Resourceful, Therapeutic
Ash                                        Feb. 18-March 17                             Kind, Generous, Romantic
Alder                                     March 18-April 14                             Adventurous, Confident, Industrious
Willow                                  April 15-May 12                                 Resilient, Confident, Strong
Hawthorn                            May 13-June 9                                   Flexible, Strong, Family-Oriented
Oak                                        June 10-July 7                                    Steadfast, Optimistic, Intuitive
Holly                                      July 8-Aug. 4                                       Influential, Unbiased, Wise
Hazel                                     Aug 5-Sept. 1                                     Precocious, Creative, Practical
Vine                                       Sept. 2-Sept. 29                                                Persistent, Restless, Energetic
Ivy                                          Sept 30-Oct. 27                                 Tenacious, Patient, Goal-Oriented
Reed                                     Oct. 28-Nov. 24                                 Articulate, Steadfast, Adaptable
Elder                                      Nov. 25-Dec. 23                                Perceptive, Sensitive, Resilient
Harry Potter World birthday wands allow you to choose the type of wood you'd like to use for the base of your wand off of the date you were born. This will also lead to the attributes that you have.
Harry Potter Wands Based on Famous Characters
Below is the current list of famous Harry Potter characters you can purchase a Universal interactive wand for:
Harry Potter
Ron Weasley
Hermione Granger
Neville Longbottom
Professor Dumbledore
Professor Snape
Professor McGonagall
Lord Voldemort
Draco Malfoy
Sirius Black
Cedric Diggory
Ginny Weasley
Bellatrix LeStrange
Luna Lovegood
Remus Lupin
Mad-Eye Moody
Narcissa Malfoy
Fleur Delacour
Nymphadora Tonks
Yaxley
Cho Chang
Interactive Diagon Alley Wand Spell Locations
Throughout Diagon Alley, there are 16 interactive wand spell locations; 11 of them being in the greater Diagon Alley area and the other 5 in Knockturn Alley.
Pilliwinkle's Playthings: Say the dancing feet spell to cause the trolls to dance in Pilliwinkle's window.
Filmflams Lanterns: Light up the lanterns with a unique spell.
Umbrella Sign: Make it rain!
Magical Menagerie: Silence a creature to stop chirping.
Wiseacres Wizarding Equipment: Wake up the eyes in the window
Wiseacres Wizarding Equipment (Spell #2): Reveal an archer on a star map who will fire an arrow while his dog retrieves it.
Scribbulus: Levitate a quill above a parchment (and remember, it's pronounced LeviOsa!)
Bowman E. Wright Blacksmith Spell: It works a bellows to stock the blacksmith's fire.
Bowman E. Wright Blacksmith Spell (Spell #2): Repair a suit of armor
Weasley's Wizard Wheezes Spell: Pull a prank that Fred and George would be proud of- flush a plunger down a toilet
Mermaid Fountain: Ignite a stream of water from the fountain, and the fountain will randomly choose the direction of the stream!
Knockturn Alley:
Chimney Sweep Elf Sign: Make sure to look up to find a red sign in the shape of a chimney. The spell will cause a chimney sweep to sweep the chimney.
Noggin and Bonce: Shush the talking heads in the window.
Dystal Phaelanges: Have some fun dancing as the skeleton in the window mimics you.
Trackleshanks Locksmith: Brace yourself for a windy spell!
Tallow and Hemp Toxic Tapers: The birds in the cage will be sure to react.
Interactive Hogsmeade Wand Spell Locations
Hogsmeade as 9 interactive spell locations where you can use your Harry Potter World wands:
Zonko's Joke Shop Spell: Another Weasley brothers classic- set off spinning wheels and rockets in their favorite store
McHavelock's Spell: Stop the water from pouring into a cauldron
Dogweed and Deathcap: Bring the plant in the window to life
Honeydukes: Open up a chocolate frog box (a delicacy!)
Madam Puddifoots: Move the snowman cake topper
Gladbags Wizardwear: Need some measurements? Raise and lower the measuring tape on the robe in the window
Spintwitches: Levitate the Quidditch balls (always keep an eye out for the Golden Snitch!)
Dervish and Banges: Start the music box in the window, and stop it when you've heard enough
Tome and Scrolls: Unlock a copy of tales of Beedle the Bard
Secret Wand Locations in Diagon Alley
Just when you think the magic stops, Diagon Alley secret wand locations keep you on your toes! Some interactive wand secret locations Orlando include the Universal Studios interactive wand map where you're able to illuminate Knockturn Alley's black light to reveal themselves.
The Magical Menagerie is where you can find your fantastic beasts interactive wand spell. While wandering Weasley's Wheezes, look up to see fireworks lighting up the night just outside the skylight. These and plenty more are to be discovered.
Ollivanders Wand Experience
Finding your wand at Ollivanders really helps capture the Harry Potter wands Universal experience. If you speak with a shop attendant to help make a selection from the wide selection of Universal Studios Ollivanders wands, they may allow you to try out the wants before you make your final decision, this way you can get a feel for your perfect wand.
How to get selected for Ollivander's Wand Experience
During the wand experience, one lucky guest will get chosen from the crowd by Ollivander himself! This guest gets to try out several wands until a wand "picks" them, just like Harry did on his very first trip there. Many people hope to be selected for this fun, interactive opportunity, but Ollivander does choose the person based on specific criteria. Usually, the chosen guest looks to be around 12 years old. Why? Because this is the age young witches and wizards get their letter to attend Hogwarts! So if you're accompanying a young wizard, try to get them to the front or just in Ollivander's eye line to get chosen.
Harry Potter Birthday Wands
With the help of a shop assistant, try using your birthday or a significant life event to help in your decision making. If you're a lucky wizard, you may just be selected for the wandmaker's show at Ollivanders. The wandmaker will pull you to the front of the crowd and help you pick a wand based off of the characteristics they describe of you, making it a very unique Harry Potter World wand experience.
Harry Potter World Wand FAQ
Q: How long do interactive wands last?
A: The Wizarding World of Harry Potter wands last for quite some time. Since there's no battery life in all wands at Universal (and it's all magic, of course), wands can be used in the parks every time you visit. Plus, the Universal Studio wand shops will take care of your wand if it stops working.
Q: Will someone be able to help me cast spells with my Harry Potter wand?
A: Yes, Universal does have friendly wizards who specialize in spell casting to help guests at each location. Just look for a Universal team member who can help you with your spell casting technique and wand gestures.
When Is The Best Time To Visit Universal Orlando Resort?
Our Universal Orlando Crowd Calendar is the best tool to help you get the most out of your time in the parks. We breakdown the park crowds, park hours of operation, ticket prices by day, and average temperature.
Are You Ready to Plan Your Next Universal Orlando Trip?
If you're ready to plan your trip to Universal Studios, be sure to check out our Universal Orlando Tickets! All Park Prodigy Universal Orlando tickets will get you into the park one hour before regular park guests with Universal Early Park Admission!