Everything You Need to Know About the Harry Potter Gringotts Dragon 2023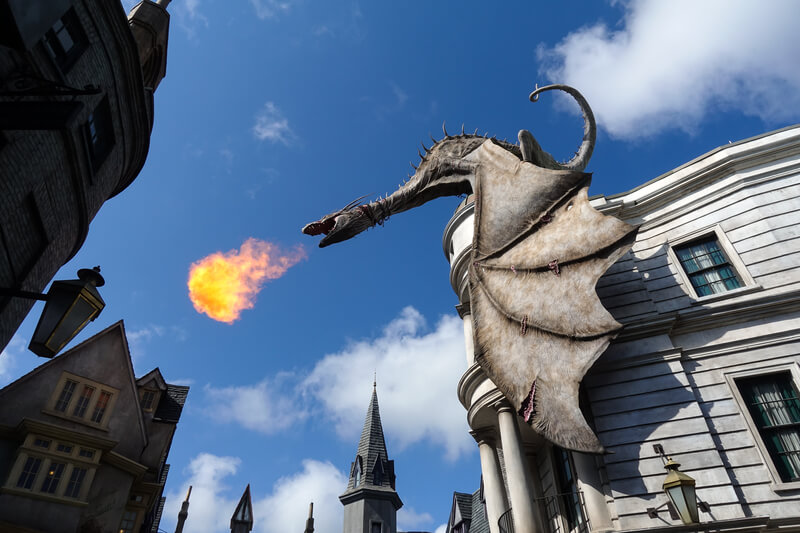 Everything You Need to Know About the Harry Potter Gringotts Dragon 2023
This article is your complete guide to the Harry Potter Gringotts Dragon, and more importantly when does the dragon breathe fire at Gringotts? One of our favorite things about visiting Universal is the amount of detail and effort that was put into making the Wizarding World of Harry Potter. There are many things to explore, with some features becoming "must sees." The dragon that sits atop Gringotts Bank is one of those main attractions, and catches visitors' eyes with its exquisite details and large, engulfing flames.
We hope you find this post helpful! Our goal at The Park Prodigy has always been to help you save time and money on your next Universal Orlando vacation!  If you are planning a trip to Universal Orlando be sure to check out the latest deals on Universal Orlando vacation packages and our discounted Universal Orlando tickets which include EARLY PARK ADMISSION to the Wizarding World of Harry Potter!
If you're ready to learn all there is to know about the Harry Potter World dragon, read on!
SPECIAL NOTE: If you need help picking the best time to visit Universal Orlando for your next vacation be sure to check out our Universal crowd calendar!
 Universal Orlando Crowd Calendar
Harry Potter Gringotts Dragon Overview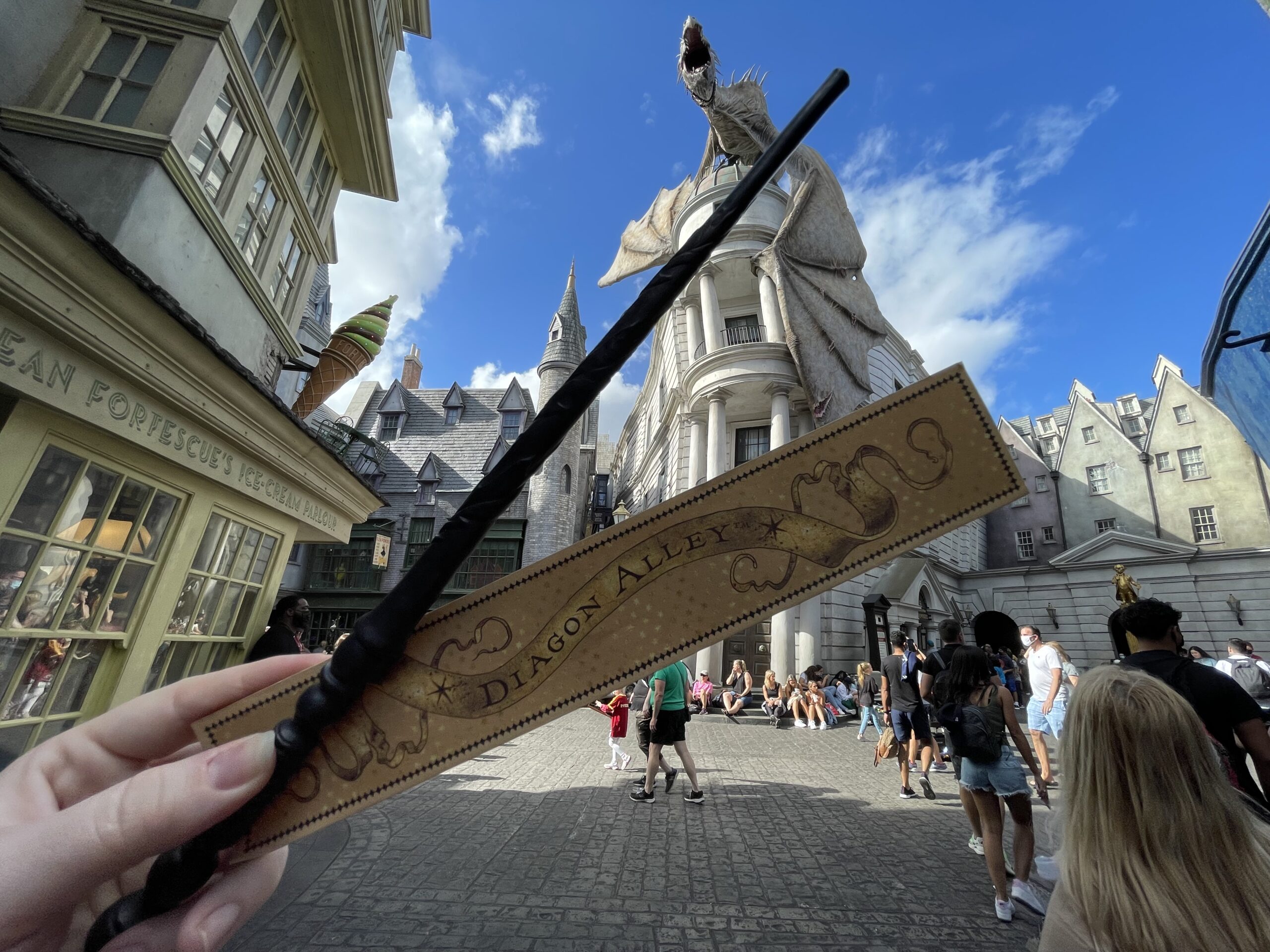 Ever seen a real fire breathing dragon? All witches and wizards that visit Diagon Alley in Universal Studios Florida can witness one of the coolest attractions at any theme park: a fire breathing dragon. While this dragon isn't exactly real, the immersive theming and realistic details make you truly feel as if the Harry Potter World dragon is sitting atop Gringotts Bank.
Does the dragon at Universal still breathe fire?
The Universal Diagon Alley dragon does in fact still breathe fire which guests can enjoy multiple times every hour during their vacation.
Related article: How Many Days at Universal Orlando?
Where is the Harry Potter Gringotts Dragon Located?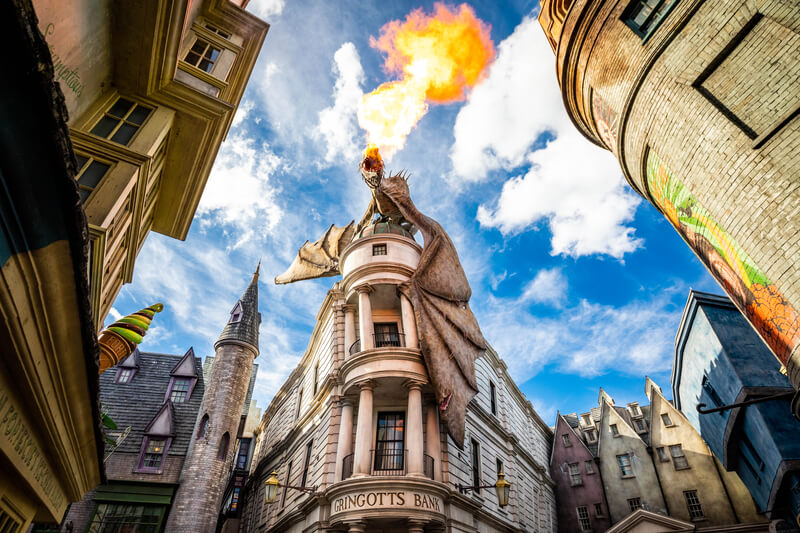 The Universal Studios dragon can be found on top of the Harry Potter and the Escape from Gringotts ride in Diagon Alley on the Harry Potter World Universal Studios side of the Resort parks. Once you make your way inside of the Wizarding World of Harry Potter Diagon Alley, you can't miss the huge white dragon on top of the bank!
This is not to be confused with the Wizarding World of Harry Potter Hogsmeade side in Islands of Adventure.
What is Harry Potter Gringotts Dragon?
This iconic dragon spitting fire is a part of the Ukraine Ironbelly species and was used to guard several high-security vaults, including Gringotts Wizarding Bank. The ferocious beast made its appearance in Harry Potter and the Deathly Hallows Part One. It was an immense, powerful and savage beast with enormous spoked wings, scary head and has milky pink, partially blind eyes.
This is the same dragon on Gringotts Bank that Harry, Hermione, and Ron rode to freedom on after breaking into a Vault at Gringotts.
This Harry Potter World dragon protects the bank at all costs. When you enter the bank, you'll go through a journey deep underground on a multi-dimensional thrill ride.
Does the Diagon Alley Dragon Have a Name?
When Diagon Alley opened in Universal Studios, there was controversy on whether or not the dragon in Gringotts had a name. Both the author/creator of the dragon, J.K Rowling as well as Universal Creative, never gave it an official name. Therefore, leaving it up to the imagination.
Related Article: Complete Guide to Wizarding World of Harry Potter Wands 
When Does the Dragon Breathe Fire at Gringotts?
Another one of the most common questions we receive is, how often does the dragon breathe fire at universal? And as a general rule of thumb, the Harry Potter dragon breathes fire every 10-15 minutes. And one of the easiest clues to time it right is right before the dragon in Harry Potter World blows its flames, the Ironbelly makes a growl in prep for its big performance. The growl is a guaranteed notification that flames are about to fly.
Diagon Alley Dragon Schedule
While there isn't an official Diagon Alley Dragon schedule, you can be guaranteed to see the dragon breathe fire about every 10 minutes. If you're unsure, ask a witch or wizard Universal team member to let you know when the best time to view the dragon is. The Diagon Alley dragon breathing fire times are easy to predict because you can start to hear a loud rumble or roar. You will hear this a few times throughout Diagon Alley at Universal Studios before the piping hot fire comes out of it's mouth!
Related post: Complete Guide to Universal Studios Epic Universe
How Often Does the Dragon at Gringotts Breathe Fire?
The "burning" question here is how often does the dragon at Gringotts breathe fire? This Universal Studios Harry Potter dragon excites the crowd every ten-fifteen minutes from park opening to park close. So if you just miss the show, don't fret, Diagon Alley dragon breathing fire times run almost constantly.
Want to get the best picture of the fire breathing dragon at Universal?
Make sure you take advantage of Early Park Admission which will allow you into the parks before regular park guests. Luckily Early Park Admission to the Wizarding World of Harry Potter is included absolutely FREE with all of our Universal Orlando Tickets. 
Related Article: Complete Guide to Universal Studios Early Park Admission 
How Hot is the Dragon Spit Fire?
The dragon Diagon Alley fire can reach temperatures of 3,560 degrees Fahrenheit. Now that's hot!
Wizarding World of Harry Potter Dragon Tips & Tricks
If you are unsure about the next performance by the dragon in Universal, you can always ask a nearby wizard. Sometimes, the dragon in Diagon Alley will be out of fire for the day, and they can give you the heads up so you're not waiting around for nothing. If the dragon at Gringotts Universal isn't tired yet, the nearby wizard will let you know the Diagon Alley dragon schedule.
Pro Tip for Pictures of the Wizarding World Dragon
If you want to get stunning pictures of the Diagon Alley Universal dragon fire, stand to the side of it. This way, you can capture the intensity of the fire and how far the dragon lets it out. The side also allows for a more detailed view of the dragon, such as seeing the broken chains wrapped around its neck from when it escaped, making for stunning pictures.
When Is The Best Time To Visit Universal Orlando?
Our Universal Orlando Crowd Calendar is the best tool to help you get the most out of your time in the parks. We breakdown the park crowds, park hours of operation, ticket prices by day, and average temperature.
Are You Ready to Plan Your Next Universal Orlando Trip?
If you're ready to plan your trip to Universal Studios, be sure to check out our Universal Orlando Tickets! All Park Prodigy Universal Orlando tickets will get you into the park one hour before regular park guests with Universal Early Park Admission! And to stay up to date on everything going on inside the theme parks be sure to check out our partners at Themeparktoday.com!