Food Lovers Guide to the Wizarding World of Harry Potter Dining 2022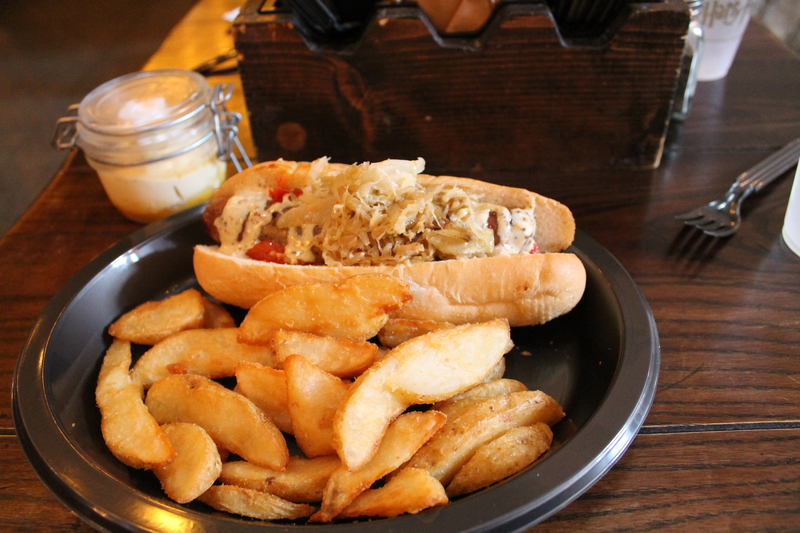 Food Lovers Guide to the Wizarding World of Harry Potter Dining 2022
Updated May 2022: This post is your ultimate guide to the themed 2022 Harry Potter restaurants in Universal Orlando! So leave your brooms at the gate, and join all of us muggles as we explore the Wizarding World of Harry Potter food, taverns and snack options in Universal Orlando! We even made sure to explore the best Butterbeer experiences in the Universal theme parks.
As we start our journey into Harry Potter World food, we need to consider a couple quick things. The Wizarding World of Harry Potter is located in both Universal Studios and Islands of Adventure. You'll want to make sure you have a park-to-park ticket to enjoy all of the Harry Potter World food and drinks available.
We hope you find this post helpful! Our goal at The Park Prodigy has always been to help you save time and money on your next Universal Orlando vacation!  If you are planning a trip to Universal Orlando be sure to check out the latest deals on Universal Orlando vacation packages and our discounted Universal Orlando tickets which include EARLY PARK ADMISSION to the Wizarding World of Harry Potter!
So if your ready for the complete guide to 2022 dining in the Wizarding World of Harry Potter read on!
2022 Harry Potter Restaurants Universal Orlando
We are going to start this complete guide with the main question regarding this topic and that is, what are the Harry Potter restaurants in Universal Orlando? And as of 2022 there are two main Harry Potter restaurants in Universal Orlando which are the Three Broomsticks and the Leaky Cauldron. Both of these restaurants are located in Diagon Alley and Hogsmeade which are the two Harry Potter lands in Universal Orlando.
Can you make a reservation at the Harry Potter Restaurants in Universal?
We find it important to discuss the second most common question we receive regarding the 2022 Harry Potter restaurants and that is, how can I make reservations to the restaurants in the Wizarding World of Harry Potter? The simple answer is unfortunately you cannot make a Harry Potter restaurant reservation if you are purchasing a regular Universal Orlando park ticket. However we find it important to note that any die hard Harry Potter fan who books an exclusive Wizarding World of Harry Potter vacation package will receive an opportunity to make a breakfast reservation at the Three Broom Sticks and/or the Leaky Cauldron! Guests can learn more about everything that is included in this amazing package on our website or by speaking with one of our Universal travel experts! 
Related Page: Harry Potter World Early Park Admission Tickets
Wizarding World of Harry Potter Dining in Diagon Alley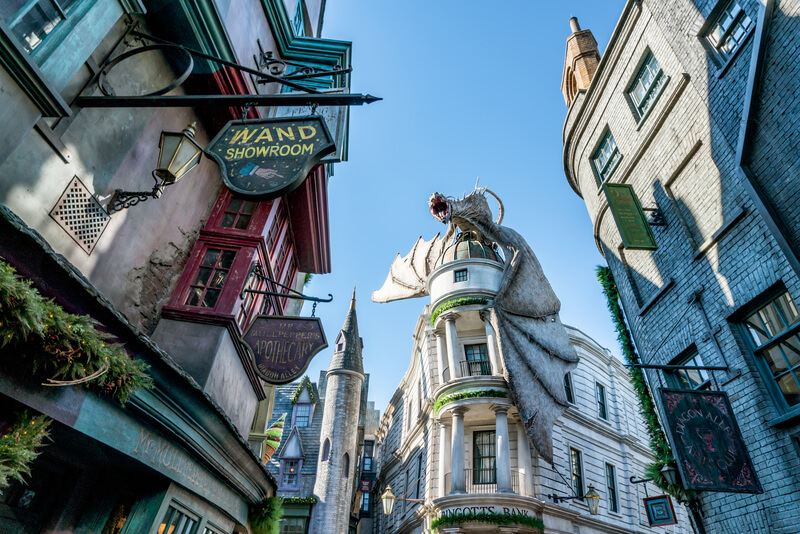 To start off our tour of all of the Harry Potter restaurants in Universal Orlando we are going to start with Diagon Alley which is located in Universal Studios.
2022 Harry Potter Restaurants in Diagon Alley?
Leaky Cauldron Restaurant
Florean Fortescue's Ice Cream Parlour
Weasley's Wizard Wheezes
Sugarplum's Sweet Shop
The Hopping Pot
Are you an early bird and trying to visit the Harry Potter restaurants with no crowds? Be sure to check out our Universal Orlando early park admission tickets. Not only will you be some of the first guests into the theme parks to enjoy the shops but you'll also be able to get onto some of the most popular rides with very little to no wait. We find this to be a great advantage when visiting Universal in just a few days.
Related Page: Discount Harry Potter World Tickets
Leaky Cauldron Restaurant – Harry Potter Restaurant Universal Studios
The Leaky Cauldron is simply one of the best Harry Potter restaurants in Universal! It is set up like a run-down old pub with high ceilings and a million things to look at among the rafters and various cubby holes throughout the restaurant.
It's also a great place to start your day in the Wizarding World of Harry Potter by enjoying a hearty breakfast. The Leaky Cauldron breakfast is one you won't want to miss. Typically opening around 9am, you can start your day off with filling and classic British fare (such as a Leek, Egg and Mushroom Pasty) or stick with the more traditional American breakfast of Egs, Sausage and Potatoes.
But for us, lunch is where it's at! Some of our favorite food choices from the Leaky Cauldron menu are:
Ploughman's Platter for breakfast with scotch eggs (this veritable Harry Potter feast food is enough for two with scotch eggs and a platter full of cold cheeses and salads!)
Bangers & Mash (think of sausage and potato's with a little cabbage thrown in for good measure)
Cottage Pie (a hearty beef pie made in a potato shell!)
Toad in a Hole (A popular dish of English sausage baked into a Yorkshire pudding and served with onion gravy, minted peas, root vegetables and roasted tomato)
One of the most popular questions we receive is do you need dining reservations for The Leaky Cauldron? And the answer is no, it is considered a Quick Service Restaurant, so you do not need reservations to eat here. You can simply walk in, and the helpful witches and wizards will guide you through the ordering process.
Related Article: Ultimate Guide to Universal Orlando Early Park Admission
Florean Fortescue's Ice Cream Parlour – Best Snack Restaurants in Harry Potter World 2022
This is the place to go to enjoy unique ice cream flavors that reflect both Harry Potter World and classic British flavors. From Butterbeer to Chocolate Chili to Earl Gray and Lavender, you're sure to find an ice cream flavor to please your palate. You can also find delicious breakfast pastries such as crumble cake or shortbread if you need a little extra something in the morning.
Weasley's Wizard Wheezes – Universal Studios Harry Potter World Food Orlando to Bring Home
Look no further if you're searching for Harry Potter treats at Universal. A step into this wild and crazy shop will immediately let you know that nothing is as it appears. There are tricks and treats hiding everywhere! A great purchase for a family who wants to experience the fun of Weasley treats directly from the world of Harry potter, is the Skiving Snackbox. The assortment of treats in this box can include Puking Pastilles, Fever Fudge, Nosebleed Nougat and Fainting Fancies. All are delicious but look out for those side effects!
Sugarplum's Sweet Shop
Didn't get enough treats at Weasley's Wizard Wheezes (or were perhaps a bit fearful of what to get)? Have no fear, this cute little shop will welcome you in and help you find all kinds of classic Harry Potter treats that are mostly just sweet, not dangerous. Cauldron cakes are served up in the bakery and some classic candy like Bertie Bott's Every-Flavor Beans and Exploding Bon Bons are lots of delicious fun (and not too dangerous) items to pick up from this shop to enjoy.
Related Article: Complete Guide to the Universal Orlando Dining Plan
The Hopping Pot
It might be time for some "adult beverages." The Wizarding World of Harry Potter drinks are truly from another world and are perfect for adults visiting Universal Orlando. This walk-up window provides a quick place to pick up traditional Harry Potter drinks like non-alcoholic concoctions such as the iced non-alcoholic Butterbeer and Tongue-tying Lemon Squash while also giving the grownups in the group, a chance to refresh themselves with Wizard's Brew and Dragon Scale beers. Grab a drink for everyone and find a nice seat on one of the picnic tables outside.
The Fountain of Fair Fortune
If the line is long at the Hopping Pot, stroll over to the Fountain of Fair fortune to find many of the same Harry Potter beverages with often a much shorter line. You'll find alcohol-free butterbeer here as well as more potent drinks. Even though Butterbeer has the word "beer" in its name, there is not an alcoholic butterbeer in Harry Potter world.
Hogsmeade Restaurants in Harry Potter World Universal 2022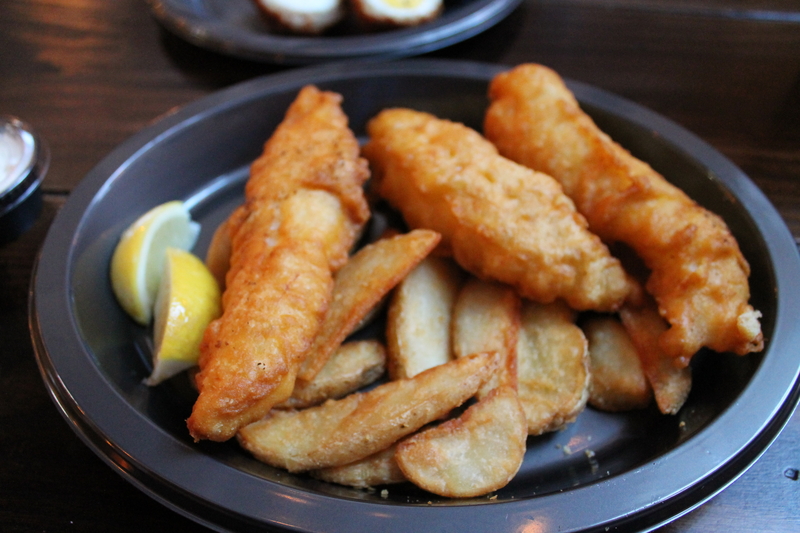 Once you've made your way through all of the great Universal Studios Harry Potter food in Diagon Alley, it's time to hop aboard the Hogwarts Express and take the train over to Island of Adventure, where the Hogsmeade Restaurants and eateries await your next food adventure.
2022 Harry Potter Restaurants in Hogsmeade?
Three Broomsticks
Hog's Head Bar
Honeydukes
Related Page: Discount Harry Potter World Tickets
Three Broomsticks – Harry Potter Restaurant Orlando
The Three Broomsticks Restaurant is one of the most well-known and visited restaurants of Harry Potter World in Orlando. Located in Hogsmeade with the Hogwart's castle and all of the snow-topped buildings, this restaurant transports you directly into the Wizarding World of Harry Potter with classic British food and décor.
Another quick service restaurant, you don't need to have Three Broomsticks Reservations to eat here. You can simply walk in and place your order for any of its delicious meals. From the Harry Potter Great Feast, which serves up to four people and includes an overflowing platter of ribs, chicken, potatoes and vegetables to the best Fish & Chips in Harry Potter World, you're sure to find something for everyone. And don't forget dessert! With apple pie, chocolate trifle and even a container of butterbeer ice cream, you're guaranteed to finish your meal in a very happy (and full!) place.
Hog's Head Bar – Best Place for Harry Potter Beer Universal Studios
This bar, located in the back of Three Broomsticks, and is another great place to grab both alcoholic and non-alcoholic drinks. Pick up a butterbeer here or pumpkin juice along with domestic and imported beers. And, if the hog's head above the bar snarls at you, it's just his way of saying Hello!
Honeydukes
If you didn't get enough dessert at Three Broomsticks, head to Wizarding World of Harry Potter Honeydukes to pick up some fun sweet treats to go. Much like the Sweetshop in Diagon Alley, this fun, little candy store offers up items like exploding bon bons and fizzing whizzbees. You might not know exactly what to expect based on the names, but you can bet you'll have a lot of fun finding out.
Related Article: The Best Time to Visit Universal Orlando
2022 Harry Potter Butter Beer Locations
Now that we've traveled to all of the Harry Potter restaurants, it's time to give you a run-down on the one question most often asked… "How many different types of butterbeer are there in Harry Potter World?" At this time, there are seven different ways to work butterbeer into your daily eating journey at the Harry Potter Food Locations.
Harry Potter Butter Beer Locations:
Frozen Butterbeer – perfect for the hottest of days, this one is sure to cool you down.
Cold Butterbeer – carbonated and frothy; if you want that classic butterbeer mustache for your Instagram photo, this is the one to get!
Hot Butterbeer – while this drink is only seasonal and becomes available during the colder months of Florida, it's been described as liquid butterscotch so you're definitely going to want to try this during cool winter nights.
Butterbeer Ice Cream – We're counting this as two options because you can find it as a soft-serve option in multiple locations as well as a prepacked option at Three Broomsticks. However you get it, just get it! Ice cream and butterbeer were always meant to be best friends.
Butterbeer Fudge – Found in the sweet shops, this multi-layered fudge represents all of the deliciousness that butterbeer provides.
Butterbeer Potted Cream – A fan favorite, this pudding-like butterbeer dessert will delight your taste buds and the little pot it comes in is just so cute!!
2022 Harry Potter Dining Tips & Tricks
Use Early Park Admission: All guests receive early park admission when they purchase their Universal Orlando tickets from The Park Prodigy! This will allow guests to beat the crowds and grab a quick bite at some of their favorite carts or restaurants in Harry Potter World. Guests will also have access to any early admission restaurants near Harry Potter world which are also open.
Consider a Wizarding World of Harry Potter Vacation Package: Die hard Harry Potter fans can also book an exclusive vacation package just for them! Be sure to reach out to us to learn more about this amazing Universal vacation package! However one of the coolest aspects is guests will be able to book a breakfast reservation at both the Leaky Cauldron and The Three Broomsticks. It's important to note that these Harry Potter breakfast tickets are exclusive to this pac kage and it is the only time guests can make a reservation while dining in the the Wizarding World of Harry Potter.  
Looking for a great place to check out the new VelociCoaster: The back dining area of the Three Broomsticks is the perfect spot to grab a view of Universals newest ride the VelociCoaster.
Related Article: Complete Guide to All Universal Orlando Special Events 
Frequently Asked Questions About Dining at the Wizarding World of Harry Potter 2022
Q: Can you purchase Harry Potter breakfast tickets?
Yes, there are specific Harry Potter breakfast tickets which will grant you a reservation at one of the Harry Potter restaurants. These tickets do need to be added onto specific Universal Orlando ticket and package products. You can do this by speaking with a Universal travel agent like The Park Prodigy!
Q: Do you need reservations for any of the restaurants?
A: No, dinner reservations for the Universal Orlando Harry Potter restaurants are not required. Simply show up when you're hungry.
Q:What are the Harry Potter World food prices like?
A: Well, you're still in a theme park so they're going to be pricier than non-theme park food. But, we found most times the servings are large and easily splitable. A good example is the Chicken and Ribs Platter at Three Broomsticks. While it's almost $20, it could easily be split between two people.
Q: Is there alcoholic butterbeer?
A: No. Much like root beer, the beer part of the name does not indicate alcohol. All butterbeers are non-alcoholic. If you'd like to pack a little punch in your butterbeer, might we suggest you buy a shot of fireball whiskey and mix it in? That should warm you up!
Q: Will I actually get ill from items in the Skiving Snackbox from Weasley's Wizard Wheezes?
A: With names like Puking Pastilles and Fainting Fancies, you might think you would, but it's all in fun and each item is an actual type of candy. Puking Pastilles are a hard candy and Fainting Fancies are similar to fruit gummies.
Q: Where can I find Wizarding World of Harry Potter food menus?
A: Since menus change often, we suggest you check out https://www.universalorlando.com/web/en/us/things-to-do/dining/ for current offerings and pricing.
Q: What is the best place to eat at the Wizarding World of Harry Potter?
A:Well, to be fair, we really can't answer that for you. Each place is extremely creative and guaranteed to make you feel like you have stepped into the movie or book. And each place provides creative, yet authentic delicious food for its guests. Our advice? Try them all and see for yourself!
When Is The Best Time To Visit Universal Orlando?
Our Universal Orlando Crowd Calendar is the best tool to help you get the most out of your time in the parks. We breakdown the park crowds, park hours of operation, ticket prices by day, and average temperature.
Are You Ready to Plan Your Next Universal Orlando Trip?
If you're ready to plan your trip to Universal Studios, be sure to check out our Universal Orlando Tickets! All Park Prodigy Universal Orlando tickets will get you into the park one hour before regular park guests with Universal Early Park Admission!