Complete Guide to the 2023 Universal Orlando Dining Plan
Complete Guide to the 2023 Universal Orlando Dining Plan
Updated 2023: Universal Orlando has unfortunately canceled all new dining plans as of July 2021. There has been no update regarding if the 2023 Universal dining plan will be returning and all information has been deleted from the official website. We have left the information below up just incase Universal does decide to bring back the dining plan some time in the future.
Looking for the best Universal dining plan tips? Well, you've found them! In this article, we break down the 2023 Universal Orlando dining plan options and give you our advice as seasoned park-goers so you have the inside scoop on whether or not buying a meal plan is worth it for you. 
We hope you find this post helpful, and if you are planning a trip to Universal Orlando be sure to check out our other FREE vacation planning tools. Our goal at The Park Prodigy has always been to help you save time on your next vacation while shopping for discounted Universal Orlando tickets and amazing Universal Orlando vacation packages.
So if you're ready to learn if Universal Studios Dining plans are worth it and how the different plans work, read on!
SPECIAL NOTE: If you're looking for the best time to visit Universal Orlando make sure to check out our Universal Crowd Calendar!
 Universal Orlando Crowd Calendar
The Universal Studios Dining Plan Options

We are going to start this guide out with the most popular question we have received to this point and that is, will Universal be bringing the 2023 dinning plan back? And there is no sign of the Universal Orlando dinning plan coming back anytime soon unfortunately. However we have left the below guide up on everything we knew about the Universal Orlando dinning plan until July 2021 and how you could potentially use the dinning plan in the future when and if they bring it back.
What are the three Universal dinning plan options? 
Universal Full Service Dining Plan

Universal Quick Service Dining Plan

Refillable Coca Cola Freestyle Cup (Can be bundled with quick-service plan)
Full-Service Universal Studios Dining Plan
The full-service Universal meal plan is only available for purchase with a Universal vacation package and comes with:
A full-service meal (any sit-down restaurant where you have a waiter; includes some CityWalk restaurants)

A quick-service meal (entrée, drink, and dessert)

A snack (anything like churros, pretzels, etc.)

A beverage (does not include Butterbeer as well as other themed drinks because that is considered a snack option)
It's important to note that this is the only Universal Studios dining plan which allows a mix between full service and quick service meals. To receive your meal credits, you'll use a dining card that's given to each person in your party.
Related Post: Pros and Cons of All Universal Orlando Resorts
Universal Dining Plan Restaurants for Full Service:
CityWalk Orlando Dining
Universal Studios Dining
Universal's Islands of Adventures Dining
Confisco Grille

Mythos Restaurant
Quick Service Universal Dining Plan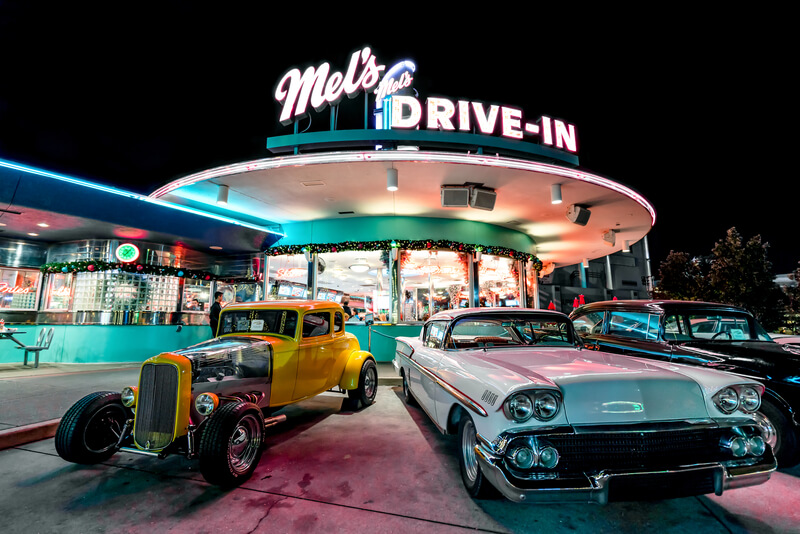 Ah, the beloved Quick Service Universal Orlando meal plan! Available to all guests, the Quick Service Dining Plan is $25.99 per adult and $17.99 per child and comes with:
One quick service meal (includes an entree and drink)

One snack (same specifications as full-service)

One non-alcoholic beverage (same specifications as full-service)
Universal quick-service restaurants are essentially any restaurant where you don't have a waiter serving you at your table. A common misconception is that this plan only covers food carts, but it actually covers almost all of Universal's top attraction restaurants, including all of the Harry Potter restaurants which can be added anytime during your visit by stopping by one of the kiosks at the opening gates of the parks. That said, this is something you don't have to add to your vacation package when you initially book a Universal resort.
Another pro tip: It's worth mentioning that some park goers have reported that the snack and drink credits are interchangeable. So you could have a meal and two snacks, or a meal and two drinks if you wanted. If that's a game-changer for you, be sure to verify if that's true with the staff member ringing you up when you go to purchase the plan.
Related post: Complete Guide to Universal Studios for Adults
Universal Orlando Quick Service Dining Locations:
CityWalk 
Universal Studios Florida Quick Service
Fast Food Boulevard

Kid Zone Pizza Company
Leaky Cauldron
London Taxi Hut
Louie's Italian Restaurant
Mel's Drive-In
Richter's Burger Co.
San Francisco Pastry Co
Classic Monster Cafe Universal
Universal's Islands of Adventure Quick Service
Universal's Volcano Bay Quick Service 
Bambu Jungle Kitchen

Kohola Reef Restaurant & Social Club
The Feasting Frog
Whakawaiwai Eats
It's important to note that guests can bundle their quick service dining plan with all Park Prodigy Universal Orlando tickets! 
Universal Quick Service Dining Plan Plus Refillable Coca Cola Freestyle Cup
With the purchase of the $14.99 souvenir Coke cup, you'll have access to unlimited free refills at any Coke Freestyle machine at any of the three parks for that day. It's $10 to get your Freestyle cup reactivated the next day. You can purchase the Coke Freestyle cup plan by itself or in combination with a quick-service dining plan for $34.99 per adult and $26.99 per child.
These cups have a sensor in the bottom that is activated upon purchase to work at any of the park's Freestyle machines.
Pro tip: Hold onto your receipt in case those pesky sensors act up and you need proof of purchase to get another cup! 
However, the sensor will not allow you to get refills less than five minutes apart, so keep that in mind if you had the idea to use one Coke Freestyle cup plan to fill up multiple people's drinks. You should also note that these cups do not work at Universal CityWalk.
The beauty of this plan is you won't have to wait in those long kiosk lines every time you want a drink, which will be often since you're in warm, sunny Orlando! Plus, you get to choose from a variety of fun-themed souvenir cups that you'll get to keep.
Related Post: Ultimate Guide to Early Park Admission at Universal
How Can I Purchase the Universal Orlando Dining Plan?
You can pre-purchase the quick-service dining plan when booking your Universal Orlando vacation package online, or when purchasing your Universal Orlando tickets through a travel company such as The Park Prodigy.
Or, you can wait until you arrive on Universal Orlando property and purchase it then. This can be done at select Universal Orlando quick-service dining locations, a few different carts throughout Universal CityWalk, or at your hotel if you're staying at a Universal resort. 
The full-service Universal Orlando dining plan must be purchased online or through your Universal travel agent in advance. Unfortunately, you cannot purchase a Universal Orlando full-service dining plan once you arrive in Orlando.
Food Allergies and the Universal Dining Plan
What if you have food allergies, is the Universal Studios Orlando dining plan still a good fit? We have found that Universal is really good when it comes to accommodating guests with food allergies. However, we recommend you call guest services before you purchase the Universal dining plan to discuss your unique allergies and needs. You can call Universal guests services at 407-224-3463. If you do decide to purchase the dining plan at Universal and have additional questions once you arrive you can speak with the restaurant manager before you dine.
Are Universal Dining Plans Worth it?
If you're a soda drinker, the Universal Freestyle cup plan is worth it regardless of whether or not you bundle it with a quick-service plan. As for the quick-service and full-service plan, that answer depends on what you plan to eat. 
Why the Coca-Cola Freestyle Refillable Cup Plan is Worth it
We already mentioned that you have to take into account how hot Florida can get, but keep in mind that you'll also spend a lot of time walking and standing in outdoor lines waiting for rides. They have fans in the outdoor queues, but they're not air-conditioned so it's literally just blowing air that's room temperature at best. 
Trust us when we say, you'll be thirsty a lot more than you think! Let's say you have the bare minimum and only have one drink at lunch, one when you grab a snack, and two throughout the day just walking around trying to not get dehydrated. That's four drinks priced at about $4 each, which is $16. For a dollar less, you could have refills every 5 minutes, in a bigger cup no less!
Why the Quick-Service and Full-Service Dining Plans MIGHT be worth it
If you're looking to save both time AND money on your Universal vacation with these, in our opinion the answer is no, they're not worth it. However, that answer is ultimately up to you. 
If you plan on ordering the most expensive entrée for your meals using either plan, then you'll definitely save some money. That would require knowing and looking at the menu to choose that option, thus planning out where you're going to eat and strategizing how you're going to use the plan to get the most bang for your buck, all to not save that much money at the end of the day. 
That being said, even just $5-10 per person can add up if you're a family of four visiting the parks for several days. Plus, planning out your schedule each day to maximize savings is part of the fun for some!
Keep in mind though, if you're thinking of purchasing a plan then you're kind of restricted to that plan. A day of riding rides might make you not want a full meal at lunch, and you might prefer to just snack in between the big rides, so just make sure whichever Universal dining plan you choose is compatible with your eating patterns. 
And The Best Universal Dining Plan is…
If you're going to get any dining plan, we for sure think the quick-service plan plus the Coca-Cola Freestyle refillable cup is the way to go! The cup by itself is $14.99 but only $9 more with the quick-service plan. 
Related Post: Ultimate Guide to Universal for Kids
Can You Bring Food Into Universal Studios Orlando?
Food at Universal Studios Orlando can be pricey. Many guests opt to bring their own food into Universal Studios Orlando which is acceptable. You can bring into the parks, bottled water, small snacks, food for medical purposes and dietary needs, baby food/ formula, and Soft-sided insulated bags no larger than 8.5″ wide x 6″ high x 6″ deep.
Prohibited items involving food include:
Glassware or glass containers
Open containers or drinks containing alcohol
Hard-sided coolers
Soft-sided coolers larger than 8.5″ wide x 6″ high x 6″ deep
Picnic lunches; any food that requires heating or refrigeration; folding chairs
So yes, you can bring food into Universal as long as it follows the guidelines. Great examples are wrapped cold sandwiches, and snacks such as Goldfish, and pretzels.
Universal Dining Plan Questions and Answers
Q: How do I know which food items are eligible?
A: Simply look for the "UD" symbol at your dining location. It's important to note a few of the dining locations in the Wizarding World of Harry Potter do not include the "UD" symbol but are included. We also always recommend when in doubt just ask.
Q: Can I use the Universal dining plan at Halloween Horror Nights?
A: Yes, Universal does offer two quick service options at Halloween Horror nights. Guests can also check out our complete guide to Halloween Horror Nights!
Q: Does the full-service Universal dining plan include character dining?
A:  Unfortunately no, these credits can not be used towards character dining.
Q: Are Universal hotels included in my dining plan?
No, you cannot use your dining plan at any Universal hotel, even if you are a guest there. This is something to keep in mind if you were planning to eat at your resort often during your stay, and were hoping to include it in your dining plan.
Q: Can I use my dining plan when ordering ahead on the Universal mobile app?
A: No, at this time you can't use your dining plan when ordering ahead on the mobile app. However, you can use an annual pass discount if you have one!
For additional facts and questions on the Universal Orlando dining plan check out their website!
Q: Can you bring sandwiches into Universal Studios Orlando
A: Yes, packing your own food and drinks can help save you money in Universal. You can bring sandwiches and snacks into the park as long as it does not have to be heated.
Start Planning Your Universal Orlando Trip!
We can help you pick the best time to visit Universal's Orlando! Our Universal Orlando Crowd Calendar is the best tool to help you get the most out of your time in the parks. We breakdown park hours, crowd levels, and ticket prices.
If you're brand new to Universal vacation planning be sure to check out our free resources. We break down everything you need to know before you go, including Discounted Universal Orlando Tickets, Universal Hotels, and Volcano bay.