What's New and Coming to Disney World in 2023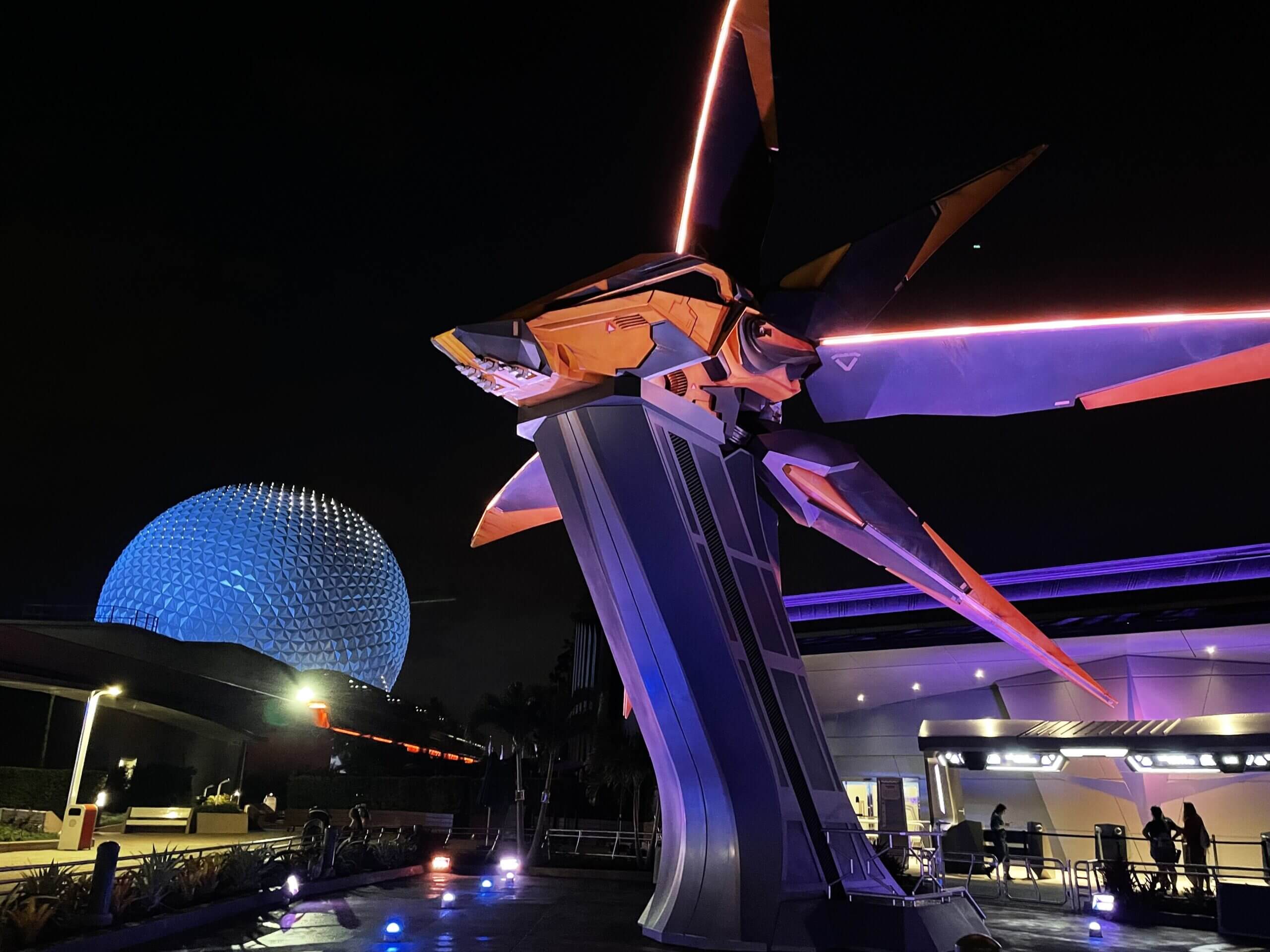 What's New and Coming to Disney World in 2023
This article is your complete guide to what's new at Walt Disney World! The future is bright at Disney in almost all of the four Disney theme parks! The most exciting part is that we will be able to enjoy so many new Disney attractions in the next few years. As well as some new restaurants, character costumes, and more! So let's break down everything all of the new things coming to Disney World in 2023 and beyond!
We hope you find this post helpful! And if you are planning a trip to Disney World, be sure to check out our other FREE vacation planning tools. Our goal at The Park Prodigy has always been to help you save time and money on your next vacation. This includes helping you find the best time to buy Disney World tickets as well as book amazing Walt Disney World vacation packages!
So, if you're ready to learn about the exciting new things at Disney World in 2023 read on!
SPECIAL NOTE: If you need help picking the best time to visit Walt Disney World for your next vacation be sure to check out our Disney crowd calendar!
What's New at Walt Disney World 2022?
As 2022 comes to a close, we can only keep our eyes ahead on what's going on at Disney World in 2023. In the wake of this year's D23 event, we are left with SO MANY new things scheduled and teased, coming the Walt Disney World. This bi-annual event is when the Disney Company typically announces all of it's Disney park, experiences, and product plans! (DPEP for short). So before we dive into what we know and expect from this year's announcements. Let's recap what was new at Disney World in 2022.
All Things New at Disney World in 2021/2022
To say Disney used the pandemic shut down as a reset is an understatement. Since then, Walt Disney World has had a massive overhaul and has been a sea of construction walls. From new rides at Disney World 2022, to new restaurants opening in Disney Springs! Let's go over all of what's new at Disney World.
What's new at Magic Kingdom 2022?
Hall of Presidents (2021) – This classic Magic Kingdom attraction received a refurbishment that saw an addition of the 46th president, Joe Biden.
Jungle Cruise (2021) – The Jungle Cruise at Magic Kingdom received some retelling of classic scenes to depict more humor while removing culturally sensitive images from the ride.
Enchantment (2021) – Behold a brand-new nighttime fireworks spectacular that empowers you to believe in yourself and in magic.
New Things at Epcot 2022
Guardians of the Galaxy: Cosmic Rewind (2022) – A brand new attraction at EPCOT and the first attraction to feature Marvel Studios characters at Walt Disney World. This ride is currently only using the Lightning Lane purchase or the Disney Virtual Queue System.
Space 220 (2022) – Dine among the stars at 220 miles above the earth in an all-new restaurant that's out of this world!
Connections Cafe & Eatery (2022) – Take your taste buds on a tour around the world with dishes inspired by Italian, French and Asian cuisines or stop by the Cafe for your morning cup of Starbucks.
Remy's Ratatouille Adventure (2021) – Shrink down to Chef Remy's size for a 4D culinary adventure based on the Disney and Pixar film Ratatouille.
La Creperie de Paris (2021) – Delight in sweet crepes or savory galettes inspired by the Brittany region of France.
Creations Shop (2021) – Stop by this new flagship store to shop for magical mementos and explore original works of Disney art.
Harmonious (2021) – Epcot's new nighttime spectacular! Experience and discover how Disney music and stories have the power to bring people together.
What's New at Animal Kingdom 2022?
Finding Nemo: The Big, The Blue…and Beyond (2022) – A shortened version of the previous show, this version brings new projections and set pieces!
Kite Tails (2021) – Watch as favorite Disney characters take to the sky for an all-new performance during The World's Most Magical Celebration!
New Disney Springs Restaurants 2022
Salt & Straw (2022) – This west coast based creamery now occupies the location originally built for Ample Hills Creamery on the West Side of Disney Springs.
Gideon's Bake House (2021) – At The Landing of the Springs, enjoy carefully drafted, dreadfully delicious cookies, cakes, and cold brews.
New Disney Park Experiences in 2022
Magic Band + (2022) – The newest additions to the Disney parks, Magic Band+ debuted on July 27th, 2022. It functions just like a normal Magic Band but with enhancements such and lights, vibration, and interacting with the 50th Anniversary statues. The new rechargeable battery will come in handy!
Genie+ & Lightning Lane (2021) – Disney Parks new version of FastPass+ but at a daily or individual fee.
Related Pots: Complete Guide to Genie+ and Lightning Lane
What's Going on With Disney in 2023?
Let's begin with the new additions to Disney World elephant in the room. Tron Lightcycle Run at Magic Kingdom. This attraction was originally announced at the D23 Expo in 2017. That makes this new ride at Disney World almost 6 years in the making. The opening date has been extended three times and has gone from a vague date to a vague timeline and now a wide time frame. Before we discuss our thoughts on when this ride will actually open, let's review the announcement timeline.
Tron Lightcycle Run Opening Date 2023
2017 – Tron Lightcylce Run was announced at the D23 Expo
2019 – Walt Disney Imagineering stated that Tron was expected to open in 2021. Just in time for the 50th Anniversary of Walt Disney World. This was the last, most specific date Disney has released.
2021 – New information like photos and the storyline were released in June of 2021 without any dates.
2022 – D23 released a list of "Every Disney Moment we are Looking Forward to in 2022". Sadly, Tron's opening date was not on that list. But announced at this year's D23, Tron was officially given an opening time frame!! We can (hopefully) expect to finally enjoy this ride in the Spring of 2023.
2023 – Tron recently received a teaser opening day instagram post followed by an official opening day of Tron at Disney World! Tron will open on April 4th, 2023!
When Will Tron Open at Magic Kingdom 2023?
It is officially official! It was recently announced that Tron Lightcycle Run will open on April 4th, 2023 in Tomorrowland at the Magic Kingdom!! At the 2022 D23 Expo, Josh D'Amaro announced that Tron Lightcycle Run at Magic Kingdom will have an opening time frame in Spring of 2023 and that seems to have stuck. Disney was clearly staggering the new rides coming to Disney World. For the beginning of the 50th, we saw the opening of Remy's Ratatouille Adventure. Around Mid-Celebration we received the opening of Guardian's of the Galaxy: Cosmic Rewind.
Related Page: Newest Rides at Universal Studios Orlando 
What's Coming To Magic Kingdom in 2023?
If we are honest, we wont see many new Disney rides in 2023. Most of the construction at Magic Kingdom currently underway is in Tomorrowland. Thankfully, Disney Parks seem to be on the tail end of their major overhaul announced back in 2017. On the flip side, we are left waiting on the edge of our seats!
What are the New Magic Kingdom Attractions 2023?
Tron Lightcycle Run – Opening April 4th, 2023 – Magic Kingdom's carbon copy of Shanghai Disneyland Tomorrowland's main attraction. This ride is possibly the most anticipated opening almost 6 years in the making.
Hat Box Ghost – The wait is over! At the 2022 D23 Expo, we got news that the Hat Box Ghost will finally materialize "next year" in the Haunted Mansion at Magic Kingdom!
Happily Ever After – Returning April 3rd, 2023 – Once again the skies above Cinderella's Castle will be glowing with the fan favorite night time show, Happily Ever After! Originally debuting in 2017, this show made way for "Enchantment" to celebrate the 50th Anniversary of Walt Disney World in 2021.
This is one of the more exciting new rides at Disney World and one of the most anticipated Disney World new attractions in 2023. The attraction will be based on the Tron movies. This attraction, which was first announced at the D23 Expo in 2017, was originally scheduled to open in the Summer of 2021.
Magic Kingdom New Attractions 2024
Tiana's Bayou Adventure – This will be a full re-imagining of Splash Mountain! Coming late 2024, this ride will pick up where the movie left off. The entire original cast is set to return to voice the attraction bringing music, joy, and a beautiful nighttime scape to the ride.
One of the new things at Disney world will be the re-imagining of Splash Mountain. While this isn't one of the Disney rides coming soon, it will be getting a completely reimagined makeover inspired by Disney's "The Princess and the Frog" film.
Related Post: The Complete Guide to Disney's Park Hoppers
What's Coming To EPCOT in 2023?
Here's what is coming to Disney World in 2023 at EPCOT…AKA the biggest transformation of any Disney park. In the history of Disney Parks! The largest update that EPCOT is receiving is a re-theme of it's lands. Historically, guests have known EPCOT in two simple areas. Future World and the World Showcase. Announced in 2021 as part of the new plans for Walt Disney World. The expansion includes EPCOT's Future World being divided into four neighborhoods: World Showcase, World Celebration, World Nature, and World Discovery.
EPCOT's New Neighborhoods 2023
World Celebration – Located behind Spaceship Earth, this neighborhood will encompass different experiences from planet interaction, to performance spaces. The most notable change for this area will be the EPCOT Gardens, CommuniCore Hall, and Communicore Plaza.
World Nature – This area includes the brand new Disney attraction, Moana's Journey of Water Nature Trail. As well as existing locations like the Land and Seas buildings.
World Discovery – Here you can find the newest additions of space exploration as well as the classic ride, Mission Space. Now you can also take a ride on Guardians of the Galaxy: Cosmic Rewind or dine 220 miles above earth at Space 220.
World Showcase – Explore sights, cuisines, and sounds from around the world at this permanent homage to the World's Fair. This is the largest EPCOT neighborhood and is home to the new nighttime show Harmonious.
Related Post: Disney Genie+ Lightning Lane
What are the New EPCOT Attractions 2023?
Moana's Journey of Water Nature Trail – This will be the first Disney experience inspired by Moana. In this exploration trail, guest can come to meet and play with magical, living water. Just like Moana's friend the ocean, water will have a personality of its own. All while helping guests learn how to protect the natural water cycle in a fun and engaging way.
CommuniCore Plaza – This will be the new hub for performances based around the rotating annual festivals. Allowing guests to fill the new open garden spaces.
CommuniCore Hall – A space where guests can find a new exhibition and gallery space, live music, and food! This will also be the new Mickey & Friends meet and greet location.
EPCOT Gardens -Located throughout the World Celebration Space, the gardens is a space filled with new seating options and beautiful foliage. It will also completely transform each festival celebrated at EPCOT!
Figment Character Meet & Greet – Our favorite purple dinosaur (sorry Barney) is going to be our as a new character meet and greet by the end of 2023! It is still unclear if it will be an animatronic or costumed character.
UPDATE: All of the attractions, halls, and experiences listed above have been announced to open Late 2023. We can also be expecting a new nighttime spectacular replacing Harmonious in celebration of the company's 100th anniversary celebration.
New EPCOT Attractions Coming in 2024
EPCOT Play Pavilion – This "digital metropolis" will take over the former Wonders of Life Pavilion in World Discovery. Guests can expect interactive experiences, hands on activities, games, entertainment, as well as character experiences!
Disney World future plans seem to have no limit when it comes to EPCOT. We absolutely love the Guardians of the Galaxy: Cosmic Rewind Coaster and cannot recommend it enough for your next Walt Disney World trip. If the future of Disney World development plans continues down this path, we can only imagine what will happen!
Related Page: Guide to Disney's Coronado Springs Resort 
What's Coming To Hollywood Studios in 2023?
Hollywood Studios is, for now, completely renovated! In the last couple years, we have seen many additions to this park. If you're wondering what's new at Disney Orlando, Hollywood Studios saw the most recent transformation with the addition of Star Wars: Galaxy's Edge. So to keep it simple, there are no major Walt Disney future projects that are scheduled for this park in the next few years. There is however a new restaurant will be added to Toy Story Land!
New Restaurants Opening in Hollywood Studios in 2023
Woody's Roundup Rodeo BBQ – Serving an American style BBQ menu, this new table-service location will be a great family friendly experience. It is also going to serve as a new character meet and greet location for Woody and Jessie!
The latest update from Disney would be that this restaurant has an opening date of late 2022. Until there is an official date given Disney's history lately with timelines, we will assume this restaurant will open in 2023.
Related Post: Best Restaurants in Hollywood Studios
What's Coming To Animal Kingdom in 2023?
Pessimistically, Walt Disney World has slowed and stretched out construction timelines. Future Disney park projects have already lined up between now and 2023 or 2024. The company's conservative approach  doesn't instill confidence that anything with the recently demolished Primeval Whirl is happening in the next 5 years. This was solidified at the 2022 D23 Expo when they announced "ideas" they have for Dinoland USA under the "Blue Sky" project.
While no new future Disney park projects or Disney upcoming rides are planned in upcoming years, visitors should watch out for the new residents of the Harambe Wildlife Reserve—Nigerian dwarf goats now play toward the end of Kilimanjaro Safaris.
Related Page: Best Disney Moderate Resorts Ranked
What's Coming To Disney Springs in 2023?
There has actually been a large number of stores that have opened recently in Disney Springs, and we don't see them slowing down any time soon. You can enjoy the latest offering Disney Springs has to offer, Salt & Straw Ice Cream! One of our favorite locations at the Downtown Disney District over at Disneyland, this shop is known for their out of the box unique flavors. They also have new flavors every month based on a topical theme. There is one new dining location on the horizon that we have our radar on.
New Restaurants Opening in Disney Springs in 2023
Summer House on the Lake – This new location will feature a California-inspired menu with simple, sustainable ingredients. With flagship locations in Chicago, Illinois and North Bethesda, Maryland, the Summer House brand is known for its breezy, beach house environment. The full-service restaurant will also include an in-house bakery, as well as an extensive wine and handcrafted cocktail list.
Gideon's Bakehouse is also a newer location that worth stopping at! Along with the forthcoming M&M'S store and Everglazed Donuts & Cold Brew. And the new Cirque du Soleil show "Drawn to Life," coming to Disney Springs, will be a collaboration between Cirque du Soleil, Walt Disney Animation Studios, and Walt Disney Imagineering.
What's Coming To Disney Resorts in 2023?
Mums the word from Disney so far on Walt Disney future projects in the resort world. The only confirmed new project we have is the Polynesian DVC towers. These state of the art resort towers have an opening timeframe of 2024!
New Disney World Resorts Opening in 2024
DVC Polynesian Project – Set to open in late 2024, this new wing features a fresh look featuring elements from the Pacific Islands, with views of the water. Situated in the area of the permanently closed Spirit of Aloha Dinner Show, this addition to the resort is a major project.
Related Post: Complete Guide to the Disney Monorail Resorts
What's Coming To Disney Parks in 2023?
With the 50th Anniversary coming to a close in March of 2023, we are looking ahead at another large celebration. 2023 will bring the 100th anniversary of the entire Walt Disney Company! No details have been officially announced on what the parks will do to celebrate. But we can safely assume there will be exclusive celebratory merch, food, and celebrations throughout the parks.
Walt Disney Company's 100th Anniversary Celebration 2023
100 Years of Wonder – Keep an eye out for news regarding the 100th anniversary of The Walt Disney Company! the official website of the celebration states that there will be "Celebrations at Disney Parks". We have our sites set on the D23 Expo to learn more about the celebration!
Related Post: D23 Announces 100 Years of Wonder Celebration
What if…Disney's "Blue Sky" Project
Announced at the 2022 D23 Expo, this project encapsulates Disney's ideas, thoughts, and dreams for existing spaces in the parks. Specifically at Animal Kingdom and Magic Kingdom. We want to be very clear, along with everything announced at the 2022 D23 Expo, there is no official date for these projects. Nor are these projects even officially happening! DPEP President Josh D'Amaro, Animator Jennifer Lee, and Imagineer Chris Beatty specified these are just ideas. When speaking of the image above for Animal Kingdom, Chris stated "I hate to even call this a concept" So keep that in mind as we discuss the new things coming to Walt Disney World.
Future Lands for Animal Kingdom 2023
Zootopia – Met with a thunderous applause when announced, this land would bring guests closer to the world we know from the Disney animated film Zootopia. It would also allow animators to introduce us to new characters and areas we have yet to discover from the movie.
Moana – Little was explained about this idea. The only direction we were given for this path was that we could journey with Moana beyond the reef. We could also possibly meet creatures of the deep and fight off the Kakamora.
Future Lands for Magic Kingdom 2023
Coco Themed Area – An area designed after the main village in the animated film, Santa Cecilia, Mexico that will be decorated to celebrate Dia de Los Muertos.
Madrigal Casita – What sounds like an interactive character meet and greet/walk through attraction!
Villian Themed Area – "Not planned anytime soon, but we know you talk about it all the time and its somewhere in the back of our minds" – Josh D'Amaro. This area received the largest applause from the audience at D23 so hopefully that means they will take this idea into consideration the most!
All of these locations for the Magic Kingdom would take place in the area behind Big Thunder Mountain Rail Road.
What's New and Coming to Disney World in 2023 FAQ

Q: What's New at Magic Kingdom in 2022?
A: Hall of Presidents added President Joe Biden, Jungle Cruise was refurbished to bring in more culturally appropriate images to the ride, and a brand new nighttime spectacular premiered for the 50th Anniversary Celebration. 
Q: Is Guardians of the Galaxy Open in Epcot?
A: Yes! Guardians of the Galaxy Cosmic Rewind opened in EPCOT on May 27th, 2022.
Q: What is Space 220 in EPCOT?
A: Space 220 is a brand new dining experience and lounge in World Discovery in the Mission Space complex. The name derives from the experience where you take a ride 220 miles above earth for your dining experience. 
Q: Is Harmonious Worth It?
A: A million times YES! Harmonious is by far our current favorite night time show in Walt Disney World! If you're going to see one show on your next Disney vacation, make it Harmonious. 
Q: Do I Need to Buy MagicBand+ 2022?
A: No, you can still use your previously purchased MagicBands as well as new MagicBands. The only way you HAVE to buy a MagicBand+ is if you want to interact with the 50th Anniversary statues around the parks. 
Q: Is Tron Open at Magic Kingdom 2022?
A: No, Tron has not yet opened at the Magic Kingdom. 
Q: When is Moana Opening at Epcot?
A: Moana's Journey of Water Nature Trail is slated to open right now at the "End of 2022". 
Q: When Will EPCOT Construction be Completed 2022?
A: Technically EPCOT will never be completed! But this current phase of construction will hopefully wrap up in late 2024.
Q: Is Epic Universe Opening at Disney?
A: No, Epic Universe is Universal Orlando's 3rd theme park that is slated to open in 2025. 
When is The Best Time to Visit Disney World?
Our Disney  World Crowd Calendar is the best tool to help you get the most out of your time in the parks. We break down park crowds, park hours of operation, ticket prices, and average temperature. We also break down the best time to visit Disney World based on specific times of the year and special events.
Are You Ready to Plan Your Next Disney World Trip?
Are you planning a trip to Walt Disney World? Be sure to speak with a Disney World Travel Agent for the most recent deals and promotions. The Park Prodigy will provide a Free Quote for all Disney World Vacation Packages. The Park Prodigy can also help you save up to $20 per ticket when purchasing your Walt Disney World Tickets, and we offer promotional discounts for special events such as Mickey's Not So Scary Halloween Party Tickets and Mickey's Very Merry Christmas Party Tickets. If you're brand new to Disney vacation planning we recommend our Walt Disney World Planning Page! Learn more about Disney hotels by reading our Walt Disney World Hotels Review page.
Don't forget to check out our wonderful friends over at Theme Park Today, as well!