2022 Epcot for Kids Guide
2022 Epcot for Kids Guide
This article is your complete 2022 Epcot for kids guide! Are you planning an upcoming trip to Walt Disney World and planning a day at EPCOT? We are here to help you plan an amazing day, and will break down Epcot attractions for kids, character dinners at Epcot and some of the best kid friendly restaurants in Disney World! 
Often praised for its cosmopolitan atmosphere, Epcot has a reputation for being the most "adult" of all the Disney World parks. But that doesn't mean that families with kids and toddlers should skip it! Epcot is one of the most toddler-friendly theme parks in the world, and there's plenty for your little ones to do. Did you know that a visit to Epcot can not only be fun, but also educational? Read on to discover our favorite activities at Epcot for kids!
We hope you find this post helpful, and if you are planning a trip to Disney World be sure to check out our other FREE vacation planning tools. Our goal at The Park Prodigy has always been to help you save time and money on your next vacation. This includes helping you find the best time to buy Disney World tickets as well as book amazing Walt Disney World vacation packages!
So if you're ready to look at the best way to enjoy Epcot for Kids read on!
SPECIAL NOTE: If you're looking for the best time to visit Disney World be sure to go straight to our Disney Crowd Calendar!
2022 Epcot Rides for Kids
One of the main reasons families visit Walt Disney World is to participate in all of the world class attractions it offers. A huge concern is that is the little ones in your family will be able to have as much fun as the adults or older children. Luckily, there are plenty of kid rides at Epcot! There are a number of Epcot attractions for kids with familiar Disney characters, making them family favorites. So what are the best rides at EPCOT for kids?
List of kids rides at Epcot 2022:
Frozen Ever After
Figment: Journey into Imagination
Spaceship Earth
Living with the Land
Gran Fiesta Tour
The Seas with Nemo and Friends
Beauty and the Beast sing-a-long
What are the best rides for toddlers at EPCOT? 
Living with the Land
Gran Fiesta Tour
The Seas with Nemo and Friends
Beauty and the Beast sing-a-long
All of these rides listed do not have height requirements, making them wonderful Epcot rides for toddlers. Some great rides that are great for older kids, but are not Epcot attractions for toddlers are Soarin' and Test Track. Both rides have a 40 inch height requirement, and could be a little bit too thrilling for Disney Epcot toddlers!
Below, let's talk about each of the Epcot rides for kids, just so you can get a better idea for your vacation planning.
Related post: Best Ways to Avoid Long Lines at Disney World
Frozen Fun at the Norway Pavilion
One of the most recent additions to Epcot, Frozen Ever After at the Norway Pavilion is one of the best rides at Epcot for young kids. Hop aboard a boat and float your way through Arrendale on a "Summer Snow Day". Your little ones will be able to see Elsa's ice palace and their favorite Frozen friends, including Anna, Elsa, Olaf, Kristoff, Sven and even Kristoff's troll family!
After you disembark, head next door to the Royal Summerhaus to meet Anna and Elsa themselves, or make your way to the nearby gift shop for Frozen toys and treats.
Tip: Frozen Ever After and Anna and Elsa's meet and greet are two of the most popular Epcot attractions for kids, and wait times are often significant. Be sure to either rope drop or do some serious ride planning because you do not want to miss this!
Dive Under the Sea with Nemo and Crush
If you take a left at Spaceship earth, you'll find yourself at The Seas with Nemo & Friends: one of the best attractions at Epcot for toddlers.
Climb aboard a "clamobile" and take a gentle ride beneath the waves with Nemo, Dory, Marlin and more undersea friends, featuring music from Animal Kingdom's "Finding Nemo the Musical".
Afterward, you can head over to Turtle Talk with Crush for another educational experience. Little ones can ask Crush any question their hearts desire about life under the sea, and Crush will respond with a personalized answer! And when I say any question, I mean any question. The last time I was there, one undersea explorer wanted to know if sea turtles wore underwear, to which a shell-shocked Crush replied, "no".
Tip: The Seas with Nemo & Friends is also home to a 5.7-million-gallon saltwater aquarium! Your kids can marvel at real sharks and manatees while they learn even more about the 'Big Blue World'.
EPCOT Festival Kids Games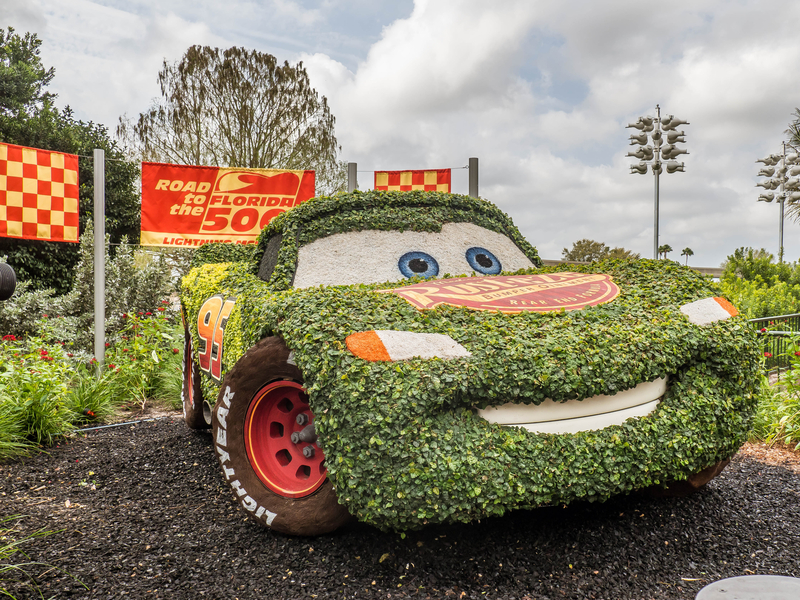 Any International Epcot festival is bound to draw crowds of adults for a full day of eating, drinking and an interactive cultural experience. What a lot of people don't know is that these EPCOT festivals are totally geared toward families too! Every single festival has Epcot for young kids themed activities, games and more! Next, we are going to talk about the best Epcot attractions for toddlers and kids at festivals.
EPCOT Festival of the Arts Kids Activities
Kid's Chalk Art sections
Animation Academy – learn how to draw a Disney character!
Figment's Brush with the Masters Scavenger Hunt – $9.99 with prize
Paint by Numbers Mural – Just like regular paint by numbers, but bigger!
Chalk Full of Character – Look for famous Disney characters hiding around the World Showcase
EPCOT Flower and Garden Festival Kids Activities
Disney character topiary viewing – all around the World Showcase look for these living works of art
Spike's Pollen-Nation Exploration Scavenger Hunt – $9.99 with special prize
Health Full Trail presented by Advent Health – Find fun ways to stay active and creative with the whole family
Garden Graze – Collect stamps along your fresh tasting journey and get a free prize at the end
International EPCOT Food and Wine Festival Kids Activities
Remy's Ratatouille Hide and Squeak Scavenger Hunt – $9.99 look for Remy and get a prize!
Cheese Crawl – Emile's Fromage Montage – Eat 5 cheesy dishes at festival kitchens and get a free tasty prize
Try kid-friendly specialty foods and drinks – this festival has the most options
Festival of the Holidays Kids Activities
Holiday Cookie Stroll – try 5 different holiday cookies and get one free!
Olaf's Holiday Tradition Expedition Scavenger Hunt – $9.99 – find all the Olaf's and get a free prize!
Meet Santa Claus, Father Christmas or learn about other culture's holiday experiences!
Related post: 2022 Epcot Flower and Garden Festival Guide
Go Back in Time with Spaceship Earth
Often mistaken by kids and adults alike as a "golf ball", Epcot's signature centerpiece is actually a spaceship! And it's also one of the best Epcot rides for toddlers. Located inside this geodesic dome is Spaceship Earth, a dark ride for all ages that chronicles the history of mankind's innovations. Although the story may be lost on younger kids, it's still a pleasant excuse for 15 minutes of air-conditioned bliss.
Journey into Your Imagination with Figment!
Have you ever really thought about your EXTRA sense? Sight, sound, smell, touch, taste and … IMAGINATION! You and your family get to visit the Institute with a tour with Dr. Nigel Channing to explore all of your sense. That is, until a silly, playful dragon named Figment takes over the tour and teaches you all about imagination.
Figment is a wonderful Epcot attraction for kids, because afterwards, you can play along in the Imagination Institute with interactive games!
Educational Fun on Living with the Land
While this may not be the most entertaining Epcot ride for kids, it certainly is an Epcot favorite among all Disney fans. Float along on a gentle journey through EPCOT's greenhouses, where you learn all about Disney food production. We learn the story of the Earth and how food plays such a major role in our every day lives.
This is a wonderful Disney Epcot ride for toddlers, because there are no drops or surprises, and your boat moves at a gentle pace.
Cruise Down the Rio Grande with the Los Caballeros
Join Panchito and Jose as they search for Donald Duck among all of Mexico's most beautiful sights and sounds on the Gran Fiesta Tour in the Mexico pavilion. The Gran Fiesta Tour is great Epcot ride for toddlers due to its slow pace and bright and colorful theming.
This is also a perfect Epcot attraction for kids because of the catchy music and silly antics Donald is put through while trying to find his friends. The Mexico pavilion is also a must-see with how gorgeous the theming is.
You will be awe-struck because Disney outdid themselves on this beautiful architecture. After the ride, you can even stop over at San Angel Inn Restaurant and dine right next to the boats floating by from the ride!
Epcot Rides For Kids Older Than Toddler Age
But what if your kids are old enough to enjoy some more exciting rides? Are there other rides at Epcot for older kids? Of course!
Go "Soarin Around the World" at the Land Pavilion
Perhaps Epcot's most well-known attraction, Soarin is a must-do for fans of adventure and heights.
Kids 40 inches and up can climb aboard a hang glider and take a breezy trip across the world's most scenic locations, including the Eiffel Tower and the Great Wall of China. Although it's often touted as a thrill ride, Soarin is actually gentle as far as flight simulators go. It's complete with soothing scents and an epic musical score by an Academy award-winning composer.
Tip: to pass time in the queue, you can download the Play Disney Parks app on your smartphone and test your trivia skills with the Soarin' Challenge!
Blast off in Future World – In space or in a car!
Kids 40 inches and taller can meet their need for speed at Test Track, another of Epcot's signature attractions. Somewhere between a dark ride and a thrill ride, your kids will be able to design their own SIM car and take it for a test spin at speeds of over 60mph!
Next door to Test Track is another ride for the thrill-seekers in your party, Mission Space: a NASA-style space simulator with two different missions to choose from. Kids 44 inches and up can pull some serious G's on the orange track, and kids 40 inches and taller can hop on the green track for a gentler trip through the stars.
Tip: unsure which track to take at Mission Space? Play it safe, and take the green one. It's perfect for younger, less adventurous kids–and scaredy-cat adults too!
Related post: The Best Disney World Park By Age Group
What is Kidcot? Kidcot Fun Stops for Beginners
Located at each pavilion around the world showcase, Kidcot is one of Epcot's signature attractions for little ones. Kids can collect stamps and decorate a (free!) cardstock Duffy the Bear with the help of a Disney cast member.
Tip: not many people know this, but all cast members employed at the World Showcase are actually from that pavilion's country! Cast members are always friendly and happy to answer any questions your kids may have about their home country, making the World Showcase not just a fun experience, but also an educational one. And if your kids are learning a second language, this is the perfect time for them to practice with a native!
Meet and Greets Around the Globe At Epcot
With shorter wait times than the Magic Kingdom, Epcot is a prime location to meet and greet your favorite Disney characters. Say 'Bonjour' to princesses like Belle and Aurora in their native France or 'hola' to Donald Duck in the Mexico Pavilion. Epcot is also ideal for meeting hard-to-find characters at Dinsey World, such as Mulan and Joy from Inside Out.
Epcot is also one of the best places to eat at Disney World with kids. But you might be wondering, is there character dining for families with kids visiting EPCOT?
There are two character dinners at Epcot:
Chip & Dale's Harvest Feast at The Land pavilion
Akershus Royal Banquet Hall in the Norway pavilion
Often hailed as an easier-to-get-into alternative to Cinderella's Royal Table, Akershus is one of the best kid friendly restaurants in Disney World. This Epcot princess dining experience is an excellent way for your little ones to meet all their favorite princesses in one spot.
Tip: if you make an 8 am reservation at Akershus for an Epcot princess breakfast, you can get into the park before it opens to other guests! This is ideal if you couldn't get for Frozen Ever After or the Royal Summerhaus, since you'll already be at the Norway Pavilion when the rest of the crowd is just getting in.
Special note: The Akershus dining experience has not resumed for 2021. We expect that it will return for 2022, but if you are looking to experience this, it is unfortunately closed.
Related post: Top 10 Best Disney World Restaurants in 2021
Enjoy Dazzling Fireworks
At the end of a hard day of play, you and your kids can gather around the World Showcase Lagoon for a pyrotechnic extravaganza! Grown-ups and little ones alike will be dazzled by colorful fireworks, lasers and even choreographed kites as they enjoy this tribute to Epcot's past, present and future.
Be sure to stop by Walt Disney World for the brand new fireworks show Harmonious staring October 1st, 2021. This show is meant to be perfect at Epcot for kids, where Disney celebrates all classic music throughout the years. Start planning your trip now to make sure you get your Walt Disney World Anniversary tickets!
Tip: Make sure to stake out a fireworks spot early! Prime viewing spots go fast, and you won't want to miss a moment of the show
Bonus: Brand new Epcot Rides for Kids in 2022
Now that we've been over the best Epcot rides for kids and toddlers, let's take a look at some of the exciting new things coming to Epcot in the future!
Remy's Ratatouille Adventure
Following in the footsteps of the Norway pavilion, Epcot's France pavilion has one of the newest upgrades at Walt Disney World. An import from Disneyland Paris, Remy's Ratatouille Adventure has arrived at Epcot's France pavilion in 2021, taking guests on a wild ride through the heart of Gusteau's kitchen.
The Guardians of the Galaxy are Coming to Future World
Marvel fans rejoice! In a long-overdue upgrade to Future World, Disney execs have announced plans for an upcoming "Guardians of the Galaxy" coaster coming to Epcot in the coming years. Disney has promised an immersive "storytelling coaster" that's "unlike anything the world has ever seen", just in time for the resort's 50th anniversary!
Experience Innovations at the "First-of-its-Kind" Play Pavilion
Another planned addition sure to pique the interest of preschoolers and young children, Epcot's upcoming Play Pavilion promises interactive fun for kids all over the globe. A replacement for the now-defunct "Wonders of Life", Imagineers have touted the Play Pavilion as "beyond anything we've ever created" and "completely unique to Epcot".
With all these new additions, there's never been a better time to head to Epcot for families of all ages!
When is The Best Time to Visit Disney World?
Our Disney Crowd Calendar is the best tool to help you get the most out of your time in the parks. We break down park crowds, park hours of operation, ticket prices, and average temperature. We also break down the best time to visit Disney World based on specific times of the year and special events.
Are You Ready to Plan Your Next Disney World Trip?
Are you planning a trip to Walt Disney World? Be sure to speak with a Disney World Travel Agent for the most recent deals and promotions. The Park Prodigy will provide a Free Quote for all Disney World Vacation Packages.
The Park Prodigy can also help you save up to $20 per ticket when purchasing your Walt Disney World Tickets, and we offer promotional discounts for special events such as Mickey's Not So Scary Halloween Party Tickets and Mickey's Very Merry Christmas Party Tickets.
If you're brand new to Disney vacation planning we recommend our Walt Disney World Planning Page! Learn more about Disney hotels by reading our Walt Disney World Hotels Review page.
Last but not least if you're also planning a trip to Universal Studios, be sure to check out the best time to visit Universal Studios and our Universal Orlando Tickets! All Park Prodigy Universal Orlando tickets come with Universal Studios Early Park Admission.
Are you planning on visiting Disney World? Or have you visited in the past? Would you like to share your experiences and tips? Do you have any questions for The Park Prodigy? Hearing your feedback and helping with your questions is not only our goal but will help other readers! Please leave your thoughts and questions in the comments!