Hollywood Studios One Day Itinerary
Hollywood Studios One Day Itinerary
Lights, camera, action! Disney's Hollywood Studios is home to a few of the more thrilling attractions on property, including Twilight Zone Tower of Terror and Rock 'n Roller Coaster. It is also home to two of the newest attractions: Star Wars Rise of the Resistance and Mickey and Minnie's Runaway Railway. Throw in the addition of Toy Story Land, Star Wars Galaxy Edge, and the already long list of live shows, and this theme park has something for guests of all ages.
Our team members at The Park Prodigy have put together this itinerary for you to get the most out of your day at Hollywood Studios! It has been updated to avoid long lines and maximize your time in the parks. This park plan should ideally be used during low or moderate crowds at Hollywood Studios, however it has been optimized to also help families planning during heavily crowded days. The Projected wait times below are from an 8/10 crowd level day on our Walt Disney World Crowd Calendar.
One thing to keep in mind is that Star Wars Galaxy's Edge does require a boarding pass to ride, so for those reasons we left it off of this daily park plan. Hollywood Studios has fewer attractions than most of the other theme parks on property, which has generally resulted in longer wait times. That's why our team members at The Park Prodigy have put together this itinerary for you. The most important things to do to help make the most out of your time in the parks are to A) Arrive early and B) Leave late when you can. For our Hollywood Studios Touring Plan we recommend arriving 30 minutes ahead of park opening which will allow you to take advantage of lower wait times on some of the most popular attractions.
Our team members at The Park Prodigy have found that there are three important aspects to make the most of your time when visiting Hollywood Studios in one day:
1) Use Fastpass+ Efficiently
2) Arrive Early
3) Stay Late!
This Hollywood Studios itinerary includes a midday break for you and the kids, and we highly recommend taking advantage of it. The midday hours tend to have the longest wait times anyway, and a break allows you to come back in the evening for Fantasmic and Star Wars: A Galactic Spectacular firework show! So get ready and read on, because here is our Disney Hollywood Studios Itinerary!
Hollywood Studios Itinerary for One Day
It's important to note this free Disney Hollywood Studios touring plan is just one of the many ways you can visit the park. You can take all of the tips from our Hollywood Studios one itinerary and create your very own Hollywood Studios touring plan. You might also find out complete guide to rope drop at Hollywood Studios helpful as you plan your day!
It's important to always be mindful of height requirements at Disney World, which can impact how you approach your day.
More than one Day at Hollywood Studios
If you realize that this Hollywood Studios one day itinerary might be too much for your family, you can always take a look at our Disney Crowd calendar to try to add an extra day to your trip.
Hollywood Studios Tiers Priority List
| | |
| --- | --- |
| Attraction Priority List | Character Meet and Greet and More |
| Visit within First Hour | Visit within First Hour |
| 1)Slinky Dog Dash | 1) Jedi Training Academy |
| 2) Toy Story Mania | 2) Chewbacca and Kylo Ren at Star Wars Launch Bay |
| 3) The Twilight Zone Tower of Terror | 3) Stars of Disney Junior in Animation Courtyard |
| 4) Rock 'n Roller Coaster | 4) Toy Story Friends in Toy Story Land |
| | |
| Attraction Priority List | Parades and Fireworks |
| Visit within First Two or Last Two | |
| 1) Star Tours | 1) Fantasmic |
| 2) Alien Swirling Saucers | 2) Star Wars: A Galactic Spectacular |
Hollywood Studios Daily Itinerary Ride Schedule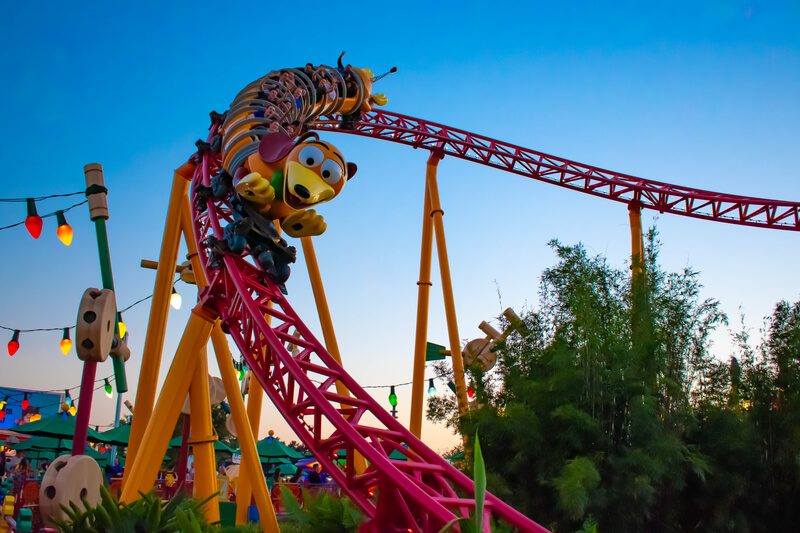 Hour 1 Approx 9:00 AM
Slinky Dog Dash
Alien Swirling Saucers
Hour 2 Approx 10:00 AM
Hour 3 Approx 11:00 AM
Hour 4 Approx 12:00 PM
Twilight Zone Tower of Terror
**Lunch Break
Hour 5 Approx 1:00 PM
Rest of the day:
Afternoon Break
For the First Time in Forever: A Frozen Sing-Along Celebration
Disney Junior – Live on Stage
Beauty and the Beast – Live on Stage
Voyage of the Little Mermaid – Live on Stage
Muppet Vision 3D
Dinner
Fantasmic
Star Wars: A Galactic Spectacular