Visiting Universal's Volcano Bay Water Park in 2023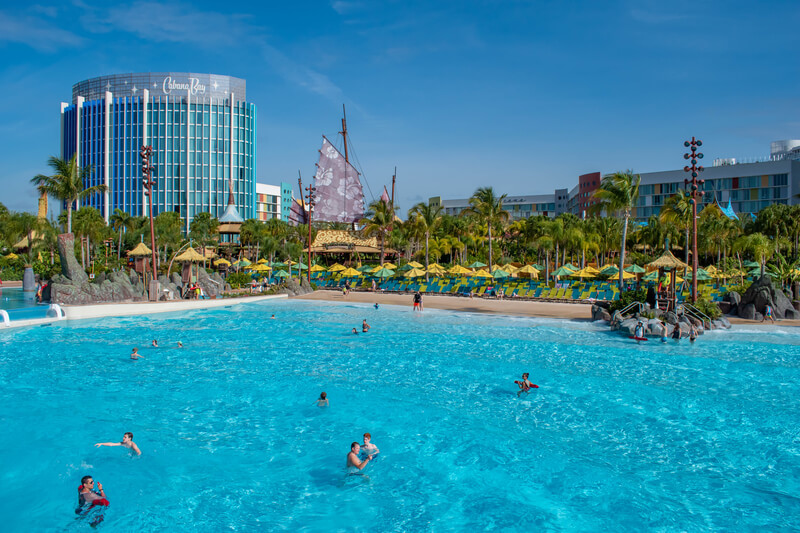 Visiting Universal's Volcano Bay Water Park in 2023
This article is your complete guide to visiting Universal's Volcano Bay in 2023! Thought experiencing a taste of the tropics at a theme park was impossible? Think again! Universal's Volcano Bay is a beautiful oasis that'll completely immerse you into a lush tropical landscape. Geared towards kids, teens, and adults, Volcano Bay water park makes the perfect destination for good old-fashioned family fun.
We hope you find this post helpful. Our goal at The Park Prodigy has always been to help you save time and money on your next Universal Orlando vacation. This includes access to the cheapest Universal Orlando tickets, as well as FREE park plans to save up to three hours in the parks! 
In this post, we're breaking down everything you need to know about visiting Universal's Volcano Bay in 2023 before you go!
Wondering when the best time to visit Universal Studios is? Be sure to check out our crowd calendar!
 Universal Studios Crowd Calendar
What is Volcano Bay 2023?
Volcano Bay is the incredible tropical themed water park located at Universal Orlando Resort. Legend has it, Volcano Bay was discovered by a family of voyagers traveling the ocean blue. A magic fish is said to have led the Waturi (Volcano Bay islanders) directly to Volcano Bay. The voyagers settled and made it their home—creating epic water slides and fun aquatic activities to celebrate their love of water.
Beyond an excellent founding story, this Universal Orlando water park is themed to perfection. You'll feel as if you're walking through an island paradise with beautifully manicured palm trees and greenery around every corner. Call us crazy, but we think this kind of theming really takes this water park to next-level! We also love the fact that Universal includes Volcano Bay in early park admission which is included absolutely FREE with all of our Universal Orlando Volcano Bay tickets! 
When did Volcano Bay open?
Volcano Bay opened May 25th, 2017, replacing Universal's Wet 'n Wild water park, bringing a brand new tropical theme, innovative rides and more.
Related post: A Guide to Volcano Bay Cabanas at Universal Orlando
How Much is Volcano Bay Tickets 2023?
A one-day admission ticket to Universal's Volcano bay starts at $70.00 for adults, and $65.00 for kids. It's important to note that these Volcano Bay prices 2023 might vary based on the day and do not include taxes. The date based pricing reflects projected crowd levels. So the more crowded the park, the more expensive Volcano Bay tickets will be.
2023 Volcano Bay Ticket Prices
$70 – $85 – For Adults
$65 – $80 – For Children
To fully experience all that Universal Studios Orlando has to offer, we recommend purchasing a multi-day Universal park-to-park ticket with admission to Volcano Bay. This ticket price ranges from $219 – $227 for adults, and starting at $199 for kids. It's important to note that guests can also purchase the Volcano Bay Express Pass. This ticket will grant you access to skip the lines for a full day. It does cost extra and in our opinion is not necessary for every family.
Related Page: Universal Early Park Admission Tickets
What are Volcano Bay Hours of Operations 2023?
Volcano Bay hours range from 9:00 AM – 8:00 PM. The full schedule of operations fluctuates between four schedules depending on the season. The seasonal schedules are 10:00 AM to 6:00 PM, 10:00 AM to 7:00 PM, 10:00 AM to 8:00 PM and 9:00 AM – 8:00 PM. These four schedules will fluctuate based on the month and day you plan to visit.
Special note you can also check back with our Universal Orlando Crowd Calendar as we keep this up to date on the most recent theme park hours! It's also important to note that Volcano Bay does not operate every day during the winter months so be sure to plan around that as well.
What are 2023 Volcano Bay Spring Hours?
April:
April 1st – 8th: 10:00 AM – 7:00 PM
April 9th – 17th: 10:00 AM – 8:00 PM
April 18th – 23rd: 10:00 AM – 7:00 PM
April 24th – 30th: 10:00 AM – 5:00 PM
May:
May 1st – 19th: 10:00 AM to 6:00 PM
May 20th – 25th: 10:00 AM  to 7:00 PM
May 26th- 31st: 10:00 AM  to 8:00 PM
June:
June 2023 Volcano Bay Hours: 9:00 AM – 8:00 PM
2023 Volcano Bay Hours During Peak Season
The Volcano Bay park hours during peak season such as Spring Break and the Summer months are typically 9:00 AM to 8:00 PM at night. (with Early Park Admission starting at 8:30 AM)
2023 Volcano Bay Hours During Off-Peak Season
The Volcano Bay park hours during the off-peak season such as early fall and winter are typically 10:00 AM to 6:00 PM at night. (with Early Park Admission starting at 9:30 AM)
When does Volcano Bay close?
Universal's Volcano Bay does not close at all for the season, instead, it will close on particular days where the weather is unfavorable. It is is forecasted to be cold all day, Volcano Bay will announce its closure on social media, the website and all Universal Orlando apps.
Is Volcano Bay open year round?
Yes, Volcano Bay is open year round, and does not have any scheduled weeks or months off for the seasons. Instead, Universal will make the call depending on the weather and if it is too chilly to swim. There are some days in December that will be 75 degrees and sunny, which makes for a perfect water park day!
Related Page: Universal Orlando Early Park Admission Tickets
2023 Volcano Bay Map – How to Get to Volcano Bay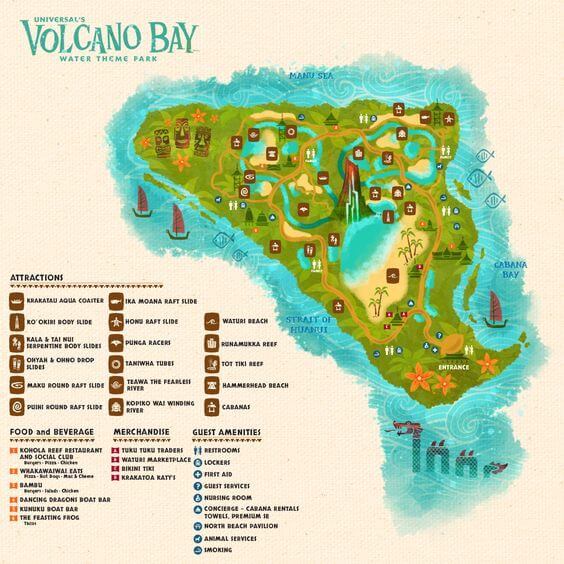 Getting around the actual "island" is quite easy. The path forms essentially a full circle around the perimeter of the park. An easy guide to find your way around the park is to find the central icon of the park, the Volcano of Krakatau. The main icon of Universal's Volcano Bay is easy to spot throughout the park topping out at 200 feet tall. From here guest's can explore out to the other three mainland's of the water park. These lands include Wave Village which is home to the water park's main beach, giant pool and premium seating.
To the right is River Village which is home to a few laid back rides for kids and the lazy river. Last but not least Rainforest Village can be located in the back of the park. This land is home to a few of the more exciting water slides and another giant pool.
Where is Volcano Bay?
Volcano Bay is located right on the Universal Orlando Resort campus, which is slightly southwest from Orlando city center. Volcano Bay is closest to Universal's Hotel, Cabana Bay Beach Resort, which is on Turkey Lake RD. The exact address of Volcano Bay is Universal's Volcano Bay, 6000 Universal Blvd, Orlando, FL 32819.
Related post: Universal Cabana Bay vs Endless Summer Resort Guide
What are the Volcano Bay Rides 2023?
Universal's Volcano Bay is packed with a mix of rides perfect for adults and kids alike. You will find exciting Volcano Bay attractions like drop slides, wave pools and even an aqua-coaster. So, whether you're seeking some serious thrills or a laid back day, Volcano Bay has something for everyone to stay entertained.
You can see the full list of Volcano Bay Rides in our full guide here.
What are the Volcano Bay water park rides?
Krakatau
Starting at the centerpiece of the park is the tallest peak in all of Florida. Don't be fooled by its breathtaking waterfalls and beauty, because this volcano holds a clear tube of its 200 foot water slide. 
Krakatau Aqua Coaster
 A must-do family-friendly slide that'll pull a four-person canoe through an exciting journey throughout the volcano. 
Ko'kiri Body Plunge
Not for the faint of heart. This thrilling slide plunges riders down 125 feet through a cool splash-worthy pool. 
Wave Village
Located at the bottom of Krakatau Volcano, Wave Village is the perfect space for park goers to swim and hang out by the sand. There's plenty of seating for those looking to veg out, and the wave pool itself is plenty big for everyone to have some fun in the ongoing waves. 
Ohyah and Ohno Drop Slides
Race someone to the pool with these two twisting slides! Plan to cannonball directly into the pool from four to six feet above the water. Definitely recommended for strong swimmers seeking a thrill. 
Kopiko Wai Winding River
We can't send you to Volcano Bay without telling you to take a lap around the lazy river! This breathtaking journey passes through hidden caves and features fun water effects, as well as beautiful evening lighting. 
Related post: Complete Guide to All Universal Studios Orlando Height Requirements
Volcano Bay Lockers and Towel Rentals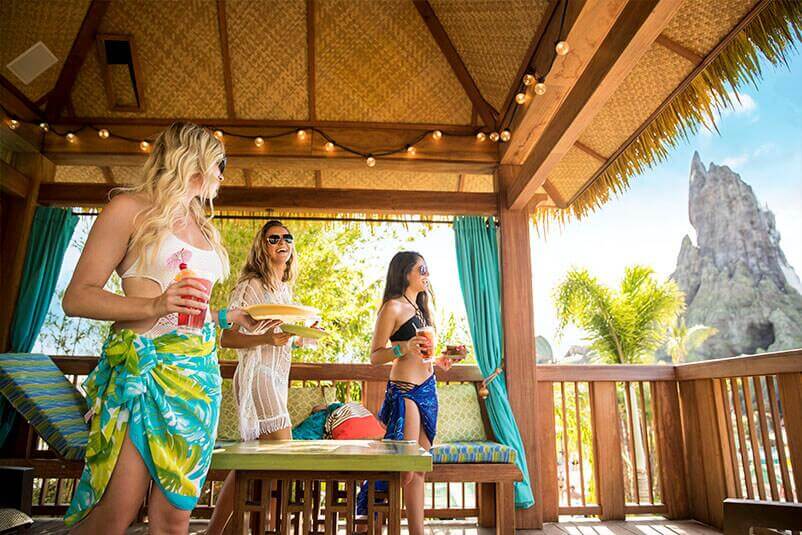 If you're planning on spending a lot of time at Volcano Bay resort, you might be wondering if there is place to store your things. Volcano Bay luckily comes equipped with rentable lockers and other amenities for a small feel for guests visiting.
Does Volcano Bay have lockers?
Yes, Volcano Bay does have lockers and can be rented for a fee. Volcano Bay Lockers can be rented starting at $12.00 per day. Universal Orlando has made improvements over the past few years to have more lockers throughout the parks.
Does Volcano Bay have towels?
Towel rentals are available at Volcano Bay starting at $6.00 per day. It's important to note you can of course bring your own towel for free!
Related Article: A Guide to Volcano Bay Cabanas at Universal Orlando
Volcano Bay Restaurants and Dining 2023
First and foremost let us preface this section with a quick history lesson—the Waturi people loved to cook and experiment with flavors. Their unique island-inspired cuisines are not to be missed.
What are the Volcano Bay Orlando restaurants?
The Feasting Frog
Kohola Reef Restaurant
Bambu
Kanuku Boat Bar
The Feasting Frog
 Shaped like a frog, this quick service snack shop serves delicious grab and go delights like the Poke Poke Bowl, Taco Sampler, and our personal favorite, Plantain Chips and Guac. However, if you're looking for anything more than just a light bite, we'd recommend checking out another option mentioned below. 
Kohola Reef Restaurant
For anyone craving some tangy island flavors, this is the place to be. Prepare your tastebuds for Coconut Crusted Fried Chicken, Mango BBQ Pulled Pork, and so much more. 
Bambu
Tucked away towards the back of the park, this quick service restaurant packs burgers, sandwiches, salads and more. 
Kunuku Boat Bar
Kick back, relax and enjoy a warm Orlando breeze with an ice cold beverage! At Kunuku, you'll find delicious frozen drinks, specialty cocktails, beers and fountain sodas. Bottoms up!
Related Article: Complete Guide to Harry Potter Restaurants 
2023 Universal's Volcano Bay Cabanas and Premium Seating
For guest's looking to relax in this beautiful water park oasis, we recommend renting one of the Volcano Bay Cabanas or Premium Seating options. 
Volcano Bay Premium Seating
Premium seating is located near the wave pool and lazy river. Guest's can enjoy padded lounge chairs with an adjustable umbrella for shade. The best part is guests can book their TapuTapu reservations from the comfort of their own seat.
All premium seats come with a storage lock box for valuables, and have access to wait service who can serve you food and drinks. Premium seating pricing starts at 49.99 per day (excluding tax) and fluctuate based on the time of year.
Volcano Bay Cabanas
A private family suite cabana offer guests an experience of a life time. You can choose from your choice of one or two story cabanas with VIP concierge service. These family units include padded loungers, privacy, and complimentary water and snacks. You will also have access to special food and drink items delivered directly to your cabana, all while you enjoy access to all of the amazing Volcano Bay water rides.
How much is a cabana at Volcano Bay?
Just like Universal's Premium seating guests will not have to leave their cabana to book TapuTapu reservations. Prices for Volcano bay cabanas start at 199.99 per day (excluding tax) for one story cabanas which hold up to 6 people and 599.99 (excluding tax) for two story which hold up to 15.
It's important to note that we do expect the Volcano Bay Cabana prices to change in 2021.
Universal Volcano Bay Cabanas can be booked by calling 877-801-9720.
Related Article: Complete Guide to Volcano Bay Cabanas 
Universal Volcano Bay's TapuTapu (Express Pass)
One of the main reasons we don't feel a Universal Express Pass is for every family is the TapuTapu system at Volcano Bay. The TapuTapu wristband is included with your park admission. There's a lot of benefits of TapuTapu to utilize here, so we've listed them here for you so you remember to try them out!
2023 TapTu Rides
The original and most well-known use of the TapuTapu system is the TapTu Ride Virtual Line.
Each Volcano Bay guest is given a TapuTapu wristband once they enter the park. (These are similar to a larger fitbit)
Next to the entrance of all water slides there will be a bunch of screens showing the virtual wait time for that ride. (If there is no wait the screen will say Ride Now)
Guests simply tap their TapuTapu to the screen and you will be added to the virtual que. Your TapuTapu will track which ride you are on a virtual line for and how much time remaining.
You will then be notified when it is your time to ride!
TapTu Pay
The TapuTu Pay system will act as your wallet for the day, because who likes to pay with wet money?
Simply follow these steps:
Create your Universal Orlando account using the official app before you go.
Link all members of your family to their

Volcano Bay Universal Studios tickets.

Enter your credit card information and set spending limits for each member.
Create a pin the whole family will remember.
You're all set! Once you enter the park and receive your TapuTapu your account will be linked for the day.
TapTu Snap
In addition to the usual attraction photos, TapTu Snap introduced three different photo ops throughout the park. Your TapuTapu wristband automatically uploads them to your account, where you can choose to buy them. Even if you don't purchase anything, you can still have fun taking the photos!
The photo ops are on your right as you first enter the park, across the way from Kohola Reef Restaurant, and near the Honu ika Moana ride entrance.
TapTu Lockers
Knowing how often water park guests lose locker keys and codes, Universal stepped up their game by including locker management in the TapuTapu wristband. All you have to do to open it is – you guessed it! – tap the sensor of the section your locker's in. Your locker will then swing open. You do have to pay to rent a locker, but you don't have to do so. If you do, you can link the same locker to four different wristbands.
Related Article: Complete Guide to Universal Volcano Bay Cabanas 
Does Volcano Bay Have Heated Water?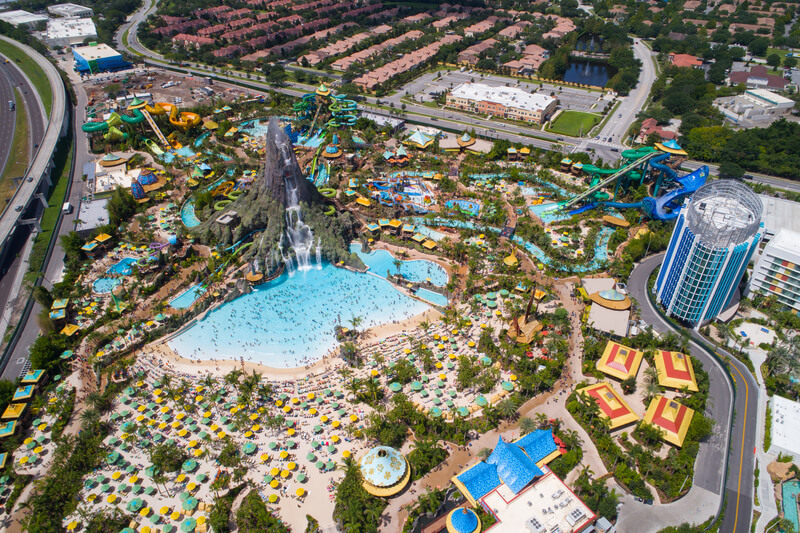 Another important question we receive is, does Volcano Bay have heated water? And, Yes!  Volcano Bay does heat their water at the theme park all year round. Universal understands guests travel from around the world to visit the theme parks. For this reason they make sure to have a all of the water at the rides as well as the wave pool heated for guests.
Related post: Complete Guide to All Universal Studios Orlando Height Requirements
2023 Universal Studios Orlando On-Site Hotel Benefits For Volcano Bay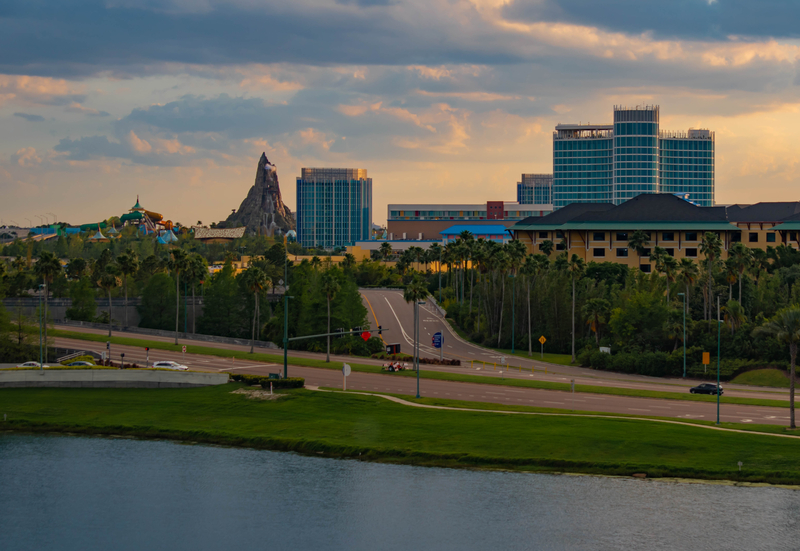 Who doesn't love hotel perks?! By staying at a Universal Orlando Resort, you'll be granted Early Park Admission to Volcano Bay. How early? One whole hour!
We can't stress enough how important this is for guests. All of the water slides are virtually walk on, and you can very well ride up to 7-8 of the most popular slides. This will leave plenty of time to relax in the lazy river or rent a cabana for the rest of the day. Be sure to check out the article we did on the Pros and Cons of all of the Universal Orlando hotels! We even include the distance to Volcano Bay water park if you are looking to be in walking distance for easy access.
Is there On-Site Transportation to Volcano Bay?
Volcano Bay is located directly across from the Cabana Bay Beach Resort and Sapphire Falls Resort making it a quick walk to the water park.
Free transportation will be provided for guests staying at all other Universal Orlando Resorts. Guests parking for the day at Universal Orlando parking garage can take a bus to Volcano Bay water park for free!
Related post: Complete Guide to Water Rides at Universal
2023 Volcano Bay Parking
Given it's unique location nestled between two Universal Hotels, Volcano Bay shares its parking garage with the other theme parks. Guests traveling to Volcano Bay can simply add Universal Studios parking into their navigation. You will be directed towards the two main parking garages connected to Universal's City Walk.
Once you arrive at the Universal park garage guests will receive free shuttle transportation to the water park Simply look for the signs that say "Volcano Bay" or ask a Universal team member. Be sure to check out our complete guide to Universal Orlando parking for additional information!
What is Volcano Bays Rain Policy?
Another popular question we receive is, what is the Volcano Bay rain policy? And officially the current Volcano Bay rain policy is all Universal Orlando Volcano Bay tickets are non-refundable even in the event of rain. In the event that it does rain during your day at Volcano Bay Universal will still keep a majority of its water rides open with the only exception being if there is thunder and lightning in the area. However even in the event of lightning, all guests will be escorted to covered and protected areas until the weather passes and there is still no refund policy for rain.
One tip that we can give to avoid dealing with a Volcano Bay rain policy is to plan around increment weather. As long as you do not enter the theme park you will not lose an admission day. So if you feel like rain might be an issue during your trip to Volcano Bay we would suggest moving your day you plan to visit that theme park, or simply wait and see what the weather looks like for that day.
Related Post: Is the Universal Express Pass Worth it? 
2023 Volcano Bay FAQ

Q: Are There Height Restrictions for Universal's Volcano Bay Rides?
A: Yes, some rides do require guests to be between 42 and 48 inches tall in order to ride along with a supervising adult. (This is included for the Kopiko Wai Winding pool which requires young guests to wear an approved life vest) Guests over 48 inches tall can go on all rides with the exception of the kids slides.
Q: Are There Weight Restrictions for Universal's Volcano Bay Rides?
There are maximum weight limits for a few rides. Maximum weights are always displayed at the ride's line entrance. Generally, it's about 300 pounds for one-person rides and 700-1,050 pounds of combined weight for multi-person (2-6) raft rides. The only exception to this is the two-person tubes on Taniwha Tubes, which has a limit of 450 pounds in combined weight.
Q: Is Universal Volcano Bay Open All Year?
A: Yes! Almost all of the pools and attractions at Universal's Volcano Bay are heated. This allows the water park to stay open from summer all the way through winter.
Q: Is Volcano Bay Included in Universal Park-to-Park Passes?
While you cannot choose Volcano Bay as one of the two parks in the one-day two-park ticket (you can only do this with Universal Studios and Islands of Adventure) you can select three-park passes if you're visiting over the course of two or more days. Check out our Universal Orlando Tickets page for more information on multi-park passes and to get the best Universal ticket prices!
Q: Does Universal Volcano Bay Provide Towels?
A: Yes, towels are available for rent for an additional $6.00 per day.
Q: What Time Does Universal Volcano Bay Open?
A: Universal's Volcano Bay opens up most mornings at 9:00 AM, unless of course you purchase your tickets from The Park Prodigy and you receive admission one hour early!
Q: Can You Walk from Universal Studios to Volcano Bay?
A: Free shuttle service is available from Universal Studios City walk to Volcano Bay.
Q: Can You Wear Shoes on the Waterslides at Volcano Bay?
Volcano Bay does allow guests to wear water shoes on some of their rides. In certain situations where shoes are not allowed on the ride guests can easily store their items in nearby lockers. Universal has also designed many walk paths in the water park to stay cool with misters. Guests can also conveniently hop along the lazy river to get to their final destination.
When Is The Best Time To Visit Universal Orlando?
Our Universal Orlando Crowd Calendar is the best tool to help you get the most out of your time in the parks. We breakdown the park crowds, park hours of operation, ticket prices by day, and average temperature.
Are You Ready to Plan Your Next Universal Orlando Trip?
If you're ready to plan your trip to Universal Studios, be sure to check out our Universal Orlando Tickets! Not only will you save money vs buying direct, but all of our Universal Orlando tickets come with some amazing benefits which can help save you up to three hours in the parks! 
And to stay up to date on everything going on inside the theme parks be sure to check out our partners at Themeparktoday.com!