A Guide to 2023 Volcano Bay Cabanas at Universal Orlando
A Guide to 2023 Volcano Bay Cabanas at Universal Orlando
This blog post is your complete guide to 2023 Volcano Bay Cabana rentals! Universal's Volcano Bay is a tropical-themed water theme park meant to tie in relaxation with adventure. If you're looking to boost your relaxation while you're soaking up the Florida sun, then you're in luck! Because Universal Studios is looking to help you out. In this article we are going to cover how to rent a cabana at Volcano Bay, Volcano Bay cabana prices, and all of the other Volcano Bay amenities included in your rental.
We hope you find this post helpful! Our goal at The Park Prodigy has always been to help you save time and money on your next Universal Orlando vacation!  If you are planning a trip to Universal Orlando be sure to check out the latest deals on Universal Orlando vacation packages and our discounted Universal Orlando tickets!
So if you're ready to learn everything you need to know about renting a cabana at Volcano Bay read on!
SPECIAL NOTE: If you need help picking the best time to visit Universal Orlando for your next vacation be sure to check out our Universal crowd calendar!
 Universal Orlando Crowd Calendar
Types of Seating at Volcano Bay 2023
The options for 2023 seating at Volcano Bay are endless. If you're not looking for a premium seating option, there are a couple of different choices you can choose from (including floating in the lazy river all day!). But prepare to arrive early, as the Volcano Bay lounge chairs are not available for reservation and are based on a first come, first serve basis. For premium seating however, there are two premium Universal add-ons when relaxing in paradise.
What are the Volcano Bay premium seating options?
Premium Seating lounge chairs
Universal Orlando Private Cabana
Can I get a great seat without paying a premium?
Yes! As discussed above one of the easiest ways to make sure you grab a great lounge chair is to arrive early. Luckily for all Park Prodigy clients you can do that with our Universal Early Park Admission tickets. These tickets will grant you access to Volcano Bay before regular park guests. As you can imagine with this extra time in the park you'll have your choice of some of the best lounge chairs Volcano Bay has to offer!
Related Page: Volcano Bay Early Park Admission Tickets
2023 Private Volcano Bay Cabana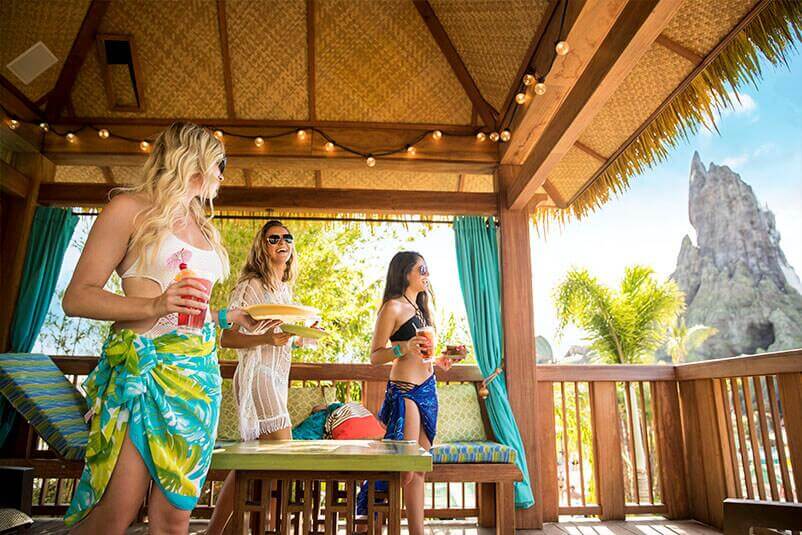 Maybe waking up early to grab a complimentary lounge chair is not an option for you. Or perhaps you want relax in peace with only your party. The best bet for both situations would be to choose a Universal Studios cabana rental. These private Volcano Bay rentals come in one or two-story variations and are located throughout the park. As you first enter Volcano Bay water park, a concierge will greet you and guide you to your oasis. You also receive a GET, or Guest Experience Transformation tablet. This allows you to book and modify your place in all of the various attractions' Virtual Lines in the comfort of your own private cabana and padded lounge chair. Talk about no-stress planning! If you aren't sure you want to rent a cabana at Volcano Bay yet, the amenities might change your mind!
What is included with a Universal Cabana rental?
Padded lounge chair, 2 regular chairs
Table with checkerboard
Concierge service (Food, drink, towels or other requests)
Small fridge
Storage locker
Ceiling fan
Privacy curtains
Music
Guest Experience Transformation Tablet – book virtual lines while you sit in your cabana!
Amenities can sometimes make or break a decision to purchase an add-on experience. But rest assured, the private cabanas at Volcano Bay amenities do not disappoint. Our favorite amenities include the towel service, padded lounge chairs, the complimentary fruit and snack basket, a small fridge filled with bottled water, and the concierge service. To top it off, a private Volcano Bay cabana rental offers the chance to get any item from the park's four restaurants or two bars.
2023 Volcano Bay Premium Seating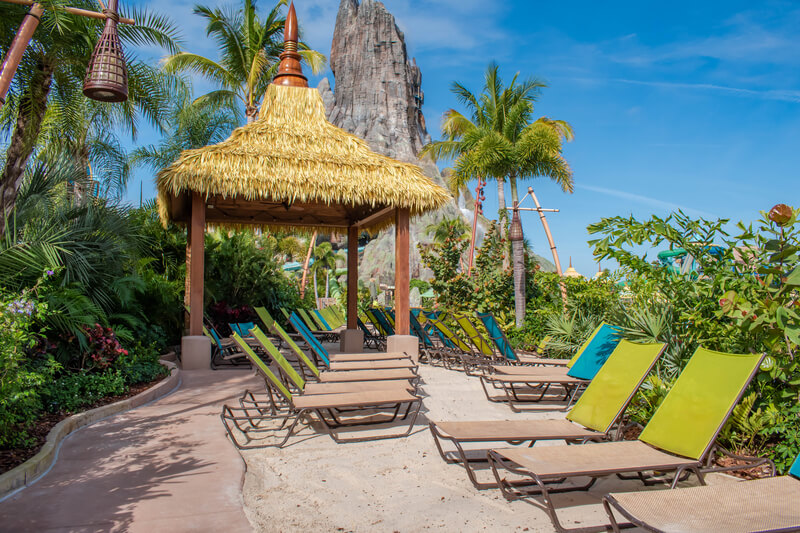 Maybe a private cabana is more than you need. There are also premium seating Volcano Bay rentals located throughout the park. Premium seating allows you your own sheltered area. Although not enclosed like the private Volcano Bay cabana, it's still a good option if you want to keep to yourself. Premium seating also includes padded lounge chairs as well as an adjustable shade canopy. Plus, there's a built-in storage lockbox for when you feel like getting up and dipping your toes. Some Volcano Bay premium services include meeting an escort who will guide you to your reserved seating area, and getting an attendant who takes care of your food and drink orders.
Related Article: Ultimate Guide to Universal Volcano Bay 
Different Types of Volcano Bay Cabanas
There are actually two different types of cabanas at Volcano Bay – the single cabana and the family suite. There are only 51 cabanas at volcano Bay total, and they go quick. So, make sure to book them as soon as possible!
Volcano Bay Single Cabana:
A Volcano Bay single cabana holds up to six people and comes in a couple different options. The most private is the stand-alone cabana. Another option is the first or second floor of the two story units. Each cabana has two chairs to sit in and one large padded lounge chair. Three sides of the cabana are draped in curtains that can close off for more privacy. The entrance and exit of the cabana however, do not have a curtain. The last feature of the single cabana is the large ceiling fan which you can turn on or off.
Volcano Bay Family Suite:
A family suite cabana holds up to sixteen people and is your own stand-alone building. But book this cabana fast! There are only 2 family suite cabanas located at Volcano Bay. The family suite comes with 8 chairs, two large padded lounges, and an expandable dining table. We think if you're headed to Universal Volcano Bay with a large group, a family suite cabana may be the more price efficient option.
How Much are the Cabanas at Volcano Bay?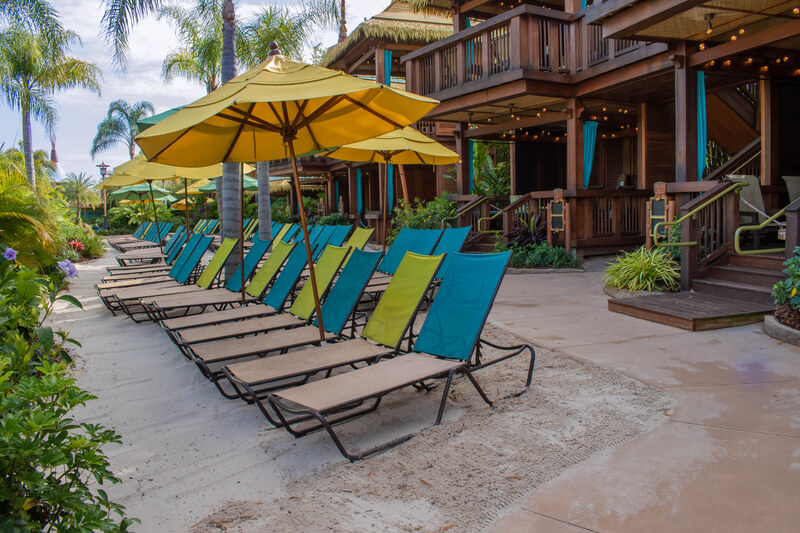 How much are cabanas at Volcano Bay? 2023 Volcano Bay cabanas prices vary and have been known to change due to demand and availability. Both the single stand-alone and double unit rentals can start at around $200 but can increase to $800 per day. The upper level cabana is going to be on the higher end, of that price quote. However, Universal does guarantee spectacular views from that level.
Prices for the family suite start at around $299.99 and can go up to $1200. The family suite cabana can hold up to 16 people.
Call 1-877-801-9720 for pricing and reservations.
How much are 2023 Volcano Bay Cabana Rentals in summer?
If you're looking to visit in the summer, the pricing for the Universal cabanas are much higher than they would be during the rest of the year. You're going to look at the higher pricing such as, in July, you might be quoted in the $500 – $800 range for the standard cabana. For the family suite cabana, you will be looking at $1000 or higher.
Want to know when Volcano Bay cabanas are going to be the cheapest? One of the easiest ways to pick the best time to visit Universal is to compare the cheapest Universal Orlando ticket prices. The cheaper the tickets the more likely it is that Volcano Bay won't be as crowded during that time of year which will result in cheaper cabana prices.
Related Page: Discount Volcano Bay Tickets
Discounts for Volcano Bay Universal Cabanas
If you want to score discounts to lower the Volcano Bay cabana rental cost, wait until later in the day. If the previous renters of the cabana leave early, Universal will offer you the cabana with 30% off. Sounds like a risk worth taking!
Volcano Bay Cabana Discounts from The Park Prodigy
We are currently running a promotion where all guests who purchase any 2 Day or more Universal Orlando tickets from The Park Prodigy will receive an additional $25 visa gift card to use towards your Volcano Bay Cabana. The best part is all of our Universal Orlando Tickets are already discounted. Plus all guests who purchase their Universal Orlando tickets from us will receive Early Park Admission to the Wizarding World of Harry Potter!
Best Cabanas at Volcano Bay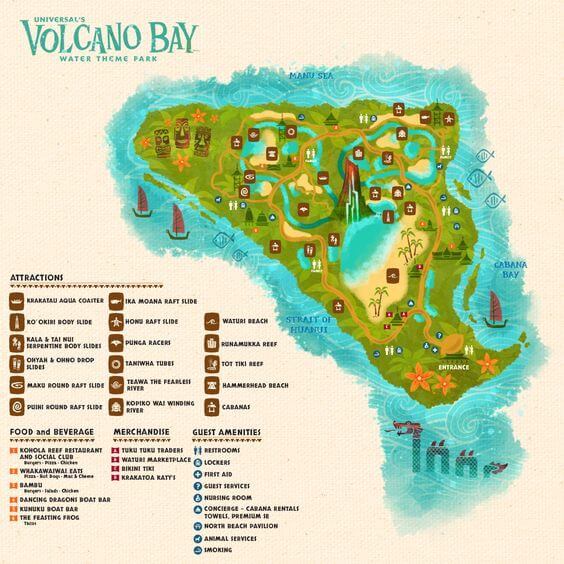 If you look at a Volcano Bay cabana map, you'll see that these cabanas are spread throughout the park. It's important to note that when you make a cabana rental at Volcano Bay, you do not get to choose where you want to sit. However, you will be able to request a location at check in, so it's helpful to look at the Volcano Bay seating chart and note ahead of time which location you'd like to sit at.
2023Volcano Bay Premium Seating Prices
Premium seating prices also differ depending on when you go during the year, as well as time. For two loungers, the price starts at $49.99 per day but can range upwards of $139.99. Since these prices for premium seating are date-based, the price can change exponentially depending on when you visit.
How do You Rent a Cabana at Volcano Bay?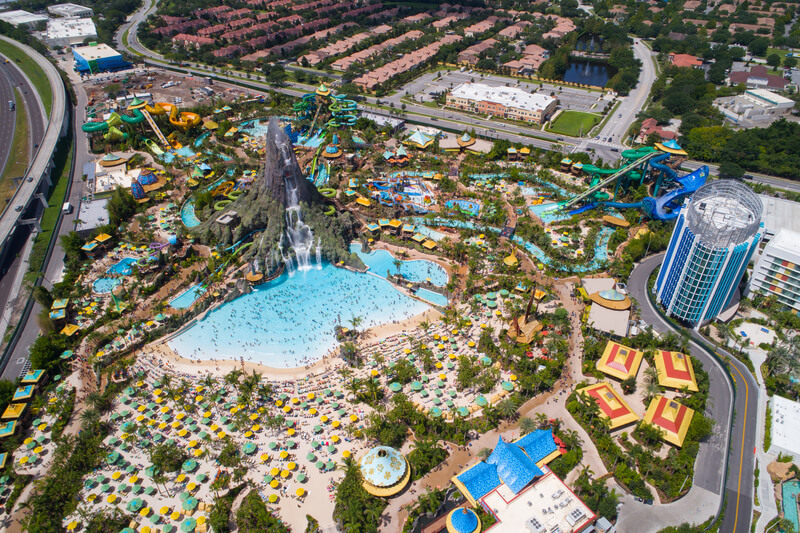 Since the Universal Orlando cabanas are a hot commodity, they sell out FAST. With that being said, call the Universal reservations line at 1-877-801-9720 as early as you can to reserve a cabana at Volcano Bay. Preferably, when you purchase your Volcano Bay tickets. You cannot go online to reserve or purchase a Volcano Bay cabanas.
Book Premium Seating at Volcano Bay 2023
Similar to how to rent a cabana at Volcano Bay, you must call the reservation line. Don't forget, these are two loungers per premium seating, so make sure you know what you want to purchase!
How Far in Advance Should I Book my Universal Cabana or Premium Seating?
Universal's Volcano Bay has been one of the hottest tickets in all of Orlando. So much so that guests have had a difficult time purchasing one day tickets at times. For this reason, we always recommend to book your Volcano Bay cabana or premium seating as early as possible! It's not worth risking it, especially if you know you absolutely want to upgrade your day in the park.
The Park Prodigy will even help you book your Volcano Bay cabana for you if you are a Universal vacation package client!
When Is The Best Time To Visit Universal Orlando?
Our Universal Orlando Crowd Calendar is the best tool to help you get the most out of your time in the parks. We breakdown the park crowds, park hours of operation, ticket prices by day, and average temperature.
Are You Ready to Plan Your Next Universal Orlando Trip?
If you're ready to plan your trip to Universal Studios, be sure to check out our Universal Orlando Tickets! All Park Prodigy Universal Orlando tickets will get you into the park one hour before regular park guests with Universal Early Park Admission!