The 7 Best Rides at Universal Orlando Ranked 2022
The 7 Best Rides at Universal Orlando Ranked 2022
This is your complete guide to the best rides at Universal Orlando 2022! Universal Orlando is hands down the winner of Florida theme parks when it comes to thrills and adventure. Especially in the last few years, Universal Orlando's rides have pushed the boundaries with ground breaking technology. The Universal roller coasters alone are worth a trip down to Florida, with the addition of Hagrid's Motorbike Adventure and Velocicoaster.
In this article, we are going to talk about and rank the top thrilling rides that you can experience while visiting Universal Orlando Resort. So if you are ready to learn all about the best rides at Universal Orlando, read on!
SPECIAL NOTE: If you need help picking the best time to visit Universal Orlando for your next vacation be sure to check out our Universal crowd calendar!
Universal Orlando Crowd Calendar
Best Universal Orlando Rides Ranked 2022
Whether it be high-speed coaster, or action packed simulators, Universal attractions are bound to keep you on the edge of your seat. Between the two parks at Universal Orlando, you can spend days adrenaline seeking due the sheer amount of high intensity rides. But, how really scary are these rides? As avid theme park goers, we can assure you that Universal Florida rides are worth the screams.
Plus some of the rides are included with the Early Park Admission that comes with all discount Universal Orlando tickets sold at The Park Prodigy. This means you can check out some of the best rides at Universal without getting caught in those long lines.
It's important to note that around half of all Universal Orlando's rides have a 40 inch or taller height requirement, making them not suitable for little riders. This is mainly due to the combo of Universal's innovative ride designs, which are usually a combination of simulation and extreme thrill tech. Universal has the biggest and baddest rides in all of Central Florida, and we are here to rank them for you! We are going to be talking about both Universal parks, so to help understand where each ride is located, we are going to list out where each ride is located.
What are the best rides at Universal Studios Orlando ranked?
Harry Potter Escape from Gringotts
Dr. Doom's Free Fall
Revenge of the Mummy
Rip Ride Rockit Coaster
Hulk Coaster
Hagrid's Motorbike Adventure
Velocicoaster
Best Universal Thrill Rides for Early Park Admission?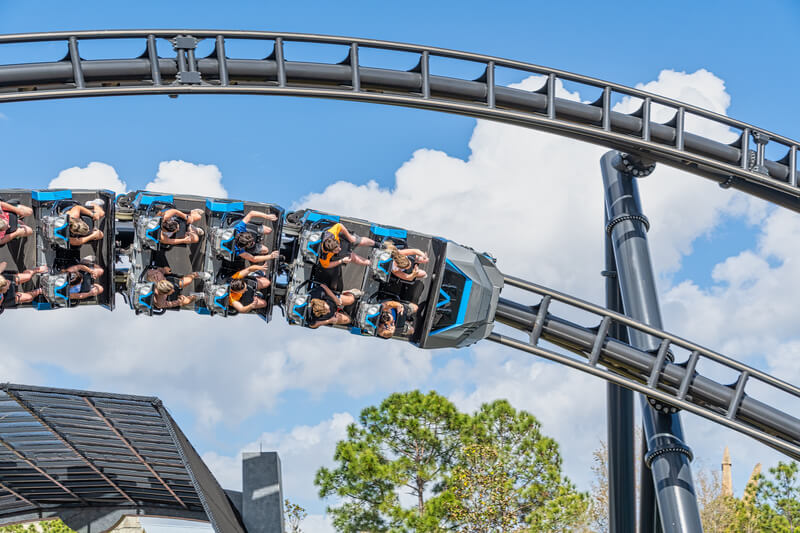 Did you know that all tickets purchased from The Park Prodigy includes early park admission to Universal Orlando? This extra hour is specifically geared towards the Wizarding World of Harry Potter making it very popular among vacationers. To make sure you are as prepared as possible here is the list of the best Universal rides to use during that Early Park Admission! 
Best Universal Rides for Early Admission Ranked 
The VelociCoaster 

Harry Potter and the Escape From Gringotts 

Harry Potter and the Forbidden Journey
#7 Harry Potter Escape From Gringotts – Best Rides at Universal Orlando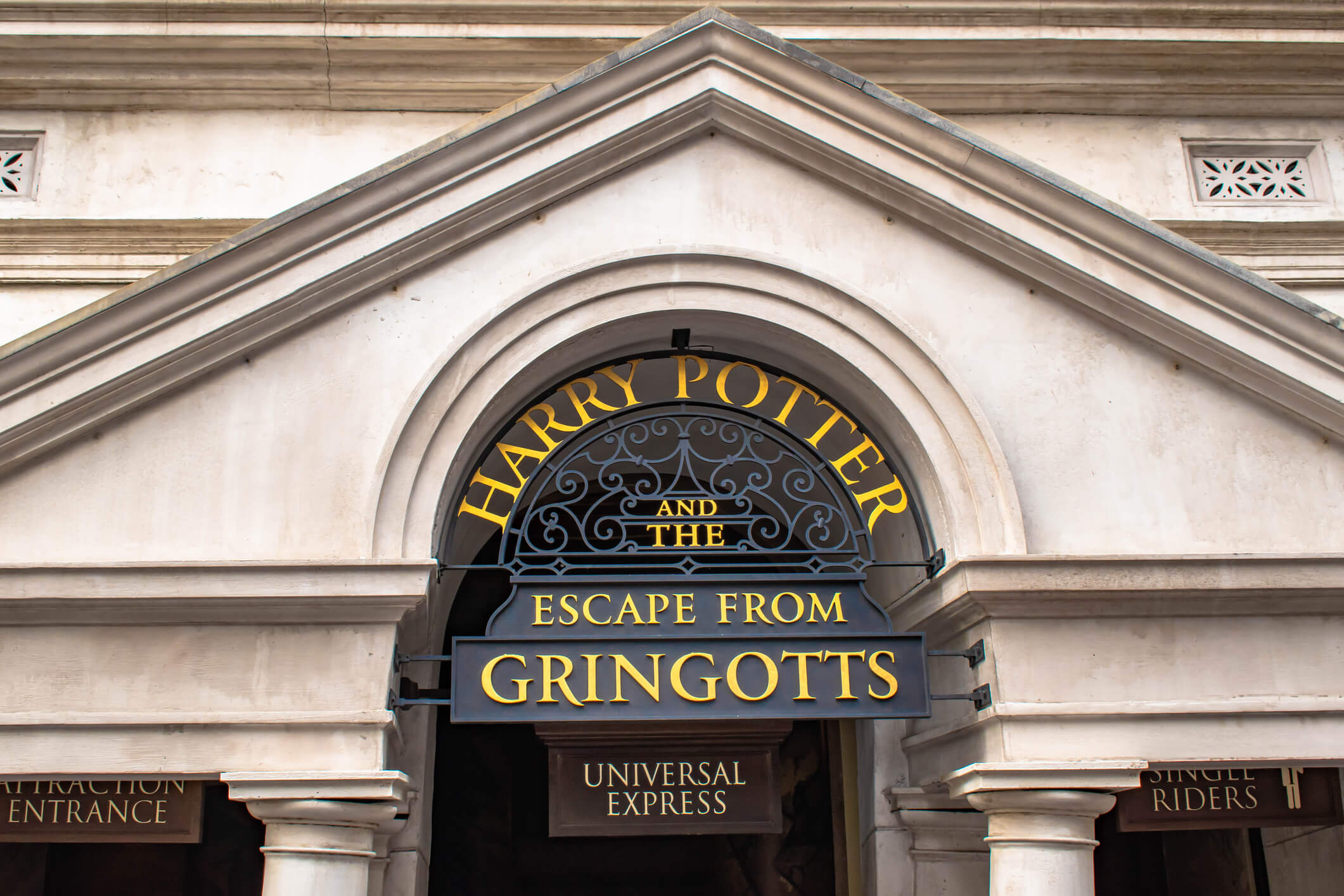 Harry Potter Escape from Gringotts is one of Universal Studios Florida rides that combines an array of technology such as 3D screens, coaster tracks and amazing story telling. This ride is nestled in Diagon Alley and features all of our favorite Harry Potter characters following the story in the Deathly Hallows film. The reason why this Universal attraction come in at number 7 is that while it is thrilling, it definitely is suitable for kiddos, too.
As one of Universal Studios new rides, so you can expect there to be innovative surprises throughout the attraction. So, dive into the Gringotts vaults, battle Lord Voldemort and ride on the back of the dragon with this Universal Orlando thrill ride. Escape from Gringotts is definitely one of the best rides in Universal Studios.
#6 Dr. Doom's Fear Fall – Best Thrill Rides at Universal
Dr. Doom's is across from Universal Studios over at Islands of Adventure park and packs a punch for those afraid of heights. This ride will pump adrenaline as you're testing out Doctor Doom's newest weapon to suck the fear right out of your soul. This ride launches you into the sky and then lets you free fall back down the earth causing for an explosion of butterflies in your stomach.
Doctor Doom's Fear Fall is one of the most thrilling rides Universal Orlando has to offer on just height alone. Who isn't afraid to plunge straight into the ground? So if you're looking for a major rush, jump on our number 6 most thrilling ride at Universal.
#5 Revenge of the Mummy – Best Rides at Universal Studios Orlando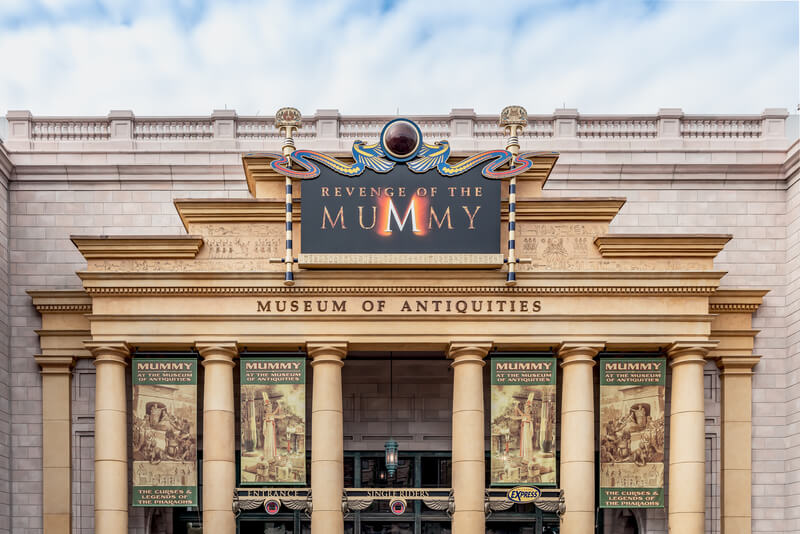 When it comes to Universal Studios thrill rides, The Mummy is at the top of the list. The Mummy ride at Universal has some of the older animatronic technology that has stood the test of time and made this ride a fan favorite. You start the ride traveling through the riches and ruins of The Mummy sets, being tempted by treasure rooms and then being attacked by scarabs.
From there this Universal thrill ride quickly turns into a rollercoaster and blasts you right through the mouth of The Mummy. The coaster portion of this ride is not that long, but we love it! That's why Revenge of the Mummy comes in at number 5 on our list of best rides at Universal Orlando!
Don't forget to bring Brendan his coffee!
#4 Rip Ride Rockit Coaster – Universal Thrilling Rides
Rip Ride Rockit is technically the only Universal Studios roller coaster offered in the nostalgic park. From the outside, this coaster looks to be one of the scariest rides in Universal Studios, with its extreme 17-story vertical lift and a deep, intense drop. You can rock out while riding along on this coaster, through twist and turns even entering Universal Studios' backlot area!
While this coaster is thrilling, it is also rather outdated and has no inversion loops. It's definitely worth a shot if you're looking for Universal Studios Orlando rides that'll get your heart pumping.
#3 Hulk Coaster – Universal Thrill Rides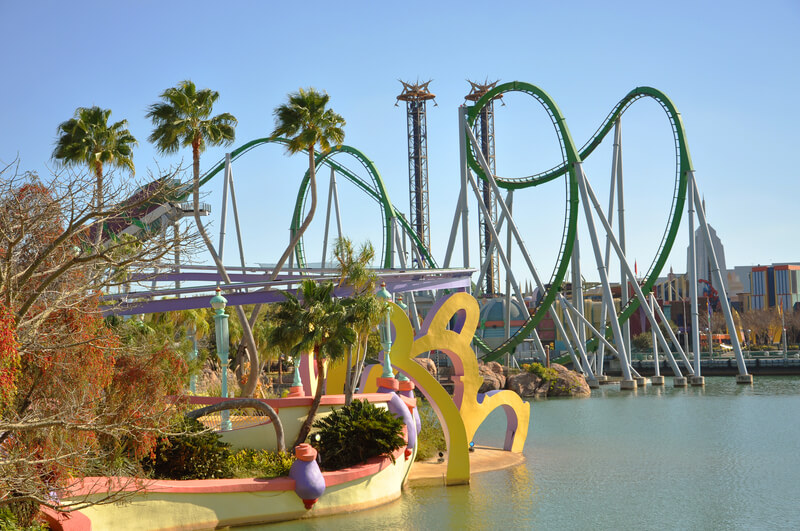 The Incredible Hulk Ride in Universal Orlando is a wild coaster that is featured in Islands of Adventure park on Marvel Island. This is one of Universal's biggest rides featuring inversions, a zero-G roll, a cobra roll and several vertical loops. Launching guests at 67 mph, the Incredible Hulk ride in Orlando is extremely intense and is not for the faint of heart.
Even if you aren't a huge Marvel fan, the Hulk ride will still entice those who are looking for a pure rush. It also isn't one of the newer Universal Orlando rides, so the wait time might not be as bad as others. That's why the Incredible Hulk is number 3 on our list of best thrill rides in Universal Orlando.
#2 Hagrid's Magical Creatures Motorbike Adventure –  Universal Orlando Thrill Rides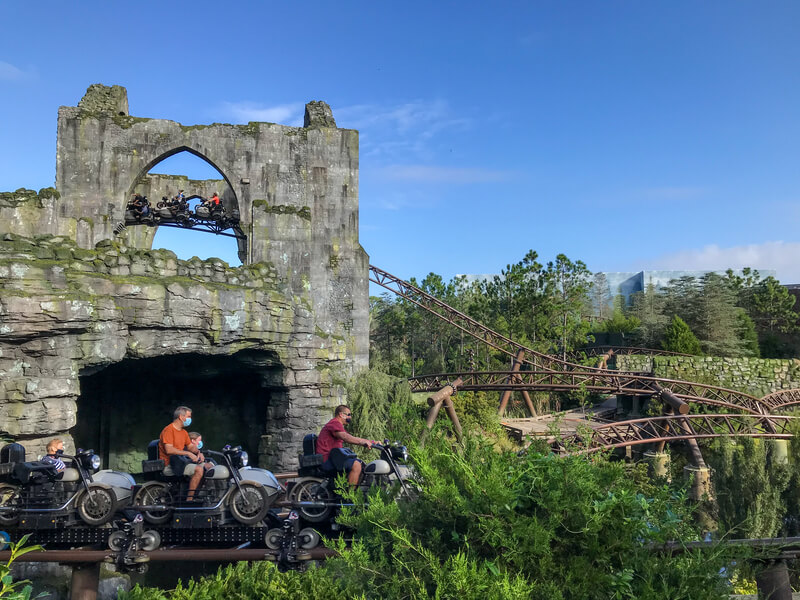 Hagrid's Motorbike Adventure might not be our number one most thrilling ride in Universal Orlando, but it is definitely our favorite! It is one of Universal Orlando's new rides and has stolen the hearts of thrill seekers and Harry Potter fans alike. Located in Hogsmeade Village, it is the perfect addition to the Wizarding World of Harry Potter. The different moving parts of this ride makes it a one of a kind attraction, pushing it to the top of our list.
This ride won't knock your socks off with fear, but with fun and magic! The backwards thrills, high speed bursts and magical creature sightings are what make this one of the best rides in Universal Orlando! You will be entertained the entire time and we guarantee you will leave this ride with a huge smile on your face.
#1 Velocicoaster – Universal Florida Thrill Rides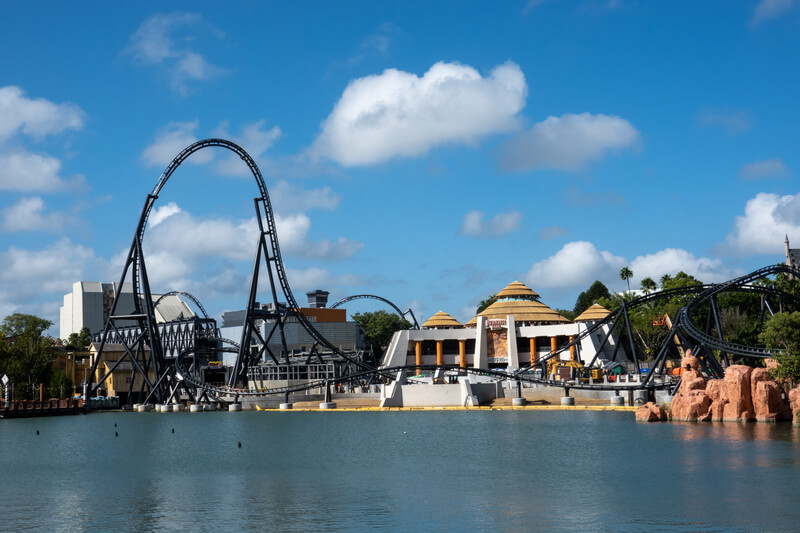 Coming in at number on is the Velocicoaster, which is the newest ride at Universal Orlando Resort. It is now the most popular Jurassic Park ride in Orlando, and takes the cake when it comes to thrill. You can find this intense coaster in Universal's Islands of Adventure where it remains ready to launch you into danger.
This intense attraction is probably the scariest ride in Orlando, with two launches over 50 mph, a 100-foot long zero g-stall, and various drops, turns and loops. You'll be dangled upside down over water, twisted through various rocks and trees while being chased by beloved velociraptors. This ride is not for the faint of heart and quite easily takes the title of the best thrill ride at Universal Orlando.
Which Universal Orlando Park is Better for Rides 2022?
A very common question we receive when guests are asking about the best Universal rides is, which Universal Orlando park is better for rides? And we think this is an easy one with Islands of Adventure being the best park at Universal Orlando for rides. The main reason is it is home to the two newest thrill rides at Universal with Hagrid's Magical Creatures Motor Bike Adventure and of course the VelociCoaster.  
When Is The Best Time To Visit Universal Orlando?
Our Universal Orlando Crowd Calendar is the best tool to help you get the most out of your time in the parks. We breakdown the park crowds, park hours of operation, ticket prices by day, and average temperature.
Ready to Plan Your Next Universal Orlando Trip?
Beat the crowds with our discount Universal Orlando tickets! All guests who purchase their tickets from The Park Prodigy will get EARLY PARK ADMISSION to the Wizarding World of Harry Potter absolutely FREE! This could save you a ton of time in the parks and avoid buying express passes!