Complete Guide to Jurassic Park Universal Orlando 2023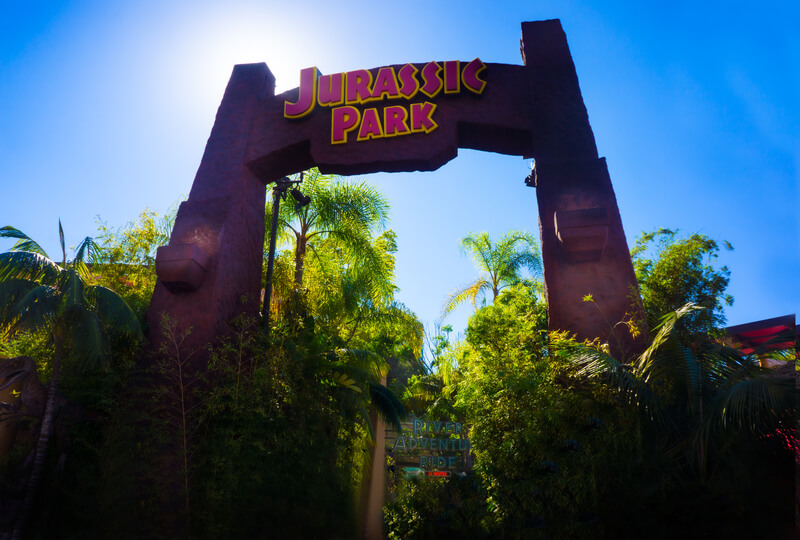 Complete Guide to Jurassic Park Universal Orlando 2023
This article is your complete guide to Universal Studios Jurassic Park 2023. The Jurassic Park franchise has been making a massive imprint on our hearts since it was released in 1993, making dinosaur lovers out of most of us. With the brand new revitalization of the Jurassic Park franchise with the Jurassic World films, guests might be wondering if there is place they can see the action in person. That's why we're here to help you learn about the Jurassic Park themed land, which is a true dino-lover's dream.
As for us, we are huge fans of the franchise and love all of the Jurassic Park rides and can't wait to tell you about them. As Annual Passholders, we became quite familiar with Jurassic Park Orlando and have some great tips to share.
We hope you find this post helpful! Our goal at The Park Prodigy has always been to help you save time and money on your next Universal Orlando vacation!  If you are planning a trip to Universal Orlando be sure to check out the latest deals on Universal Orlando vacation packages and our discounted Universal Orlando tickets which include EARLY PARK ADMISSION to the Wizarding World of Harry Potter!
So if you're ready to learn everything you need to know about the Jurassic Park rides at Universal read on!
Wondering when the best time to visit Universal Studios is? Be sure to check out our crowd calendar!
 Universal Studios Crowd Calendar
What is Universal Studios Jurassic Park 2023?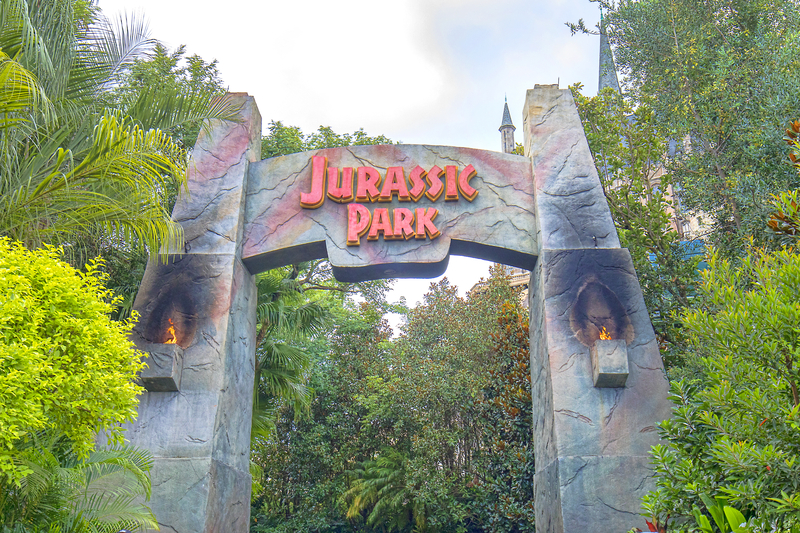 Are you looking to buy Jurassic Park Orlando tickets, but aren't quite sure what you're getting into? Jurassic Park is one of the most popular introductions to our prehistoric pals, the dinosaurs, and has been growing even more in popularity since the creation of Jurassic World. There are 7 movies and a number of books that inspired the Universal Jurassic Park themes, all of which surround the original iconic storyline directed by Steven Spielberg. The original film takes guests to the brand-new wildlife park filled with our extinct dinosaur friends that were created with DNA technology.
That fictional wildlife park was located off of the Pacific Coast on the island of Isla Nublar, and was named Jurassic Park by its creator, John Hammond. We now can visit a real-life, version based off of the books and films at the Jurassic Park in Islands of Adventure in Florida. This version is completely safe and filled with life-like animatronic dinosaurs and rides that have very well-tested safety features unlike the films. That's why we love going to Jurassic Park Universal Studios style, as it tends to be EPIC!
Is Jurassic Park Disney?
In fact it's so popular one of the most common questions that we receive is, is Jurassic park Disney or Universal? And guests will be happy to know that the rights to the franchise characters and the Jurassic Park rides are located in Universal Studios Orlando and Universal Studios Hollywood. In fact the Jurassic park rides at Universal tend to be some of the most popular, including the newest attraction the Jurassic World VelociCoaster at Universal Orlando Islands of Adventure.
Related Page: Shop The Cheapest Universal Orlando Tickets 
Which Theme Park is Jurassic Park in?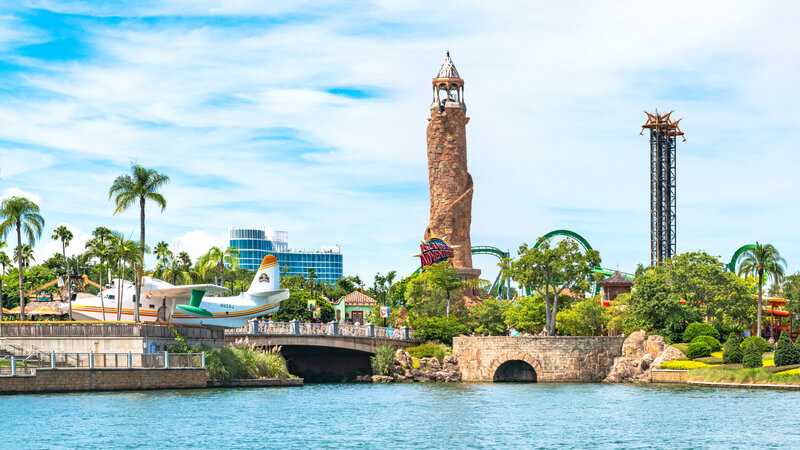 So, where is Jurassic Park?  The main Jurassic World theme park land we are talking about is located within Universal Orlando Resort, at the Islands of Adventure park. The Jurassic Park Islands of Adventure land is full of immersive experiences, blood-pumping attractions, dining options and so much more! In total there are three Jurassic park themed rides located in Universal Islands of Adventure and one main theme park attraction located in Universal Studios Hollywood. Both Jurassic park themed lands are also home to the very popular Raptor encounter with Blue which is a Universal character meet and greet. 
You can find Jurassic Park themed lands or attractions in:
Universal Orlando Resort
Universal Studios Hollywood
What park is Jurassic World in?
Jurassic World is slightly different than Jurassic Park, where they both belong to the same franchise, yet represent distinct fictional parks within the movies' universe. The original Jurassic Park captivated audiences with its awe-inspiring concept, while Jurassic World took the franchise to new heights by introducing a modern and thrilling theme park experience inhabited by genetically-engineered dinosaurs.
In the realm of entertainment, the legacy of Jurassic World and Jurassic Park lives on through captivating attractions. Universal Studios Hollywood boasts the immersive Jurassic World – The Ride, an exhilarating journey that plunges visitors into the heart of the dinosaur-infested world. Similarly, the VelociCoaster at Universal Orlando Resort offers an adrenaline-pumping adventure that perfectly captures the essence of the new films.
While there might not be a comprehensive Universal Jurassic World land at the moment, the existing attractions are a testament to the franchise's enduring popularity. Both Jurassic World – The Ride and the VelociCoaster are meticulously designed to immerse fans in the cinematic universe. So, if you're a devotee of the newer films, these attractions are an absolute must-visit, offering an unforgettable experience within the captivating world of Jurassic Park and Jurassic World.
Related post: Complete Guide on Celebrating a Universal Studios Orlando Birthday
What are the Jurassic Park Rides in Universal 2023?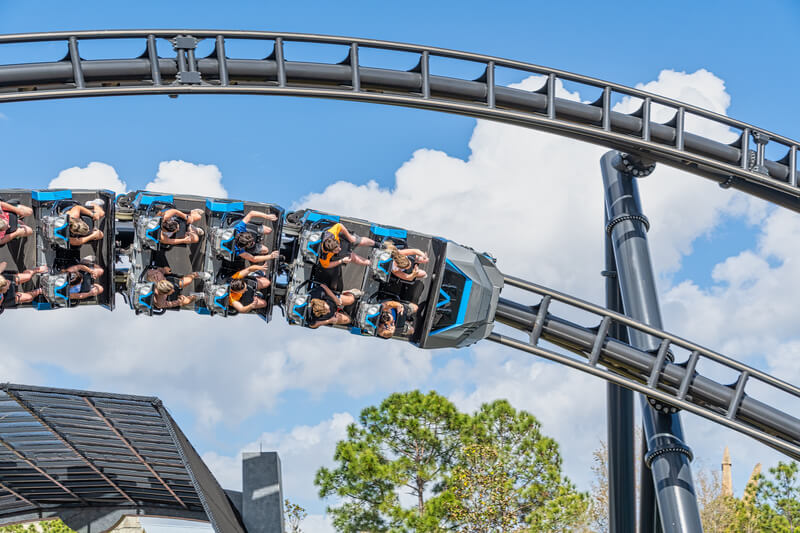 Now let's delve into the exciting realm of Jurassic Park attractions at Universal Orlando, a topic that frequently sparks curiosity among enthusiasts. One of the most common inquiries we receive pertains to the number of Jurassic Park rides present at Universal Orlando. As of now, the Jurassic Park section at Universal Orlando boasts an impressive trio of major attractions: the thrilling Jurassic World VelociCoaster, the immersive Jurassic Park River Adventure, the family-friendly Pteranodon Flyers, and the adventurous Camp Jurassic. It's worth noting that both the Jurassic World VelociCoaster and the Jurassic Park River Adventure tend to draw substantial crowds, often resulting in extended wait times within Islands of Adventure. Thus, it's prudent to approach your day with a well-structured park plan to make the most of your experience
What are all of the Jurassic Park rides at Universal?
Jurassic Park River Adventure
Jurassic World VelociCoaster
Pteranodon Flyers
Curious about the full spectrum of Jurassic Park rides at Universal? If you have a penchant for the classic elements of Jurassic Park, the Jurassic Park River Adventure or the whimsical Pteranodon Flyers are likely to capture your interest. On the other hand, if you're yearning for a Jurassic Park ride that draws inspiration from the exhilarating world of the Jurassic World universe, your destination should be the state-of-the-art VelociCoaster – Universal's newest addition to its array of thrilling rides.
With the rise of the Jurassic World theme park experience, Universal Studios has successfully brought the excitement and wonder of these prehistoric creatures to life. The inclusion of attractions like the Jurassic World VelociCoaster and the Jurassic Park River Adventure is a testament to the enduring appeal of these franchises. Should you find yourself in Orlando, a visit to these rides is a must for any fan of the Jurassic Park or Jurassic World universe.
List of Jurassic Park attractions 2023:
Jurassic World VelociCoaster
Jurassic Park River Adventure
Pteranodon Flyers
Camp Jurassic
VelociCoaster
The VelociCoaster is Universal Orlando's newest addition and is one of the most thrilling rides in all of Orlando. The VelociCoaster is inspired from the Jurassic World films, with Owen Grady and Claire Dearing as your guides through your tour into the velociraptor enclosure. This Jurassic Park ride at Islands of Adventure is all an adrenaline lover needs with two high speed launches, barrel rolls, 155 feet top hat drop and Velociraptors looking to make you their lunch. This new Jurassic Park ride is offered during Early Park Admission too, which is great seeing as that it is one of the most popular rides in all of Universal Orlando Resort.
Jurassic Park River Adventure
The Jurassic Park River Adventure gives us all the nostalgic feels, as you board a bright yellow river raft to give you a tour of the dinosaurs up close. Of course, you can expect a Jurassic Park boat ride to have some dangerous mishaps along the way when you're within an arms distance of prehistoric creatures. It's important to note that this is also considered to be one of the Universal Orlando water rides located in the main two theme parks.
Pteranodon Flyers
This Universal Studios Jurassic Park ride is more for the kiddos, so if you're traveling with little ones, make sure to check it out. Pteranodon Flyers is a slow and gentle swing ride suspended in the air while flying beneath the 10 foot wings of a Pteranodon. Just note that this attraction is only for kids, and adults can only ride if they have riders with them between 36 and 56 inches. You can get amazing view of the Islands of Adventure lagoon while aboard your dino. so if you can, we definitely recommend giving it a shot.
Camp Jurassic
While Camp Jurassic isn't technically a Universal Jurassic Park Ride, it is still an attraction that we highly recommend. If you're looking to cool down or let the kids run off some energy, Camp Jurassic is a giant playground with all the bells and whistles you could ask for. This Jurassic Park ride in Orlando has rope bridges, hidden pathways, lost caves, water cannons and more! Just know the area is BIG, so keep an eye on little ones!
Related post: Complete Guide to Universal Roller Coasters
Where to Eat at Jurassic Park in Universal Studios 2023
You wont get hungry when visiting Jurassic Park in Universal Studios, since there are bites and sips for carnivores and herbivores alike. In total, there are 4 quick-service restaurants you can choose to purchase food from, all of which offer a variety of menu items for all kinds of guests. Whether you're looking for an large indoor area to cool down, or a quick place to grab a refreshing drink, Universal Studios Jurassic Park land has plenty of options.
Jurassic Park Orlando Florida Restaurants 2023:
The Watering Hole – Grab a snack, frozen cocktail, wine, beer or more at this small outdoor jungle hut.
Thunder Falls Terrace – Huge quick service dining spot located by Jurassic Park River Adventure that serves rotisserie chicken, BBQ ribs, rice bowls, smoked turkey legs and more!
Pizza Predatoria – Find Italian favorites at this quick service location with pizzas, salads, breadsticks and more!
The Burger Digs – Large dinosaur themed quick service restaurant that serves specialty burgers and salads.
Related post: Complete Guide to the Universal Studios VIP Experience
Merchandise at Universal Studios Jurassic Park
A trip to Jurassic Park in Florida would not be complete without bringing home a souvenir or two to remember all of the wild times! And you can only imagine with not only Jurassic Park, but also Jurassic World at Universal Studios Orlando what kind of merchandise you'll find. There are three shops currently in Jurassic Park at Universal Studios spread out throughout the land.
What shops are in Jurassic Park at Universal Studios?
Dinostore
Jurassic Outfitters
 Dinostore
The Dinostore is located near VelociCoaster in the Universal Studios Jurassic Park land, and one of the main shops in the area. Here, you will find Jurassic Park and Jurassic World Universal Studios Orlando merchandise that comes in clothing, toys, educational entertainment, or even fossils!
Jurassic Outfitters
Jurassic Outfitters is going to be our main hub for all things Jurassic Park, Jurassic World and even VelociCoaster themed. This stand alone store in Universal Studios Jurassic Park land is filled from top to bottom with merchandise. You can find things like toys, mugs, clothing, toys, games, hats, keychains and anything else you can think of that can be themed.
Other Universal Orland Jurassic Park merchandise
If you accidentally forget to stop by one of these shops, you can also grab Jurassic Park merchandise in the Islands of Adventure Trading Company located at the front of the park. You can also find Jurassic Park merchandise in the Universal Tribute Store and the Universal store in CityWalk.
Related post: Complete Guide to Best Universal Studios Pool
Tips and Tricks for Visiting Jurassic Park at Universal Orlando 2023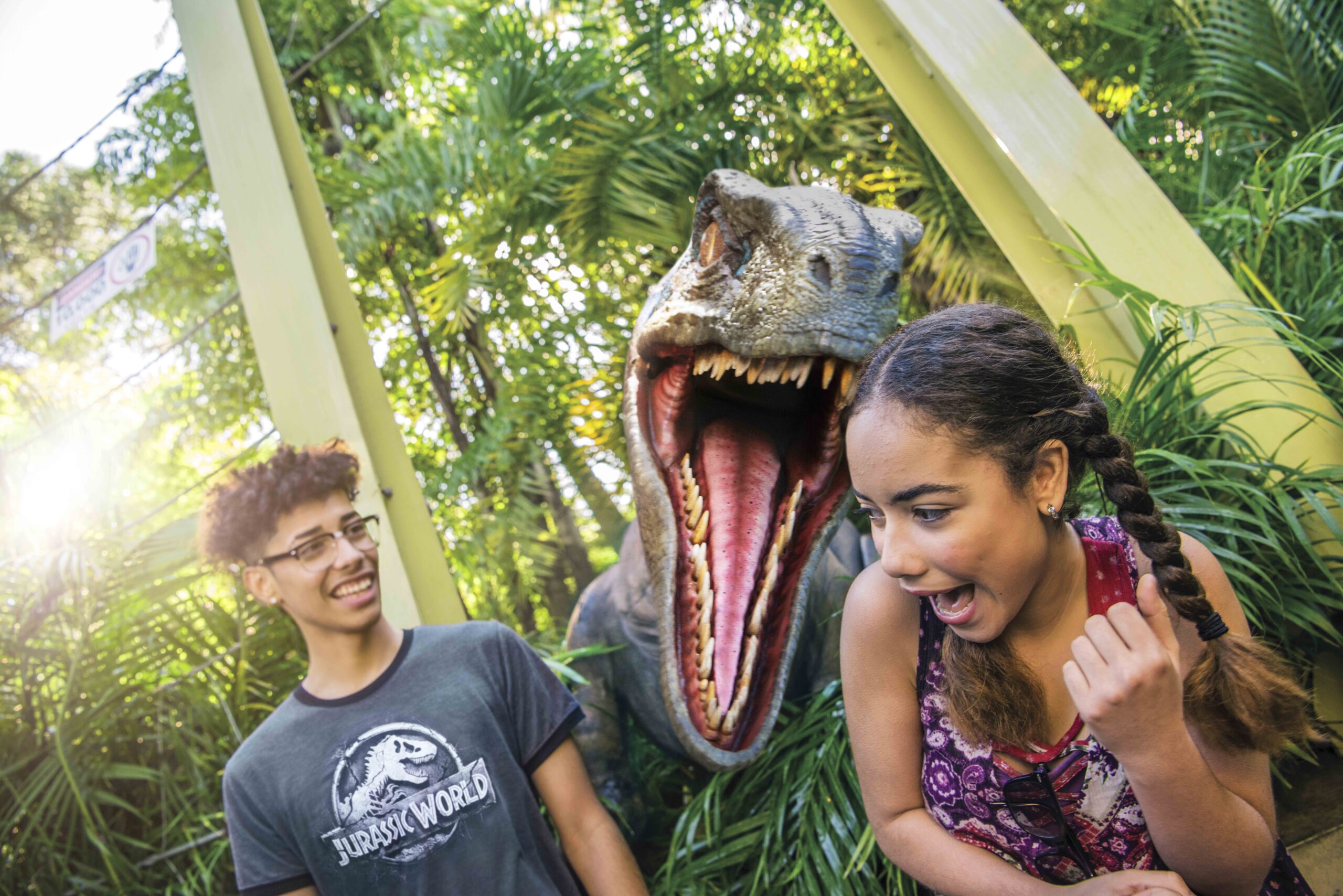 Okay, so now you have your Jurassic Park theme park tickets and you're ready to experience the ultimate hunt at Universal. Luckily, we surviv-, been many times and have the best tips and tricks on how to have the best day when visiting the Jurassic World park in Universal.
Top tips and tricks for Universal Islands of Adventure Jurassic Park:
Use Early Park Admission
Use Single Rider
You can dry off if you need to!
Make sure to say hi to a real velociraptor
Don't skip the Jurassic Park Discovery Center
Use Early Park Admission
This is probably our most important tip for visiting the Jurassic Park land in Universal is to use Early Park Admission. Since Jurassic World VelociCoaster is so popular, guests can be waiting upwards of 60 minutes to take a ride. There are only a few attractions offered during this time, and Jurassic World VelociCoaster is one of them!
Use Single Rider
If you don't like getting up in the morning or can't get Early Park Admission, your second way to cut down the wait time is to do Single Rider for VelociCoaster. This could potentially get you on the Jurassic World attraction much faster than regular stand-by. Just note, Single Rider does not guarantee a shorter wait and you could potentially be waiting longer than stand-by if it isn't too busy.
Dry off if you need to
You can get pretty wet when riding on the Jurassic Park River Adventure attraction, and we know it can be a miserable day if you're stuck in wet clothes all day. Around Jurassic Outfitters, you will find drying stations where you can purchase a session to stand in one of the giant dryers and air yourself out.
Raptor Encounter
The Raptor Encounter is one of the most immersive experiences guests can get when visiting the Jurassic World Universal Orlando section of the park. Those wanting to can meet Blue the Velociraptor, in a very life-like interaction at this character meet and greet.
Jurassic Park Discovery Center
As the true centerpiece of everything in the Universal Studios Jurassic Park area, The Discovery Center is a must-do attraction. This is the exact replica from the iconic Jurassic Park film filled with dinosaur skeletons, models and even hatching raptor eggs.
Is there a real dinosaur at Universal Studios?
So, while the character meet and greet with Blue the Velociraptor is VERY life like, and even pretty scary for little ones … she is not real. We truly wish there was a way that we could meet a real-life dinosaur while inside of Jurassic Park. Unfortunately, we will have to settle with the dinos inside of the attractions and the very immersive meet and greets Universal comes up with.
Related post: Complete Guide to Water Rides at Universal
Universal Studios Jurassic Park 2023 FAQ

Q: Is there a Jurassic World theme park?
A: Unfortunately, there is not a stand alone Jurassic World theme park. There are Jurassic World attractions within Universal Orlando and Universal Hollywood, but there isn't a designated Jurassic World land yet!
Q: What park is Jurassic World in Orlando?
A: The Jurassic World VelociCoaster is located within Universal Orland Resort at the Islands of Adventure park in Orlando. That is the only Jurassic World attraction within Orlando.
Q: What theme park has Jurassic Park?
A: Universal Orlando Resort is the theme park within the United States that has a Jurassic Park land. Universal Studios Hollywood does have the Jurassic World ride in it, which is relatively new.
Q: Which Universal Studios has a Jurassic Park?
A: The park in Universal Orlando Resort theme park that has Jurassic Park is Islands of Adventure park.
Q: Is Jurassic Park Disney or Universal?
A: Universal owns the rights to Jurassic Park, so you will not see any Jurassic Park Disney merchandise, rides or theming within the parks or stores.
Q: Is Jurassic Park ride still at Universal Studios Orlando?
A: Yes, Jurassic Park River Adventure is still at Universal Orlando in Islands of Adventure park. From time to time, the ride does close due to refurbishments, but it is still an active attraction at Universal Studios Jurassic Park!
When Is The Best Time To Visit Universal Orlando?
Our Universal Orlando Crowd Calendar is the best tool to help you get the most out of your time in the parks. We breakdown the park crowds, park hours of operation, ticket prices by day, and average temperature.
Are You Ready to Plan Your Next Universal Orlando Trip?
If you're ready to plan your trip to Universal Studios, be sure to check out Universal Orlando Tickets! Not only will you save money vs buying direct, but all of our Universal Orlando tickets come with some amazing benefits which can help save you up to three hours in the parks!
And to stay up to date on everything going on inside the theme parks be sure to check out our partners at Themeparktoday.com!