Complete Guide to all Universal Orlando New Rides in 2022!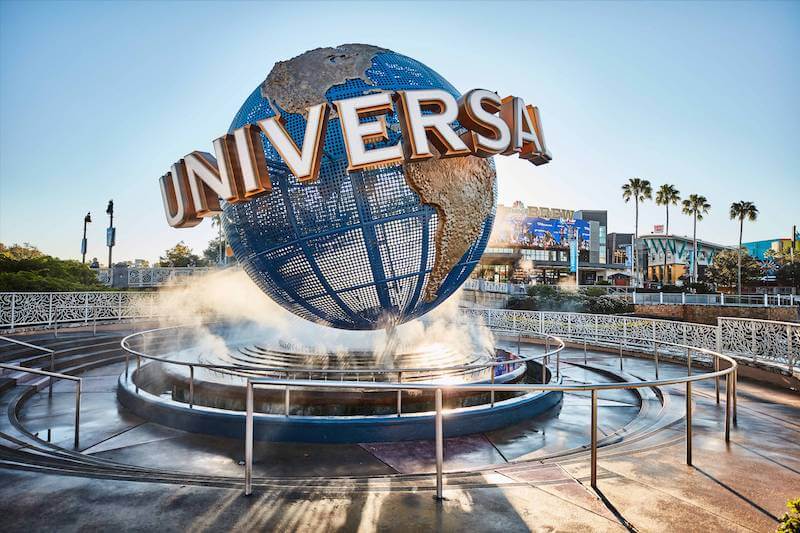 Complete Guide to all Universal Orlando New Rides in 2022!
This is your complete guide to all of the new rides at universal in 2022 and beyond! Universal Orlando Resort has been pushing the envelope when it comes to innovative technology. Exciting guests from all over the globe with their new rides, shows and entertainment, Universal has become a hotspot for adventure seekers. The Wizarding World of Harry Potter has been one of the largest successes in Central Florida, proving that Universal Orlando has a knack for immersive and exciting engineering.
With that being said, Universal Orlando Resort has entered an era where they are pushing full steam ahead with brand new experiences for their guests. 2022 Universal attractions are only going to get bigger, better and more thrilling … and we can't wait! If the release of the Velocicoaster in Orlando 2021, is any idea of what to come, it truly is going to be EPIC! That's why we are creating this guide to help you keep track of all the amazing Universal rides in the works and what to expect for the future.
We hope you find this post helpful! Our goal at The Park Prodigy has always been to help you save time and money on your next Universal Orlando vacation!  If you are planning a trip to Universal Orlando be sure to check out the latest deals on Universal Orlando vacation packages and our discounted Universal Orlando tickets which include EARLY PARK ADMISSION to the Wizarding World of Harry Potter!
If you are ready to learn all about the Universal Orlando new rides, read on!
SPECIAL NOTE: If you need help picking the best time to visit Universal Orlando for your next vacation be sure to check out our Universal crowd calendar!
Universal Orlando Crowd Calendar
New Universal Attractions 2022 Overview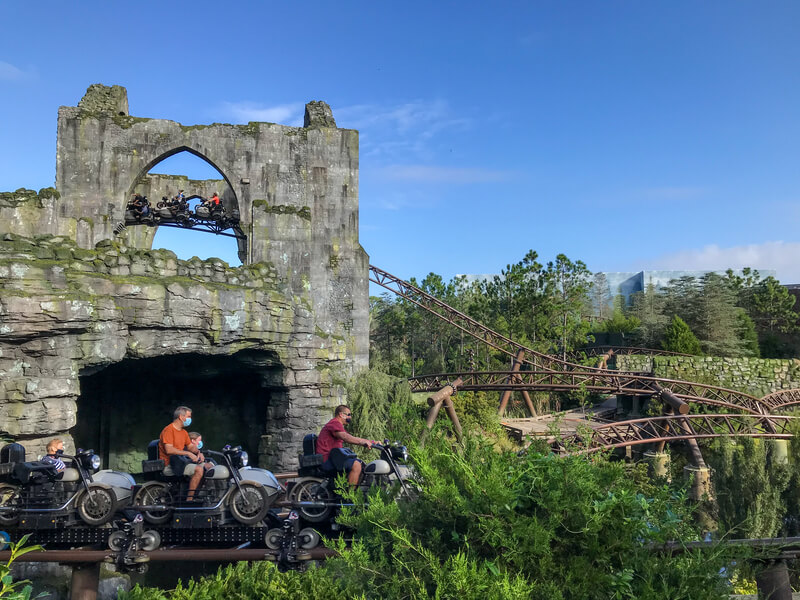 Even though the COVID-19 pandemic had a major effect on the theme park industry, Universal Orlando still was able to release some of the best rides to ever exist. In 2019, the Wizarding World of Harry Potter's new ride, Hagrid's Magical Creatures Motorbike Adventure debuted and dazzled guests with technology unlike ever before. To this day, Hagrid's Motorbike Adventure is one of the most popular new rides at Universal Orlando.
Not soon after Universal Orlando reopened after the months of being closed, new Universal attractions started rolling out. It seemed as if the pandemic barely slowed the parks down, as announcements for new attractions came shortly after. Universal Studios and Islands of Adventure have both brought new attractions to Florida in 2021 and beyond, making it a huge year for tourism! So next, let's discuss all of Universal Orlando's new rides that came in 2022.
New Universal Attractions 2022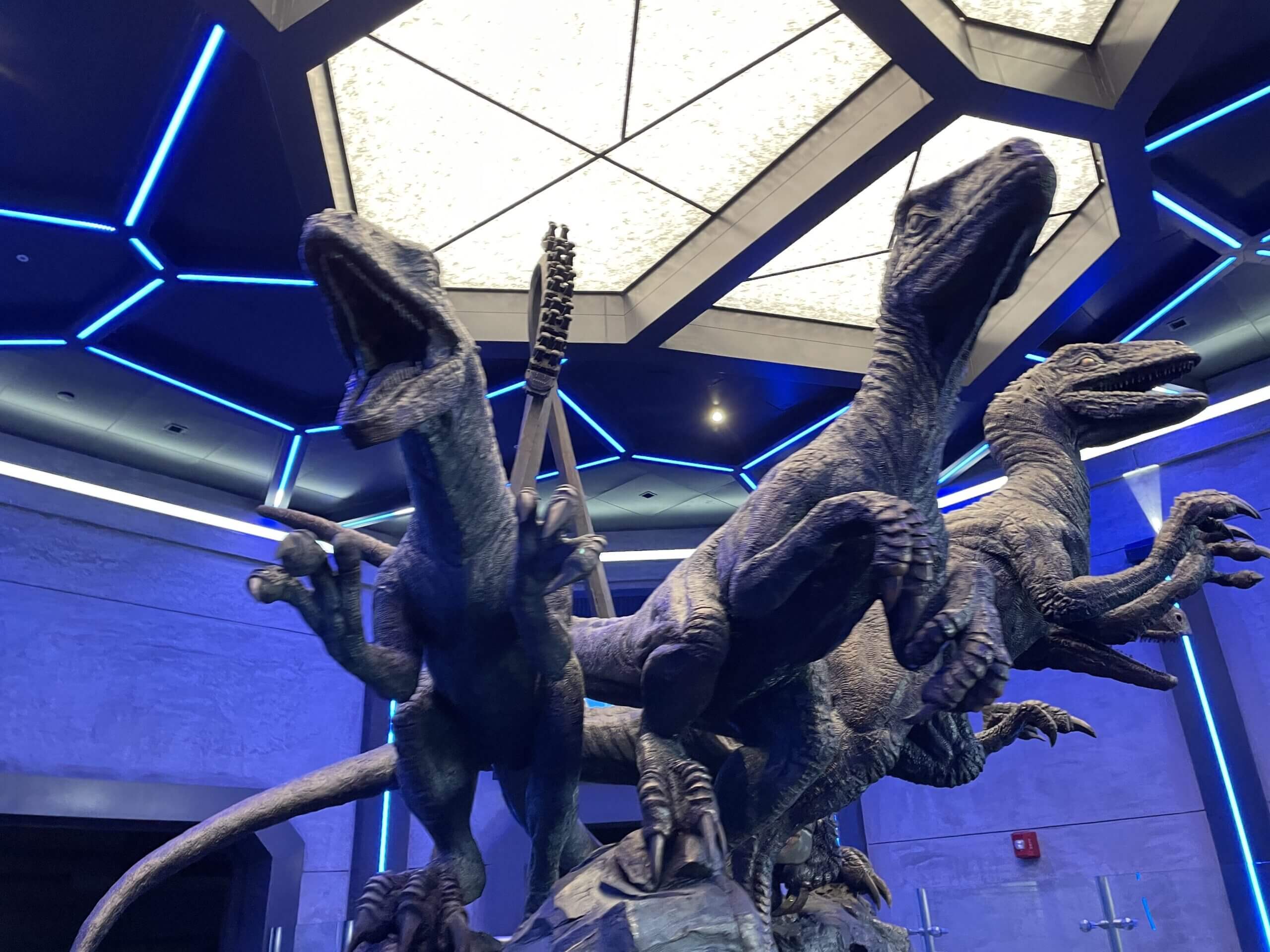 While 2022 hasn't been the most exciting time for new Universal Studios rides, there are still many exciting things to keep watching out for.  First off, there were many different brand new attractions with the reopening of Universal Orlando Resort after the COVID-19 pandemic shut down. Universal Orlando new rides like Hagrid's Magical Creatures Motorbike Adventure had only been open for a few months before shutting down.
Universal Orlando Resort is also building a brand new theme park named Epic Universe, which is going to debut in 2025. That is going to come with many future Universal Studios rides with themes from Nintendo and more!
Newest rides at Universal Orlando 2022
Velocicoaster – Opened June 10th, 2021
Hagrid's Magical Creatures Motorbike Adventure – Opened June 13th, 2019
We also think one of the coolest things about the new rides at Universal is they are included with all of our Universal Early Park Admission tickets! We simply love early admission at The Park Prodigy as guests can enjoy two of the newest attractions with very little wait.
Related post: Harry Potter Early Park Admission Tickets
Universal Studios Florida New Attractions 2022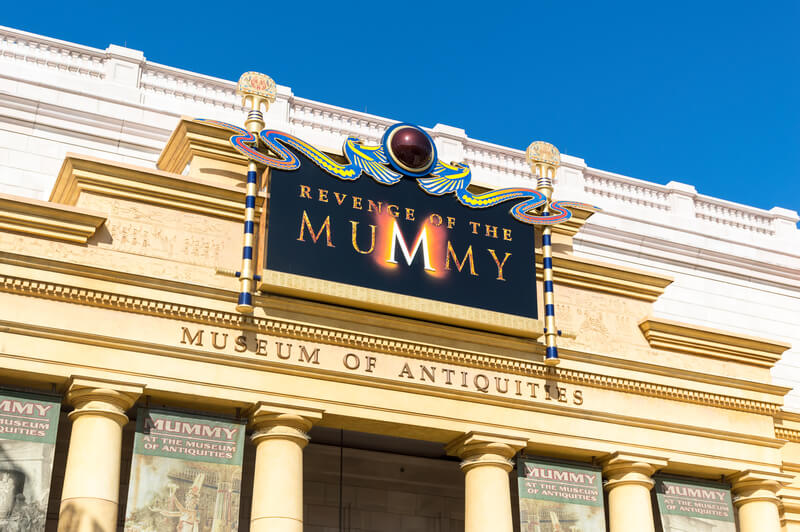 DreamWorks Destination
Shrek-4D replacement
Universal Studios Florida has been the park clutching onto nostalgic themes allowing guests to remember the classics. Over the years, Universal has been renovating older areas and replacing them with more modern content. Unfortunately, we haven't seen any new Universal Studios Orlando rides since Diagon Alley opened in 2014. The Bourne Stuntacular show opened up in 2020, but has has mixed reviews from Universal guests. Our first stop isn't a new ride at Universal, but it is still an exciting experience, especially for those who love to meet characters.
DreamWorks Destination
DreamWorks Destination opened in May of 2021 and took over the building that was home to A Day in the Park with Barney. This is a one of a kind experience where guests can have an interactive experience with some of their favorite characters. Meet characters from Shrek, Trolls, Madagascar and Kung Fu Panda in this upbeat, dance party type attraction. Each show lasts 20 minutes, rotating three different characters for each show. If you're looking to catch every single character there is, you can hang out inside for quite a while. Relax and watch as characters pose for perfect photo-ops and get the crowds groovin'.
For specific showtimes, make sure to check your Universal Orlando app. Please note that characters are subject to change at any time. We do however feel this is a must do for families visiting Universal Orlando with kids!
Shrek-4D 2022 Replacement (TBD)
Shrek 4D is an attraction that ran for 13 years in Universal Studios Florida park, and was closed January 10th, 2022. Unfortunately, Universal hasn't announced any new Universal attractions coming in 2022 to replace this ride. Shrek-4D was a dark, theater attraction that offered fun 4D features like sprays of water, smells and even your chair rumbling.
With no announcement being made for Shrek-4D being replaced by a brand new 2022 Universal ride, we can only speculate as to what is going to come. Whether it be a brand new Shrek ride, or a Secret Life of Pets dark ride, like Universal Hollywood, we will have to wait and see.
Make sure to check back for any updates on the Shrek-4D Universal ride replacement.
Universal Studios Florida 2022 refurbished rides
Revenge of the Mummy – Reopening summer 2022
Related Pages: Universal Orlando Weekly Deals and Promotions 
Islands of Adventure New Attractions 2022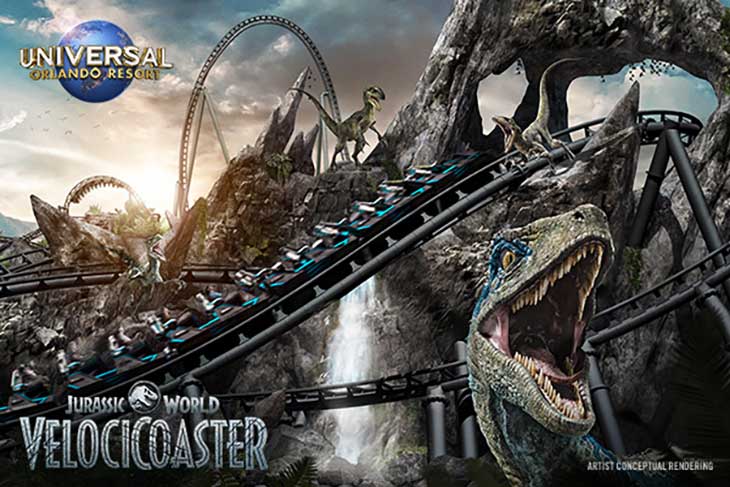 Islands of Adventure park in Universal Orlando is up and coming and completely transforming the theme park experience. Not only is there a new rollercoaster in Universal's Harry Potter World, but Jurassic Park also took the spotlight with the release of Velocicoaster in 2021. This attraction ticks all the boxes when it comes to theming, thrill and overall experience.
Velocicoaster
Velocicoaster is one of the best new rides in Orlando, as it is a massive, high-speed coaster that is unlike any other. This ride is not for the faint of heart. With barrel rolls, extreme drops and two intense launch sequences, this coaster is bound to get your adrenaline pumping. Velocicoaster opened it's gates in June of 2021 and one of the most popular Universal attractions since.
The theming is based off of the Jurassic World film franchise with Owen Grady and Claire Dearing and, of course, plenty of velociraptors. Not only is the ride incredible, the queue has breathtaking detail especially when it comes to the raptors. See life-like animatronic velociraptors in the "training rooms" which flare their nostrils and grumble as you pass by. If you are a Jurassic Park lover, you cannot miss this new rollercoaster in Universal Studios.
Islands of Adventure 2022 refurbished rides
Poseidon's Fury – Reopened 3/14/2022
Caro-Seuss-el – Reopening 2022
Popeye & Bluto's Bilge-Rat Barges – Reopened 3/19/2022
Related post: Discount Harry Potter World Tickets
New Rides Coming to Universal Orlando Resort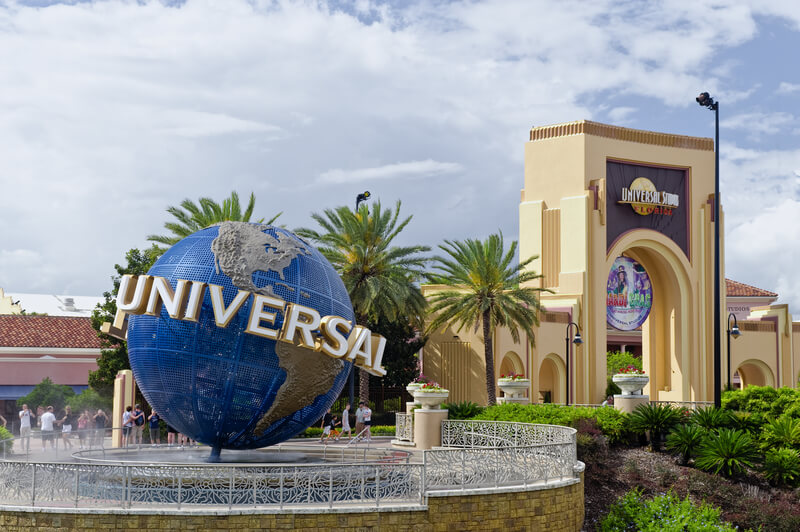 The only thing more exciting than Universal Studios Orlando having new rides is that they are actually creating whole BRAND NEW theme park! Announced in August of 2019, the Universal Orlando expansion EPIC Universe will be coming to Central Florida. While this is exciting, there has been a few snags in the conception and overall execution. Universal Studios expansion plans are nothing short of … EPIC, and with the COVID-19 pandemic, they're experiencing delays.
Epic Universe has a release date of 2025, which is a big push from the original planned release. With that being said, the Universal Orlando construction update, shows they are making progress on this brand new theme park. While there are not many details, we do know that there are 4 new lands that are coming with it. We also know that with the Universal Studios expansion plans, the new park is going to be massive and full of new theming.
Epic Universe 2025 – Universal Orlando Future Attractions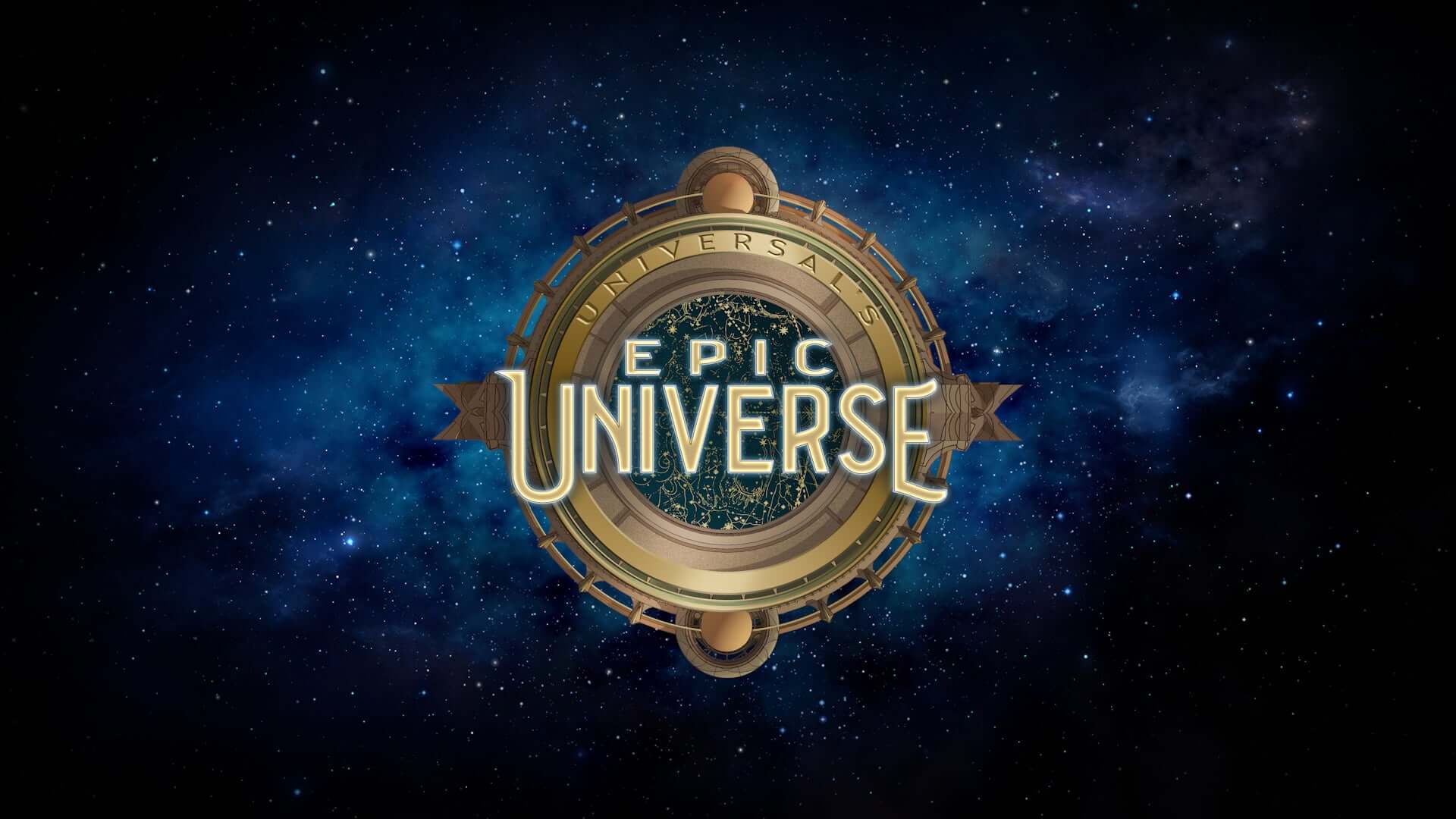 Epic Universe is going to be gigantic theme park, with some of the most exciting concepts in modern entertainment. Upon its completion, Universal Studios Orlando new rides are going to be unique and a draw for many different franchise lovers. Unfortunately, with how awesome the concept seems, we really don't know much about it.
Construction is currently taking place south of the currently Universal Orlando Resort campus and seems to be progressing along. Epic Universe is going to bring some so much new stuff to Universal Studios, we cannot wait! We know that the theme of the entire brand new park is "epic", therefore, we can expect Universal to pull out all the stops. Some Universal Orlando new rides are coming to Super Nintendo World at Epic Universe, like Yoshi's Adventure and the Mario Kart ride.
What new rides at coming to Universal Studios with Epic Universe (2025)?
Yoshi's Adventure – Super Mario World
Mario Kart: Koopa's Challenge – Super Mario World
How to Train Your Dragon (Rumored)
Fantastic Beasts (Rumored)
Universal Monsters (Rumored)
Epic Universe location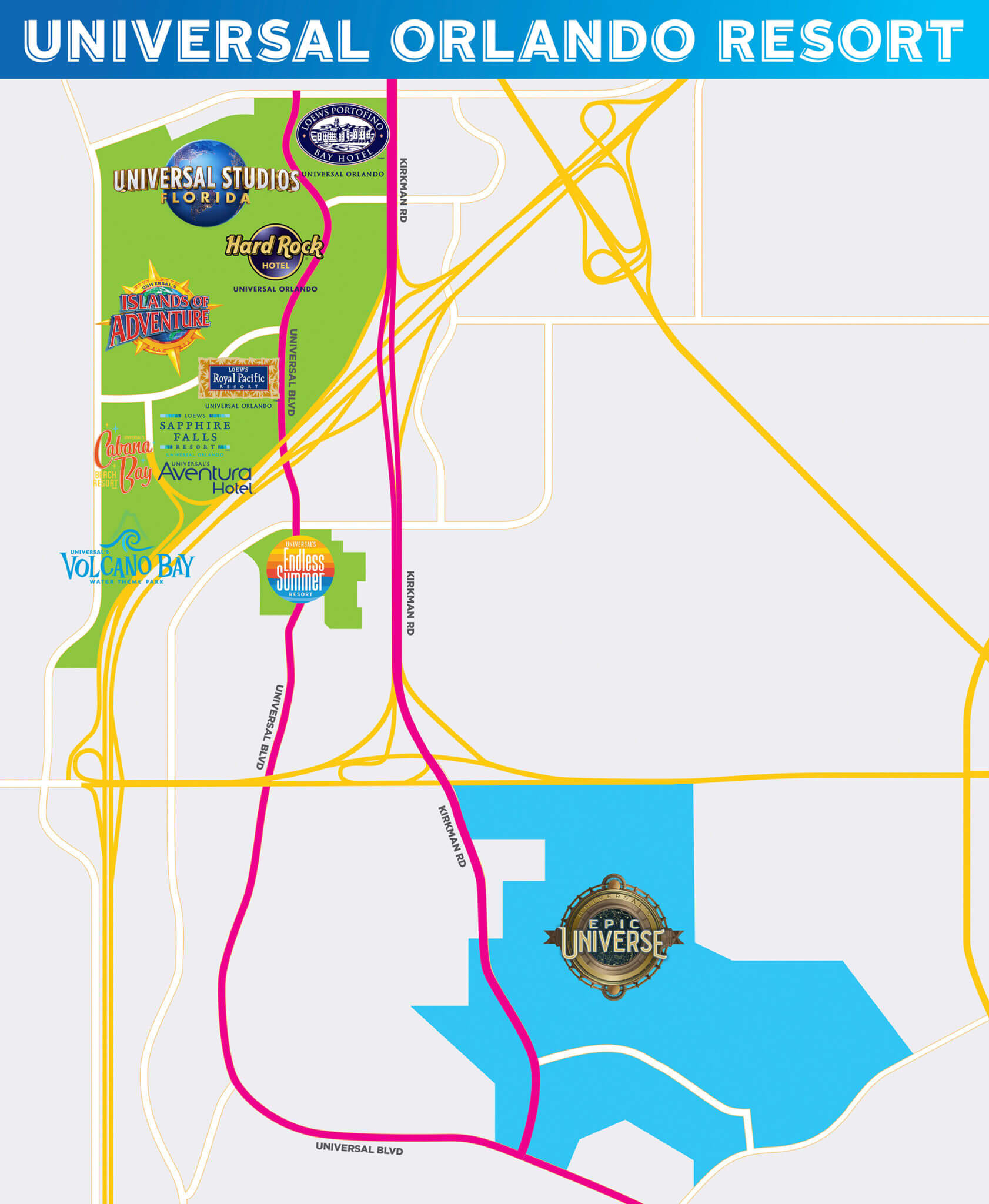 With how truly massive Epic Universe is going to be, Universal Orlando had to purchase land outside of the current campus. The new Universal theme park will be located about 10-15 minutes south of the two theme parks and CityWalk. We expect that guests will be able to shuttle between the two parks using a free transportation system provided by Universal.
Super Nintendo World Universal Orlando – New at Universal Orlando
The only land that has been confirmed so far in Epic Universe is Super Nintendo World. With the 2021 release in Universal Studios Japan, guests received a preview of what is to come in both Universal Orlando Resort and Universal Hollywood. Super Nintendo World is bringing with it, at least, two new Universal attractions, Nintendo themed restaurants and interactive games throughout.
Super Nintendo World New Universal Attractions
Mario Kart: Koopa's Challenge
Yoshi's Adventure
Power Up Band Key Challenges
These rides have not been 100% confirmed for coming to Universal Orlando and Universal Hollywood, but we can expect either the same or something similar.
Make sure to check back if you want all of the latest news on Epic Universe or Universal attractions coming to Universal Orlando Resort!
Related Article: The Complete Guide to Super Nintendo World Hollywood 
When Is The Best Time To Visit Universal Orlando?
Our Universal Orlando Crowd Calendar is the best tool to help you get the most out of your time in the parks. We breakdown the park crowds, park hours of operation, ticket prices by day, and average temperature.
Are You Ready to Plan Your Next Universal Orlando Trip?
If you're ready to plan your trip to Universal Studios, be sure to check out our Universal Orlando Tickets! All Park Prodigy Universal Orlando tickets will get you into the park one hour before regular park guests with Universal Early Park Admission! And to stay up to date on everything going on inside the theme parks be sure to check out our partners at Themeparktoday.com!