Complete Guide to Using Virtual Lines at Universal 2022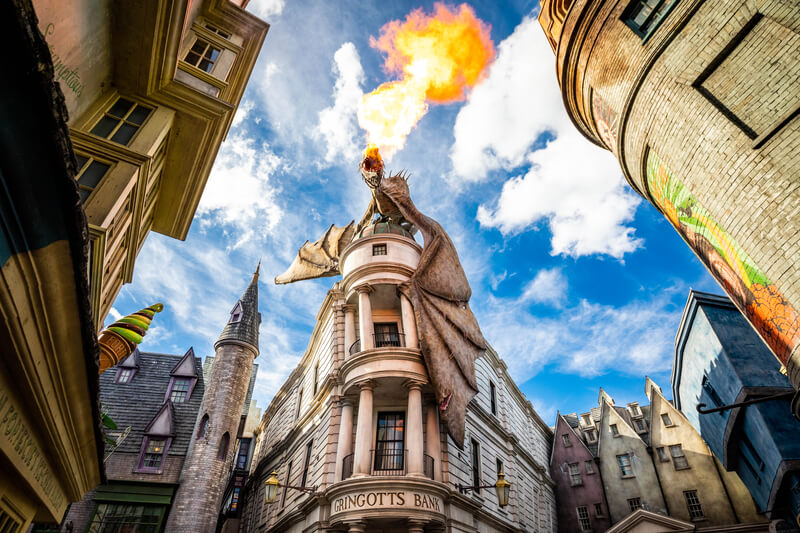 Complete Guide to Using Virtual Lines at Universal 2022
This article is your complete guide to using the 2022 Universal virtual line. Over the last two years, we have seen many changes come to theme parks across the globe. Parks like Universal Orlando and Disney have shifted toward a more virtual, mobile-phone centered experience. That includes the use of virtual lines.
Virtual lines at Universal Orlando have been around for quite some time now, and we can only see them expanding more lines to be virtual. If you plan on visiting Universal Orlando Resort anytime soon, this is a process that you will need to be familiar with! Especially when riding extremely popular attractions like Hagrid's Magical Creatures Motorbike Adventure might depend on it.
So if you are ready to learn all about Universal virtual lines, read on!
SPECIAL NOTE: If you need help picking the best time to visit Universal Orlando for your next vacation be sure to check out our Universal crowd calendar!
Universal Orlando Crowd Calendar
What is the Virtual Line at Universal Studios?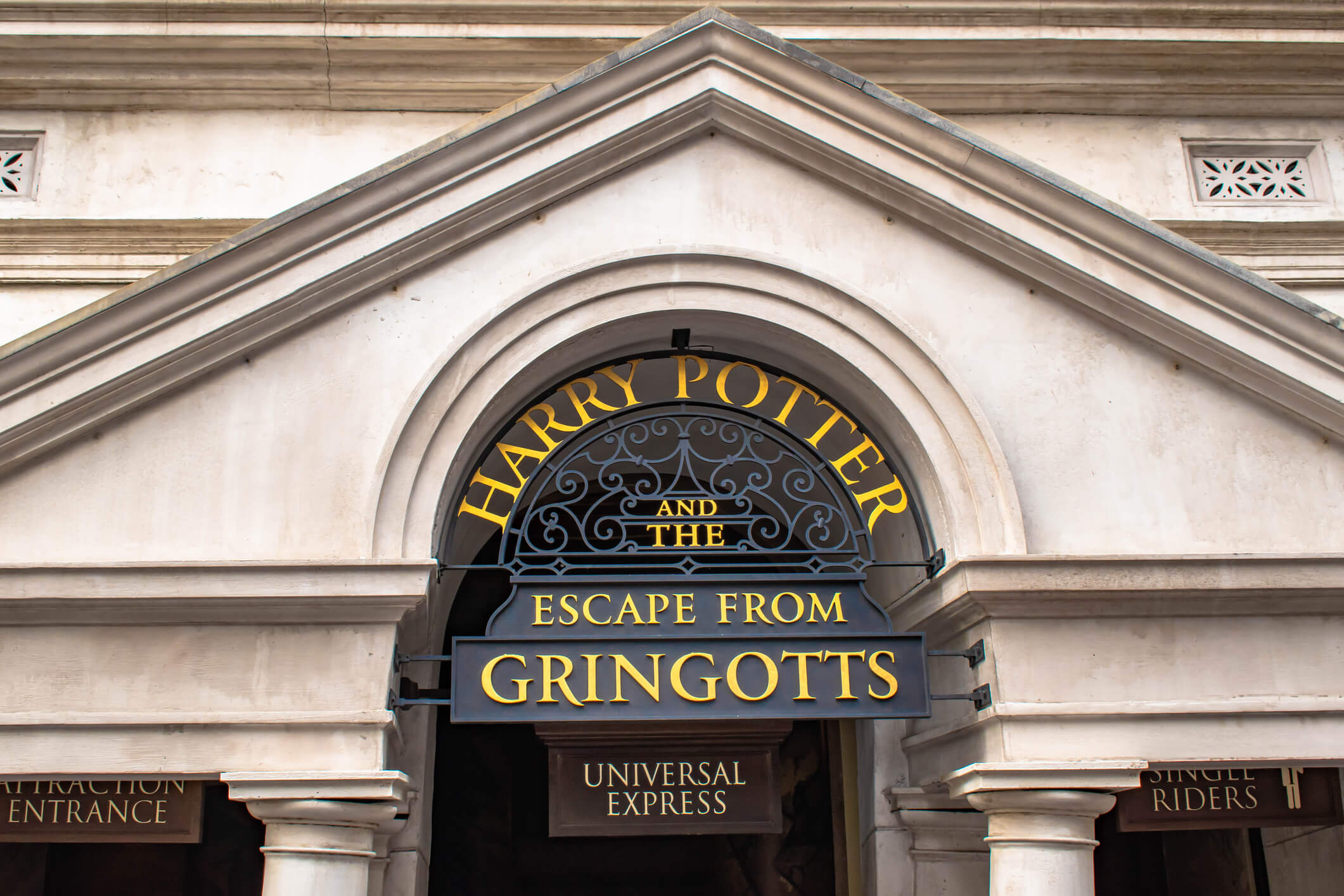 So, what is the virtual line pass at Universal? Universal Orlando Resort has been using the Virtual Line system for quite some time now, but has changed significantly over the years. The Universal Virtual Queue (queue and line are interchangeable!) was designed to allow guests to reserve their spot in line, allowing for a shorter time waiting in an actual line. This is different from the Universal Express Pass, which is a paid feature that allows you to skip the line.
The virtual line at Universal is a completely free feature to use, you just have to make sure that you have the Universal app downloaded on your phone to participate. The virtual line system works at both Universal parks, Islands of Adventure and Universal Studios Florida, and can be very helpful to those looking to cut down wait times. This is especially true when you combine this feature with our Harry Potter World early park admission tickets!  
Related Article: Universal Early Park Admission Tickets
How Does the Virtual Line Work at Universal?
So, we now know what is the virtual line at Universal, but how does it work? This section is important, because there are some things unique to Universal Orlando Resort when it comes to virtual lines.
First and foremost, the Universal virtual line experience is never guaranteed. Team members do not know if the virtual queues will be used for future days or times. That means, if you're able to use the virtual queue system one day, that does not guarantee it will be used the next day!
The Universal virtual lines even change throughout the day, and certain rides can start off as normal stand-by lines and switch midday. The most important thing to know about virtual queue Universal is that it is all based off of popularity. If a Universal ride is in high demand, team members may choose to switch a line to virtual instead of stand-by.
You have to be diligent when checking the Universal app or looking for the virtual queue signs posted around the park to see what will be available. But when it is available, it is a very simple concept. A virtual line is meant to hold your place in line, so you can enjoy other elements of the theme parks without physically "waiting in line" for that attraction. As discussed above a great way to hedge your bet when trying to get on some of the most popular rides is to always show up for EARLY PARK ADMISSION at Universal! 
Related Article: Guide to Universal Early Park Admission
What Rides have Virtual Line at Universal Orlando?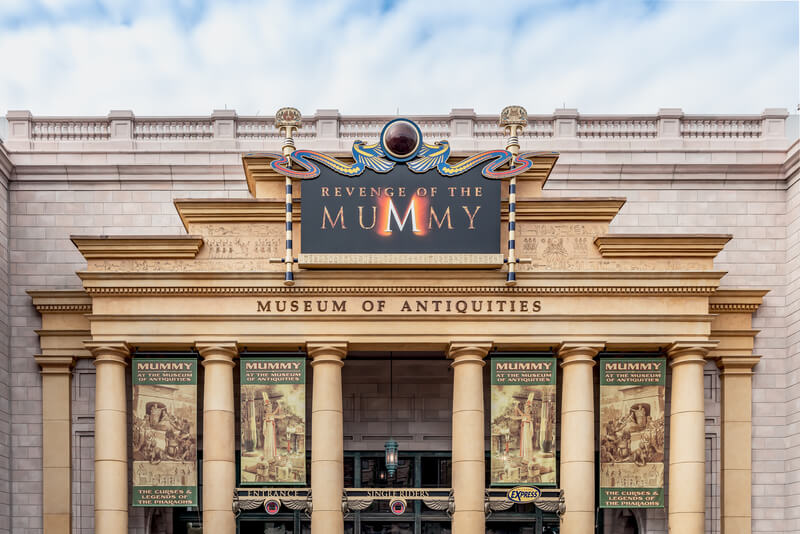 Another important tip to know about Universal Studios virtual lines is that, not all rides have them!  More accurately, very few of them do, and some days, there are no virtual lines available at all. With that being said, there are some specific Universal Orlando rides that utilize the virtual line more frequently.
So now, which universal rides have virtual lines? We are going to break them down below by park however the rides with virtual lines at Universal Orlando are Race through New York Starring Jimmy Fallon, Revenge of the Mummy, Harry Potter and the Forbidden Journey, Despicable Me Minion Mayhem, Fast and Furious, Hagrid's Magical Creatures Motorbike Adventure, and the VelociCoaster.
Virtual Rides at Universal Studios Florida
Race Through New York Starring Jimmy Fallon
Revenge of the Mummy
Harry Potter and the Escape from Gringotts
Despicable Me Minion Mayhem
Fast and Furious – Supercharged
Virtual Lines at Islands of Adventure
Hagrid's Magical Creatures Motorbike Adventure
Velocicoaster
Out of all Universal virtual line rides, we have seen the Hagrid's Magical Motorbike Adventure has been the most popular choice for virtual lines. Typically we see an Islands of Adventure virtual line for Hagrid's early on in the day, and then it can flip to a stand-by line later on. It is important to note that sometimes it stays a virtual line the entire day, and you can only access that attraction by using virtual lines. It's also important to note that Hagird's Magical Creatures Motorbike Adventure is no longer included in early park admission. So we have been recommending for all guests to make sure to ride the Velocicoaster with our Universal early park admission tickets!  
Is the Virtual Line Free at Universal?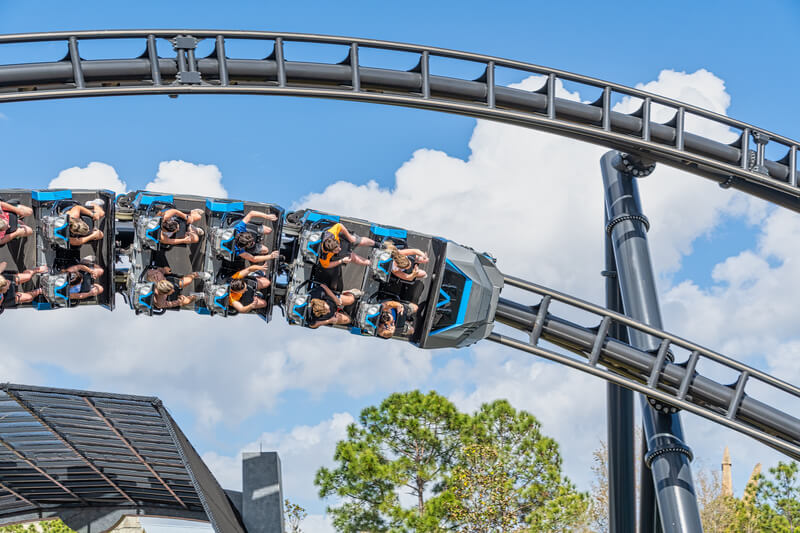 The second most popular question we receive is, is the virtual line at Universal free? And, yes the Universal Orlando virtual line is completely free and available to anyone with a valid park ticket and the official Universal Orlando App.
It's important to note that although the Universal Orlando virtual line is free it's not to be confused with the Universal Orlando express pass. As the Universal Orlando virtual line will only reserve your spot to go and wait on the actual stand by line, while the Universal express pass is a premium option to help you skip the line.
Related Page: Is the Universal Express Pass Worth It? 
How Can I Book a Virtual Line at Universal?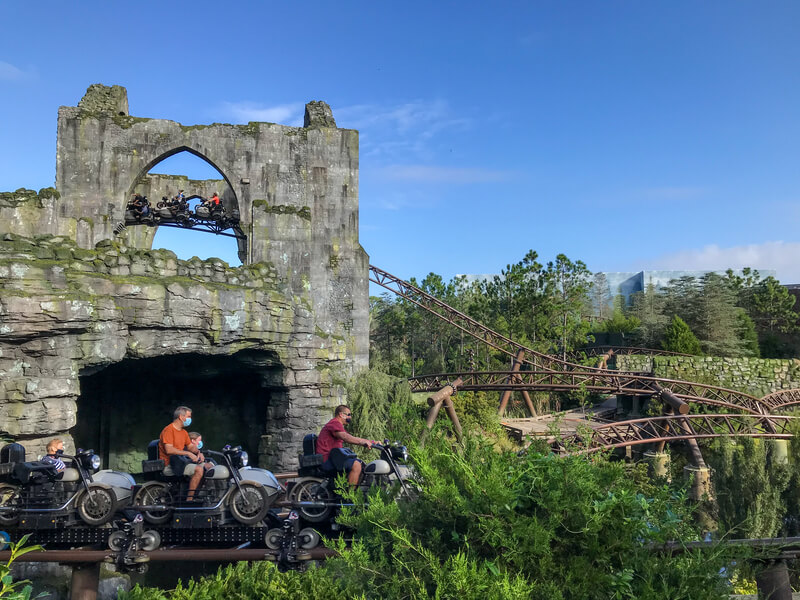 The virtual line system at Universal Orlando Resort can vary on how it is utilized. We have personally booked Universal virtual queues two different ways, both using the Universal Orlando app. We are going to talk about both!
If you are wanting to ride very popular attractions, we recommend that the minute you are on Universal Orlando property, you start looking for signs of Universal Virtual Queues. You cannot do this in advance, and Universal virtual lines can only be booked day of. The Universal Orlando App will state any rides using the virtual line system, or you will see big blue sandwich board signs with QR codes to scan to begin the process.
Virtual Line at Universal Process
Scan QR code or open up Universal Orlando App and select the ride with a virtual queue
(This is where it can differ depending on which Virtual Queue system they are using)
Scenario 1
After you select the ride with the virtual queue, you enter how many guests are in your party right on the app. Make sure you do this because every single guest needs a virtual line pass to enter. You can have up to 8 guests in your party.
If there are any slots open, they will pop up as half hour timeframes.
Choose a timeframe!
From there, a QR code will populate which you will use as your pass for team members to scan at that attraction line to let you in.
Scenario 2
After you scan or select your Universal virtual line attraction, a separate Universal Orlando virtual queue site will pop up on your phone.
Select how many guests are in your party and Universal will give a minimum return time wait.
From there, you can select the minimum return time wait, or, you can change your return time to later if that does not work for you.
Once you select your desired return time, Universal will confirm and give you a countdown on when to return to the attraction for your virtual queue time.
It is important to note that we checked back on our countdown time frequently. Universal also adjusted our return time a few times, so make sure you keep a watch on it!
Tips and Tricks for Using Universal Orlando Virtual Lines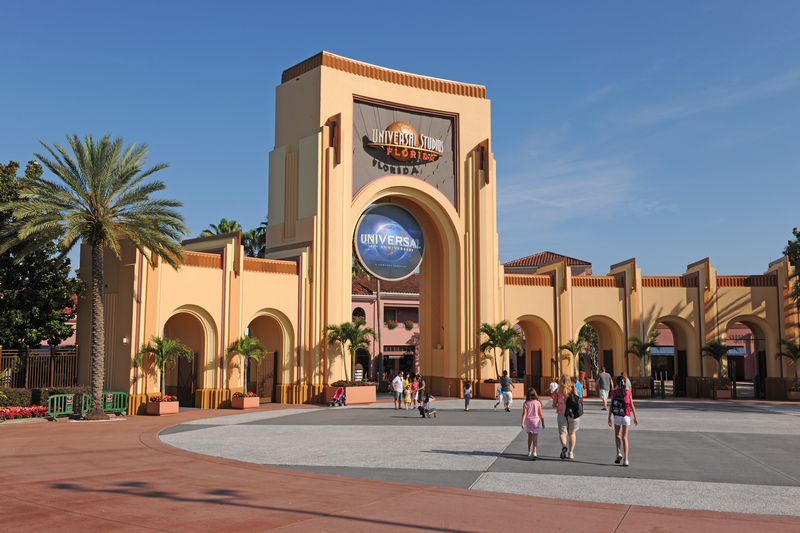 Understanding how to do virtual lines at Universal can be very confusing, and that's why we've added this helpful tips and trick section to make sure you have the most epic day!
You may not be able to experience an attraction if the Universal virtual line system is in place. Some rides, such as Hagrid's, have virtual lines ALL day and you can only enter that line by having a virtual queue pass. Make sure to plan ahead and get to the parks early!
You can cancel or change your virtual queue pass if something pops up, or if that time no longer works. Just note that if you cancel your virtual queue, it is gone and you cannot get it back.
Get the most popular virtual queue Universal rides first. The most popular attractions always max out their virtual lines the fastest! As soon as the park opens start searching for virtual queue lines for rides like Hagrid's and Velocicoaster.
Early Park Admission can be a life saver. All Park Prodigy tickets and packages come with Early Park Admission, which gets you into the parks an hour before regular park open. That means you can ride some of the  most popular attractions without having to worry about Universal virtual lines.
Screenshot your virtual queue ticket and send it to others in your party! If your phone dies or malfunctions, have a backup.
If all virtual queues are at capacity, don't give up. Keep refreshing the Universal Orlando app and checking throughout the day, more times should pop up. The app suggests checking back around 11 a.m., 2 p.m. and 4 p.m.
Related Article: Complete Guide to Universal Orlando Mardi Gras
Ready to Plan Your Next Universal Orlando Trip?
Beat the crowds with our discount Universal Orlando tickets! All guests who purchase their tickets from The Park Prodigy will get EARLY PARK ADMISSION to the Wizarding World of Harry Potter absolutely FREE! This could save you a ton of time in the parks and avoid buying express passes!
Make sure to check out our friends at Theme Park Today for great tips on how to have the best Universal vacation!