Universal Studios Mardi Gras 2022: Your Guide to Florida's Biggest Party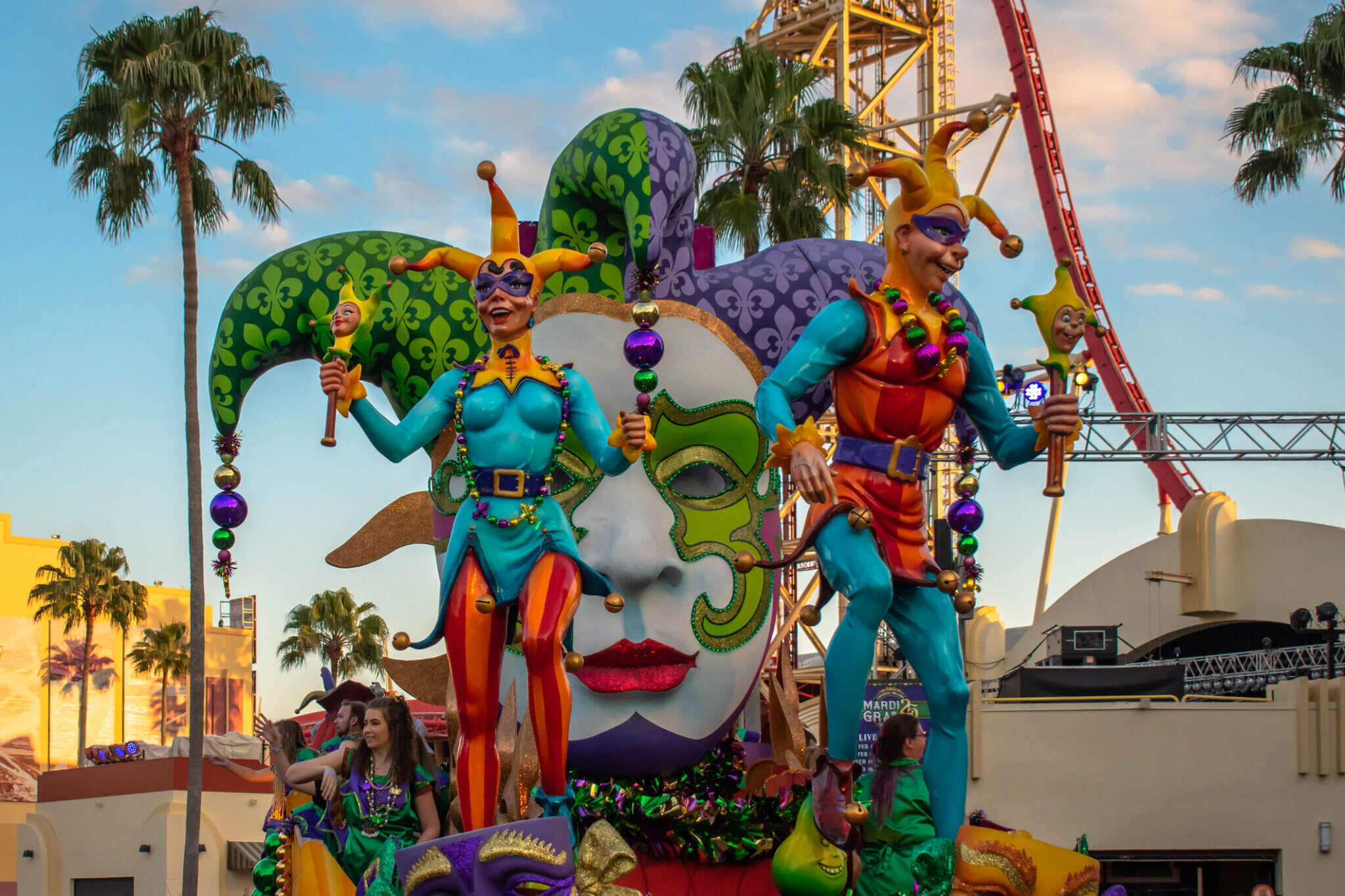 Universal Studios Mardi Gras 2022: Your Guide to Florida's Biggest Party
Updated March 2022: It was announced that the world famous Mardi Gras Festival will be returning to Universal Studios Orlando in 2022! Although we have only received limited details to this point we will be sure to keep this page updated as additional information is released. Be sure to book mark this page for easy access in the future.
This article is your ultimate guide to the 2022 Universal Orlando Mardi Gras celebration! Because we all know that Universal Orlando is known for throwing one of the biggest, best Mardi Gras festivals in the Orlando. In an ordinary year, park guests can enjoy spectacular parades, mouth-watering food and concerts from hot new musical artists every night from February to April.
We hope you find this post helpful! Our goal at The Park Prodigy has always been to help you save time and money on your next Universal Orlando vacation!  If you are planning a trip to Universal Orlando be sure to check out the latest deals on Universal Orlando vacation packages and our discounted Universal Orlando tickets which include EARLY PARK ADMISSION to the Wizarding World of Harry Potter!
So if you're ready to experience one of the best evens Universal has to offer  keep reading our 2022 Universal Mardi Gras celebration guide! 
SPECIAL NOTE: If you need help picking the best time to visit Universal Orlando for your next vacation be sure to check out our Universal crowd calendar!
Universal Orlando Crowd Calendar
Universal Orlando Mardi Gras 2022 Guide
What Are The 2022 Mardi Gras Universal Dates?
The Universal Mardi Gras 2022 dates are as follows:
February 5th – April 24th
What's New to the 2022 Universal Mardi Gras Party?
Guests will get to experience an international food fest with cuisine and entertainment inspired by international Carnaval celebrations. Enjoy amazing food from different regions including New Orleans, Puerto Rico, Trinidad and Tobago, Germany, and Spain!
Plus guests will be able to enjoy street entertainment, floats on display, music, beads and so much more.
When is the Best Time to Visit the 2022 Mardi Gras Party?
Planning the best time to go to Universal Orlando for Mardi Gras can not only save you a ton of time in the theme park but it can also save you money! How you might ask? Well just like Walt Disney World, Universal Orlando theme park tickets now fluctuate based on the time of year you visit.
So one of the easiest ways to pick the best time to visit Universal is to compare the cheapest Universal Orlando ticket prices. The cheaper the tickets the more likely it is that the parks won't be as crowded during that time of year. Plus all of the Universal Orlando tickets sold on our website come with Early Park Admission! 
Related Page: Universal Orlando Early Park Admission Tickets
New Safety Guidelines for the 2022 Universal Mardi Gras Party
Universal Orlando's health guidelines have been changing over time, but this is what we expect for the 2022 Mardi Gras celebration. Universal has announced the following safety guidelines:
Encourage guests – regardless of vaccination status – to wear masks indoors (As of December 23rd, 2021, indoor masks are now required for all guests)
Do not require proof of vaccination
Encourage guests to keep a safe distance between travel parties
Please note that parades and concerts are returning this year, so make sure you plan your 2022 Mardi Gras vacation with these guidelines in mind!
What Time Does Mardi Gras at Universal start 2022?
Universal Mardi Gras will be held during normal park hours. For the latest Universal Studios theme park hours be sure to check out our Universal Crowd calendar where we break down crowd levels, park hours, and even ticket pricing.
How Much are Universal Mardi Gras Tickets 2022?
Universal Mardi Gras ticket prices are always surprisingly affordable—namely because they're free. Yup, you read that right. Entry to the Mardi Gras Orlando celebration is included in your Universal park admission! So long as you have a valid entry to the park, you'll have access to everything Universal Studios Mardi Gras 2022 has to offer.
The Best Universal Orlando Resorts for the 2022 Mardi Gras Festival
With all of Universal Orlando's hotels and resorts being so close and connected to the theme parks, if might be smart to book at stay during the 2022 Mardi Gras festival! Universal Orlando has 8 different hotels that are either within walking distance or a short bus or boat ride away. After partaking in the festivals food and drink offerings, having a short travel distance back to your hotel room is a must!
Hotels within walking distance of the 2022 Universal Mardi Gras Party
Hard Rock Hotel
Loews Portofino Bay Hotel
Loews Royal Pacific Resort
Loews Sapphire Falls Resort
Universal's Cabana Bay Beach Resort
Universal's Aventura Hotel
Hotels accessible by water taxi for the 2022 Universal Mardi Gras Party
Loews Portofino Bay Hotel
Loews Royal Pacific Resort
Loews Sapphire Falls Resort
Hard Rock Hotel
Universal hotels with bus access for the 2022 Universal Mardi Gras Party
All hotels have bus access to the theme parks that drops guests off at the entrance of security at Universal CityWalk. We recommend taking the bus for the farthest resorts from the theme parks such as:
Endless Summer Dockside Inn and Suites
Endless Summer Surfside Inn and Suites
Universal's Aventura Hotel
Universal's Cabana Bay Beach Resort
Related Page: Universal Orlando Deals and Promotions
Mardi Gras 2022 Universal Food and Drinks
Craving some "N'awlins-style food and spirits"? Universal has you covered. You can sample authentic Louisianan cuisine at French Quarter Courtyard all Mardi Gras long. We hope you're hungry for it.
In previous years, we saw all the traditional New Orleans goodies in the French Corner food tents, including beignets, crab étouffée, jambalaya and po'boys. Specialty cocktails and alcoholic drinks were scattered all throughout the courtyard, and guests over 21 could order even order them in souvenir cups! Universal's CityWalk wasn't left out of the fun either! Exclusive Mardi Gras snacks, treats and drinks were scattered all over Universal's nightlife district in 2020.
Once we have the latest information on the 2022 Universal Studios Mardi Gras menus, we will update you right here!
Last year's festival let you experience an international fest cuisine all around Universal Studios Florida;  inspired by international Carnaval celebrations. Sabor Puerto Rico, Trinidad and Tobago, Germany, Spain and other regions including, of course, New Orleans in Mardi Gras 2022! Check out the complete menus from 2021:
Universal Mardi Gras Food Menus (From 2020)
Bahamas
Tasting Menu
Jerked marinated chicken, rice & peas, scotch bonnet salsa
Jerked marinated jack fruit, rice & peas, scotch bonnet salsa
Drink Menu
Bahamian rum punch
International pilsner
Belgium
Tasting Menu
Sweet liege waffles with strawberries, whipped cream, chocolate
Brussels Frites with Roasted Garlic Veganaise 
Crispy seasoned fries with choice of dipping sauce: garlic mayonnaise, andalouse, or joppieaus
Drink Menu
Belgian wheat beer
Belgian quadruple, Abbey ale
Lindemans Strawberry Lambic 
Fruited sweet and sour ale
Brazil
Tasting Menu
Moqueca de Camarao with Rice 
Shrimp coconut cream stew, white rice, sweet potato curls
Brazilian classic with condensed milk, cocoa powder, chocolate sprinkles, toasted peanuts
Crispy pulled chicken tear drop fritters
Drink Menu
Pineapple Caipirinha Punch 
Cachaça and pineapple flavors
Strawberry Caipirinha Punch 
Cachaça and strawberry flavors
A blend of pineapple and strawberry caipirinhas
Canada
Tasting Menu
Crispy fries with short rib, cheese curds, demi glaze
Fried sweetened dough, Nutella, sugar, chopped hazelnuts
Fried sweetened dough, cinnamon sugar, maple syrup
Drink Menu
Sugar Shack Springtime Punch 
A complex Canadian whiskey punch with a base of pear juice
International pilsner
Colombia
Tasting Menu
Corn meal cake pocket filled with avocado, carnitas, mayonnaise, ketchup, culantro
Drink Menu
Limeade sweetened with coconut cream
(non-alcoholic)
Limonada de Coco spiked with rum and tequila
Cuba
Tasting Menu
Roasted pork, Serrano ham, Swiss cheese, mustard, pickles on Cuban bread served with plantain chips
Baked vanilla custard, dark caramel
Drink Menu
Choice of Bacardí Light, Bacardí 4 Year or Bacardí 8 Year
France
Tasting Menu
Poached Pear Crème Brulee Crepe 
Red wine poached pear, vanilla pastry cream, toasted almonds, caramel, crispy sugar topping
Drink Menu
Vidal-Fleury Cotes du Rhone Blanc 
White wine
Slightly sweet rosé wine
Vieux Chateau Lamothe Bordeaux Rouge 
Red wine
Famille Perrin Cotes du Rhone Rouge 
Red wine
Germany
Tasting Menu
Fried pork cutlet, spicy mustard, red braised cabbage, gruyere cheese
Vegan Bratwurst with Beer Braised Onions 
Vegan bratwurst, beer braised onions, spicy mustard, French quarter baguette
Warm pretzel, spicy mustard cheese sauce
Drink Menu
Weihenstephaner Kristalweissbier 
Clarified wheat beer
Weihenstephaner Vitus 
Strong wheat, bock hybrid lager
Aecht Schlenkerla Marzen Rauchbier 
Smoked Märzen Oktoberfest-style lager
T Schmitt Riesling Kabinett, Estate 
Sweet white wine
Italy
Tasting Menu
Colorful layers of almond cake sandwiched with raspberry jam and coated in chocolate
Italian pastry shell, chocolate chip cannoli cream, chocolate shavings
Fried risotto, wild mushrooms, truffle, parmesan cheese
Vanilla gelato served with a double shot of espresso
Drink Menu
Prosecco
Slightly sparkling sweet white wine
Red wine
Cantina Zaccagnini Montepulciano d'Abruzzo 
Red wine
New Orleans
Tasting Menu
Mix bag of crawfish, shrimp, andouille, red bliss, corn on the cobb
Mixed rice with andouille, shrimp, chicken, peppers, tomatoes
Mortadella, salami, ham, mozzarella cheese, olive relish on a toasted bun
Sweet fried pastry with powdered sugar
Stuffed Cajun twisted tater, sausage
Add andouille queso for $
Flavored with Cajun spices
Drink Menu
Raspberry fruited lager
A traditional Mardi Gras cocktail incorporating rum, orange and passionfruit flavors
A bourbon milk punch using our house-made King Cake syrup
Puerto Rico
Tasting Menu
Roasted pork, smashed plantains, onion mojo
Picadillo beef filled fried pastry dough
Guava and cream cheese filled fried pastry
Drink Menu
A twist on the classic piña colada incorporating green chartreuse
Spain
Tasting Menu
Saffron yellow rice, chorizo, squid, mussels, shrimp
A traditional platter of Spanish meats and cheese, olives, grapes, lavosh
Crispy fried with condensed milk, vanilla, cinnamon
Drink Menu
Sparkling wine
White wine
Hacienda de Arinzano Rosé 
Tempranillo-based rosé wine
Hazaña "Viñas Viejas" Rioja  
Red wine
Trinidad and Tobago
Tasting Menu
Deep fried spicy split pea dough with turmeric, curry powder and a side of tamarind chutney or powdered sugar
Grilled pineapple skewers, spices, micro cilantro
Drink Menu
National cocktail of Trinidad and Tobago; minted dark-rum grog with a light float of Angostura bitters
International pilsner
Please note items and pricing are subject to change without notice.
2022 Universal Mardi Gras Merchandise
Explore the Mardi Gras tribute store and let the good times roll with exclusive 2022 Mardi Gras merchandise. Guests can experience special merch and photo opportunities in themed rooms. The Mardi Gras photo opportunities include:
A hopping jazz parlor straight out of the 1920s with dueling pianos and bellowing brass
A flower filled nautical cemetery, where many sea captains were laid to rest
A waterfront warehouse, where all manner of smuggled treasures and trinkets are stashed
Universal Mardi Gras Parade – RETURNING 2022!
Huge announcement! Universal Orlando has announced that Mardi Gras parades WILL be returning in 2022. Although we did not see Mardi Gras parades in 2021, we will get to see the beautiful, bright performances up and down the streets of Universal Orlando Resort.
Past Universal Studios Mardi Gras Parade Floats
Miss New Orleans steamboat
Pirate Ship
Treasure Map
Sea Griffin
King Gator
Court Jesters
We are excited to see what 2022 Universal Orlando Mardi Gras parades and what they come up with! Either way, we are so excited that live entertainment is making it back into the parks.
Universal Mardi Gras 2022 Concerts
Universal Studios has also announced that Mardi Gras Concerts will be back for 2022! As stated, "the loudest, wildest blowout this side of the Bayou" has seen is expected. That means Universal Orlando is bringing all the bells and whistles back, including the 2022 Mardi Gras Concerts.
The 2022 Mardi Gras Concerts lineup has been announced and we are so excited to see who is coming to Universal Orlando this year!
2022 Mardi Gras Concert Lineup
The performances will take place select nights at the Music Plaza stage at Universal Studios Florida.
Feb. 5. — Sugar Ray
Feb. 12 — Diana Ross
Feb. 19 — Barenaked Ladies
Feb. 20 — Styx
Feb. 26 — Jon Pardi
March 5 — LL COOL J feat. DJ Z-Trip
March 6 — Marshmello
March 12 — Lee Brice
March 13 — Becky G
March 18 — Khalid
March 19 — Seal
March 20 — Gavin DeGraw
March 25 — The Revivalists
March 26 — Jimmie Allen
March 27 — Jason Derulo
Make sure to bookmark and check back for all of the latest Universal Orlando Resort updates!
When Is The Best Time To Visit Universal Orlando?
Our Universal Orlando Crowd Calendar is the best tool to help you get the most out of your time in the parks. We breakdown the park crowds, park hours of operation, ticket prices by day, and average temperature.
Are You Ready to Plan Your Next Universal Orlando Trip?
If you're ready to plan your trip to Universal Studios, be sure to check out our Universal Orlando Tickets! All Park Prodigy Universal Orlando tickets will get you into the park one hour before regular park guests with Universal Early Park Admission! And to stay up to date on everything going on inside the theme parks be sure to check out our partners at Themeparktoday.com!