How to Do Universal in One Day 2022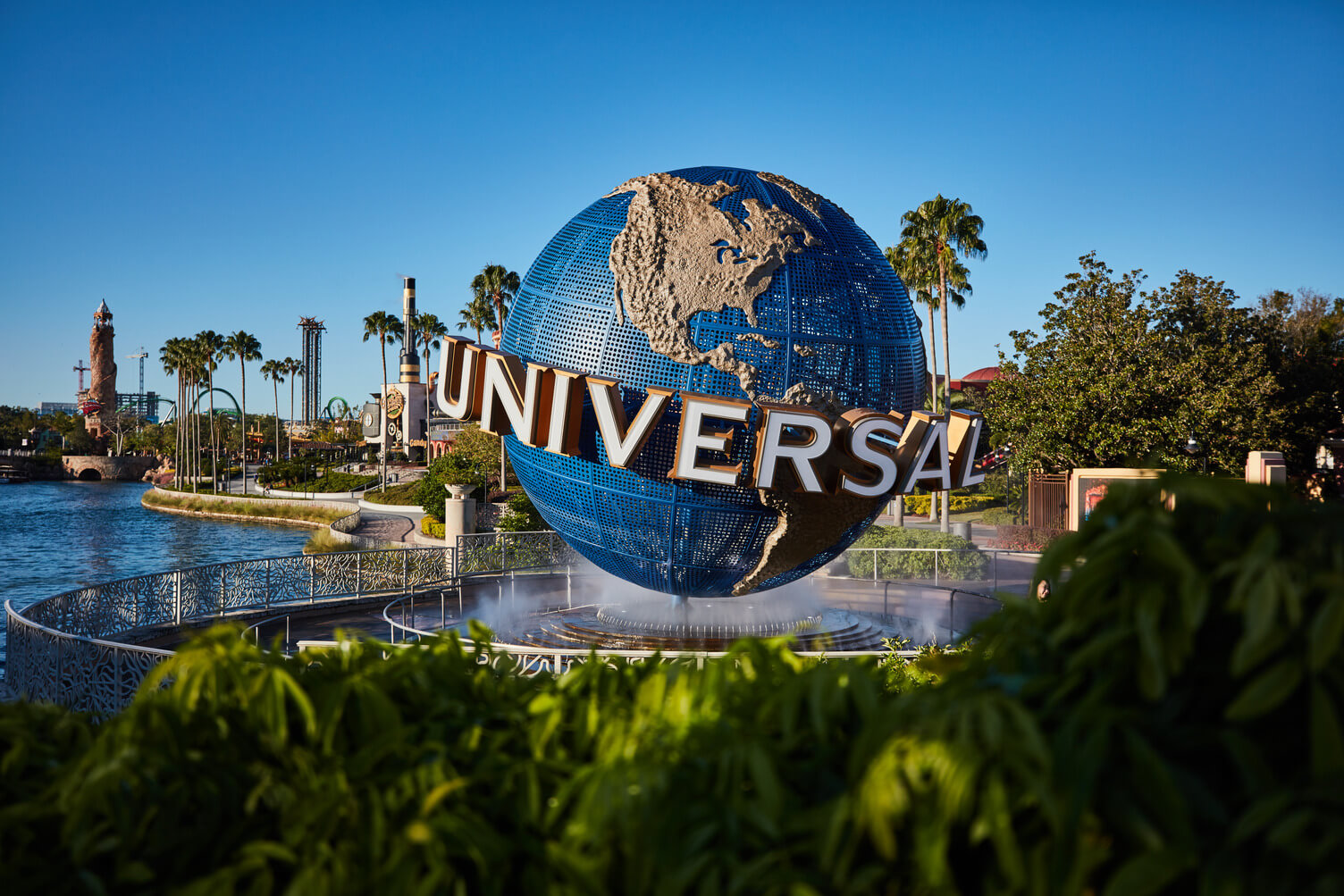 How to Do Universal in One Day 2022
This article is your complete guide to visiting Universal Studios Orlando in one day. Many people take quick trips to Central Florida, looking to pack in as much adventure as possible. Universal Orlando Resort is a highly popular tourist destination that many have on their bucket list. You may be wanting to pack in a few theme parks in your short trip, which may leave you wondering, "can I do Universal Orlando in one day?"
Lucky for you, with strategic planning and a little help from us, it is totally possible to do Universal Studios Orlando in one day. At The Park Prodigy, we offer a ton of free planning tools, as well as, personalized travel itineraries just for you! While it may be impossible to do EVERYTHING, there is no reason you can hit most of the popular attractions offered at Universal.
We hope you find this post helpful! Our goal at The Park Prodigy has always been to help you save time and money on your next Universal Orlando vacation!  If you are planning a trip to Universal Orlando be sure to check out the latest deals on Universal Orlando vacation packages and our discounted Universal Orlando tickets which include EARLY PARK ADMISSION to the Wizarding World of Harry Potter!
So if you want all of the tips and tricks to Islands of Adventure and Universal Studios in one day, read on!
SPECIAL NOTE: If you need help picking the best time to visit Universal Orlando for your next vacation be sure to check out our Universal crowd calendar!
Universal Orlando Crowd Calendar
2022 Universal Studios Orlando in One Day Overview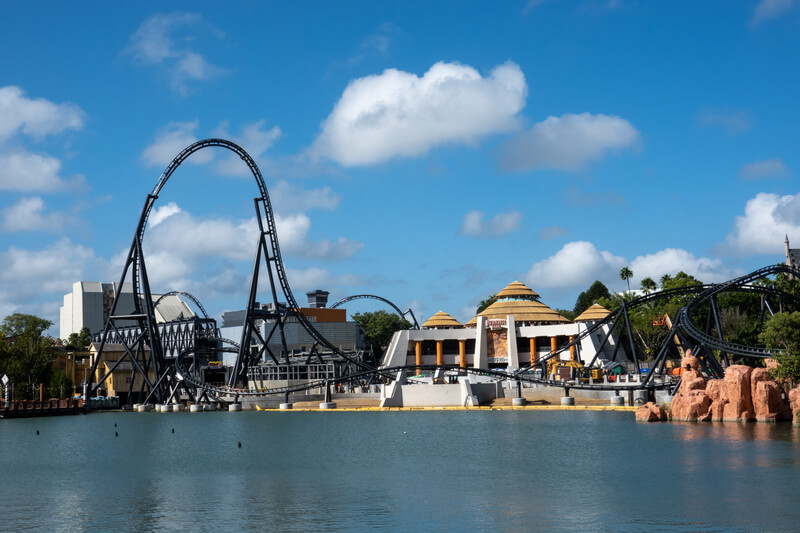 One of the most common questions, we receive from guests visiting the Orlando area is, can you do Universal Orlando in one day? And as a general rule of thumb guests can do Universal Orlando within one day with the main reason being how close Universal Studios Florida and Islands of Adventure are. The ease of traveling from one park to the other is one of the biggest reasons we say that Universal Studios Orlando in one day is totally achievable. Both Universal Studios and Islands of Adventure have world class attractions and are very easily accessible if you're willing to pay for a park-to-park ticket. If you're a huge Harry Potter fan, you can even take the Hogwarts Express between the parks and save your feet from all of the back and forth.
We also believe that one of the biggest advantages to visiting Universal Orlando compared to Disney is early park admission. This will allow select guests access to the Wizarding World of Harry Potter up to one hour early. So as you'll see given the close proximity to the two Universal parks, the extra hour in the morning, and having a solid game plan going into your day you can achieve a ton of stuff during your one day at Universal Orlando!
Related Page: Shop Discount Universal Early Park Admission Tickets 
Can You Do 2 Parks in One Day at Universal?
Like mentioned above, you can absolutely visit 2 parks in one day at Universal Orlando, but it's important that we mention it's almost impossible to do it all! But to be honest when you really look at everything Universal offers you really might now want to go on every single attraction. So we think it is important to mention that prioritizing what you want to do with your one day at Universal is necessary. So before we dive into the tips and tricks of a Universal Studios one day plan, let's talk about what's most important! First off, figure out which rides and attractions are most important to you and what you can live without while planning your one day at Universal.
Also keep in mind that obviously with all the planning in the world, there are things that can go wrong. Such as: waking up late, longer wait times than normal, getting sick, etc. Long marathon days in any theme park can also wear on people and you might not be able to do it all. Also, the best way to experience Universal Orlando Resort is truly by taking a full day in each park. So keep that in mind as you plan your next Universal Orlando vacation.
Related Page: Complete Guide to all Harry Potter Rides 
How to Do Universal Orlando in One Day 2022
When wondering, how to do Universal in one day, there are so many different things to consider. It can be overwhelming to plan even a long week vacation in the Universal Orlando parks. That's why we are going to give you some of our best tips and tricks to having the most fun during your one day trip.
Check out our video guide on how to do Universal in one day below:
How to do Universal Orlando in one day?
Make a priority list of attractions
Early Park Admission through the Park Prodigy
Use our Universal Crowd Calendar
Buy tickets in advance
Stay onsite at a Universal Orlando resort
Purchase Express passes
Which Universal Orlando park takes more time?
Another very popular question we receive is, which Universal Orlando park takes more time? As a general rule of thumb, we do find that Islands of Adventure park takes more time when compared to Universal Studios Florida. The main reason is Islands of Adventure has the two most popular rides in Hagrid's Magical Creatures Motorbike Adventure and the VelociCoaster. Islands of Adventure is also the bigger of the two parks and very simply has more rides.
Related Page: How to Ride Hagrid's For Early Park Admission 
Universal Studios in One Day – Early Park Admission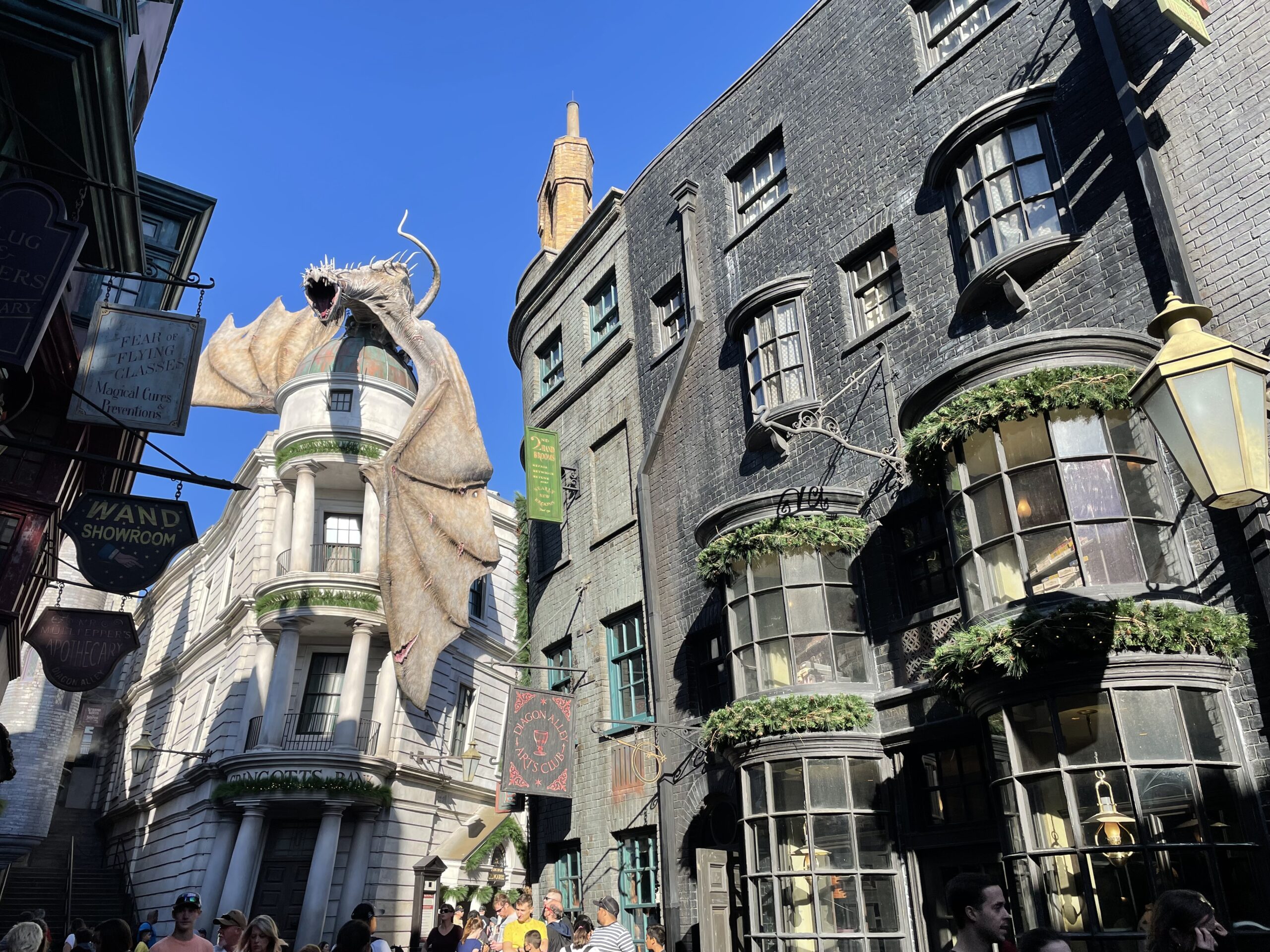 One of the biggest perks of purchasing discounted tickets through The Park Prodigy is that we offer Early Park Admission with all ticket sales. Early Park Admission can make the world of a difference if you're trying to build a Universal Studios Orlando 1 day plan. Early Park Admission allows you into the Wizarding World of Harry Potter one hour before park opens. Universal Orlando Resort will alternate on which park is offering Early Park Admission by letting you know in the Universal Orlando app.
Early Park Admission is almost necessary if you're wanting to ride Hagrid's Magical Creatures Motorbike Adventure or Harry Potter Escape from Gringotts. Your Park Prodigy ticket will let you enter either Diagon Alley or Hogsmeade Village one hour before the park opens. If you happen to have EPA on an Islands of Adventure day, you can enter Hogsmeade village and potentially ride two of the main attractions before regular guests even get let into the parks.
Universal Orlando Early Park Admission Bonus Tip:
Arrive at least one hour prior to Early Park Admission hours. If Early Park Admission hours begin at 8AM, you are going to want to be at Universal Orlando Resort by 7AM. Some guests who show up at 8AM for EPA have to wait just as long, if not longer on the rides inside of Wizard World of Harry Potter. It is very important that you are among the first people to arrive. So, can you do Universal in one day? Sure, but be prepared to wake up early!
Use the Crowd Calendar When Planning One Day at Universal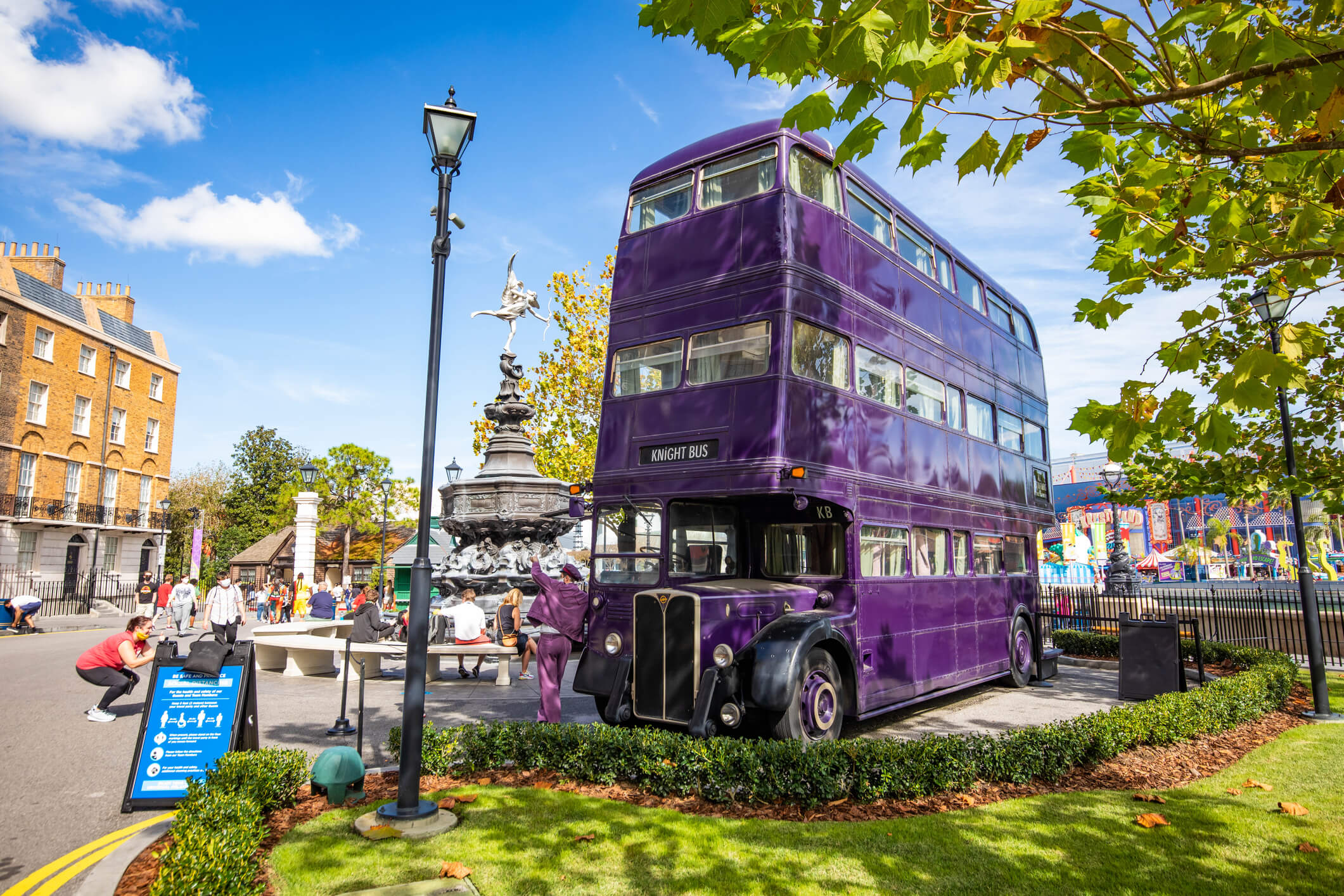 Crowds and long lines can be one of the biggest drags to any trip. If you and your party are thrill ride seekers, this tip is extremely important to keep in mind. With Universal having amazing new attractions like Velocicoaster, you can expect that wait times are going to be outrageous if you go during peak season. Our Crowd Calendar can give you the best estimate on when to visit during the slower times throughout the year.
Best months to visit Universal Orlando
September
January
February
Early May
Universal Orlando Resort follows the same trends as most of the central Florida theme parks. Avoid holidays, the summer and spring break! September is the perfect time to visit because most kids go back to school and you'll see lower crowd levels. Late winter is also the perfect time to visit because the weather is perfect and crowds tend to be the least busy! Picking the right time to visit can make going to Universal Studios Orlando in one day more than doable.
Related article: Best Time to Visit Universal Orlando
Make a List! – Prioritize Your Must-Do Attractions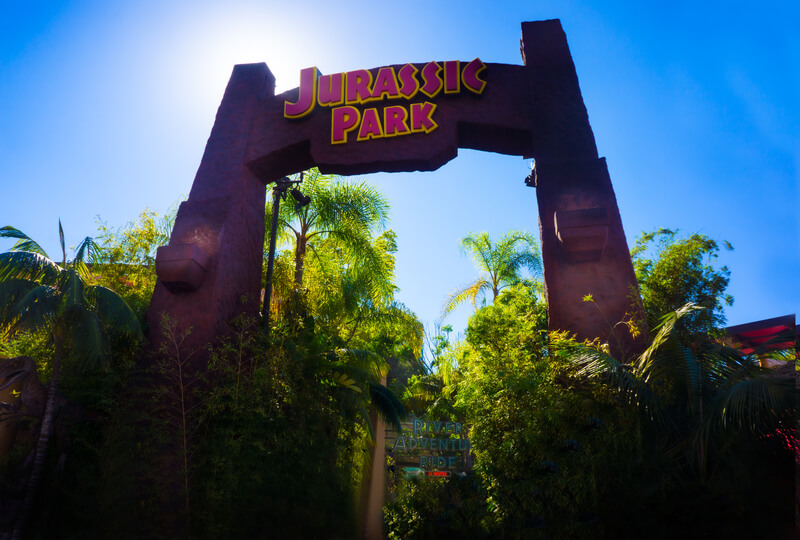 One of the most important things you can do when thinking of your one day at Universal Orlando plan and what to do is to pick your favorites! There are many different attractions at both Universal Studios and Islands of Adventure. It is almost a guarantee that you won't be able to do them all. If you're an adrenaline seeker, you can might want to make sure you get on rides like Velocicoaster, The Incredible Hulk Coaster and Hagrid's Magical Creatures Motorbike Adventure. If you're more of a dark ride lover, check out The Cat in the Hat, E.T. Adventure or Forbidden Journey at Hogwarts Castle.
If you have your must-do attractions, it can keep you on track when trying to do Universal Studios Orlando in one day.
Bonus Tip: Use the Single Riders line when available! 
Universal Orlando Resort Single-Riders' Line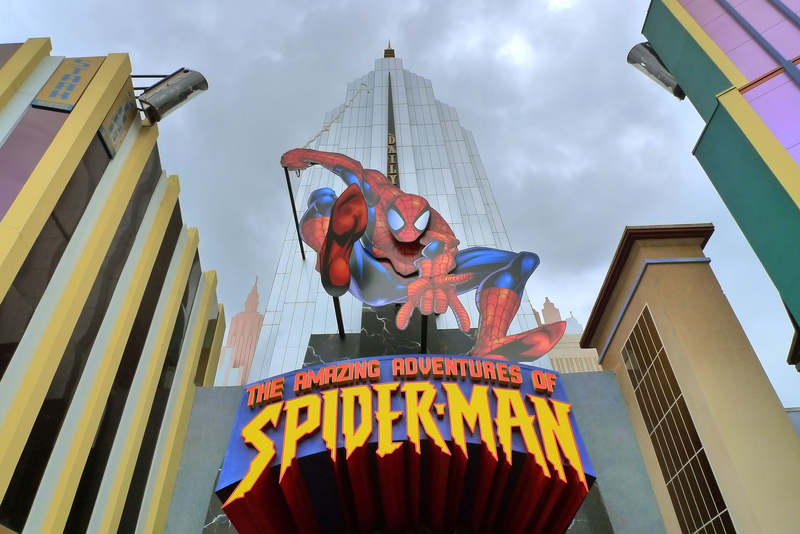 If you don't mind having your party split up, the Single Riders' line at Universal Orlando Resort can be your best tool to experiencing attractions. This line is specifically made to get every single ride vehicle filled to capacity. That means parties in the Stand-By line that have odd numbers will have an empty seat in their car. A Single Rider is used to fill that empty seat.
Sure you might have to sit next to a stranger or experience an amazing attraction separate from your party, but it is on of Universal's best tricks to low wait times. It is important to note that not all attractions at Universal offer Singer Riders and even if an attraction does offer it, they don't always have it open.
Universal Orlando rides with Single Riders' lines
Harry Potter Escape from Gringotts
Transformers – The Ride 3D
Revenge of the Mummy
Hollywood Rip Ride Rockit
Men in Black Alien Attack
The Amazing Adventures of Spider-Man
Jurassic World Velocicoaster
Dr. Doom's Fearfall
Harry Potter and the Forbidden Journey
The Incredible Hulk Coaster
So, can you visit Universal parks in one day? It might be a lot easier if you're willing to be split up and use Single Riders!
Purchase Universal Tickets in Advance
One of the longest hang-ups when visiting any theme park is waiting in the ticketing lines to purchase your tickets. Especially in the mornings, the ticketing lines tend to be extremely long. If you're trying to do Universal Studios in one day, we highly recommend purchasing your tickets in advance. When purchasing your Universal Orlando tickets through the Park Prodigy, you can skip the ticketing line an go straight to Will-Call kiosks. This takes less than 5 minutes, and as long as you have the credit card you used to purchase your ticket, you don't even have to talk to anyone.
Not only will you save time, but you will save money, as well. Buying your tickets through a reputable travel agency allows you to have someone that is searching for the best deals all the time, just for you. With our highly knowledgable staff, we can make sure that all of your concerns are taken care of. That means more time in the parks and less time dealing with the hassle.
Like mentioned above, there are perks too! All Park Prodigy tickets come with Early Park Admission, free planning guides and more.
Don't Eat at CityWalk When Visiting Universal In One Day
Well, this tip is really more so don't stop to eat at Universal CityWalk during the middle of the day. There's no doubt that Universal CityWalk is located perfectly between both Universal Studios and Islands of Adventure for easy access. However we do feel like it simply takes way too long to leave the parks and then enter back numerous times when you are trying to get everything done at Universal in one day. 
So we advise to skip eating at Universal Citywalk and really all sit down restaurants when visiting Universal in only one day. And we do know that Universal does have some amazing restaurants so we always suggest trying to plan a reservation for after your day in the parks later at night if possible.
Stay Onsite at a Universal Orlando Resort Hotel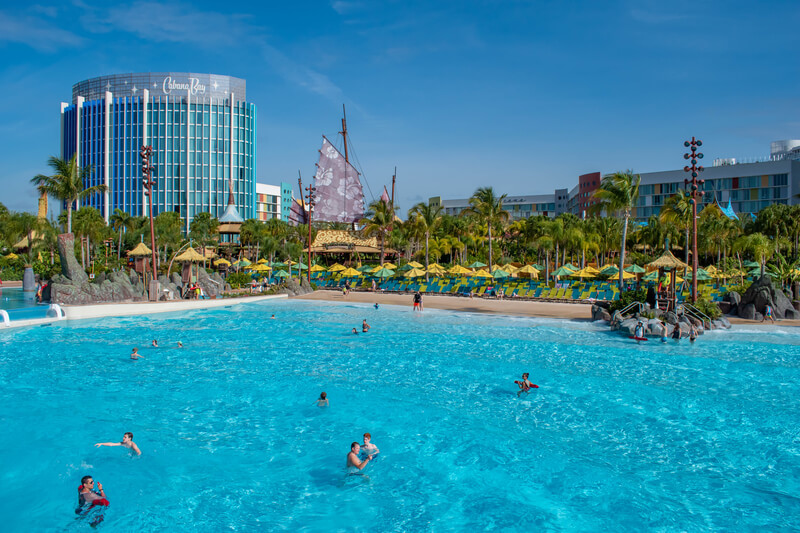 Universal Orlando Resort has 8 different hotels to choose from if you're thinking about staying on property. Staying at a Universal Orlando Resort has plenty of benefits like being able to walk, take a bus or a boat from your resort to the parks. It can be a game changer being able to wake up and have a very short travel time to either Universal park. There are also a range of hotels that can fit many budgets. Staying onsite can make doing Universal Studios Orlando in one day much easier than staying farther in an offsite hotel.
One of the best perks of staying at a Universal Orlando hotel is that some of them offer Express Passes with your stay. If you stay at a Universal Premier hotel, all guests staying at that hotel are given Universal Express Unlimited Passes. The Express Unlimited passes start at $109 per person, so that's over $400 of savings if you were debating on buying one anyway. The Park Prodigy also now specializes in vacation packages, where you can book your hotel say and purchase your tickets through us with ease.
Can you see Universal Studios in one day? Staying onsite can definitely help!
Universal Studios Park to Park One Day – Express Passes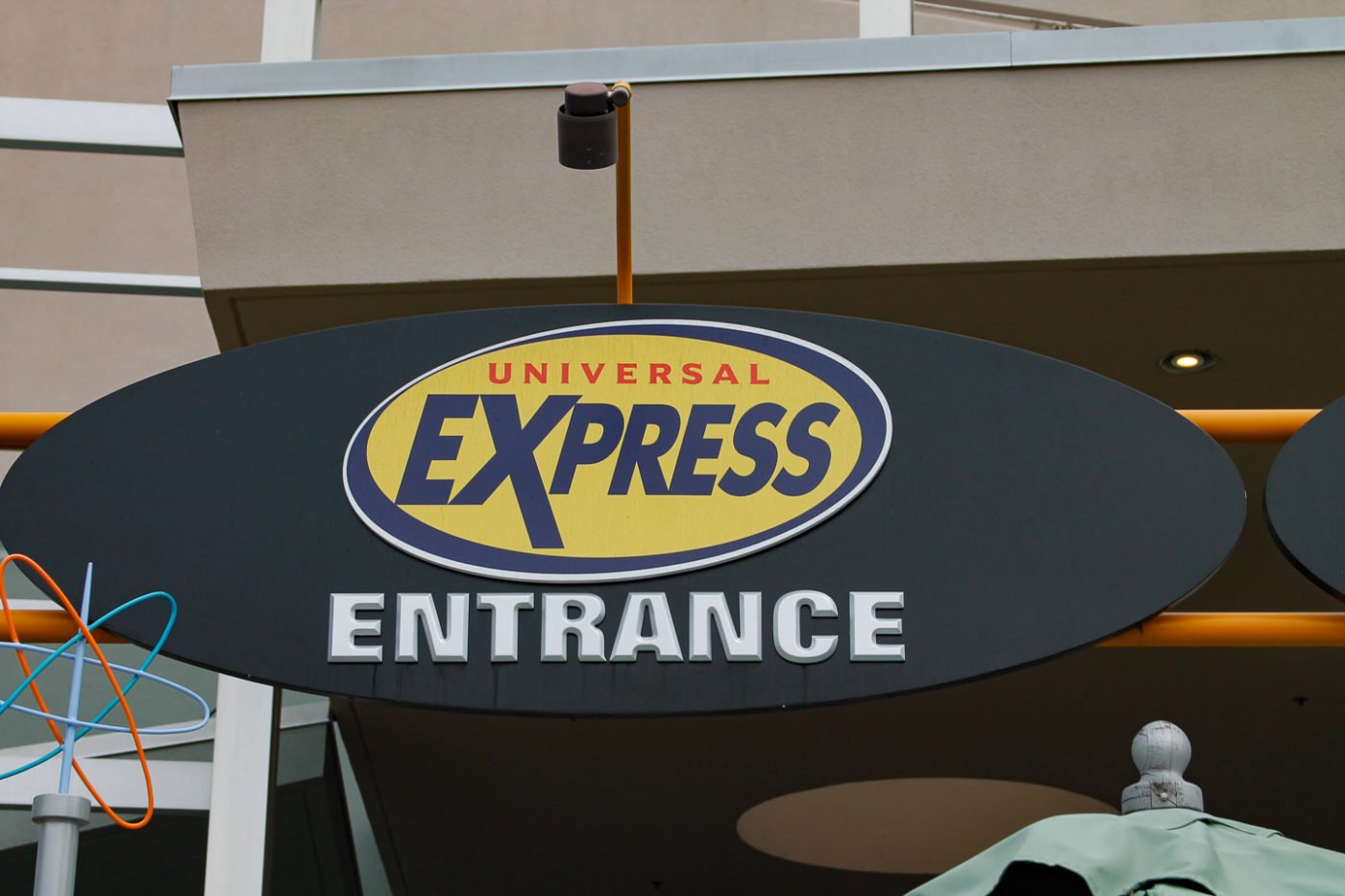 As we mentioned above, if you book a stay through a Universal Orlando Premier Hotel, an Unlimited Express Pass is given to everyone staying with you. If you are not booked through a Premiere hotel, don't fret, you can purchase one as an add on. The Universal Express pass allows you to skip the line of certain attractions either once or an unlimited amount of times depending on the pass. As we all know, the largest time drain for any theme park vacation is the wait in the line. Therefore, the Express Pass could be a game changer for those wanting to do Universal Studios Orlando in one day.
Universal Orlando Express Pass Pricing 2022
Universal Express – Starting at $79.99. Skip the line one time per participating attraction.
Universal Express Unlimited – Starting at $109 – Skip the line unlimited times on participating attractions.
If you're still wondering, "Can you do Universal Studios in a day?" we hope that some of these tips and tricks are helping!
Can You Visit Universal Studios Orlando in One Day Bonus Tips
While we think that the tips listed above will significantly help you have the perfect Universal Studios Orlando one day plan, here are a couple of bonus tips!.
Research Universal Orlando parks layout ahead of time
Make sure you know where you're going! Both Islands of Adventure and Universal Studios Florida are large parks with many lands. If you're looking to go on specific attractions, make sure you know where you're going! It is easy to get turned around.
Know where and when to eat and use mobile ordering
Universal Orlando Resort is known for quick service restaurants taking a long time to prepare food. It is probably one of our biggest complaints about both theme parks. Waiting in line for quick service meals eat up a huge portion of the day and can cost you an attraction or two if you don't plan well. Pack small snacks and be prepared to eat super early or super late. Guests can also take advantage of the mobile ordering on the Universal Orlando App. This can be a huge time saver when visiting Universal is just one day! 
Use the Universal Orlando Resort App
The Universal Orlando Resort app has all there is to know about the theme parks when visiting. You can view wait times, reserve Virtual Queue spots and even order your food. This tool can come in handy when you're looking for the lowest waits or next showtimes. Just know that if you're pulling a long day inside of the park, you might need a portable charger to keep your phone charged throughout the day.
Use Virtual Queues when available
When visiting Universal Orlando, you might see signs around that have QR codes offering you to make Virtual Queue reservations. Use them! Super popular attractions like Revenge of the Mummy and Hagrid's Motorbike Adventure will utilize this system. We recommend right away when the park opens, keep an eye out for these signs. Some rides only operate through Virtual Queue, and you will miss out on that ride if you do not book them right away in the morning.
So, can you do two Universal parks in one day? We think that it is totally possible with great planning, our awesome discounted tickets and an ambitious attitude.
When Is The Best Time To Visit Universal Orlando?
Our Universal Orlando Crowd Calendar is the best tool to help you get the most out of your time in the parks. We breakdown the park crowds, park hours of operation, ticket prices by day, and average temperature.
Are You Ready to Plan Your Next Universal Orlando Trip?
If you're ready to plan your trip to Universal Studios, be sure to check out our Universal Orlando Tickets! All Park Prodigy Universal Orlando tickets will get you into the park one hour before regular park guests with Universal Early Park Admission! And to stay up to date on everything going on inside the theme parks be sure to check out our partners at Themeparktoday.com!