The Complete Guide to Disneyland Halloween and Oogie Boogie Bash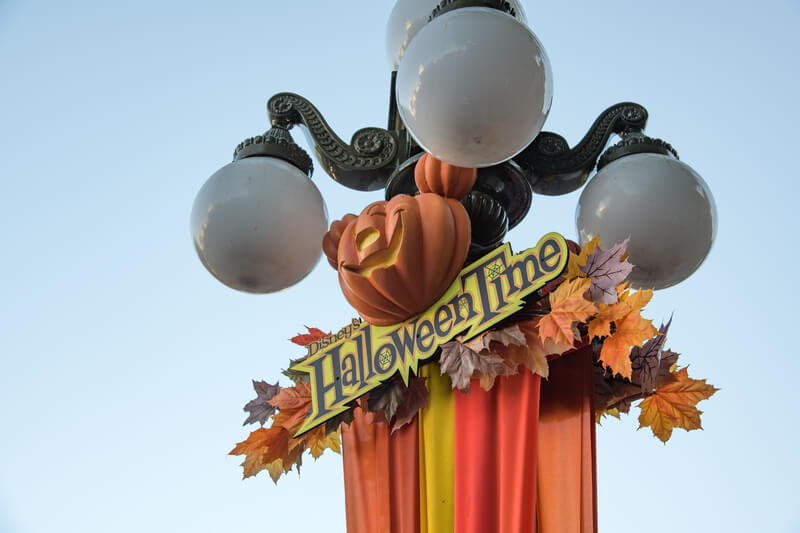 The Complete Guide to Disneyland Halloween and Oogie Boogie Bash
Updated August 2021:
SPECIAL NOTE: If you're looking for the best time to visit Disneyland during Halloween time be sure to check out our Disneyland crowd calendar! 
 Disneyland Crowd Calendar 2021
Disneyland Halloween Guide
When talking about Disneyland Halloween, there's no better place to start than with the Oogie Boogie Bash. This spooktacular night of Halloween thrills, chills, and fun is great for guests of all ages. If you're planning on attending this event, be sure to take part in the fun and dress up! This after hours event specifically takes place at the Disney California Adventure Park. Unlike it's predecessor Mickey's Halloween Party at Disneyland Park.
Disney California Adventure Park offers this new separately-ticketed, after-hours event hosted by Oogie Boogie. The Gamblin' Boogieman from Tim Burton's "The Nightmare Before Christmas". This party premiered in 2019 at DCA as a replacement of the original Disneyland Halloween Party. Mickey's Halloween party at Disneyland Park was a fan favorite but thankfully the new party was more treat than trick! Oogie Boogie Bash opened to rave reviews with it being an updated and refreshing iteration of the original Halloween Party.
Disneyland Halloween 2021 Dates
Unfortunately due to the Covid-19 pandemic, last year's Oogie Boogie Halloween party was canceled. But thankfully the 2021 Disneyland Boogie Bash and Halloween time Disneyland dates have finally been announced! And if you're wondering when does Disneyland decorate for Halloween or when does Halloween start at Disneyland, the Disneyland Halloween calendar officially begins September 3rd!
Unlike the Halloween events in Florida, Disneyland will host two separate Halloween Parties! You can start celebrating Halloween time at Disneyland Park September 3rd until October 31st. The special ticketed event at DCA, Oogie Boogie Bash, will begin September 9th until October 31st and will be held on 25 select nights.
Here are the Oogie Boogie Halloween Party 2021 dates and ticket prices:
September 9, 2021 – $124
September 11, 2021 – $169
September 12, 2021 – $134
September 14, 2021 – $114
September 16, 2021 – $124
September 19, 2021 – $134
September 21, 2021 – $114
September 23, 2021 – $124
September 26, 2021 – $134
September 28, 2021 – $114
September 30, 2021 – $124
October 3, 2021 – $149
October 5, 2021 – $124
October 7, 2021 – $134
October 10, 2021 – $149
October 12, 2021 – $124
October 14, 2021 – $134
October 17, 2021 – $149
October 19, 2021 – $124
October 21, 2021 – $134
October 24, 2021 – $149
October 26, 2021 – $149
October 28, 2021 – $149
October 30, 2021 – $169
October 31, 2021 – $169
Oogie Boogie Bash 2021 tickets are limited and priced on a date based system. As of now, all dates are sold out.
2021 Oogie Boogie Bash Disneyland Halloween Party Hours
The Disneyland Oogie Boogie Bash party will be held from 6:00 p.m. to 11:00 p.m. on select nights and is a great way to spend select Disneyland Halloween nights. However, your ticket to the after hours event allows admission to Disney California Adventure beginning at 3 p.m.! That's 3 extra hours of magic before the party even begins!
One of the most popular questions we receive is, does Disneyland close early on Halloween? On nights when Oogie Boogie is held, yes, DCA does close early. The park closes at 6 p.m. to non-party guests. So keep that in mind if you are planning to visit the park earlier in the day—Disneyland Halloween crowds will absolutely be heavier than normal. Guests looking to plan around the crowds or looking for the most up to date Halloween Disneyland schedule can check out our Disneyland crowd calendar. 
Oogie Boogie Bash Dress Code
Disneyland invites all attendees to dress in costumes for the Oogie Boogie Halloween party, however, you will still need to follow Disneyland's costume guidelines. The Disneyland Oogie Boogie Halloween Bash is one of the rare events where you're allowed to dress up as your favorite Disney character! But be warned, posing for pictures or sign autographs for other guests may result in removal from the party. So be sure to leave those activities up to the professionals. The costume guidelines vary by age, so make sure you read the full list of what is or isn't acceptable on the Disneyland website.
Costumes MAY: be family-friendly
Costumes MAY NOT: be obstructive, offensive, objectionable, or violent; contain any items that resemble or could easily be mistaken for an actual weapon; contain sharp/pointed objects or materials that may accidentally strike another visitor; be layered or include props that surround the entire body; and reach or drag on the ground.
Guests who do not adhere to the Halloween at Disneyland Resort guidelines can be refused entry or removed from the event. Unless the costume can be modified to meet the guidelines. Disneyland takes this very seriously, and these costume guidelines only apply during event hours—standard theme park attire rules apply during all other times.
Disneyland Halloween Character Meet and Greets
The Oogie Boogie Bash isn't the only time you can see classic Disney characters celebrating the spirit of Halloween. You can enjoy the entire Halloween season at Disneyland at both Disney California Adventure and Disneyland Park. You can meet classic characters at Disneyland during Halloween in Town Square and on the Main Street Station platform. Over at DCA, you're able to meet Mickey and Friends dressed up for the season! Catch them hanging around the Carthay Circle Fountain throughout the day! But when evil takes over DCA for the separate ticketed event, keep and eye out for special characters you might not see anywhere else! From the Pumpkin King Jack Skellington himself and his good friend Sally from "The Nightmare Before Christmas" to the Evil Queen and Maleficent!
Things to do at Disneyland During Halloween
The opportunities for fun are endless during Disneyland at Halloween even if you don't attend the after-hours event. Similar to the Holiday Season, Disney doesn't hold back on the Halloween décor. Don't miss out on snapping that perfect selfie that you can only get during Disney Halloween time. In fact, Main Street USA hosts some of the best photo spots with exclusive Disneyland Halloween decorations with the Main Street Pumpkin Festival.
Disneyland Halloween Attractions
Haunted Mansion Holiday: Jack Skellington has been busy decorating the Haunted Mansion with frightfully festive touches inspired by "The Nightmare Before Christmas."
Disney California Adventure Halloween Attractions
Guardians of the Galaxy—Monsters After Dark: Every night during Halloween time Disneyland 2021 and beyond, Guardians of the Galaxy: Mission Break Out will transform into its "Monsters After Dark" version. Amid the chaos of the Guardians of the Galaxy's rescue attempt, Groot got left behind! Now, your objective is to team up with Rocket, distract the monsters, and escape with his little buddy in tow. This attraction has its ups and downs…literally.
Luigi's Honkin' Haul-O-Ween: Located in Cars Land, this ghoulishly grand song 'n' dance bash guaranteed to wake the dead. As you take a spooktacular spin around the dance floor, Luigi and Guido add a haunted twist to traditional songs and stories from the old country.
Mater's Graveyard JamBOOree: Also in Cars Land, this haunted attraction features more Haul-O-Ween music. Mater becomes the life of the party by crooning creepy country tunes with a Haul-O-Ween twist—including "Welcome to Radiator Screams," "Monster Truck Smash," and more!
 Halloween Events at Disneyland
Main Street Pumpkin Festival: A horde of grinning gourds line Main Street, U.S.A. during Halloween Time at Disneyland. This is really cool…carve out some time to see it! (There's a gigantic Mickey pumpkin!)
Halloween Screams: Presented throughout Halloween 2021 Disneyland, this special display has been a real treat, including a jump-worthy collision of sights and sounds—such as soaring flames, projections of rising ghosts, and classic Disney villains like Maleficent and Ursula the Sea Witch—all set to a medley of Halloween-inspired songs. **Fireworks occur on select nights only. We recommend checking the Entertainment Schedule for when fireworks will light up the night sky.
We can't forget about the amazing food, keepsakes, and Disneyland Halloween deals! Disneyland and Downtown Disney Halloween offers unique, themed Disneyland Halloween merchandise and food.
When is The Best Time to Visit Disneyland?
Our Disneyland Crowd Calendar is the best tool to help you get the most out of your time in the parks. We break down park crowds, park hours of operation, ticket prices, and average temperature. We also break down the best time to visit Disneyland based on specific times of the year and special events.