Complete Guide to The Cheapest Time to go to Disneyland 2023
Complete Guide to The Cheapest Time to go to Disneyland 2023
This article is your complete guide to the cheapest time to visit Disneyland in 2023! Because we're all celebrating that Disneyland has opened back up and that starting on now out of state visitors have started to plan their trips as well. Whether you are a return visitor to Disneyland or if you are a first-time visitor, you might be like many of us and living on a budget, trying to determine the cheapest days to go to Disneyland and the cheapest ways to get there. And if you're lucky enough to have a flexible schedule, you might be able to plan a Disneyland vacation during some of its slower times, and that will help you book your trip for the cheapest time for Disneyland.
We hope you find this post helpful, and if you are planning a trip to Disneyland be sure to check out our other FREE vacation planning tools. Our goal at The Park Prodigy has always been to help you save time on your next vacation and find the best time to buy Disneyland tickets!
So if you're ready to learn about the cheapest time of year to visit Disneyland read on!
SPECIAL NOTE: If you're looking for our 2021 Disneyland Crowd Calendar be sure to go straight to the link below!
When is the Cheapest Time to Visit Disneyland in 2023?
Like Disney World, the cheapest time to visit Disneyland in 2023 is during its slower months when kids are back in school. There are lots of variables that go into planning a family vacation. While your mind may first think about the expense of park tickets, in the end, they really don't fluctuate enough to help you determine when is Disneyland cheapest. You will want to look at the big picture – travel expenses, hotel rooms, and even food expenses.
Below are several tips and tricks you can use to figure out the cheapest months to visit Disneyland California!
Pay attention to Disneyland ticket prices
One of the easiest ways to spot the offseason at Disneyland is to pay attention to ticket pricing. The reason being is one day Disneyland tickets now fluctuate based on the day you first plan to visit the theme parks. As you can guess, Disney will adjust their ticket pricing up during the busier times of year and also adjust ticket pricing down during the Disneyland off season. So one of the easiest ways to spot the cheapest times of year to visit Disneyland is by looking at the one day Disneyland ticket pricing! 
Related Page: Get Weekly Disneyland Deals and Promotions 
Plan your trip right after kids go back to school
Another helpful tip when trying to figure out how to go to Disneyland cheap is to plan around when kids go back to school. This is Usually the beginning of September and winter breaks in January and February.
Look for deals on hotels and vacation packages
Not only will Disneyland and near by hotels run deals during the offseason but it can also be one of the cheapest times to book flights to Disneyland. Once you arrive in Anaheim many of these same hotels will include free transportation to and from the parks so all you have to worry about is having fun!
Always buy your tickets in advance
One of the cheapest ways to go to Disneyland if you are not purchasing a Disney vacation package is buy your tickets in advance. All guests who purchase their tickets in advance will take advantage of a savings when compared to the price of tickets at the gate. Guests can also take advantage of our Discount Disneyland tickets with free park plans when buying from our The Park Prodigy before your trip.
Related Page: Discount Disneyland Tickets
The Most Expensive Time to Visit Disneyland 2023
As you try to determine when is the best time to go to Disneyland Anaheim, you'll first want to look at the "worst" time to visit Disneyland. Now, really, there is no "worst" time, but as far as saving money goes, we're equating the worst time with the most expensive time to visit Disneyland in 2023.
Like most theme parks, the most expensive time to visit is when the most people will be going because they have increased demand so prices can be elevated, and the excited travelers will pay those prices. You'll see Disneyland tickets and hotel rooms increase in price, as well as airfare, gasoline, and food prices.
Because children are often the driving factor for enjoying a family-friendly theme park like Disneyland, you can rest assured that anytime those kiddos aren't in school, it will be the most expensive time to visit Disneyland.
Most Expensive Months to Visit Disneyland
Spring Break (March and April)
Summer Months (June, July, beginning of August)
Winter Break (December)
The Most Expensive Time to Visit Disneyland in the Fall of 2023
We think all of fall is going to be pretty expensive at Disneyland as you try to determine the cheapest time of the year to go to Disneyland. The big game changers for Disneyland this year are 1) the fact that the park remained closed longer than any other theme park in the US, creating an almost frenzied need by its fans to go visit as soon as they can (and boy, we understand that frenzy all too well!); and 2) the opening of Avengers Campus, an all-new land in Disneyland's California Adventure Park.
Much like Disney World, in when fall is often the cheapest time to go to Disneyland, we think this fall may play out a little differently and we'll still see tickets and hotels charging top rates for Disneyland. Don't worry, there will still be Disneyland off season dates, we just don't see them occurring anytime soon.  
When is the Cheapest Time to Go to Disneyland in 2023?
While we know that there will be variations in crowd numbers this year, it's still extremely helpful to look at past years' attendance numbers to help you determine when the least amount of crowds will be at Disneyland. Knowing when those slightly smaller crowds will be at Disneyland, will help you determine the best times to visit Disneyland in 2023 and stay on your budget!
When is the Cheapest Time to Go to Disneyland in 2023?
Weekdays in January (except the week of New Year's Day and the days around Martin Luther King Jr. Day)
Weekdays in February (excluding the days around Presidents' Day)
The first few days in March (before spring break hits)
Weekdays in May
Weekends during the last two weeks of August
The first half of September; Tuesdays through Thursdays for the remainder of September and the second half of October
Mondays through Thursdays in November (but not the week of Thanksgiving)
Mondays through Thursdays during the first half of December
When are Disneyland Tickets the Cheapest 2023?
Disneyland tickets are on a tiered-pricing level much like Walt Disney World. That means, when demand is higher, an individual day price ticket will be more. Currently, an adult one-day ticket can run from $104 to $159 per person. One of the best ways to pick the cheapest day to go to Disneyland, is to pick a weekday. Even in Disneyland non peak season, the weekends are more expensive. So, if you can plan a vacation from Monday-Thursday, instead of Friday-Sun, you'll save yourself money not only on Disneyland tickets but on hotel prices as well.
What's the Cheapest Way to Buy Disneyland Tickets?
Purchasing discounted Disneyland tickets from a verified travel agent site like The Park Prodigy can be beneficial because you are getting authorized tickets at a lower price, and can even get multi-day tickets cheaper. If you'd rather buy directly from Disneyland, be sure to plan a visit on their cheapest days to ensure the lowest prices. You can also consider admission packages or purchase multiple-day tickets to reduce the price of your per-day visit.
Disneyland Hotel Rates by Season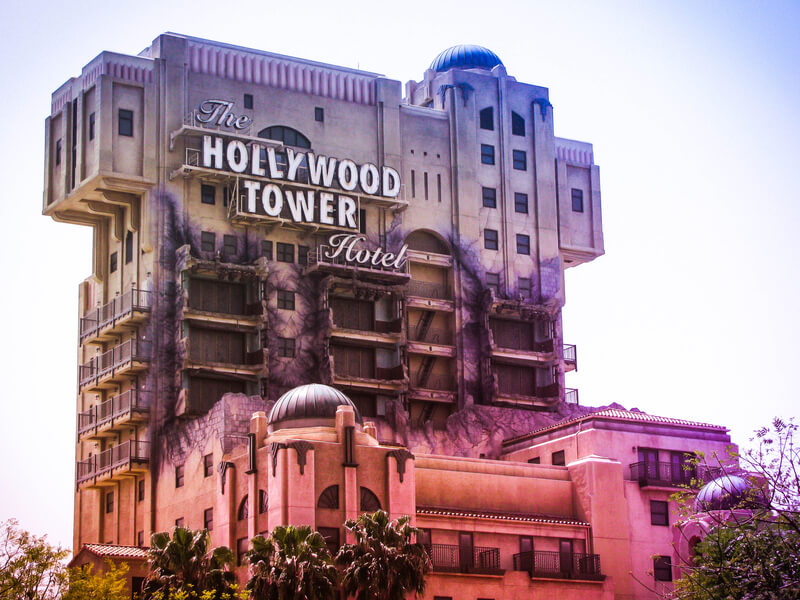 Disneyland and its good neighbor hotels will base their nightly rates on what the predicted crowds will be. It is the same process as the ticket! If you want to save more and find the cheapest Disneyland Hotel rates, then plan a trip during the slower times at Disneyland. Use our cheapest dates to visit Disneyland listed above to help your find the lowest Disneyland hotel rates.
We also have Crowd Calendar for those wondering what the best times to visit Disneyland are! Our Crowd Calendar is a wonderful tool that can tell you exactly how crowded each day will be in the park. It is a completely free tool and can help you get the best deals for a Disneyland vacation!
Cheap Ways to Stay at Disneyland in 2023
Unlike Disney World, Disneyland only has three hotels that are directly on the property and considered official Disneyland hotels. Because of their location of being pretty much directly in the parks (and easy walking distance), the rates for these hotels are often quite expensive. If you are looking for the cheapest way to plan a Disneyland vacation, you have to consider hotel prices, unless you're a local (and then we have to argue, is it really a "vacation?").
We recommend looking into some of Disneyland's good neighbor hotels. While they don't quite keep you in the heavily themed Disneyland bubble, most of the good neighbor hotels are also within walking distance of the parks and are reasonably priced for a vacation stay.
Current Disneyland Deals
Currently, The Park Prodigy offers discounted Disneyland tickets, which can save certain guests up to $40 from the gate price! If you're looking for great Disneyland tickets, look no further. We can help you will all of your Disneyland vacation needs.  Click here for discounted Disneyland tickets.
Disneyland will offer random deals throughout the year and as for 2023, they haven't released any deals for resorts or tickets. Right now, there is a 25% discount on Disneyland resort hotels that is running until December 9th. You can check out current Disneyland deals here.
Cheapest Way to Travel to Disneyland in 2023
To keep within your travel budget, you may also be looking for what is the cheapest way to get to Disneyland 2023. The answer to that question is going to have a lot of variables, but remember, if you're flying, flight dates and pricing do not always reflect the same fluctuations on the same dates as Disneyland. What may be an off season in Disneyland, may be a very busy time to fly so airfare may be more expensive. It'll be up to you and your family to determine what is the most cost effective, as well as time saving, way to travel to Disneyland.
Cheapest Time to Visit Disneyland Tips and Tricks
Use a Disney Travel Agent like The Park Prodigy
Our first-biggest piece of advice to help you plan a Disneyland trip on a budget is to book your trip with us, The Park Prodigy. When you let us book your Disneyland vacation, we will continue to check for deals and discounts even after you book! So, if Disney releases a new promotion offering an extra 30% off hotel rates we will do our very best to call and move your reservation under the new promotion! This is just one of the ways we give back to our clients and make sure you are booking the cheapest Disneyland vacation no matter when you visit. All guests looking to learn more about the benefits of using a Disney travel agent can receive a no obligation quote here!
Check One Day Ticket Pricing When Trying to Avoid The Crowds
Our second-biggest piece of advice to help you plan out the cheapest time for Disneyland in 2023 is to keep an eye on Disneyland's single-day ticket price calendar. If you are able to plan a last-minute trip or live near Disneyland, this will be your best way to ensure you find the cheapest Disneyland tickets for your visit.
When is The Best Time to Visit Disneyland 2023?
Our Disneyland Crowd Calendar is the best tool to help you get the most out of your time in the parks. We break down park crowds, park hours of operation, ticket prices, and average temperature. We also break down the best time to visit Disneyland based on specific times of the year and special events.
Now's the time to book it! Let us help you celebrate getting through one of the hardest years ever by planning a Disneyland vacation today!