How Far In Advance Can I Book Disney?
How Far In Advance Can I Book Disney?
Are you ready to start planning a Walt Disney World vacation? We all know it's such a big step, especially with all of the new steps such as making Disney World park reservations and the new park hopper hours. However one of the most common questions we still receive is how far in advance can I book Disney 2022? We're not surprised as many families start to book their Disney vacations years in advance just to make sure everything is perfect.
While a lot has changed in the past year (we'll cover some of those things), a lot has stayed the same when planning your next Walt Disney World vacation. We hope you find this post helpful, and if you are planning a trip to Disney World be sure to check out our other FREE vacation planning tools. Our goal at The Park Prodigy has always been to help you save time and money on your next vacation. This includes helping you find the best time to buy Disney World tickets as well as book amazing Walt Disney World vacation packages!
So if you're ready to answer the age old question, "how far in advance should I book a Disney vacation?" read on!
SPECIAL NOTE: If you're looking for the absolute best time to visit Disney World be sure to check out our Disney Crowd Calendar! 
How Far In Advance Can You Book Disney?
There are a few different factors you must consider when answering the question, how early can you book a Disney trip? For starters, there is a big difference between room only reservations and a Disney World vacation package. As you'll see shortly room only reservations typically open up earlier than official Disney World vacation packages. It's also important to note that upgrading a Disney World room only reservation to a Disney World vacation package is not as simple as it might sound. However we will say that the perks of booking a Disney World vacation package are not the same as in years past and most families are trying to take advantage of the on-site hotel benefits which still come with hotel only reservations.
Be sure to check out our discount Walt Disney World vacation package page after you read the additional info below to see what pricing looks like during your next trip!
How far in advance can I plan a Disney vacation?
For this next section we are going to break down all of the different components of your Disney World trip and when you can book them individually:
Disney World room only reservations: 499 days in advance of your booking date
Disney World vacation package reservations: 180-365 days in advance of your booking date
Disney World ticket only orders: 180-365 days in advance of your booking date
Disney World park reservations: 180-365 days in advance of your booking date
Disney World dining reservations: 60 days in advance of your dining date
Related Page: Discount Walt Disney World Vacation Packages 
How Far in Advance to Book Disney World Hotel Rooms
So, how far in advance can you book Disney World hotel rooms? You can book a room-only Disney world hotel reservation up to 499 days ahead of time. This type of booking does not include tickets or any dining plan if Disney reintroduces a Dining Plan in 2022 or later. A room-only reservation needs to be made by your travel agent (like us!) or by calling Disney directly. It cannot be reserved using Disney's online reservation system. If there is a specific room or extremely popular resort that you simply must have on your Disney Resort stay, this option will get that room reserved for you while you wait for resort packages to open up.
It's also important to note that although this is a great option for guests trying to figure out just how early you can book a Disney World vacation, this reservation can't easily be upgraded to a Disney World vacation package. Which means you would have to cancel this reservation and book a new Disney World package which includes tickets. The reason this is important is this is all subject to availability, so in some cases you might be better off keeping your original Disney World hotel reservation. This is especially true at some of the best Disney World hotels! 
When Can I book a Disney World Vacation Package in 2022 & 2023?
So, how far in advance can you make Disney reservations for vacation packages? Guests will be pleasantly surprised that Disney World vacation packages are now released between 180 days to 360 days in advance. It's important to note that on average we typically see Disney World vacation packages for the next year release right around June.
It's also important to note that although guests might be able to plan a Disney trip a year in advance they will also need to keep an eye on the Disney park reservation system. As in order to get into one of the four Walt Disney World parks a theme park ticket as well as a park reservation is required for entry.
Can I book Disney World packages 2023?
A very common question we have been receiving is, can I book 2023 Disney World vacation packages? And, yes Disney has officially released 2023 vacation packages as of June 2022. This will allow guests to book their entire package including a Disney hotel and tickets for as little as $200 down. This is so much more convenient than having to book your hotel and tickets separately and you will receive all of the added benefits that come with an official Disney World package.
How Far in Advance Can You Buy Disney World Tickets?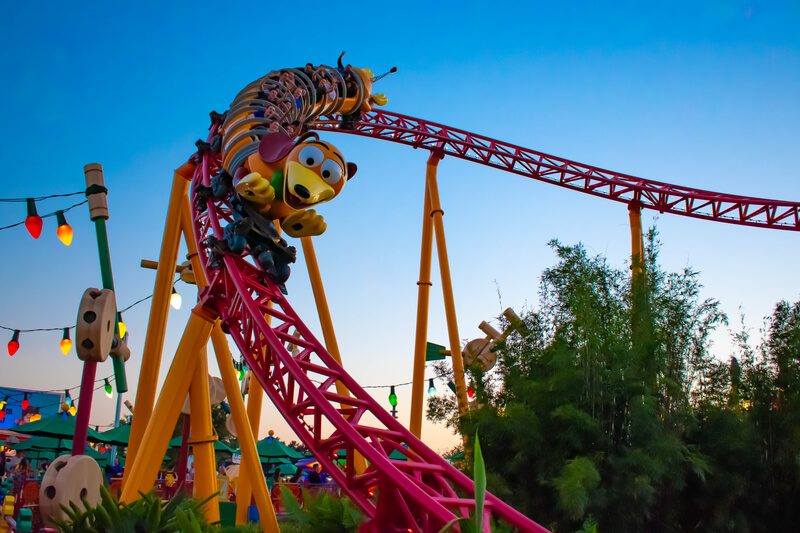 The next most important question on everyone's mind is, how far out is Disney booking ticket only orders? The answer is similar to Disney World vacation packages where guests can typically book ticket only orders 180-360 days in advance. Historically we have seen Disney release ticket prices for the next year around every June.
Another helpful tip we suggest for families looking to visit Disney during some of the slower times of year is to keep an eye out for Disney World ticket prices. The reason being is, one day Disney World ticket prices now fluctuate based on the time of the year. So one of the best ways to predict very low crowds to to keep an eye out for the cheapest Disney World ticket prices! 
Related Page: Disney World Deals and Promotions
How Far in Advance Should I Book Disney Reservations?
Very similar to vacation packages another important aspect of planning a Disney trip a year in advance even if it's only Disney World tickets is you do still need to make your park reservations for each Disney theme park. We always suggest to make your park reservations as early as possible as you can always change them later based on availability. However on the flip side once the parks reservations fill up you won't be able to book a reservation.
And for any guests who needs additional help we have created a full guide on how to book your Disney World vacation a year in advance and how to make your Disney World park reservations! As of right now Disney has not released the park reservation calendar for 2023 just yet however we do believe that will change as they release the 2023 Disney World vacation packages as well as 2023 Disney World ticket prices!
How Far in Advance Should I Plan Disney World Dining?
To no ones surprise, this is by far one of the most popular questions we receive from families trying to how far in advance should you book your Disney reservations. And different from years past Disney World dining reservations open up 60 days from your travel date. And it's important to note that they do book up quickly so we always recommend to make those reservations as soon as possible!
There are also ways guests can get help with grabbing Disney dining reservations such as teaming up with a company like The Park Prodigy. All guests who book their Disney World vacation packages through our small business will get help with making all dining reservations. Guests can also take advantage of the new walk up dining feature in the My Disney Experience App. 
How is This Year Different When Booking a Disney Vacation in Advance?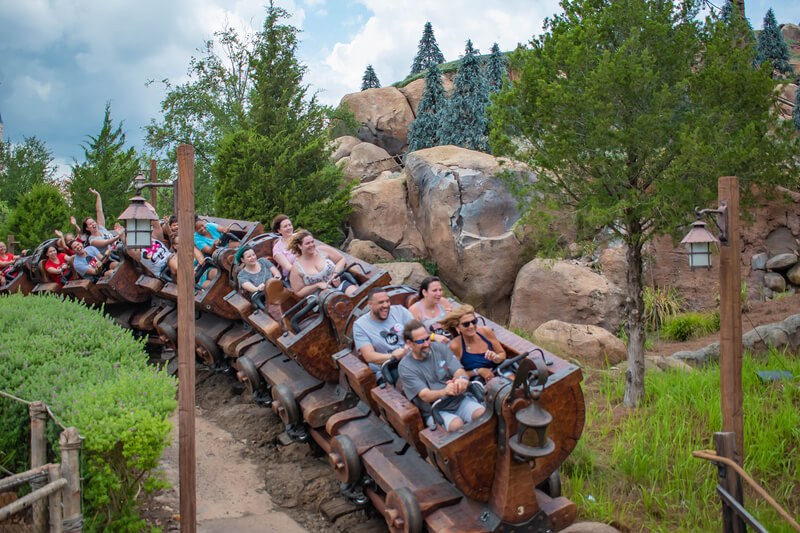 Disney World Park Tickets
As mentioned above, one of the main differences for now (and lasting until at least January 2023) is that you not only need a Walt Disney World park ticket, but you also need a park pass. So, if you purchase a 4-day park ticket, you will also need to pick ahead of time which parks you'll visit on which days and reserve your spot using a park pass. It's an extra step in your planning process, but Disney has instituted this additional step to ensure parks do not go over capacity limits.
Disney Dining Plans
Disney hasn't announced any immediate plans to bring back the dining plan in the near future. If you were wondering about (or thinking of waiting for) Disney Free Dining in 2022, unfortunately, you will have to continue to wait. Our opinion is that you won't see any free dining offered in 2022, and Disney has communicated it is not releasing any of its Dining Plans until at least the end of the year.
Magic Bands
Starting in 2021, Disney will no longer provide free MagicBands to its guests. You can purchase them, use your older ones from previous visits, use Magic Mobile on your phone or use your Key to the World cards that you'll pick up at the front desk. We do have a complete guide to the new Disney Magic mobile service and we have to admit we love it!
Online Check In
While online check in has been available for years, Disney is encouraging all guests to use this option to create less congested traffic in the lobby areas of resorts. The benefit of online check in is that you can get everything set for your arrival and simply go to your room once Disney messages you your room assignment. Of course, if you need to speak with someone at the front desk, there will still be Cast Members there to help you.
Air Travel
Disney is no longer booking air travel for its visitors. You will need to secure that on your own or have your travel agent assist you with that task.
Magical Express
Starting January 1, 2022, the Magical Express will no longer be a free service offered to guests. Instead, Mears Connect will replace the service, but for a fee. The Standard service will be $32 for adults and $27 for children round trip on the Mears Connect service. You can also purchase a Premium service which will take you straight to your resort with a limited wait and costs $200 per group, plus $55 per extra person.
Disney Genie+
We all remember the mornings, 60 days out, booking all of our FastPass selections for our trip. Now, Walt Disney World is offering the free Disney Genie service, with the option of enhancing for a paid option of Disney Genie+.  The Disney Genie is your virtual guide, helping book reservations, understand wait times and make a personalized itinerary, just for you! Disney  Genie+ is the replacement for FastPass.
When you purchase this option, you get to use the Lightning Lane on certain attractions where you select a return time and skip the line! You can also purchase individual Lightning Lane passes for attractions that are not offered on Disney Genie+. You can read more about that in our Complete Guide to the Disney Genie.
Related Article: Complete Guide to the Best Disney Hotels for Large Families 
Why Should I Book My Disney Vacation Early? 
Even if there are some restrictions such as adding a Dining Plan onto your resort stay for later in 2022, we still recommend booking as soon as possible. That's actually one the benefit of working with The Park Prodigy. We will continue to search for new deals and promotions that Disney releases even after you book your Walt Disney World vacation package! 
Here are our top four reasons why now is the best time to book Disney resort for 2022 and beyond!.
Small deposit. Disney World only requires a $200 deposit for any package booked. If you are booking only a resort stay, you'll need to make a one-night stay payment to reserve your resort and then build the package in later if you desire.
Flexibility and refundability. If you need to change dates or cancel all together, Disney World is historically very flexible with transferring your deposit to the updated stay or even refunding your deposit if you need to cancel all together.
Getting the Room or Resort you want. If you're traveling during a historically busy season (such as Christmas or Spring Break), you might want to get your favorite resort reserved right away. And if your resort is one of the smaller resorts, or it has a limited number of rooms that meet your needs (like handicap accessible), booking early provides you the assurance of knowing you have your perfect room reserved.
Countdowns are fun! If you're like many people, half the fun is counting down to your vacation. Whether you use an app, put a big circle on the date on your family calendar or create a paper chain where you remove one link each day, counting down to the Most Magical Place on Earth can bring excitement as you wait.
Related Article: Best Disney World Pools 
When is The Best Time to Visit Disney World?
Our Disney Crowd Calendar is the best tool to help you get the most out of your time in the parks. We break down park crowds, park hours of operation, ticket prices, and average temperature. We also break down the best time to visit Disney World based on specific times of the year and special events.
If you're brand new to Disney vacation planning we recommend our Walt Disney World Planning Page! Learn more about Disney hotels by reading our Walt Disney World Hotels Review page.
Last but not least if you're also planning a trip to Universal Studios, be sure to check out the best time to visit Universal Studios and our Universal Orlando Tickets! All Park Prodigy Universal Orlando tickets come with Universal Studios Early Park Admission.
Are you planning on visiting Walt Disney World? Or have you visited in the past? Would you like to share your experiences and tips? Do you have any questions for The Park Prodigy? Hearing your feedback and helping with your questions is not only our goal but will help other readers! Please leave your thoughts and questions in the comments!