Your Complete Guide to RunDisney 5K Races
Your Complete Guide to RunDisney 5K Races
This article is your ultimate guide to RunDisney 5k races! Here at The Park Prodigy we LOVE RunDisney! And we all know there's nothing a little magic can't help with, even when trying to achieve your fitness goals. Walt Disney World offers visitors the opportunity to run in multiple Disney races throughout the year in their runDisney division. From beginners, to professionals, to those looking to have some fun, Disney's got you covered.
While we are looking forward to all things runDisney in 2021 and 2022, we want to put the spotlight on the Disney 5k as is it one of the most popular races. We also feel like this is the perfect RunDisney race for anyone who might be looking to become more active and is trying to see what racing events are all about. We hope you find this post helpful, and if you are planning a trip to Disney World be sure to check out our other FREE vacation planning tools. Our goal at The Park Prodigy has always been to help you save time and money on your next vacation. This includes helping you find the best time to buy Disney World tickets as well as book amazing Walt Disney World vacation packages!
SPECIAL NOTE: If you would like to see what crowd levels look like during your next RunDisney weekend be sure to check out our Disney crowd calendar!
What is the RunDisney 5k?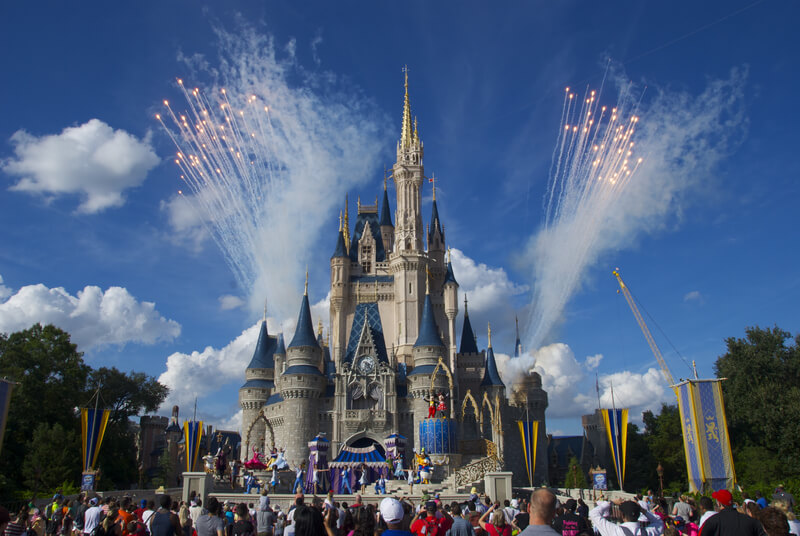 runDisney is the marathon race providers of the Walt Disney Company, where runners typically race through the theme parks, looking to see their favorite characters cheering them on. Of course, dressing up in Disney-themed gear is always a plus! RunDisney has also expanded to included virual races which allow runners to participate in the fun from their own neighborhood or race course of their choice!
Be sure to checkout our complete guide to RunDisney page for additional information!
Virtual Disney Races 2021
Due to the ongoing pandemic, the idea of a bunch of people racing in crowds isn't ideal, so Disney World has opted to continue their runDisney 5k themes, but virtually. So, instead of running through the parks, you'll be running your own Disney 5k route around your hometown (which beneficially cuts down travel costs).
Each runDisney weekend offers a 5k, 10k, and half marathon, with some full marathon events as well. There are also "race challenges" which include an additional medal for those who run multiple races during the same weekend.
Virtual races include awesome medals you still get to sport, just as if you were in Disney World.
When is the Next Disney 5k?
While the first Walt Disney World 5k races already took place this past January in the Virtual Walt Disney World Marathon Weekend, Disney continues to include more race weekends throughout the year.
Upcoming Disney races include the Disney Princess Half Marathon Weekend, taking place from February 18-21, and Star Wars Rival Run Weekend, taking place from April 15-April 18.
A virtual Disney Wine & Dine Half Marathon Weekend took place in November of 2020, so we are hoping that makes a comeback for this year as well!
RunDisney Registration
Registration can be found on the RunDisney website. In order to register, you must use a runDisney sign in using your Disney account. If you want to get notice on future runDisney events, you can sign up for their emails.
What Is The Disney 5k Cost?
Prices will vary depending on which race you run.
Typically, the Virtual Disney 5k runs are cheapest, ranging from $40-79 depending on the marathon weekend and any extra features you add.
The Virtual Disney World 10k runs average to about $49-$99. Virtual Run Challenges vary depending on the types of challenges. For example, there is a Star Wars Revival Run Challenge that costs anywhere from $1150$232. The runDisney Kessel Run Challenge that includes the Rival run Half marathon and a virtual half marathon ranges from $128-$177, and the runDisney Kessel Run Challenge that includes the Rival Run Challenge and Virtual Half challenge ranges from $184-301.
Basically, there's a run for everyone. The real question is, are you up for the challenge?
RunDisney Races for Kids
If your little one wants to get involved in a magical race, but cannot do a 5k Disney run or longer, there are options for them as well.
Kids can participate in Kids Dashes and One Mile Runs.
RunDisney Race Times
If you were in person at Disney World, most Disney run times would start at 5:30 AM. Runners would have to arrive to the starting area at least one hour prior to the start. However, now that you're running from the comfort of your own home, you can make your Disney 5k start time at any time within the date range they give you (good news for the non-early birds).
RunDisney 5K Transportation to Races
If these events were on-site, runDisney shuttle transportation will be provided to and from all Walt Disney World Resorts, Shades of Green, and Walt Disney World Swan or Dolphin Resort.
Parking for Disney Marathon
If runners are not staying at a host resort, or prefer driving themselves, they will need to arrive by car in order to park in the designated parking lots.
RunDisney Gear
Although these runs are virtual for the time being, it can still be so fun to dress up in your favorite characters or Disney running merchandise and take some Disney run pictures of yourself to post.
Plus, runDisney has tons of commemorative merchandise to solidify your run. Even for the little ones, they have runDisney kids races commemorative Mickey ears. How cute will those be?!
When is The Best Time to Visit Disney World?
Our Disney Crowd Calendar is the best tool to help you get the most out of your time in the parks. We break down park crowds, park hours of operation, ticket prices, and average temperature. We also break down the best time to visit Disney World based on specific times of the year and special events.
Are You Ready to Plan Your Next Disney World Trip?
Are you planning a trip to Walt Disney World? Be sure to speak with a Disney World Travel Agent for the most recent deals and promotions. The Park Prodigy will provide a Free Quote for all Disney World Vacation Packages.
The Park Prodigy can also help you save up to $20 per ticket when purchasing your Walt Disney World Tickets, and we offer promotional discounts for special events such as Mickey's Not So Scary Halloween Party Tickets and Mickey's Very Merry Christmas Party Tickets.
If you're brand new to Disney vacation planning we recommend our Walt Disney World Planning Page! Learn more about Disney hotels by reading our Walt Disney World Hotels Review page.
Last but not least if you're also planning a trip to Universal Studios, be sure to check out the best time to visit Universal Studios and our Universal Orlando Tickets! All Park Prodigy Universal Orlando tickets come with Universal Studios Early Park Admission.
Are you planning on participating in a RunDisney event? Or have you visited in the past? Would you like to share your experiences and tips? Do you have any questions for The Park Prodigy? Hearing your feedback and helping with your questions is not only our goal but will help other readers! Please leave your thoughts and questions in the comments!