The Complete Guide to Hogsmeade vs Diagon Alley at Universal Orlando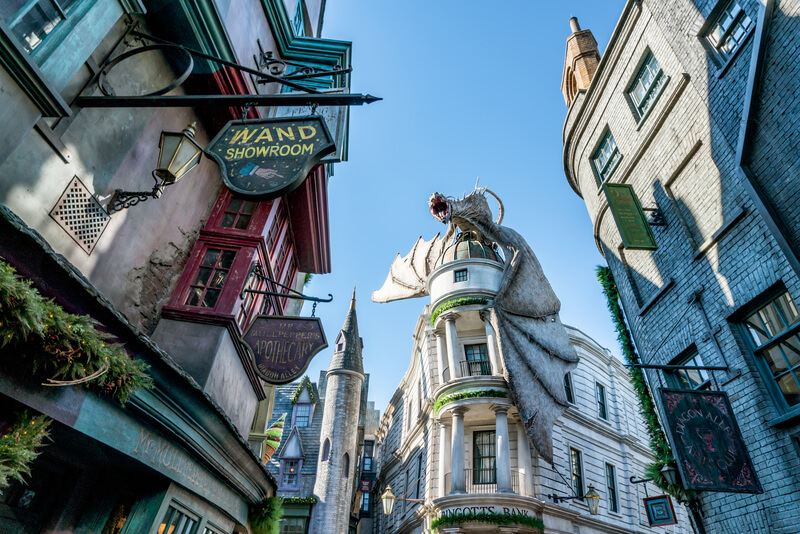 The Complete Guide to Hogsmeade vs Diagon Alley at Universal Orlando
If you're planning a trip to Universal Studios, you're probably wondering which is better: Hogsmeade vs. Diagon Alley. They both have thrilling rides, delicious butterbeer, and wands for every aspiring wizard. But, just like in the books, they are distinctly different. So, which Harry Potter world is better? 
If you're not sure where to start, don't worry. Our ultimate guide is here to help you! Our side-by-side comparison will help even the biggest Potter fan figure out which Harry Potter theme park is best for your vacation.
We hope you find this post helpful! Our goal at The Park Prodigy has always been to help you save time and money on your next Universal Orlando vacation!  If you are planning a trip to Universal Orlando be sure to check out the latest deals on Universal Orlando vacation packages and our discounted Universal Orlando tickets which include EARLY PARK ADMISSION to the Wizarding World of Harry Potter!

SPECIAL NOTE: If you need help picking the best time to visit Universal Orlando for your next vacation be sure to check out our Universal crowd calendar!
 Universal Orlando Crowd Calendar
What Park is Harry Potter World in at Universal?
First, let's be really clear on the most important question: what park is Harry Potter world in? There are two parks at Universal Orlando: Universal Studios and Islands of Adventure. And both of them contain the Wizarding World of Harry Potter! So whichever park you go to, you'll get to experience the Harry Potter universe. 
Harry Potter World: Hogsmeade or Diagon Alley
Before we begin our Harry Potter World comparison, here is a quick overview of the main points that most visitors want to know about. It might be enough to help you decide which park to visit when comparing Hogsmeade Vs Diagon Alley! But if not, don't worry. We've got plenty of information to help you decide whether to visit Diagon Alley or Hogsmeade.
Harry Potter World Differences
One of the biggest questions we get here is: which Universal park has Diagon Alley? Because when you're trying to pick a park at Universal, a lot just depends on whether you want to go to Diagon Alley or Hogsmeade.
Although they are both part of the same Potter-verse, they are completely different experiences, with different rides, restaurants, and shops. We'll break it down for you so that you can decide: is Hogsmeade or Diagon Alley better for your trip to Universal. 
Hogsmeade vs. Diagon Alley: Based on the Rides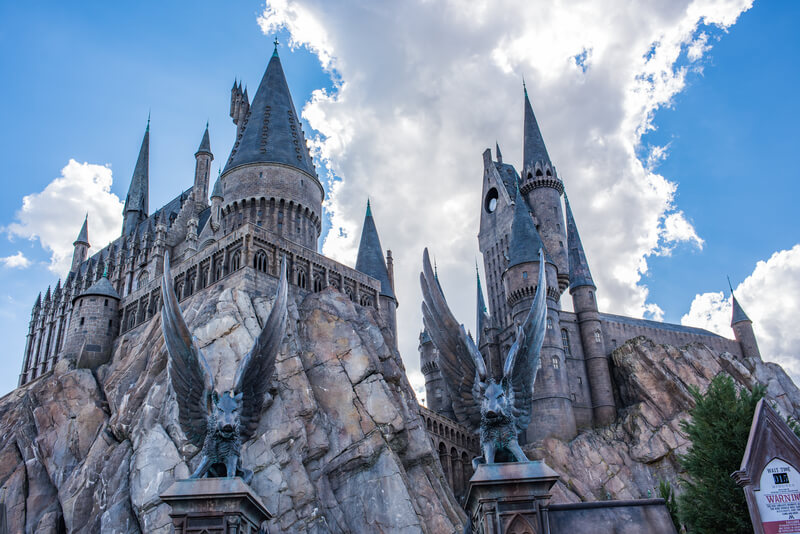 A big part of the fun at Universal is the roller coasters. Unlike Disney or other parks, which mostly focus on family-friendly rides, Universal is known for its thrilling coasters. Not just in the Wizarding World, but all throughout the parks, there is an emphasis on adrenaline-fueled coasters that speed, flip, and twist. So when comparing Diagon Alley vs. Hogsmeade Universal, it just makes sense to start with the rides. 
The Rides at Universal Studios (Diagon Alley):
The main Harry Potter ride at Universal Studios is "Harry Potter and the Escape from Gringotts." This ride is just beautifully imagined, down to every last detail. If the line is really long, you'll be waiting outside for a while. But once you get inside, oh my! It's a breathtaking replica of Gringotts, the bank of the goblins. If you've ever wondered – what is Harry Potter world like? – this is it! Every breathtaking detail is perfectly rendered to make you feel like you've been transported into the magical world. 
This ride isn't a roller coaster in the truest sense, however. Most of the time, you are watching 3-D screens that simulate the drops, twists, and turns. And it does take place in the dark, with some close encounters with bad guys, so there is a thrill factor. 
The Rides at Islands of Adventure (Hogsmeade):
If you're going to determine which Harry Potter world is best solely on rides, we'll have to give it to Islands of Adventure! For starters, there are three rides, compared to Universal Studios having just one. And of the three, two are actual roller coasters. 
The most exciting of the three is Hagrid's Magical Creatures Motorbike Adventure. Visually, it isn't nearly as stunning as Escape from Gringotts. But once the ride starts, whoa! On Hagrid's motorbike or in its sidecar, you'll twist, turn, drop, and roll onto your side. The 1-mile track makes it the longest coaster in Florida. If you're an adrenaline junkie, this ride alone could decide the question of which is the best Harry Potter theme park for you.
Next up is Harry Potter and the Forbidden Journey, another mostly 3-D ride. This time, Harry, Ron, and Hermione "save you" from a boring lecture about the Defense of the Dark Arts and take you on an adventure through Hogwarts. The ride is fun, but the really exciting part is entering Hogwarts. It's a dream come true for any Potter fan, and for many people this alone settles the question of which Harry Potter world is the best. 
For younger riders, or those who prefer a milder ride, the Flight of the Hippogriff is ideal. It's a bit of a kiddie coaster, but it does go high enough to give you great views of the Hogwarts castle. 
So Which is Has Better Rides When Comparing Hogsmeade Vs Diagon Alley?
The Verdict: If you're deciding which Harry Potter park is better in Orlando based on the rides alone, we'll have to give it to Islands of Adventure and Hogsmeade
Hogsmeade vs. Diagon Alley: Based on the Food
To honest, the food doesn't make much of a difference from one Wizarding World to the next. In the Universal Hogsmeade vs Diagon Alley debate, dining won't be much of a factor. 
At Universal Studios, you have the Leaky Cauldron – the small pub and inn where Harry spent several weeks one summer. They offer traditional British fare (Banger & Mash, Toad in the Hole) plus kids meals (mac and cheese). 
Over at Islands of Adventures, you can dine at the charmingly decorated Three Broomsticks. The food offerings here are pretty similar, a little less British and with the addition of a couple of more American items (turkey leg, rotisserie chicken). 
The Verdict: It's a toss-up. Don't decide which Harry Potter park is better at Universal Studios based on the Harry Potter food! 
Hogsmeade vs. Diagon Alley: Based on the Shopping
No one goes to a theme park just to shop. But once you're there, it's hard to say no to a souvenir or three. This is especially true at Universal, with all of its exclusive Harry Potter merchandise! And if you've been sorted into a Hogwarts house, you can choose from everything from hoodies to backpacks to school supplies in your colors. 
Is Ollivanders in Hogsmeade?
But the biggest souvenir, the one that is almost impossible to turn down, is a wand. Especially if the wand has chosen you! That means that you'll probably want to visit the park that has Ollivanders Wand Shop. Lucky for you, there is an Ollivanders in each of the parks when comparing Diagon Alley or Hogsmeade! Although book purists may be quick to point out that, technically, Ollivanders is only located in Diagon Alley, you'll find a wand shop at either park. So the Hogsmeade – Diagon Alley debate won't be decided by a wand!
Other shops, however, do vary. 
The Shops at Universal Studios
Weasley's Wizard Wheezes: Puking Pastilles and other prank items devised by the Weasley twins
Gringotts Exchange: trade U.S. currency for Gringotts bank notes, which can be used in Diagon Alley and Hogsmeade
Borgin & Burkes: Death Eater masks and movie replicas
Globus Mundi: passport holders, luggage tags, and other necessities for your magical travels
Madame Malkin's Robes for All Occasions: clothing and jewelry
Magical Menagerie: plush toys featuring magical creatures, including fan fave Buckbeak
Wiseacre's Wizarding Equipment: unique house merchandise
The Shops at Islands of Adventures
Honeydukes: Exploding BonBons, Chocolate Frogs, and Bertie Botts' Every Flavour Beans
Dervish & Banges: magical items, broomsticks, and your Hogwarts uniform
Filch's Emporium of Confiscated Goods: treasures seized by the surly caretaker, plus more
Owl Post: writing equipment and a place to mail letters with a Hogsmeade postmark
So Which Has the Best Shops When Comparing Diagon Alley Vs Hogsmeade?
The Verdict: As tempted as you may be by the chocolate frogs, there's really no contest here. When it comes to which Harry Potter park is better at Universal, Diagon Alley in Universal Studios is the clear winner. They have more shops, more merchandise, and the fun of trading your money for Gringotts bank notes. Plus, the younger kids will love the stuffed animals at the Magical Menagerie!
Hogsmeade Vs Diagon Alley For Early Park Admission?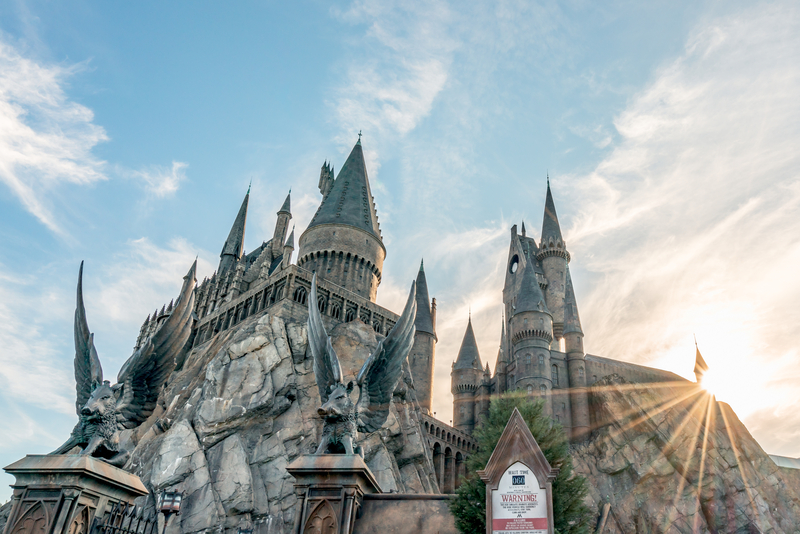 Did you know everyone who purchases their Universal Orlando Tickets from The Park Prodigy receives early park admission at Universal Orlando? Yep, that's right you will get into either Hogsmeade or Diagon Alley one hour before regular park guests. But which one is better to use for Early Park Admission?
When trying to decide between Diagon Alley Vs Hogsmeade for early park admission we are going to look at which park will help you save the most time later on in the day. Because that's the whole point of using the early park admission anyway.
Overall we would always lean towards Hogsmeade for early park admission. The main reason is Hogsmeade is home to two of the most popular rides at Universal: Hagrids Magical Motorbike Adventure and Harry Potter and the Forbidden Journey. Taking advantage of that extra hour in the morning can save you up to three hours later on in the day!
Where to Go at Universal: Diagon Alley or Hogsmeade?
In an ideal world, you'd be going to both parks and your only worry whether to visit Hogsmeade or Diagon Alley first. But, since that's not always possible, we'll help you out with our recommendation. We pick… Hogsmeade / Islands of Adventure. 
Why did we pick Hogsmeade?
The rides are so much better; there's really no comparison there. Hagrid's Motorbike Adventure alone makes this an easy choice.

 

Who could turn down the chance to actually walk into Hogwarts Castle? The fact that there's a really great ride inside just makes it even more fun.

 
We hope our Harry Potter World comparison helps you decide which Harry Potter theme park is best. They are both excellent parks and you will have fun wherever you go, but in our opinion, Hogsmeade is the clear winner!
Hogsmeade Vs Diagon Alley FAQ
Which park is Hogwarts Castle in?
That would be Islands of Adventure. There's even a ride that takes place inside Hogwarts, so you'll actually be able to enter the hallowed halls of Harry's alma mater.
Where is Hogsmeade located in Universal?
Islands of Adventure. Same as Hagrid's Motorbike AND the Hogwarts Castle.
Is Diagon Alley in Islands of Adventure?
The answer is no. If you're eager to explore Diagon Alley, Universal Studios is your park!
And here's some good news: both parks serve Butterbeer! If tasting Harry's favorite drink is high on your list, you'll be able to buy one at either park. And it's non-alcoholic, so the kids can try it, too.
When is the Best Time To Visit Universal Orlando?
If you're not sure when to plan your next Universal vacation, Our Universal Orlando Crowd Calendar is the best tool to help you get the most out of your time in the parks. We breakdown the park crowds, park hours of operation, ticket prices by day, and average temperature.
Guests can also beat the crowds with our Universal Orlando tickets! All guests who purchase their tickets from The Park Prodigy will get Early Park Admission to Universal Orlando! This could save you a ton of time in the parks and avoid buying express passes!