2023 Grocery Delivery Disney World Guide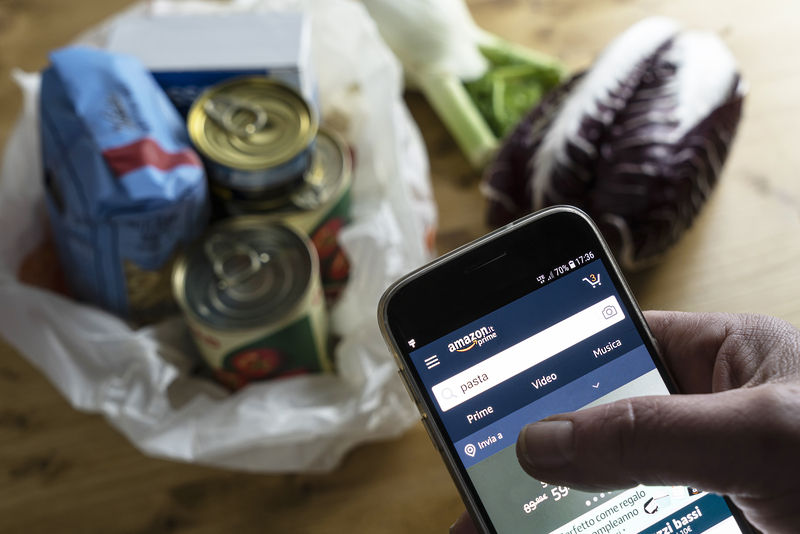 2023 Grocery Delivery Disney World Guide
This article is your complete guide to 2023 grocery deliveries in Disney World! If you're reading this article you are most likely wondering how exactly do you get groceries delivered to your Walt Disney World resort? Or maybe you just drove into Orlando and want to know the closest grocery store to Disney World? Taking advantage of groceries at Disney World can make your next vacation that much more relaxing and affordable.
This post offers tips, tricks, and a comparison of  Disney grocery options to get delivered and also pick up in person. We'll break down the pros and cons of Amazon prime, Garden Grocer, and Instacart. Then show you some of our favorite grocery stores to stop at on our way into Walt Disney World.
We hope you find this post helpful, and if you are planning a trip to Disney World be sure to check out our other FREE vacation planning tools. Our goal at The Park Prodigy has always been to help you save time and money on your next vacation. This includes helping you find the best time to buy Disney World tickets as well as book amazing Walt Disney World vacation packages!
If you're ready to learn about Disney grocery delivery services, read on!
SPECIAL NOTE: If you need help picking the best time to visit Walt Disney World for your next vacation be sure to check out our Disney crowd calendar!
2023 Grocery Delivery to Disney Resorts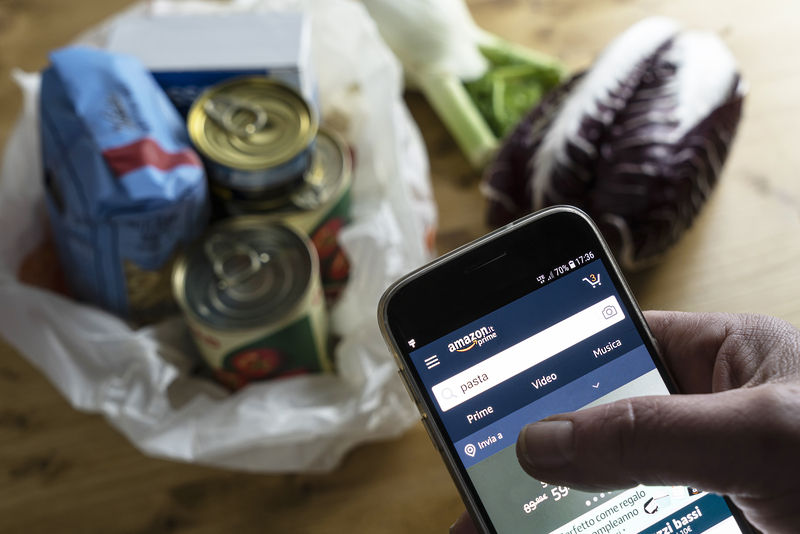 Let's start this article with the most common question we receive on this topic which is, can I get food delivered to Disney?  You will be delighted to know that there are a bunch of options in today's world to have groceries delivered to your Walt Disney World hotel as well as all of the friendly neighbor hotels located in the Disney Springs area and the Swan and Dolphin resort. The most common grocery delivery services in Disney World at this time are Instacart, Garden Grocer, and also the popular Amazon Prime. We have found grocery delivery service grow in popularity over the years especially at the Disney Vacation club hotels where guests can book suites for large families visiting Disney.  There are also plenty of popular grocery stores in the area for guests who would prefer to go shopping and bring their groceries back to the hotel.
What companies deliver when ordering groceries at Disney World?
Instacart
Garden Grocer
Amazon Prime
Let's get started with what seems like the most popular company in the world and Amazon prime.
Related Page: The Slowest Time of Year at Disney World 
Instacart Food Delivery Disney World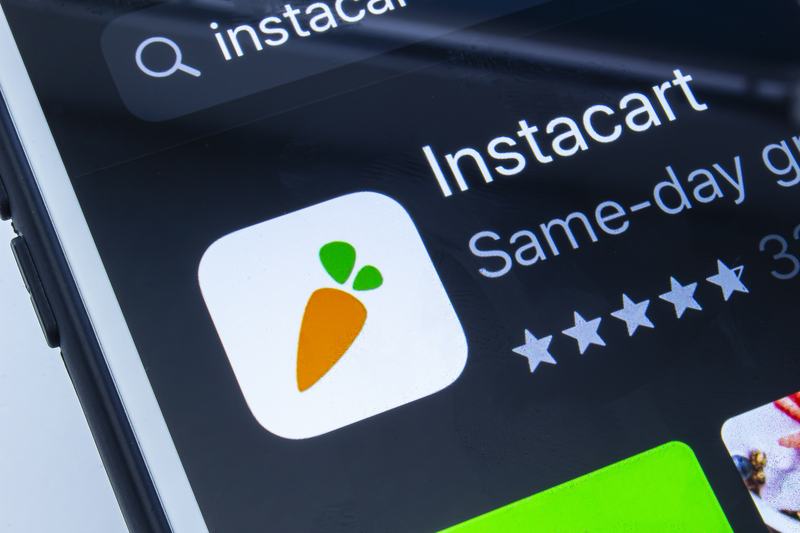 We are going to start our review with our favorite delivery service at Disney World which is the app Instacart. The coolest thing about Instacart is it allows you to take advantage of the most grocery stores near Walt Disney World including Whole Foods, Publix, Costco, and CVS. One of the other main reasons we enjoy using their service the most is the convivence of being able to submit same day deliveries. In fact their one-hour delivery service makes Instacart one of the fastest Walt Disney World grocery delivery services. We feel this is a great option for guests who would like to save some money but also don't want to plan their Disney grocery delivery out days or weeks in advance.
How does Instacart Disney World Work?
The main difference between Instacart and a few of the other delivery service apps is there is no markup on their items. This means you would pay the exact same price as if you were shopping in the stores yourself, and you can even use digital coupons.
The service fee for Instacart is typically a flat 10% and they do charge a $4.00 delivery fee. However, depending on the size of your order this can be significantly lower than Garden Grocer.
Just like the services before this your Disney food delivery groceries will be left with Bell Services and any perishable items will be put in the fridge.
Instacart food delivery Disney World tips
Your delivery fee is waived if it's your first order
Be sure to order in advance as one hour delivery can sometimes be full
You can sign up for text and email notifications when your groceries arrive
You can have your groceries delivered to your room for an additional $6.00
Special Note: Please remember to tip your driver, bell services, and cast member as their hard work allow us to take advantage of these great services!
Related Page: Complete Guide to Disney Moderate Hotels 
2023 Garden Grocer Disney World
Garden grocer is another one of the most popular ways to order groceries at Disney World. Shopping with Garden Grocer is slightly different from Amazon Prime as you have the option between Publix or Whole Foods. This company has been operating in the Disney area for over ten years and only delivers to the Walt Disney World resort. We feel this is one of the pros of using Garden Grocer over the other services as they know the Disney property like the back of their hand. This is especially true when dealing with perishable items. Garden Grocer will leave your groceries with bell services and ask that they refrigerate them.
How does Garden Grocer in Walt Disney World Work?
Using the Garden Grocer App you have the option to choose from over 5,000 grocery items, and they will go and shop for you then deliver your groceries to your Disney resort. It's important to note that although convenient they do mark the prices of each item up and require you must meet a minimum dollar requirement.
Another important aspect is the service fee for Garden Grocer which is $30.00 for same-day delivery, $20.00 for next-day delivery, and $14.00 for anything beyond that.
We still feel that the prices are significantly lower than what you would pay at a Disney World hotel for these items. There is also the convenience aspect to consider when on vacation. Although we will cover a few of the most popular grocery stores near Disney World later in this post, some people prefer to save time by using the app.
Related Post: A Complete Guide to Disney World Stroller Rentals
Grocery delivery Walt Disney World tips with Garden Grocer
Save up to 10% by ordering your groceries 60 days out
You can sign up for text and email notifications when your groceries arrive
You can have your groceries delivered to your room for an additional $6.00
Special Note: Please remember to tip your driver, bell services, and cast member, as their hard work allow us to take advantage of these great services!
Amazon Disney World Deliveries
It's important to note that you can use Amazon prime in Disney World for so much more than groceries. Especially with the advanced one and two-day shipping, it has become a great tool for families who might have forgotten something at home.
The Disney World Amazon prime service was the first delivery service I ever used on one of my vacations. It was 2014 and as a way to surprise my friends I upgraded our room at the Caribbean beach resort to the pirate themed room. The only problem was the room we cancelled had three beds, and the pirate themed room had two. Long story short after a few hours on hold with Disney guest services and bunch of laughs about how I just had to upgrade we ordered an air mattress from Amazon prime. I have been using them ever since.
How does Amazon grocery delivery Disney World work?
When ordering groceries to Disney World you want to make sure you are using their Amazon Prime now services. It's important to note that Amazon is different from other options such as Instacart or Ubereats as you are required to shop from their brand Whole Foods. Still I have found my experiences using Amazon prime have gotten better over the years making it one of the fastest ways to get groceries at Disney World.
So how does it work? If you are an Amazon prime member you can take advantage of 2-hour delivery windows for free as long as your order is a minimum or $20.00. This will allow you to purchase your favorite groceries and snack items directly to your hotel.
Amazon grocery delivery to Disney resorts also allows you to purchase toiletries and electronics you might have forgotten at home. One of the biggest changes I have seen since I first started ordering groceries at Disney World, is the ability to track your orders. My first experience ordering in 2014 left me calling guest services every hour to check if my package had arrived. Now you can simply track your Walt Disney World groceries on the App.
This is the main reason I'm still a huge fan of Amazon prime grocery delivery to Walt Disney World! 
Related Post: Compare Disney's Pop Century vs. All-Star Resorts
Grocery Stores Near Disney Property

But what if you're the type of shopper who loves to pick everything out yourself? Not to worry below is a list of supermarkets near Disney World.
Trader Joe's – I have to admit one of the only reasons I would ever voluntarily go grocery shopping on vacation is to Trader Joe's. The only problem is most of my snacks would be gone by the time we got back to the hotel! Trader Joes Orlando is about 10 miles off Disney property located at 8323 West Sand Lake Road, Orlando Florida 32819.
Whole Foods- You can visit Whole Foods and shop in person at 8003 Turkey Lake Road, Orlando, Florida 32819.
Publix – The closest Publix to Walt Disney World property is located at Water Tower Shoppes at Celebration Ave and 192.
Walmart- What shopping list would be complete without Walmart. One of the closest locations to Disney property is located at  3250 Vineland Rd, Kissimmee, Florida 3474.
2023 Groceries at Disney World Tips & Tricks
Don't shop as you would at home
Disney grocery store delivery can be convenient but you are limited to what you can buy.  It's important to note that unless you plan on staying at one of the Disney Vacation Club villas many of the in-room appliance options are limited. In almost all cases Disney hotel rooms only have a small fridge. It's important to make most of your groceries nonperishable. I find
Bring some snacks with you from home
There are obviously tons of options for grocery delivery to Disney World resorts but why not bring some snacks from home? This can be a huge money saver, especially on those shorter trips. I can't tell you how much money I have saved on breakfast by packing some oatmeal packets and snacks such as granola bars, assorted nuts, and tea and coffee packets.
Order your groceries in advance
Sure many of the grocery stores near Disney World that deliver offer one to two-hour windows however why wait? If you know you are going to be needing groceries during your next Walt Disney World trip order them in advance.
When is The Best Time to Visit Disney World?
Our Disney Crowd Calendar is the best tool to help you get the most out of your time in the parks. We break down park crowds, park hours of operation, ticket prices, and average temperature. We also break down the best time to visit Disney World based on specific times of the year and special events.
Are You Ready to Plan Your Next Disney World Trip?
Are you planning a trip to Walt Disney World? Be sure to speak with a Disney World Travel Agent for the most recent deals and promotions. The Park Prodigy will provide a Free Quote for all Disney World Vacation Packages.
The Park Prodigy can also help you save up to $20 per ticket when purchasing your Walt Disney World Tickets, and we offer promotional discounts for special events such as Mickey's Not So Scary Halloween Party Tickets and Mickey's Very Merry Christmas Party Tickets.
If you're brand new to Disney vacation planning we recommend our Walt Disney World Planning Page! Learn more about Disney hotels by reading our Walt Disney World Hotels Review page.
Last but not least if you're also planning a trip to Universal Studios, be sure to check out the best time to visit Universal Studios and our Universal Orlando Tickets! All Park Prodigy Universal Orlando tickets come with Universal Studios Early Park Admission.
Are you planning on visiting Disney World? Or have you visited in the past? Would you like to share your experiences and tips? Do you have any questions for The Park Prodigy? Hearing your feedback and helping with your questions is not only our goal but will help other readers! Please leave your thoughts and questions in the comments!