The Five Best Date Spots at Walt Disney World
The Five Best Date Spots at Walt Disney World
One of the biggest misconceptions I have always seen during my time working at the Walt Disney World resort and now as a Disney vacation planner is that Disney is just for kids. And I'm here to say that couldn't be further from the truth!
Why do you think you can't keep those darn childless millennial's out of the Magic Kingdom? And as a childless millennial myself I would say we simply know and appreciate what most people don't see. That Walt Disney World is a place where creativity comes to life and you can step out of the everyday normal and have fun with the ones you love.
Growing up and now living in New York City I also know how lucky I am to have experienced the culture that this city provides. I have had the opportunity to try some of the highest rated cocktail bars and hottest date spots in the world.
That's the main reason why I was so excited to write this article because I would like to go on record as saying there is no place in the world I would rather go out for a night on the town than at Walt Disney World.
Here are my five best date spots at Walt Disney World!
5) The Disney Boardwalk
Many vacationers visiting Walt Disney World and Orlando don't realize that you can enjoy all that the boardwalk has to offer even if you're not staying at one of the boardwalk resorts. These include the Disney Boardwalk Resort, Disney's Yacht and Beach Club , and the close by Swan and Dolphin resort. One of the reasons I love the boardwalk so much is it has something for everyone. You can go and grab ice cream at Beaches and Cream located in Disney's Yacht Club or grab a drink and some live music at Jellyrolls.
For all of my Florida locals with annual passes or WDW Cast members planning a date. Why not plan the first half of your night in EPCOT and end it with a few boardwalk games to end the night.
We would also like to give a huge shout out to the singers and Disney castmembers at Jellyrolls! They are some of the nicest people in all of Walt Disney World.
For more information, we recently released a complete guide to the Walt Disney World Boardwalk , where we broke down restaurants, bars, and activities.
4) Animal Kingdoms Nomad Lounge
This is one of the hidden gems in all of Walt Disney World! The nomad lounge at Animal Kingdom is one of the best cocktail bars in all of Orlando, and located right next to Tiffins. One of the reasons we love this bar so much is you really feel like you're in another world and you would have no idea it's located in one of the busiest theme parks at Walt Disney World.
We also found the bartenders to be some of the nicest and most knowledgeable cast members on Disney property! You can enjoy the option of indoor or outdoor seating and the only downside we found is it is first come first serve.
3) Disney Springs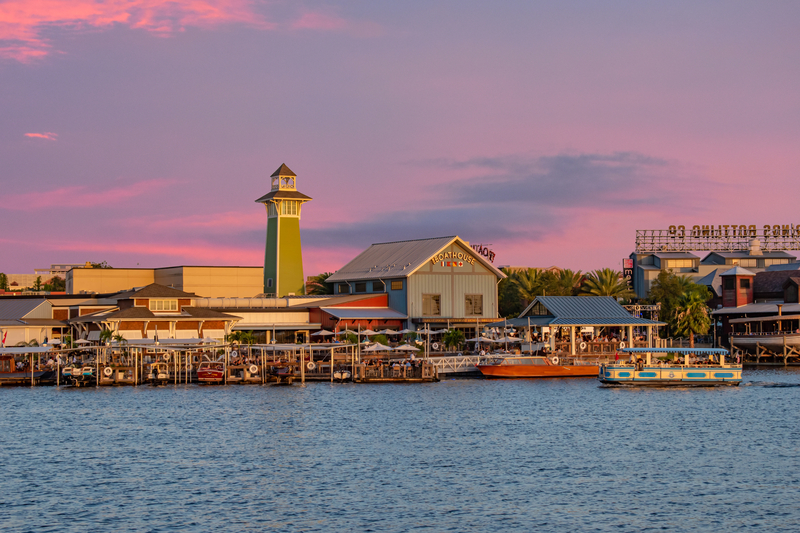 So we know, we know this was an easy one! But I had to include Disney Springs because so many first time vacationers might not realize just how much there is to do for Adults. No matter what type of atmosphere you're looking for Disney Springs has you covered and it has really stepped up its game in recent years. Disney has brought in some of the top chefs in the world and added tons of fun spots like Splitsville bowling alley and STK, Orlando.
2) Polynesian Resort to Watch the Magic Kingdom Fireworks
This is a huge shout out to all of my Disney Castmembers as this was without a doubt my favorite place while living in Orlando! One of the things I love about the Polynesian resort is it's one of the few places on Walt Disney World property where you can grab a dole whip. Once you have your sweet dessert go to the beach and end the night watching the Magic Kingdom fireworks.
1) The California Grill at the Contemporary Resort
One of my favorite restaurants in all of Walt Disney World, the California Grill is located at the top of the Contemporary Resort. You will not only enjoy one of the best meals of your life but the views are unforgettable. One of the coolest perks of the California Grill is that guests can enjoy the fireworks from the balcony or  right from their dinner seats along with the music which is playing at the Magic Kingdom!
So those are my five best date spots in all of Walt Disney World but I know so many of you will have plenty more. Be sure to email or message me because I want to know what some of your favorite spots are while visiting Walt Disney World and thank you so much for supporting The Park Prodigy!
When is The Best Time to Visit Disney World?
Our Disney Crowd Calendar is the best tool to help you get the most out of your time in the parks. We break down park crowds, park hours of operation, ticket prices, and average temperature. We also break down the best time to visit Disney World based on specific times of the year and special events.
Are You Ready to Plan Your Next Disney World Trip?
Are you planning a trip to Walt Disney World? Be sure to speak with a Disney World Travel Agent for the most recent deals and promotions. The Park Prodigy will provide a Free Quote for all Disney World Vacation Packages.
The Park Prodigy can also help you save up to $20 per ticket when purchasing your Walt Disney World Tickets, and we offer promotional discounts for special events such as Mickey's Not So Scary Halloween Party Tickets and Mickey's Very Merry Christmas Party Tickets.
If you're brand new to Disney vacation planning we recommend our Walt Disney World Planning Page! Learn more about Disney hotels by reading our Walt Disney World Hotels Review page.
Last but not least if you're also planning a trip to Universal Studios, be sure to check out the best time to visit Universal Studios and our Universal Orlando Tickets! All Park Prodigy Universal Orlando tickets come with Universal Studios Early Park Admission.
Are you planning on visiting Walt Disney World? Or have you visited in the past? Would you like to share your experiences and tips? Do you have any questions for The Park Prodigy? Hearing your feedback and helping with your questions is not only our goal but will help other readers! Please leave your thoughts and questions in the comments!