When Does Disney World Decorate for Christmas in 2022?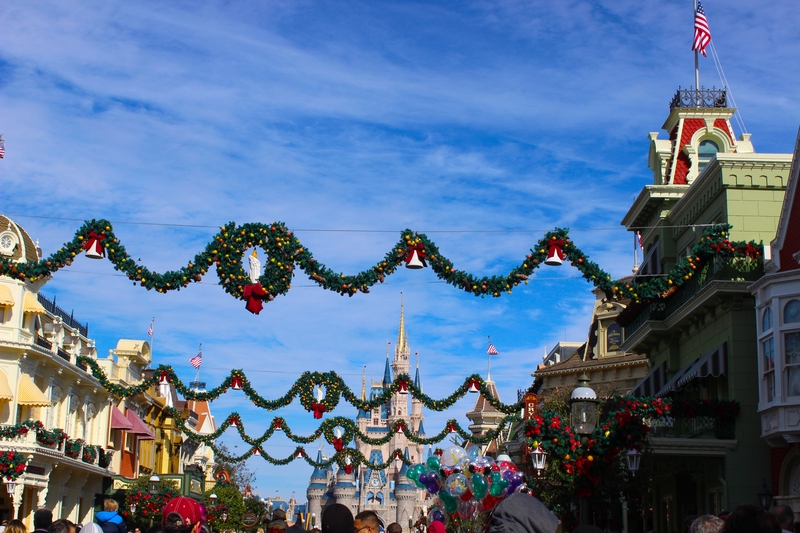 When Does Disney World Decorate for Christmas in 2022?
This article is your complete guide to the 2022 Disney World Christmas decorations! Like most families visiting Walt Disney World during the holidays you might be wondering, when does Disney decorate for Christmas? The great news is it's a lot earlier than you might think! In this article we are going to break down when Disney plans to decorate all four Walt Disney World theme parks for Christmas, as well as all of the Disney hotels!
We hope you find this post helpful, and if you are planning a trip to Disney in the fall be sure to check out our other FREE vacation planning tools. Our goal at The Park Prodigy has always been to help you save time on your next vacation and find discounted Walt Disney World tickets as well as amazing Disney World vacation packages! 
So if you're ready to learn when Disney decorates for Christmas, grab some figgy pudding and read on!
SPECIAL NOTE: If you're looking for the best time to visit Walt Disney World during the Holidays be sure to check out our Disney crowd calendar! 
When Does Disney Decorate for Christmas?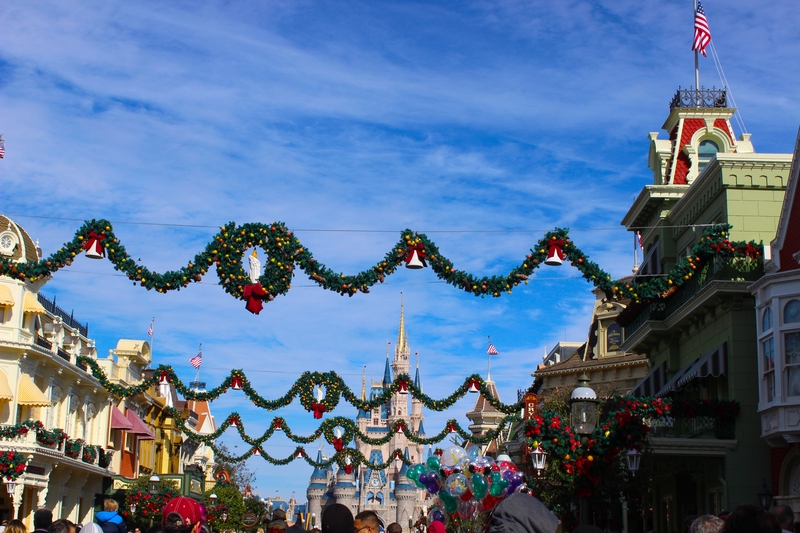 Did you know there are 25 Walt Disney World Cast Members who work all year round on all of the 2022 Disney Christmas decorations found on property. With that much detail going into each holiday display it's no surprise it takes almost the entire month of November to decorate the entire property for Christmas.
The attention to detail does not go unnoticed with guests from all over the world coming to Orlando simply to see the 2022 Walt Disney World holiday decorations. And who can blame them, because there really is something so magical about Walt Disney World during the Christmas. It's also important to point out that although it takes the entire month of November to decorate the entire property but you CAN celebrate sooner in the theme parks!
When do Christmas decorations go up at Disney World?
So, when exactly do Christmas decorations go up at Disney World in 2022? Officially the holiday season at Walt Disney World begins on November 6th and runs through December 31st. This was once again confirmed for 2022 as Disney announced it will host the Disney Very Merriest After Hours event at the Magic Kingdom. However as noted above, and described below the Disney World Christmas lights don't just appear all at once. The Walt Disney Company does give some of the parks priority, specifically the Magic Kingdom Christmas decorations which we will jump into next!
When is Magic Kingdom Decorated for Christmas in 2022?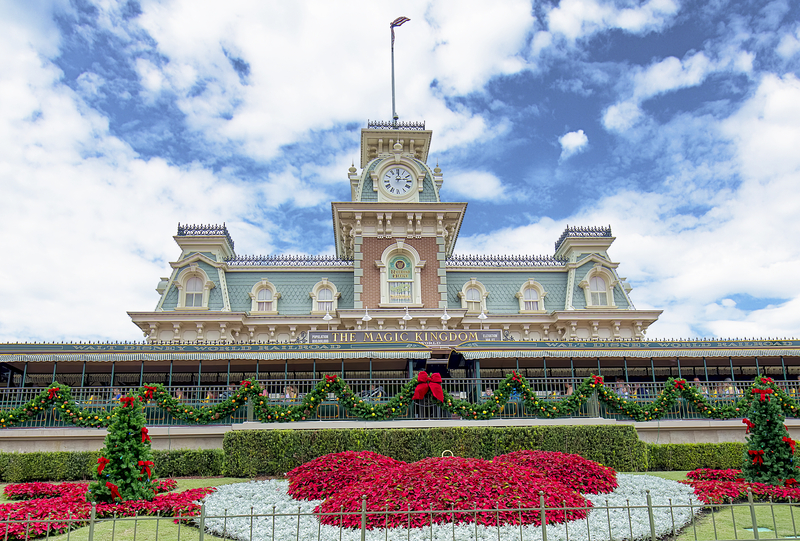 Let's start with the most popular theme park in the world the Magic Kingdom. So as many of you know Disney hosts it's popular  Halloween events until November 1st.
So when does Magic Kingdom switch from Halloween to Christmas? Unofficially November 2nd -3rd as Disney has had a reputation for transitioning the Magic Kingdom into a winter wonderland overnight. You can even check out this amazing time lapse video on the official Disney Blog. As you can see the Imagineers quickly turn Main Street USA is magically transoformed into a winter wonderland, the day after the last Halloween party. 
Officially though, the Holiday season at the Magic Kingdom park begins on November 6th. That is really when almost all of the 2022 Magic Kingdom Christmas decorations are up, and Disney lights Cinderella's castle. Although this date might seem like it's early to some, it makes complete sense as historically Mickey's Very Merry Christmas Party starts November 7th or 8th.
When Do Disney Christmas Lights Go Up On Cinderella's Castle?
Now I found this an important question to answer as this can impact your trip even if you don't plan on visiting during Christmas time. The reason being, Disney World has to bring in a huge crane to complete the Christmas decorations on Cinderella's castle. This can have an impact on those guests who love grabbing the perfect picture in front of the castle. Luckily with photo shop these days it's very possible to edit the crane out.
If it's still a concern Disney typically puts the Christmas lights on Cinderella's castle towards the end of September and early October.
Magic Kingdom Christmas Parade Taping?
Another question we see come up a lot is when does the Magic Kingdom record its ABC Christmas parade? And yes, it surprised me too that Disney does not actually tape the Christmas Morning special on Christmas. Although I have to admit it makes complete sense, as that sounds like a logistics nightmare. (& who wants a nightmare before Christmas?..sorry I had to!)
Unfortunately the parade taping has become more and more difficult to predict than in years past.  However it's same to assume it will typically be the first or second week of November.
When Does Disney Start Decorating For Christmas at Animal Kingdom?
Animal Kingdom park is another one of the most popular parks when it comes to Christmas decorations in Disney. Not only does this park have a very loyal fan base, but it's also the newest Disney park to receive a Holiday upgrade.
Just like the Magic Kingdom, Disney's Animal Kingdom theme park has an official holiday start date of November 6th.
When Does Walt Disney World Decorate for Christmas at Hollywood Studios in 2022?
Hollywood Studios hosts some of the most amazing nighttime events during the holiday season including the popular Jingle Bell, Jingle BAM! They also have some of the most immersive holiday decorations throughout the entire Walt Disney World resort.
Just like the previous two parks, Hollywood Studios officially kicks off the holiday season on November 6th.
If you have an opportunity to visit to see these Christmas decorations please go. It's amazing to see what the Imagineers have been able to do with the newly added Toy Story Land and the Hollywood Tower Hotel icon on Sunset Blvd. You don't want to miss this park for the holiday season!
Related Post: Complete Guide to Star Wars Galaxy's Edge
When Does Disney Start Decorating for Christmas at EPCOT?
EPCOT is the last park to receive it's 2022 Disney World Christmas decorations makeover. However they make up for it with their popular Festival of the Holidays and Candle Light Processional.
EPCOT officially starts to celebrate the holiday season towards the last few days of November. The main reason being that Disney waits until the EPCOT food and Wine Festival to end before decorating. It's important to note that it's going to be an interesting year for Disney Christmas decorations at EPCOT. As many of you know, the park has a ton of construction going on. We will have to keep an eye on this park as we get closer to the Christmas.
When do Disney Hotels Decorate for Christmas?
So now that we have covered all four theme parks, when do Disney Christmas light go up at the resorts?
Unfortunately there is no set order when it comes to the Disney putting Christmas decorations up at the hotels. We can say that all hotels receive their decorations within the last two weeks of November.
So if you plan on resort hopping to see all of the Disney World Christmas decorations make sure you visit in December! And the truth is we highly recommend visiting the hotels if you love Christmas. The imagination and creativity that goes into decorating the Disney world Resort hotels is amazing.
Which Walt Disney World Hotels Have the best Christmas Decorations in 2022?
This is such a tough question to answer because every Disney World hotel truly has such a unique theme. However some of them just become so much more magical around the holidays, specifically after they are decorated with Christmas lights. Below are our favorite Walt Disney World hotels during Christmas:
Disney's Grand Floridian resort
Disney's Wilderness Lodge
Disney's Beach Club and Yacht Club
 Disney's Animal Kingdom Lodge
Below is a quick video we put together answering the question, when does Disney decorate for Christmas?
When Does Disney Take Down Christmas Decorations 2022?
So when does Disney take down it's Christmas decorations in 2022? In many cases as fast as the decorations go up, that's how fast Disney takes it's Christmas decorations down. We typically see decorations start to come down a few days after New Years Eve with the exception being the lights on Cinderella's castle. This typically lasts until right after the Walt Disney World Marathon weekend which has been announced to be back in the begging of 2022!
Disney World Christmas Decorations FAQ
What Date Does Disney Change from Halloween to Christmas?
Officially Disney changes from Halloween to Christmas on November 6th, and the first Disney after hours event will typically follow one or two days after. It's important to note that this is the official date at the Magic Kingdom park, and the rest of Walt Disney World will decorate for Christmas in the following weeks.
When is The Best Time to Visit Disney World?
Our Disney Crowd Calendar is the best tool to help you get the most out of your time in the parks. We break down park crowds, park hours of operation, ticket prices, and average temperature. We also break down the best time to visit Disney World based on specific times of the year and special events.
Are You Ready to Plan Your Next Disney World Trip?
Are you planning a trip to Walt Disney World? Be sure to speak with a Disney World Travel Agent for the most recent deals and promotions. The Park Prodigy will provide a Free Quote for all Disney World Vacation Packages.
The Park Prodigy can also help you save up to $20 per ticket when purchasing your Walt Disney World Tickets, and we offer promotional discounts for special events such as Mickey's Not So Scary Halloween Party Tickets and Mickey's Very Merry Christmas Party Tickets.
If you're brand new to Disney vacation planning we recommend our Walt Disney World Planning Page! Learn more about Disney hotels by reading our Walt Disney World Hotels Review page.
Last but not least if you're also planning a trip to Universal Studios, be sure to check out the best time to visit Universal Studios and our Universal Orlando Tickets! All Park Prodigy Universal Orlando tickets come with Universal Studios Early Park Admission.
Are you planning on visiting Disney World this Christmas? Or have you visited in the past? Would you like to share your experiences and tips? Do you have any questions for The Park Prodigy? Hearing your feedback and helping with your questions is not only our goal but will help other readers! Please leave your thoughts and questions in the comments!