The 2023 Nighttime Light Shows at Hogwarts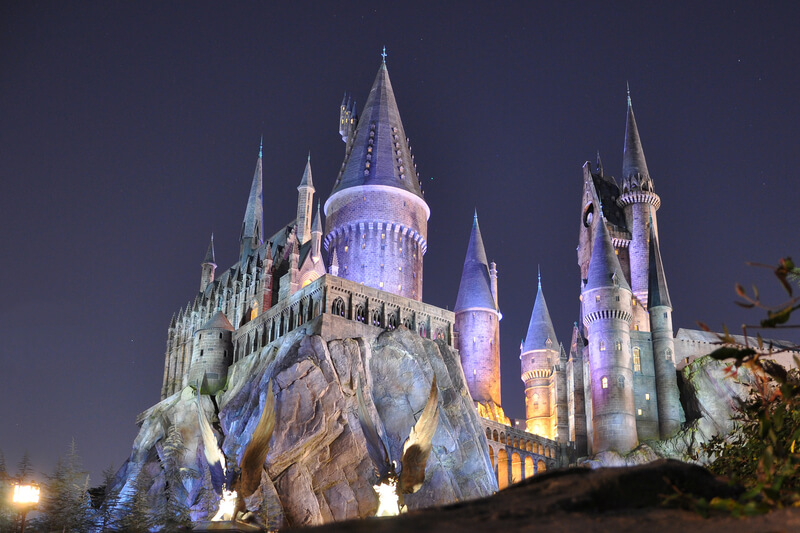 The 2023 Nighttime Light Shows at Hogwarts
This article is your complete guide to visiting Hogwarts at night for the Nighttime Lights at Universal Orlando! We all know that Universal Studios really knows how to play to the fans' delights. From their exhilarating rides, to delicious food, to themed events, every park goer has something to enjoy.
Universal Studios at night reaches a new level of amazement with it's light shows. The Universal nighttime show that draws in crowds is the one displayed on the Harry Potter Hogwarts castle, in Orlando. The Universal Hogwarts light show is something that should be seen if you're visiting the park, especially if you are a Harry Potter fan! In this article we are going to break down everything you need to know about the Universal Hogwarts light show including the schedule, show time, and so much more about visiting Hogwarts at night in 2023! 
We hope you find this post helpful. Our goal at The Park Prodigy has always been to help you save time and money on your next Universal Orlando vacation. This includes access to the cheapest Universal Orlando tickets, as well as FREE park plans to save up to three hours in the parks!
So if you're ready to learn about the Nighttime Lights at Hogwarts castle read on! 
SPECIAL NOTE: If you need help picking the best time to visit Universal Orlando for your next vacation be sure to check out our Universal crowd calendar!
 Universal Orlando Crowd Calendar
What is the Nighttime Lights at Hogwarts Castle Orlando 2023?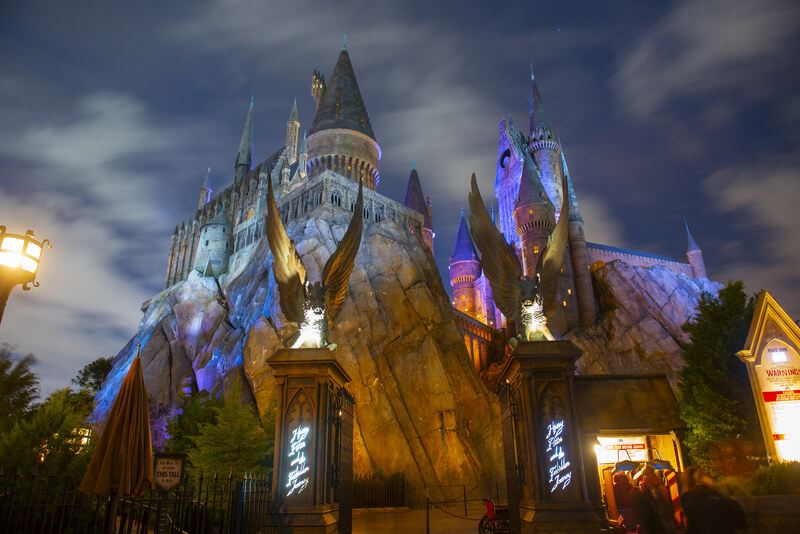 The Nighttime Lights at Hogwarts illuminates the park with majestic lights and sound. It's the perfect way to cap off your day and to see the Hogwarts castle at night in a whole different way. Potterheads from all over gather around the Hogwarts Castle at dusk to watch it come alive with our favorite sights and sounds from the Harry Potter films franchise.
What are the Nighttime Lights at Hogwarts Castle in Islands of Adventure?
There are three different versions of the Nighttime Lights on Hogwarts Castle Show, which vary depending on what season it is.
Regular Nighttime Lights at Hogwarts – Select nights throughout the Spring and Summer
Dark Arts at Hogwarts Castle – On select nights during the spooky season (October)
The Magic of Christmas at Hogwarts Castle – Select nights from mid-November to January.
Related post: Complete Guide to Super Nintendo Land Orlando
What Time Does the Harry Potter Light Show Start?
Per the the Universal Orlando app, the Nighttime Lights at Hogwarts are held on select nights in Islands of Adventure park for guests to enjoy. The Hogwarts castle light show times begin at dusk to park close. Typically, nighttime lights shows begin around 7:15 PM, or 8:15 PM depending on Daylight Savings Time.
Because of Daylight Savings Time they can start as early as 6:45 PM. This makes the Nighttime lights Hogwarts schedule always changing due to when the sun sets! We always recommend checking the times guide once you arrive at Universal Orlando, checking the official Universal Orlando app, or speaking with a team member to confirm the Nighttime Lights show start time! 
How often is the Hogwarts at Night Castle Light Show?
The current Nighttime Lights Hogwarts schedule is every twenty minutes from when it begins at dusk. In fact the Nighttime Lights schedule is one of our favorite things about visiting Hogwarts at night for the simple fact of how often the show runs. One of our favorite ways to end the night is to grab an ice cream in Hogsmeade and to watch the Nighttime Lights show on Hogwarts castle a few times! Your little wizards will not want to miss this spectacular show on the Hogwarts castle. 
How long is the Nighttime Lights at Hogwarts Castle Show?
The current Nighttime Lights show at Universal is 5 minutes! We suggest showing up about 15 minutes early to get a good spot, seeing as you can almost get right up to the Hogwarts Castle for the Christmas show!
Related Page: Harry Potter Early Park Admission Tickets 
2023 Hogwarts Light Show Times and Dates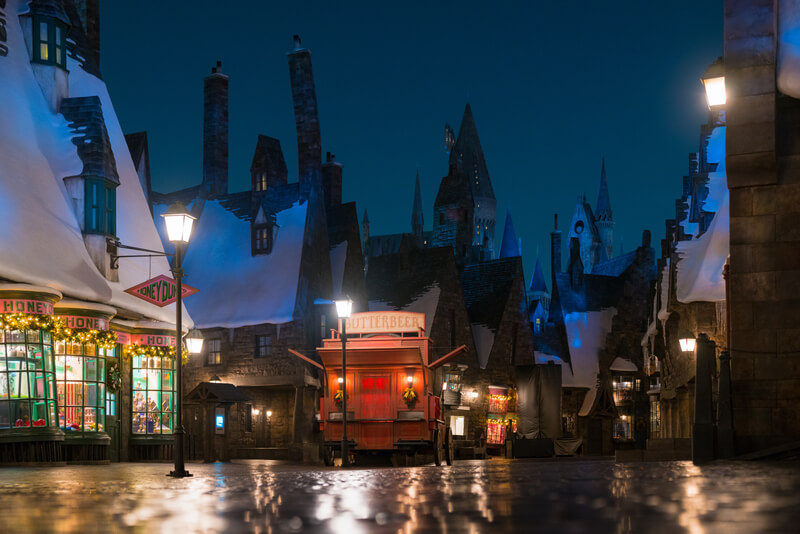 Universal Orlando's website and app both state that showtimes are not available for the Harry Potter world light show times for 2023. That is most likely because the show depends on when it gets dark! As for showtimes, make sure to head over to Islands of Adventure into Hogsmeade Village around dusk, and even if you miss the first show, there will be another in 20 minutes.
As for Hogwarts Nighttime Show dates, Universal also states that it is offered on select nights. So unfortunately, we do not have a set schedule. An insider tip is to periodically check the Universal Orlando app and they may release Hogwarts showtimes closer to night. If there still are no Hogwarts Nighttime Show schedule during your visit, make sure to ask an available team member if the show is running that day!
Make sure to check back in for more news on the nighttime lights Hogwarts schedule. We also encourage anyone who needs additional help planning their next theme park vacation to reach out to one of our Park Prodigy vacation planners. Very simply, our clients don't waste time in the parks and our goal is to make the planning process as easy and stress-free as possible while saving you money!
Nighttime Lights at Hogwarts Castle tips:
The later showtimes are the best to view the nighttime spectacular! Make sure to try and catch shows later in the night when it is darker. It should be less crowded and have the best viewing.
Flight of the Hippogriff is open during the nighttime lights showings. The wait time is less since most guests are enjoying the lights. This is a great time to ride it especially because you can see the castle on the ride!
The best viewing spot for the Hogwarts Castle Light Show is by the Frog Choir stage. This area does get very busy since it does have the best view of the castle.
For the Dark Arts show, be sure you are able to see the left side of the castle for a special magic surprise!
Related Page: Wizarding World Dining Options
Where is the Hogwarts Nighttime Show in Universal 2023?
You'll be able to find Hogwarts inside the Wizarding World of Harry Potter in Hogsmeade, located in Universal's Islands of Adventure. You can't miss it once you're in- it's this giant castle! Even at night, the Hogwarts castle lights will illuminate the sky and surrounding areas.
The quickest way to get to Universal Orlando light show at Hogwarts castle when you enter Islands of Adventure, make a left towards Seuss Landing, and follow the signs that will lead you to Hogsmeade. You will pass the Hogwarts Express and see the Hogwarts Castle just make your way towards it!
Things to consider when viewing the Nighttime Lights at Hogwarts:
The Nighttime Lights show does not have a set schedule every week
Guests will have to check the Universal Orlando App for nightly showings
Be sure to visit all Harry Potter rides during early park admission to leave more time at night.
Nighttime Lights show times will run every 15-20 minutes on nights the show does operate
All of our Universal Orlando tickets do come with Early Park Admission included so that you can save more time and get on all the most popular attractions
Other Harry Potter Light Shows When Visiting Hogwarts at Night

Including the regular Nighttime Lights Harry Potter show in Universal, there are currently three different night shows at Universal Orlando that take place on the Harry Potter castle in Hogsmeade. The other two shows that you can enjoy when visiting Hogwarts at night include:
The Hogwarts Dark Arts Light Show
The Universal Orlando Dark Arts schedule came back for 2021, and we are unsure of the schedule for 2023. As soon as we know it, we can update you here!
The Hogwarts Dark Arts Light Show at Universal Orlando appears during Halloween season, giving Hogsmeade a spooky transformation. The Universal Studios castle is taken over by Lord Voldemort's "cruel legions," like Death Eaters, Dementors, mountain trolls, Inferi, and Aragog the Acromantula. Outside of Halloween Horror Nights, this is one of our favorite things to experience when visiting Universal Orlando during the Halloween season!
Hogwarts Christmas Light Show
Another Harry Potter show at Universal Orlando is The Magic of Christmas at Hogwarts Castle. This nighttime lights at Hogwarts castle schedule shows exclusively at Universal Orlando during Christmas which is mid-November through early January.
Is the Magic of Christmas at Hogwarts Castle the same show?
The Hogwarts Christmas Light Show is a different show than the regular castle show. Guests can still enjoy projections of their favorite Harry Potter moments, but with a holiday twist! This universal castle show during Christmas features the sights and sounds of the holiday season, including a majestically large Christmas tree, the Hogwarts ghosts singing carols, a recreation of the Yule Ball, and students riding broomsticks and creating snowmen.
Related post: Guide to Spending One Day at Universal Islands of Adventure 
Harry Potter Nighttime Lights Show FAQ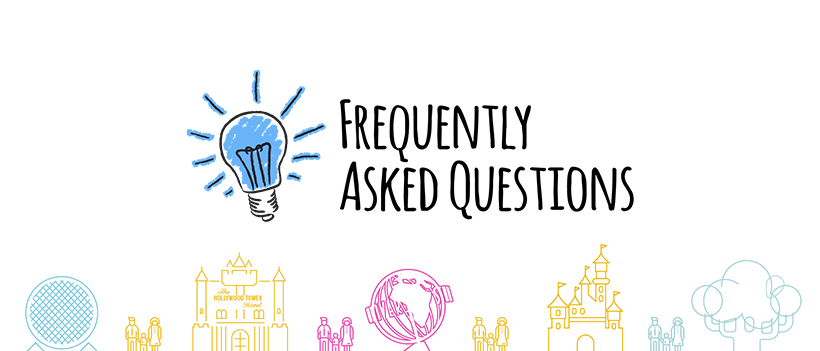 Q: Are There Fireworks at the Hogwarts at Night?
A: Yes, there is a brief Harry Potter fireworks display at the finale of the Harry Potter light show Universal Studios. These are the only display of fireworks at Islands of Adventure.
When Is The Best Time To Visit Universal Orlando?
Our Universal Orlando Crowd Calendar is the best tool to help you get the most out of your time in the parks. We breakdown the park crowds, park hours of operation, ticket prices by day, and average temperature.
Are You Ready to Plan Your Next Universal Orlando Trip?
If you're ready to plan your trip to Universal Studios, be sure to check out our Universal Orlando Tickets! Not only will you save money vs buying direct, but all of our Universal Orlando tickets come with some amazing benefits which can help save you up to three hours in the parks! 
And to stay up to date on everything going on inside the theme parks be sure to check out our partners at Themeparktoday.com!