This blog post is your ultimate guide to Universal Studios Grinchmas! We all know when you think of Christmas, you think of all the wonderful decorations, the winter snow, and some of the best holiday movies you watch on repeat. Well, Universal Studios Orlando plans an annual holiday celebration based on a classic Christmas movie- How the Grinch Stole Christmas. Not only is this an iconic movie, but Universal Studios created a holiday-themed extravaganza in their park, Seuss Landing, called the Grinchmas Universal Studios Grinchmas celebrates the holidays in Whoville, with the star of the show, Mr. Grinch himself. We've got the guide to help you learn all things Grinchmas.
What is Grinchmas Universal Orlando?
Get ready for one big Grinch Christmas party. You'll still get all the warm fuzzy feelings of the holidays, just with "a side of sarcasm." During the holiday season, Seuss Landing is turned into the enchanting décor of Dr. Seuss' Whoville.  A Universal Grinchmas is sure to include music and shows in the celebration. And of course, you'll even get to see and meet Whos and the Universal Grinch.
The Grinchmas Who-liday Spectacular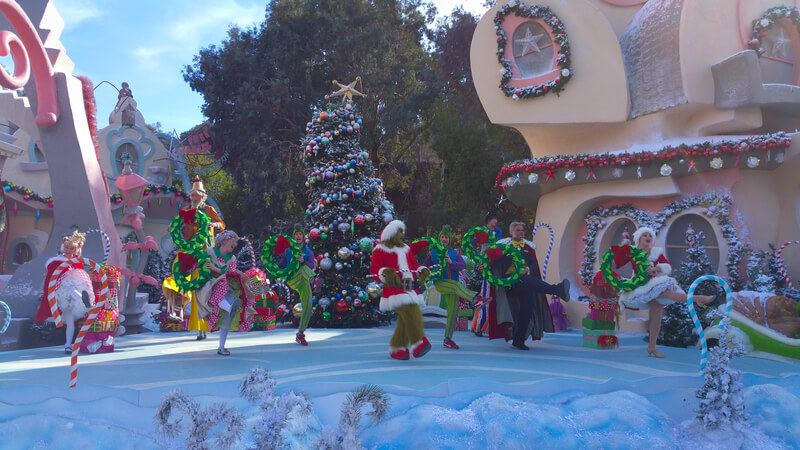 This cheery Grinch at Universal extravaganza is sure to make the kids and adults grow their hearts 3 sizes bigger. This Grinchmas show at Universal is the main event of the entire holiday celebration. The Grinch show at Universal Studios is a live show that tells the story of How the Grinch Stole Christmas. Of course, it stars the Grinch himself, as well as the cast of Whoville.
What are the Universal Studios Grinchmas Showtimes?
Universal Grinchmas showtimes tend to begin at 5:30PM, when the lights after dark brighten up the place with holiday cheer!
Do We Need Grinchmas Tickets?
The Universal Studios Orlando Grinchmas does not require special tickets, as it's included with regular park admission. The only event you would need to book is the Character Breakfast.
Will There be Grinchmas 2021?
While Grinchmas 2020 was canceled, there is only hope that Grinchmas 2021 will make a come back. This is giving us something to look forward to!
How Long is Grinchmas at Universal Studios?
Grinchmas lasts throughout the holiday season, going on for nearly 2 months. That's a whole lot of holly, jolly, and sass!
When Does Grinchmas Start, 2021?
Although the Grinchmas 2020 dates were canceled, typically, Grinch Christmas at Universal Studios starts mid-November.
When Does Grinchmas End at Universal Studios?
Usually, Grinchmas and all things Whoville at Universal Studios comes to an end around the beginning of January, after New Year's Day.
The Grinch Meet and Greet
Typically, guests celebrating Grinchmas can meet the Grinch at Universal Studios, through The Grinch and Friends Character Breakfast, which is an exciting event for all who attend. This happens on select mornings and it requires a reservation booked in advance.
Who Plays the Grinch at Universal Orlando?
Since the film consists of a mostly-animated character, the Grinch theme park look is inspired by Jim Carey's character. It does look pretty realistic if you ask us, almost like he walked out of the movie and into the park!
Getting to Universal Studios for Grinchmas
The holidays are always a busy time for the theme park, as kids are out and many families are on vacation. Make sure to book your trip as soon as you can to ensure you don't miss out on a Grinchmas Wholiday spectacular!
The Grinch is known for doing some mischievous things, like creating the Grinch Universal Studios Tour. If you're in Hollywood's Universal Studios during Grinchmas, beware of who might take over your tour of the lot! We love how the Grinch always finds ways to make us laugh,  and we're excited to continue seeing how the Grinch stole Christmas at Universal Studios for years to come!
How to Book Your Universal Orlando Vacation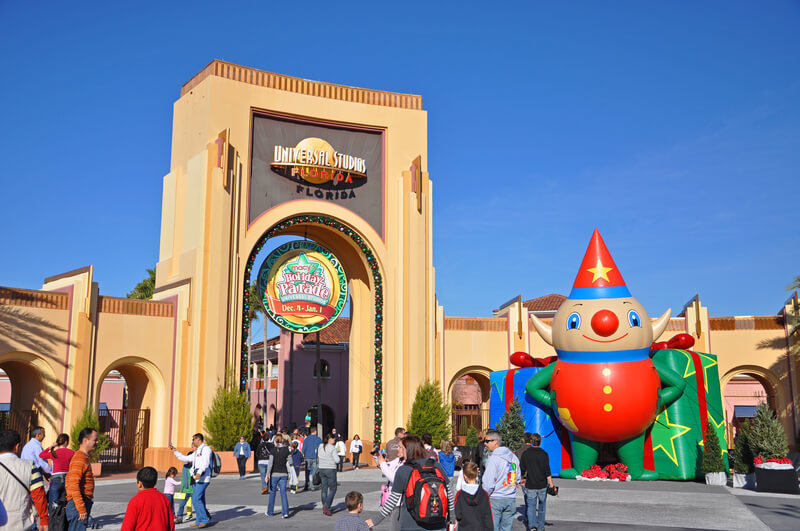 There has never been a time where it's been so important to book your Universal Orlando vacation with a park expert. With changes happening at a rapid pace, it's important to book your vacation with a Universal Orlando expert to walk you through the entire process and answer any questions along the way. When you book your Universal Orlando vacation with The Park Prodigy, it includes our services absolutely FREE!
Once we plan the perfect itinerary for you, you'll pay just $50 per person down to hold your vacation. Final payment is due 45 days prior to arrival and payment plans are available. To get started you can request a no-obligation Universal vacation quote online or by calling one of our travel experts at 407-630-8650.
If you're not in need of a package but would still like to get into Universal for EARPY PARK ADMISSION be sure to check out our Universal Orlando  Universal Orlando Tickets! All Park Prodigy Universal Orlando tickets will get you into the park one hour before regular park guests!
When is the Best Time To Visit Universal Orlando?
If you're not sure when to plan your next Universal vacation, Our Universal Orlando Crowd Calendar is the best tool to help you get the most out of your time in the parks. We breakdown the park crowds, park hours of operation, ticket prices by day, and average temperature.