10 Secret Things To Do At Disney World
10 Secret Things To Do At Disney World
In this article, we break down some of the top-secret things to do at Disney World! Because the Walt Disney Company has been well known to hide "Easter eggs" in not only their movies but in their theme parks as well.  Whether you're in the midst of planning your first Disney vacation or your 15th, these extra special surprises are often overlooked by most people when they visit.
In this article, we'll break down ten of the Disney World secrets by individual theme park, as well as around Disney property. It's important to note that guests will need a valid Walt Disney World ticket to enjoy these secrets. Get $20 in Disney World savings on all tickets booked through Park Prodigy!
So if you're ready to learn more about all of the amazing Disney World secrets, read on!
SPECIAL NOTE: Wondering when the best time to visit Walt Disney World is? Be sure to check out our crowd calendar!
 Walt Disney World Crowd Calendar 2021
Disney Specialty Cake Deliveries – Disney World Secret #1
Thought desserts at Walt Disney World didn't get any better than Mickey Bars and Dole Whip? Think again! For celebrations or "just because," you can get specialty Disney Cakes delivered directly to a Walt Disney World dining reservation or your hotel room. With just two days' notice for room delivery (and three days' notice for a dining reservation), Amorette's Patisserie will prepare a stunning cake made especially for you. And it doesn't end there. Sprinkles Cupcakes in Disney Springs will also deliver their world-famous cupcakes directly to your dining reservation or hotel room! Celebration or not, we think these options are one of the sweeter secrets things to do at Disney World!
Get a Haircut in the Magic Kingdom – Disney World Secret #2
Soak up every moment on your next Disney vacation and you look spiffy while you do it! The Magic Kingdom's Harmony Barber Shop located on Main Street U.S.A., is one of those Disney World hidden gems. Guests of all ages can enjoy a haircut and some magical extras in this charming old-fashioned shop. Haircuts are available on a first-come first-serve basis, no reservations. The shop closes at 5:30pm and is often busy, so we recommend using your Extra Magic Hours during the morning if this is something you're looking forward to experiencing! 
Mail a Coconut From Disney World – Disney World Secret #3
Ya man! This is definitely one of those special things to do at Disney World. Send some serious Caribbean vibes to your friends and family back at home with the coolest correspondence in the game! You'll find these coconuts at the Magic Kingdom's Plaza del Sol Caribe Bazaar, Boutiki at Disney's Polynesian Village Resort, and Calypso Trading Post at Disney's Caribbean Beach Resort. 
Take a Nighttime Safari at Disney World – Disney World Secret #4
Start working on your "roar!" This is one of the newer secret things to do at Disney World. Set out on a nighttime safari adventure at Animal Kingdom Lodge after the sun goes down! The one-hour tour on a safari vehicle features more than 20 exotic African species and an expert tour guide! You'll even get to wear a pair of night-vision goggles to take the experience to an entirely wild level! 
Disney Secret Character Meet and Greets – Disney World Secret #5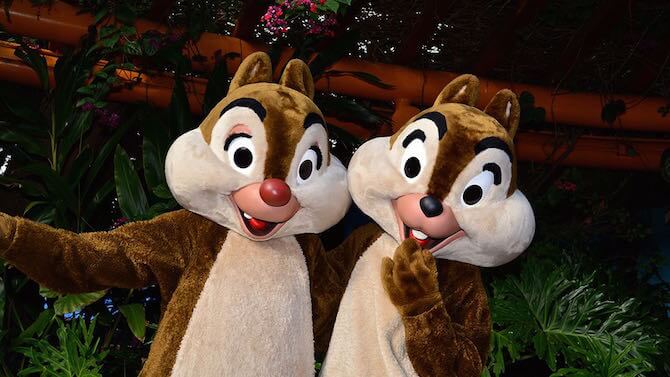 Anyone can stand in long lines and plan their park days around character meet and greet schedules just to get some quality time with the characters. But only smart, prepared folks like you know that there is secret free stuff at Disney World. For example, you can meet the characters for free outside of the parks! At Chip 'n' Dales Campfire Sing-A-Long at Fort Wilderness Resort and Campground, guests and visitors of the resort can interact with the famous chipmunks every night for free! Accompanying the iconic duo will be songs around the fire and a cowboy playing guitar. Just bring your s'mores fixings and your boots for stomping! 
Make Your Own Mickey Cake – Disney World Secret #6
This is one of my favorite Disney World Secrets! Learn cake decorating skills from the pros at Amorette's Patisserie in Disney Springs! The famous French Style bakery hosts a Cake Decorating Experience that only allows 14 guests per class. During this intimate, hands-on experience, you'll create a signature Mickey Dome Cake while having the opportunity to interact with talented pastry chefs of Amorette's. Talk about having your cake and eating it too! 
Disney World Secret Resting Spot – Disney World Secret #7
Sometimes the best secret is right in front of you! When visiting the Magic Kingdom, taking a break is probably the last thing you're thinking about doing. Matter of fact, if you're anything like us, you have every minute of every day planned out so you don't miss a beat. But trust us, at some point, you'll need a break! And there's a magical place in front of Cinderella's Castle known as "Hub Grass" where you can drink in that beautiful few, have a bite to eat and lay down or take a seat. The grass is artificial, so no need to worry about bugs or grass stains! We recommend grabbing a hot dog and some loaded cheese fries at Casey's Corner (located behind Hub Grass) for a perfect afternoon picnic with a view!  
Hydrate for Free at Disney World – Disney World Secret #8
If the first thing you thought of was a water fountain, think again! You'll be pleased to know that Walt Disney counter service restaurants, free cups of ice water are always available. Be sure to ask for a large cup to stay hydrated during those sweltering Florida days! 
Tiana's Riverboat Party at The Magic Kingdom – Disney World Secret #9
This is one of those very little-known Disney World secrets for guests! Make your day at the Magic Kingdom even sweeter with hand-dipped ice cream and soft drinks aboard the Liberty Belle Riverboat with Princess Tianna and Naveen! With a perfect view of the Magic Kingdom's Festival of Fantasy Parade and a cruise around Tom Sawyer's Island, this offering is a truly magical experience for all families. With excellent views and sweet treats to boot, we think this royal treatment is well worth the splurge!
Set Sail on a Pirate Voyage – Disney World Secret #10
Ahoy, mateys! We highly recommend this cruise when looking for unique things to do at Disney World! Take a cruise through Seven Seas Lagoon and party with your favorite pirates on the Pirates and Pals Fireworks Dessert Voyage! Departing from Disney's Contemporary Resort, you'll find yourself surrounded by a variety of freshly baked cookies, cupcakes, cupcakes, ice cream, and more. Don't be surprised to see Captain Hook and Mr. Smee! They'll make a surprise appearance to greet their new shipmates. Plus, this experience is also great for watching the Happily Ever After Fireworks at the Magic Kingdom!
When is the Best Time to Visit Walt Disney World?
Our Disney World Crowd Calendar 2021 can help!  We break down:
Park Crowds
Park Hours of Operation
Ticket Prices Per Day
Average Temperature
Are You Ready to Plan Your Next Disney World Trip?
You can save up to $20 per ticket when purchasing your Walt Disney World Tickets from The Park Prodigy! Learn more about Disney hotels on our On-site Disney World Hotels page!
If you're brand new to Disney vacation planning we recommend our Walt Disney World Planning Page! For additional planning tools check out The Best Time to Visit Disney World & The Best Guide to Star Wars Galaxy's Edge