Top 5 Reasons Why You Need to Visit Disney World in 2020
Top 5 Reasons Why You Need to Visit Disney World in 2020
Disney World vacation planning is in full swing here at The Park Prodigy! So we wanted to break down the top 5 reasons why you need to visit Disney World in 2020! With new rides to new hotels and exciting entertainment to innovative transportation, Disney World is going to be a whole new world starting in 2020. Read on for everything you need to know about what's on the horizon for Disney World in the new year!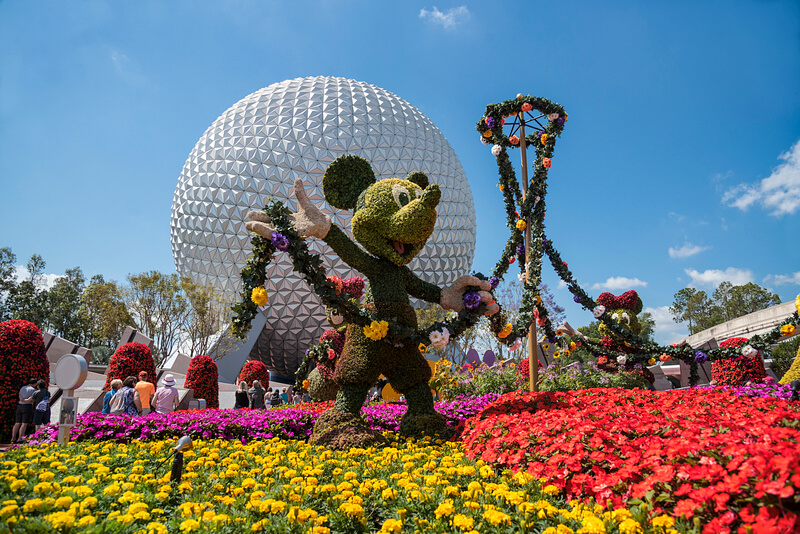 Our Top 5 Reasons Why You Need to Visit Disney World in 2020
1) New Disney Hotels Opening in 2020
With a seemingly endless selection of on-property hotels to choose from, deciding where to stay during a Disney vacation just got a whole lot more difficult! (Not in a bad way, just because they're all SO great!) 
With the opening of Disney's Coronado Springs Grand Destino Tower and the newest deluxe hotel, Disney's Riviera Resort, future vacationers have a ton to look forward to!
Coronado Springs' new Grand Destino Tower is the perfect choice if you're seeking a moderately priced resort. It offers a luxurious vibe, surrounded by beautifully landscaped grounds, multiple swimming pools and lavish Spanish theming. Be sure to look throughout the entire resort for hidden Mickey's around every corner. For first timers and regular Disney goers alike, we think the new Grand Destino Tower is highly worth the stay!
Expected to open on December 16th, 2019, Disney's Riviera Resort combines old-world elegance and modern comfort with several nods to Disney classics that took place in Europe such as Peter Pan, 101 Dalmatians and The Aristocats. The deluxe resort packs a whole lot more than just luxurious decor and finishing's. This DVC property will offer some exciting new dining experiences featuring French and Italian cuisines in a rooftop restaurant. It's sure to have with spectacular views of Walt Disney World that we have never seen before.
We also break down the Pros & Cons of all other on-site Disney Hotels!
2) New Disney World Rides and Attractions 2020
Whether your next Disney trip is a romantic getaway or family vacation, the opening of Remy's Ratatouille Adventure in Epcot France and Mickey and Minnie's Runaway Railway in Hollywood Studios is sure to stir up all the nostalgic Disney feels for both kids and adults alike! These surprising new ride experiences are just the start as Disney gears up for their 50th year celebration in 2021.
3) A New Way to Get Around Disney 
You can fly, you can fly, you can fly! For anyone visiting the parks or staying on-property in 2020, prepare to be amazed at Disney's state-of-the-art transportation system, Skyliner. The character themed gondolas now connect Epcot and Hollywood Studios to Disney's Art of Animation Resort, Disney's Pop Century Resort, Disney's Caribbean Beach Resort and the new Disney's Riviera Resort. Vacationers can expect jaw dropping views of the parks and feel like they're on a ride at the same time! 
Disney Food Blog has a great video showing what guests can expect the first time they ride the gondolas. Check  out the Disney Skyliner video here! 
4) New Disney Entertainment for 2020
Bibbidi bobbidi boo! After an unforgettable 20 year run of Epcot's IllumiNations fireworks spectacular, the pyrotechnic show will magically transform into HarmonioUS –  "a worldwide celebration of Disney music" spotlighting favorites such as Moana, Hercules, Pocohontas and more. HarmonioUS is  promised to be the biggest nighttime spectacular that the Disney parks have ever seen. The show will include moving fountains, floating set pieces, LED panels and more. 
It doesn't end there! A new Cirque du Soleil x Walt Disney Animation Studios show is set to premiere at Disney Springs in April 2020. The magical production will transport the audience into a celebration of life featuring Disney characters and outstanding acrobatic performances. 
5) Just Because we Love Disney
As wholehearted Disney fanatics here at The Park Prodigy, we might be a little bias with this reason. But it's true, everyone needs some Disney magic in their lives! However, in all seriousness, 2020 is going to be an extremely pivotal year for Walt Disney World, and we want to make sure you're well on your way to the best vacation ever.
When is the Best Time to Visit Disney World in 2020?
Our Disney Crowd Calendar 2020 can help! We break down:
Park Crowds
Park Hours of Operation
Ticket Prices Per Day
Average Temperature
Are You Ready to Plan Your Next Disney World Trip?
You can save up to $20 per ticket when purchasing your Walt Disney World Tickets from The Park Prodigy! You can also Learn more about all on-site Disney World Hotels. 
If you're brand new to Disney vacation planning we recommend our Walt Disney World Planning Page! For additional planning tools check out  The Best Guide to Star Wars: Galaxy's Edge on This Planet!  &  The Best Time to Visit Disney World!!